Dale Earnhardt Jr. to Hit Milestone on Sunday With 500th NASCAR Start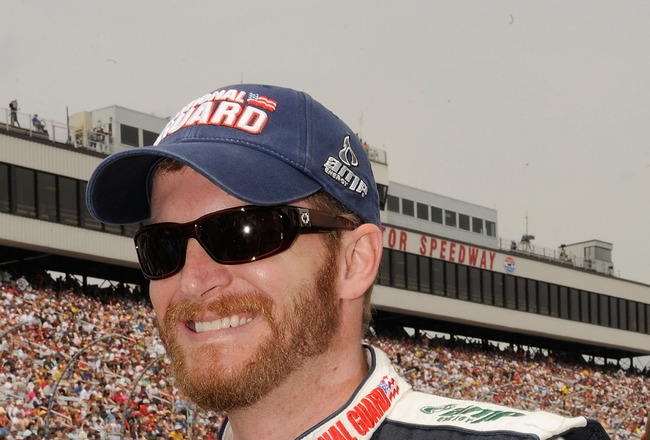 A lot has been said about Dale Earnhardt Jr. and his career over the years. There's been debates about his success or lack thereof. There's been the constant comparison between his legendary father and himself. And of course, the decision to leave Dale Earnhardt Inc. and head for Hendrick Motorsports.
On Sunday at Wakins Glen, there will be something else to talk about as well as celebrate. It may not happen in victory lane, but Earnhardt Jr. will be able to look back on his career and the many memorable moments that it has brought.
The driver of the No. 88 AMP Energy/National Guard Chevrolet is joining an elite group as he makes his 500th national-series start.
Like many, he came up through the late model ranks before joining the NASCAR Nationwide Series, where he's made 115 starts to date. He'll add to that total later this year when he appears in Bristol for a double-header weekend.
After his NNS success, he was promoted to the Sprint Cup Series as Budweiser took a shot on the driver that had captured the hearts of millions in just a few short years. Sunday will be start 385 in the series for the seven-time most popular driver.
Junior Nation will be sure to salute their driver on the milestone day, while others will be ready to talk about their favorite moments. Here are some of the stand out snapshots from career of Dale Earnhardt Jr. that is now 500 starts old.
Nothing Like The First Time: First Career Nationwide Series Start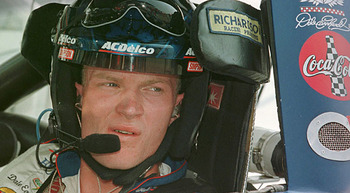 Earnhardt Jr. didn't win in his first career NNS start, which occurred at Myrtle Beach in South Carolina in 1996, but he did show everyone that he would be a serious contender every time he was behind the wheel.
The driver started the night in the seventh position and came home 14th, in just a sign of things to come. While it was the only race that he ran that season, Earnhardt Jr. would run eight more in 1997 as he got closer and closer to becoming a series regular.
Before that would happen, his best start would came at the Bristol Motor Speedway on August 22nd, starting on the outside pole. His best career finish had already come a week earlier on August 16th at the Michigan International Speedway when he captured a seventh place finish.
Satisfied that his son would be competitive and that racing was the route he wanted to go, Dale Earnhardt Sr. unleashed youngster and company a year later. From then on, everyone would know who Dale Earnhardt Jr. was as he and his team went about making some noise.
The First of Many: First Career Nationwide Series Win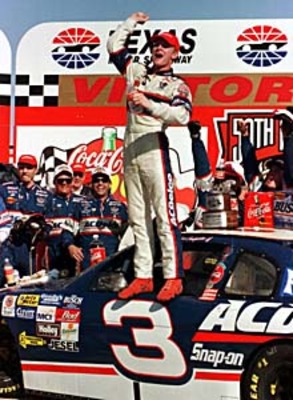 It didn't take long for the Intimidator's son to show that he too could win.
In the seventh race of the 1998 season, his first full season behind the wheel, Earnhardt Jr. would start the day 16th and end it spraying champagne in the Coca-Cola 300 at the Texas Motor Speedway.
The win didn't come easy for the No. 3 ACDelco team. The decision was made for Earnhardt Jr. to come down pit road with 15 laps remaining in the event to get a fresh set of tires. Then it became a frantic dash to the finish that saw Earnhardt Jr. charge through the field and make winning look easy.
The victory also meant that Earnhardt Jr. was the Earnhardt family's third-generation winner. He joined grandfather Ralph and dad Dale as those that have all tasted victory in one of NASCAR's divisions.
As he crossed the finish line that day, Earnhardt Jr. said over the radio, "Daddy, I love you to death."
The April 4, 1998 win was the start of a championship season for Earnhardt Jr. and his team.
Another Earnhardt Crowned Champ: Back-to-Back in the Nationwide Series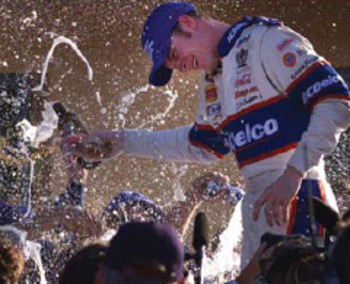 When it came to winning championships, it looked like the apple hadn't fallen far from the tree.
Earnhardt Jr. captured his first career NNS title in 1998 after winning three poles and seven races: Texas, Dover, Milwaukee, California, Indianapolis Raceway Park, Richmond and Gateway.
He also had 22 top 10s and 16 top five finishes in his statistic column.
The following season, 1999, his team won the title again. This time they captured five poles, six races: Dover, South Boston, Milwaukee, Gateway, Michigan and Richmond.
The No. 3 team also had 22 top 10s and 18 top fives. The son was following in the footsteps of his father, winning in everything he sat in and doing it in dominating fashion. The Earnhardt family was on top of the world.
These are the only two driver championships in the trophy case of the Earnhardt Jr. household. Since then he's gone on to win two NNS owner titles with driver Martin Truex Jr. (2004 and 2005), but Earnhardt Jr. has not returned to the series full time.
Moving On Up: First Career Sprint Cup Series Win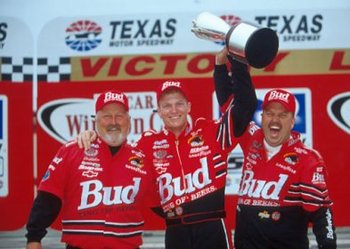 With the success that Earnhardt Jr. has had at Texas, it doesn't make it surprising that it's one of his favorite tracks on the circuit.
After winning his first career NNS race at the speedway, he came back two years later and would dominate the Sprint Cup event.
Now driving full-time in the cup series after being promoted b his father, two NNS titles will do that, Earnhardt Jr. was given the reins to the No. 8 Budweiser Chevrolet and set free. On April 2, 2000 the team went to Texas for their 12th career start, where Earnhardt Jr. told his father told his father beforehand that he was going to win the race.
He started fourth in the DirecTv 500, but it became clear from the very beginning that he had the car to beat. At one time during the event, crew chief Tony Eury Sr. wanted the driver to slow down and protect the car. He said that his nephew was like a wild horse, and sometimes you had to pull the reins back to keep him from pressing too hard.
Earnhardt Jr. listened to his uncle and took care of the Budweiser Chevrolet because after 334 laps the team had their first career win and were ready for more.
Said Earnhardt Jr. of the victory, "I really didn't know what to expect this year. I didn't know if we were going to kick butt right out of the box or whether we were going to be lousy for a year or two."
A Little History: First Rookie to Win the Sprint All-Star Race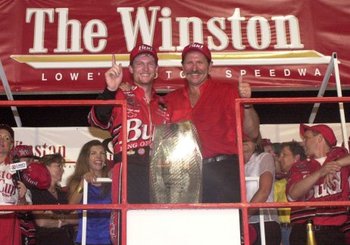 Every son wants to be like their father, but in the case of Earnhardt Jr. he wanted to show his dad that he could be better.
On May 20, 2000 that's what he did when he became the first rookie in Sprint Cup Series history to win the Sprint All-Star race, which was then called The Winston. To date, only Earnhardt Jr. and Ryan Newman are rookies to have accomplished the feat.
After winning at Texas a month earlier, the No. 8 team had an automatic entry into the event. Qualifying fifth for the race brought a load of momentum and expectations because they knew they had a fast car. However, sometimes things do go as planned.
Having a fast race car is only part of winning a race; you also have to have one that will finish. Earnhardt Jr. was fast that Saturday night, but believed that something was wrong under his Chevrolet after he had brushed the wall early in the going.
Instead of pitting, he put the pedal to the metal and told his team that he was going for it, as sparks flew from the car lap after lap.
The first two 30-lap segments saw Earnhardt Jr. finish in the third position. Then, for the remaining segment Eury Sr. told him to come down pit road in order to have four fresh tires on the Bud car.
It put Earnhardt Jr. back into the 10th position.
He quickly got to work and passed a lap in the final segment, including Earnhardt Sr. who later remarked he had no idea where his son came from, before he was able to take the lead from Dale Jarrett with two laps to go and drive away.
"The car was haulin' but until I hit the wall [in the first segment], and then it slowed down a bit, but we made some changes and it was awesome fast those final laps," Earnhardt Jr. said in victory lane.
"Yeah, it was a hard hit. I really thought I had more room than I did. We weren't pushing it, the car was so good, I was just cruising. It's like driving home in your pickup and you hit the curb pulling into the driveway. I just messed up and hit the wall."
"Hey, we're racers, we're not just riders...we were gonna go for the gusto—that's what this race is about. No points, no pressure, just drive it as hard as you can."
This One's For Dad: An Emotional Win in Return Trip to Daytona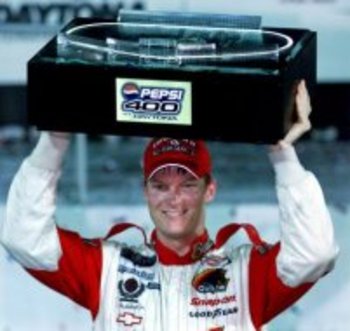 In 2001 Earnhardt Jr. became the man of the household when his father was killed in a last lap crash during the season-opening Daytona 500 at the Daytona International Speedway.
Over the next few months everyone in the NASCAR world prepared to head back to the speedway for the first time, including Earnhardt Jr. and teammate Michael Waltrip. In an interview Waltrip told the world that contrary to what everyone may have thought, it wasn't hard to return to the track that took the life of their father, friend and boss.
They knew what they had to do and how Earnhardt Sr. would have wanted them to handle things. Business as usual became the mantra for the weekend as each prepared the fastest cars they could.
On July 7, 2001 Earnhardt Jr. didn't leave a dry eye in the house when he went out and dominated the Pepsi 400 for one of the most emotional victories in NASCAR history. After starting 13th, but falling back to 31st, it took 27 laps to take the lead and never look back, making it clear that you would have to beat him for the win.
Leading 116 of 160 laps, Earnhardt Jr. took the checkered flag with Waltrip finishing right behind him in second. It was his first career win at Daytona, third of his Sprint Cup career, and it came exactly 11 years to the day that his father won his first race at Daytona.
"I wanna dedicate this one to my dad. This one is for him. I wish I could have seen the look on Teresa's face. This is for her too. We all stuck together and we're getting through the rough time together as a team—Tony (Eury) my crew chief, Tony (Eury) Jr., Ty Norris, and everybody at DEI," Earnhardt Jr. said that night.
"This is great! Unbelievable! I love coming to Daytona, and to win here it… it just means a lot."
At the time, and still many years later, some believe that NASCAR had fixed the race to allow Earnhardt Jr. to win. There was no better story than having the son return to the track that took his father's life and win the race. Upon hearing of the reaction, Earnhardt Jr. said that it was an insult to how hard his team had worked.
He then said, it felt like he had been kicked in the genitals.
Fore! Becomes First Driver to Win Four Straight Races at Talladega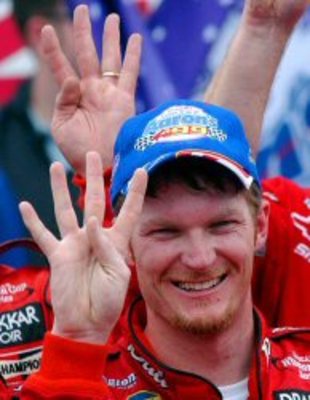 Just like Daytona, there was a time when Earnhardt Jr. had made the restrictor plate tracks his personal playground.
After Earnhardt Sr. died in 2001, the son picked up where he left off, asserting his plate racing dominance and talent. Known as high speed chess matches, Earnhardt Jr. was quickly becoming an opponent you didn't want to have to play.
After winning the Pepsi 400 in July of 2001, Earnhardt Jr. went to Talladega in October to score a win in the EA Sports 500, also winning a million dollar bonus. Less than a year later, April of 2002, he was back in Talladeaga's victory lane, in the Aaron's 499.
Now at six career wins, the No. 8 team was starting to pick them off. But they weren't done winning at 'Dega as they returned in late 2002 to sweep the season and another million dollars thanks to the Winston program.
Three in a row was history enough, joining Buddy Baker in the category, but Earnhardt Jr. then went on to do something that had never been done before, not even by his father: win four straight races at the superspeedway.
It happened on April 6, 2003 when he took the lead on lap 187 of 188 and held off Kevin Harvick for the win. Along with the controversy and many saying he had passed below the yellow line, the Budweiser team had done their own version of home improvement along the way.
Before the race started they had to change engines and started last in the field. Then Earnhardt Jr. had to dodge the "Big One" that took out almost 20 other cars early in the race, doing his best to avoid the wrecking cars. While he didn't suffer enough damage to ruin his chance at the victory, the team had to make 17 pit stops during the race in order to repair the damage to the front bumper.
In the end it wasn't enough to keep him out of victory lane.
"This is a big deal. A great victory for my career. In the past, we've been the car to beat at this place, but today we weren't the best car. We just didn't have the car after the big crash, so we had to fight and gouge and kick for every spot today," he said that day.
"It was hard, hard racing and a lot of wild things happening, so I'd say this one (the fourth in a row) is the sweetest of all. We had to earn this one today. There was a lot of passing and a lot of exciting racing."
Like Father, Like Son: Wins Daytona 500 In Fifth Start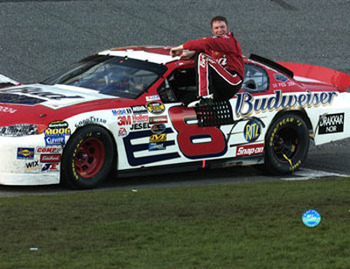 It didn't take as long as his dad, but Earnhardt Jr. was finally able to answer the question on February 15, 2004, "When are you going to win the Daytona 500?"
In front of the President of the United States, then George W. Bush, who gave the command to start engines and later called Earnhardt Jr. in victory lane, the No. 8 Budweiser Chevrolet overtook Tony Stewart with 19 laps to go to capture The Great American Race.
After starting third, it was Stewart and Earnhardt Jr. that swapped the lead for much of the event, never sitting outside the top five. But when the No. 8 pit crew couldn't beat Stewart off pit road on their final stop, Earnhardt Jr. had to find away around the dominate car. The drivers sitting behind him wouldn't help, as Kurt Busch blamed Earnhardt Jr. for a flat tire that held him a lap down.
It was all up to the driver and after setting Stewart up, he would take the lead in turn three and four after getting a big run down the backstretch. A lesson he had learned from his father and other greats before him, side-drafting, helped Earnhardt Jr. perfect the move.
From there it was just about counting down the laps to victory. Their first Daytona 500 win, and 10th career for Earnhardt Jr., also came on the same day that Earnhardt Sr. had won his first and only Daytona 500, six years earlier.
"This is awesome. This is the greatest race, this is the greatest day of my life, and I can't really describe it," said Earnhardt Jr.
"I don't know if I'll ever be able to tell this story to anybody and get it right. This is just a great feeling."
Feeling the Heat: The 2004 Season Comes to a Halt in Sonoma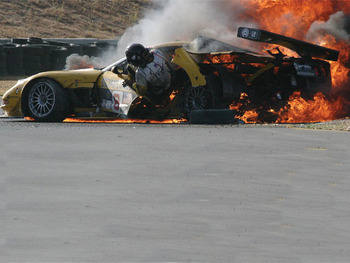 It was a rare offweekend in the midst of the 2004 season, when Earnhardt Jr. decided to brush up on his road course skills.
Remembered as the best year of his career with six wins and coming ever-so close to winning the championship, Earnhardt Jr. teamed with Boris Said in Sonoma, California for a Grand Am event.
It was during practice that the car spun out of control and backed into a tire barrier. Soon thereafter it caught on fire as Earnhardt Jr. was still sitting dazed and confused in the cockpit.
Fortunately he would climb out of the car and wouldn't be seriously injured, although he suffered second degree burns to his legs and chin.
In an interview afterward he revealed that he was lead to believe that someone had grabbed him and pulled him out of the car. While he would never say who he thought it was, others were led to speculate whether it was his late father.
Back on the track, Earnhardt Jr. needed a relief driver for the next two races at New Hampshire and Pocono as the pain kept him from driving. But a month after the accident when many were ready to count him out of the championship battle, he went out and won at Bristol.
"To win at Bristol, let alone sweep races at Bristol, it's awesome," he said.
"With about 100 laps to go I was thinking about how bad I hated this track, but now that we've won, I love it. It's a love-hate relationship, because it just wears you out. That was probably the most physically draining experience I've had in a race car. That long green-flag run, man, it was something else.
"I came to a lot of races here when my dad drove them. He made this place magical if you're an Earnhardt fan, and me being one of 'em. I might not have done it like he did it just now, but that was pretty damn close. He had some great races here. That's why this place is so magical to me. I've wanted to win here so bad. I never thought I'd win a Busch race and a Cup race the same weekend at Bristol. Good Lord. What a great day!"
Did That Really Happen? Earnhardt Jr. Leaves His Father's Company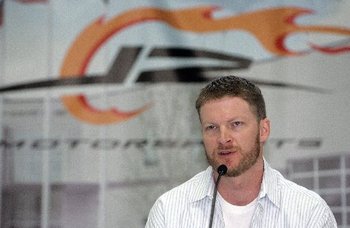 It's been called the equivalent of Babe Ruth signing with the Yankees. Many said Teresa Earnhardt and DEI would never recover from letting him go. Why?
In May of 2007, Earnhardt Jr. told the world that he would not be driving for his father's company starting in 2008. It was time for him to move on and get a fresh start somewhere else after trying to negotiate a new contract with DEI.
Internal problems with step-mother Teresa had driven a wedge between the two. Earnhardt Jr. wanted control of the racing side of the business in order to help the company become more competitive. Teresa wouldn't cave and after months of name-calling, focus questioned, and everyone having an opinion, Earnhardt Jr. made the decision.
Saying he was ready and willing to go to a company that would provide him the best opportunity to win races and championships on a consistent basis. His father would give him his blessing his believed and with that he was out the door to the jaw-drop of many.
Maybe one day he'd return to DEI, but for now it was time to start the next chapter of his life. New colors, new number, new outlook on life. A new chance to step out of the shadow of his father and be his own man.
It would lead him to what some considered to be the enemy.
That Didn't Take Long: First Race with Hendrick Ends in Victory Lane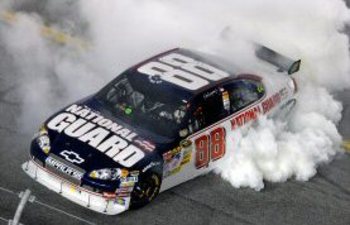 The enemy was Hendrick Motorsports.
Kyle Busch would be released from the team as Rick Hendrick needed to make space for the sports most popular driver. After the initial shock wore off, after all no one ever thought this would be possible, the talk turned to wins and championships.
Surely this team would need time to gel before they started contending each weekend. Each weekend became the first weekend. The 2008 season's first race, a non-points event in Daytona, had Earnhardt Jr. back in victory lane and the for the first time with his new team.
Five days later he was there again when he won his Gatorade Duel qualifying race. This was almost too easy and couldn't have been written any better. Going strong right out of the box, Earnhardt Jr. was already championship material.
When the real season started however, the team didn't find victory lane until June at Michigan, even though they sat second or third in points for much of the season. This was exactly why he had signed with the company and Earnhardt Jr. fans couldn't have been any happier.
When the Chase started the wheels suddenly fell out from underneath the No. 88 AMP Energy/National Guard Chevrolet as they finished 12th in points and never contended for the title. The regular season success was all a distant memory as things quickly began to change.
Since that time, they haven't done so either, as everyone is wondering what's going to happen next?
The Next Win Will Be the Sweetest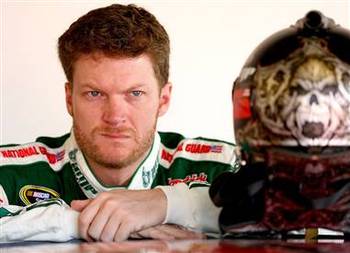 As Earnhardt Jr. makes his 500th start on Sunday he'll do so with much on his mind.
He hasn't won a race since June of 2008, over two years ago and everyone is keeping track. The fans are getting antsy and restless, others are back to questioning his ability, focus and commitment.
"I think people can stop questioning my commitment, whether I care, whether I have the passion anymore, enough passion. I have busted my ass," Earnhardt Jr. says.
"I can't drive and work any (expletive) harder than I'm working right now. I can't. This is all I got. And I'm doing it hard, man. I mean, I cannot work any harder."
"You can't do it 90 percent. You'll get eaten up. It will be obvious to everybody around you, your team, your crew chief, everybody who builds your motors, builds your cars, they'll stop giving a (expletive) because they know you're not and you won't go anywhere."
The Chase? That isn't looking up either as he missed it in 2009 and is back in the same position again.
He'll enter the Heluva Good! Sour Cream Dips at the Glen 14th in the Sprint Cup Standings, over a 100 points behind the 12th and final spot. While he admits that at this time his team isn't capable of winning the championship if they do in fact qualify for the Chase, many don't believe he actually will.
What has happened since 2008 when he signed with HMS and was a top three driver? Missing key pieces are Darian Grubb who worked with the team in 2008 before leaving in 2009 for Stewart.
Tony Eury Jr. is gone from atop the pit box and Lance McGrew brought some ray of hope that is now slowly fading away.
For his fans, the support might remained in tact as the season drags on. But they're starting to feel the affects of the grueling schedule that hasn't brought hope each weekend.
But, they continue to watch. Maybe this week will be the week that things turn around. And next week could be the one that they get a win.
Or maybe, just maybe, something else worthy of a snapshot will occur in the career of Dale Earnhardt Jr.
Keep Reading