If It Ain't Broke, Don't Break It: 10 Safer Baseball Celebrations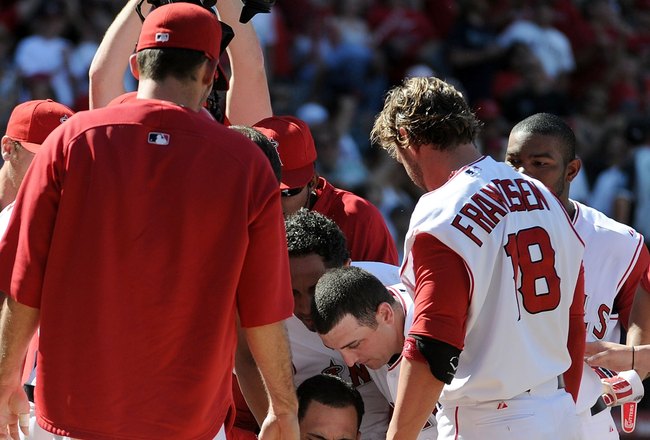 With my Philadelphia Phillies leading Major League Baseball in the number of players placed on the disabled list at some point in the year, I could fill some space with how they can ride out injuries and make yet another late-season playoff run. But where's the fun in that?
Instead of focusing on how to survive injuries, I decided to take a look at how to avoid them altogether during team celebrations.
In sports, we see a number of strange ways to revel in the moment. While in the NFL there used to be some fun and creativity involved, baseball has been historically fairly predictable.
Despite this, we've seen a rash of players injured this year during, of all things, celebrations of their individual achievements or those of their teammates.
In a 162-game season, it's not abnormal to have a player miss extended time and multiple games. It is another thing entirely to have his teammates be the cause.
What follows is a breakdown of celebrations we see on an almost-daily basis in baseball highlights and their inherent danger—and a ton of one-liners mocking them.
Here are 10 ways to make baseball celebrations safer.
The Helmet Slap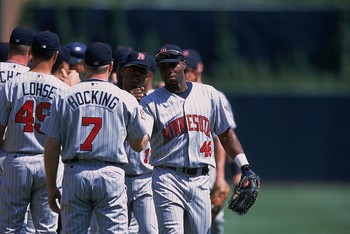 In 2001, Denny Hocking of the Minnesota Twins suffered a broken nose after his helmet (yes, the protective device worn on his head) was slapped down over the bridge of his nose.
It would seem players aren't at all safe in celebration—even from their own safety equipment.
Really, it seems a bit strange to smack someone in the head (helmeted or otherwise) as a method of congratulating him. A pat on the back should be sufficient.
If you're not into back pats, there's always the time-tested slap for the ages: the butt pat. Sure, it's awkward and unwanted, but it's better than a broken bone.
The Flying Leap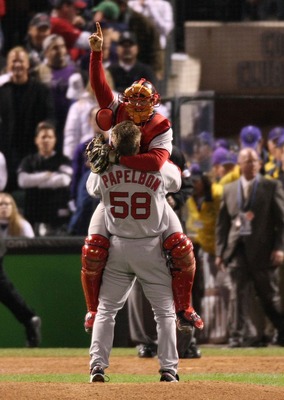 Running and jumping into someone else's arms is a time-honored tradition.
In ballet.
A catcher leaping into his pitcher's arms is an emotionally-driven photo opportunity to be sure. It's also a Tommy John surgery waiting to happen.
It seams reasonable to settle for a normal man-hug if you're insistent on hugging in celebration. (And I touch on the perils of man-hugs later in the slideshow.) It's hard to think of a situation where jumping at someone physically in proportion to you is a great idea.
More Choreography!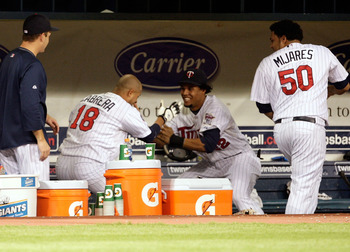 They say practice makes perfect. This is nowhere more apparent than in pre-rehearsed celebrations.
Take, for example, this goal celebration by the Iceland soccer team (if you haven't already seen it, it's worth a click).
Choreographed celebrations don't have to seem forced or fake. They can be fun. The best part about practicing them is that it reduces the likelihood of injuries and increases the entertainment value of the celebrations themselves.
As I recall it, choreographed celebrations worked pretty well during LeBron James' time in Cleveland. While he's burned that bridge, it would seem that he's got some free time during the offseason.
Why not sign him as a celebration coordinator for the Marlins?
No Base Jumping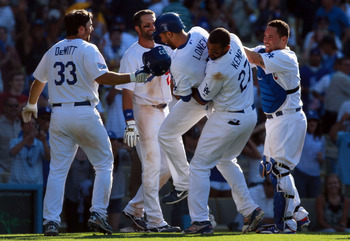 As a reminder: This is an article about safety. So you've already deduced, I'm sure, that we're not talking about jumping off buildings and bridges with a parachute.
Nope, I'm referring to the act of taking a huge leap and then slamming down with both feet on home plate. It's still only worth one run.
You're just asking to sprain your ankle. If scoring the run isn't in doubt, there's no reason to increase the amount of force or energy exerted.
Perhaps if Hanley Ramirez had been focused on this sort of energy conservation, that whole misplayed ball situation could've been avoided.
Flat Surfaces Only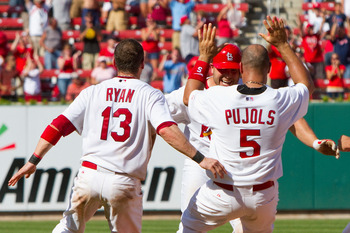 Nothing makes me more nervous than watching players celebrate from the edge of the dugout.
It's one thing to lean against the railing and do a couple of fist pumps.
Jumping up and down near the dugout stairs is another thing entirely.
It seems reasonable that stadium crews could designate celebration areas both in and outside of the dugout—somewhere with good head clearance and solid footing.
In the Cubs clubhouse, this also needs to be at least 30 feet from Carlos Zambrano.
Champagne Mishaps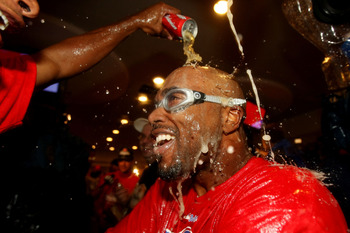 The champagne celebrations have gotten a bit excessive in recent years, with teams celebrating even clinched Wild Card berths. Along with this proliferation, the danger level has risen proportionally.
My solution involves plastic bottles, threaded caps, and goggles. That's right—in the interests of safety, the champagne bottles should be free from the possibility of cork misfires. I'd imagine you've already seen the goggle solution.
Is it a bit lame and premeditated to come prepared to a "spontaneous" champagne-spraying celebration? Sure.
Imagine how lame it would be to miss the playoffs with an eye infection.
The Man-Hug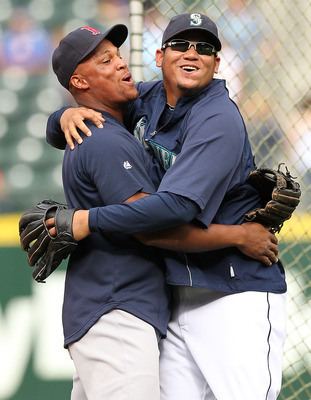 Nothing tears at the sports fan's heartstrings like the sight of a man sprinting up to another man and, in seeming ecstasy, hugging him as tightly as possible. This can include one player picking the other off the ground.
While at first this seems to be a harmless expression of joy, the possibility of broken ribs and, in turn, damaged/punctured internal organs should be enough to avoid hugging at all costs.
I've even learned to practice this in everyday life.
My safety recommendation: a brisk stride, followed by a firm handshake and a clap on the back. Very little room for damage there.
The Walk-Off, Literally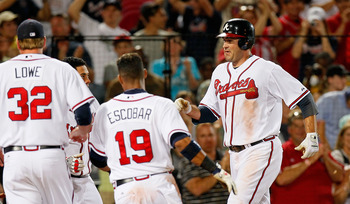 Can we agree that a walk-off hit, especially a home run, requires a simple, leisurely trot once the winning run scores?
A baserunner in these situations has one job: touch each base. Since we already call these "walk-off" hits, why not literally walk?
Sure, I wouldn't want to be the first player who does this. The next game against that team, you're getting plunked by a pitch. In an article about safety, it would be remiss for me to neglect consequences.
I'm just saying that a little soccer mom speed-walking never hurt anyone.
The Whipped Cream Pie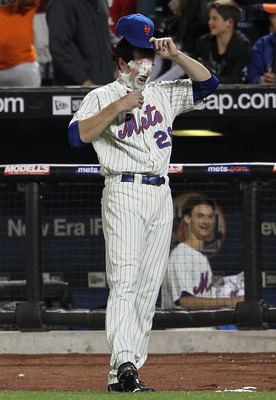 I could take this opportunity to debate the merits of embracing a trend started by the New York Yankees. Like, say, paying way more than market value on marquee free agents. How'd that work out, Mets? Cubs?
The pie-to-the-face move is overdone and lame. It's funny maybe the first time. Remember sausage races? Still think they're fun?
Well, they're not—and after Florida Marlins outfielder Chris Coghlan's meniscus tear, neither are the pies.
So let's kick it down a notch. I suggest something that doesn't require stealth: a stylish high-five.
After all, if the goal is really to congratulate a teammate for a job well done, it would seem more respectful (and significantly less dangerous) to go the hand-slapping route.
Gently.
The Dog Pile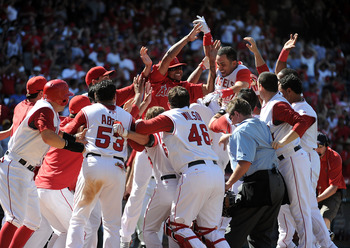 The urge never struck me to be at the bottom of a pile of grown men. Just doesn't appeal.
So it seems downright goofy that we would consider being at the bottom of said pile to be celebratory.
When I watch football players pile on going for a fumble, I suppose I can understand. They're going for the ball in the trenches.
To celebrate a big win in baseball?
Not so much.
A celebratory baseball man-pile is appropriate only once in a season: after a World Series victory. This is the absolute final game of the year. A player would have almost enough time to recover from even an ACL tear.
Aside from this, you're taking your teammates' lives (and legs, in the case of Angels first baseman Kendry Morales) into your own hands.
Keep Reading