Brett Favre: Which Wide Receiver Will Be Linked to His Career the Most?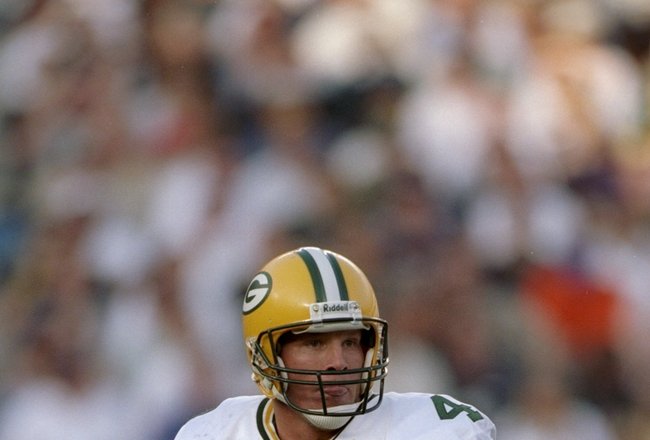 It's natural for a quarterback to find a wide receiver on his team that he deems his most reliable option.
Peyton Manning had Marvin Harrison, Unitas had Berry, Aikman had Irvin, Dan Marino had Mark Clayton, and Joe Montana and Steve Young had Jerry Rice.
But who did Brett Favre have?
Number four had an ever so fluctuating lineup of receivers throughout his career.
Which begs the question, which wide receiver will lie next to Favre's prosperity throughout history?
Let's take a look at the candidates...
Mark Chmura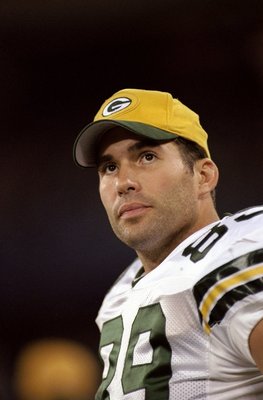 Mark Chmura was one hell of a football player.
His stats may not jump off the page, but he was a lot better than the numbers he put up.
Chmura was always an extremely reliable option for Favre when he was in trouble. He always seemed to know where Chmura was and he really trusted him.
Robert Brooks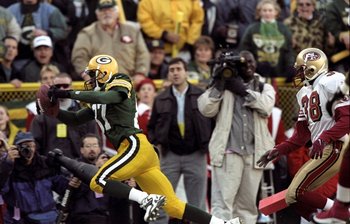 Had Robert Brooks' career not been hampered by injuries he may have had the upper hand on this list.
At the age of just 25 in 1995, Brooks hauled in 102 passes for 1,497 yards and 13 touchdowns.
Not bad, huh?
Brooks and Favre had a few more successful years with each other, but injuries truly robbed Brooks of what could have been an outstanding career and tandem with Brett Favre.
Antonio Freeman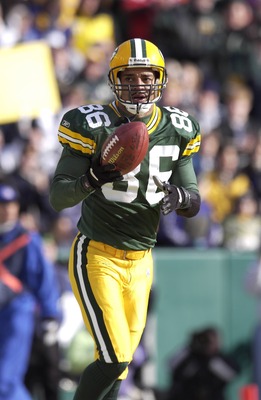 Antonio Freeman was far from spectacular, but his combination of longevity and reliability is one thing most Packers receivers couldn't compare to during the Favre era.
Freeman was Favre's go-to-guy for a period of about four or five years, which were some of the best of Favre's career.
His ridiculous catch on Monday Night Football back in 2000 is certainly the defining moment for these two.
Overall, Freeman is definitely one of the first guys that comes to mind when thinking of Favre.
Sterling Sharpe
The story of Sterling Sharpe is similar to that of Robert Brooks.
The only difference is that they were even more successful, had a slightly longer run, and Sharpe was way more talented. No disrespect to Brooks.
Let me show you Sharpe's statistics in his only three seasons with Favre:
1992: 108 catches, 1,461 yards, 13 TD's.
1993: 112 catches, 1,274 yards, 11 TD's.
1994: 94 catches, 1,119 yards, 18 TD's.
After the '94 season Sharpe was forced to retire due to injury.
It sort of makes you wonder what could have been.
There's no doubt that Sharpe and Favre will always be remembered together, but are those three insane seasons enough to make Sharpe, Favre's most memorable pass-catcher?
Donald Driver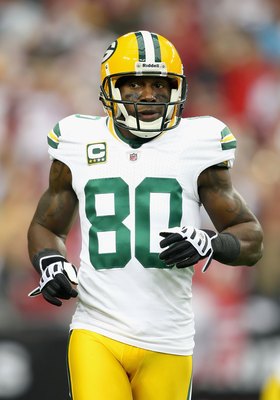 Donald Driver is to Antonio Freeman as Sterling Sharpe is to Robert Brooks.
The formers are superior players with similar stories to the latters.
Driver was a reliable target for Favre for an extended period of time, much like Freeman.
Driver, however, put up better numbers.
Not only that, but Brett and Donald seemed almost inseparable at times.
Favre always knew that he could sling it to Driver down the middle and expect him to run with the football and make a play.
For six years they were, behind Manning-Harrison, arguably the best quarterback-receiver duo in football.
Driver's name will certainly live on next to Favre's throughout time.
Conclusion
In conclusion, I'm giving the nod to Donald Driver.
He was Favre's go-to-guy longer than anyone else on this list, and he was an above-average number one receiver throughout that time.
What receiver do you think will forever be remembered with Favre?
Keep Reading

Minnesota Vikings: Like this team?