NBA Free Agency: Best Five Landing Spots for Allen Iverson in 2010-11
The past two years have been difficult ones for NBA superstar Allen Iverson.
During the beginning of the 2008-09 NBA season, he was traded from the Denver Nuggets to the Detroit Pistons, where he experienced a significant decline in both production and playing time.
This situation prompted Iverson to announce that he would rather retire than become an NBA bench player.
Following this declaration, Iverson was deactivated for the remainder of the season, and he would not play another game in a Pistons' uniform.
The next fall, Iverson announced that he would join the Memphis Grizzlies. However, he only played three games in Memphis, leaving after issues with injuries and playing time.
He subsequently announced his retirement to Stephen A. Smith.
Nevertheless, his retirement would only be temporary, and there was widespread speculation as to what Iverson would do next.
In December 2009, he eventually elected to return to the Philadelphia 76ers, the team that drafted him; a signing which excited many NBA fans.
However, this reunion was not the dream scenario which many had believed that it would be.
Iverson took a personal leave of absence prior to the NBA All-Star break, citing an illness suffered by his young daughter.
Yet, he would not play again for the rest of the season, and news spread of his divorce, as well as his alleged problems with drinking and gambling.
With all of these issues plaguing Iverson's personal life, it seemed like he might consider retirement.
However, on July 5, 2010, Iverson announced his desire to return to the NBA next season.
So, without further ado, here are the five best landing spots for Allen Iverson in 2010-11.
No. 5: Charlotte Bobcats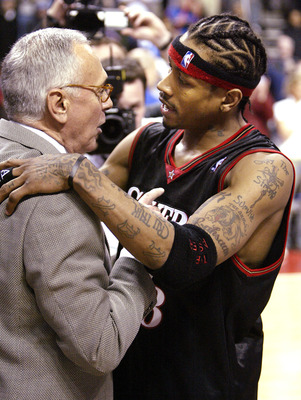 Signing with the Charlotte Bobcats would reunite Iverson with Larry Brown, the coach with whom he achieved the most success.
And, even though Brown stated that the Bobcats would not seek to acquire Iverson when he was a free agent last season, AI could definitely help this Charlotte team.
As a Bobcat, Iverson would have an opportunity to start at point guard (competing against DJ Augustine and Shaun Livingston) or shooting guard (should Stephen Jackson start at small forward).
Overall, it seems like Iverson would be able to help this team improve upon their first round sweep-exit of last season.
No. 4: New Jersey Nets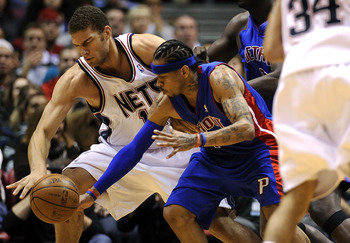 After all of the hype and promise that surrounded new owner Mikhail Prokhorov, the New Jersey Nets have been a team which has disappointed its fans this offseason.
Nevertheless, the signing of Allen Iverson would definitely create some much-needed buzz for the team which had one of the worst records ever last season.
Furthermore, AI would have an opportunity to compete to be the starting shooting guard against wing players Courtney Lee, Anthony Morrow, and Terrence Williams (all of whom would also be competing to be the starting three).
As it stands, the Nets could use all of the help they can get, so adding Iverson would certainly help this ailing franchise.
No. 3: Cleveland Cavaliers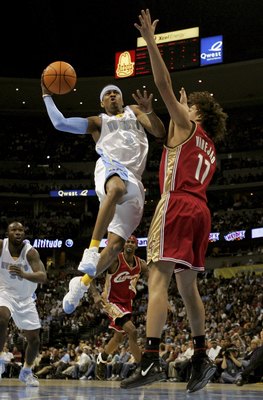 Of all of the teams in the NBA, the Cleveland Cavaliers undoubtedly had the worst offseason.
Losing LeBron James to the Miami Heat in free agency, Cleveland fans have little to look forward to in the 2010-11 NBA season.
While the Cavs did acquire Ramon Sessions, shoring up the point guard position behind Mo Williams, they still have a glaring hole at two-guard (occupied by role players like Anthony Parker, Daniel Gibson, and Danny Green).
And, although adding Iverson would certainly not drastically improve their team, he could easily start at his natural shooting guard position, while also providing some much needed scoring.
Furthermore, a move like the signing of Iverson is something that Dan Gilbert owes the fans of Cleveland, if only to appease their desire to become more competitive and watchable.
No. 2: New York Knicks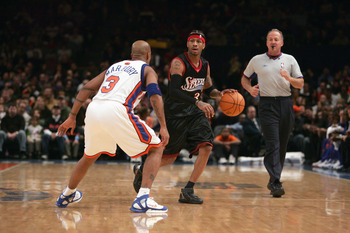 The New York Knicks were rumored to be interested in Iverson when he was released by the Grizzlies last season, so it would not be surprising if they still were.
Additionally, the Knicks lack a solid starter at two-guard, with a number of natural small forwards expected to fill the hole. Therefore, Iverson would have a legitimate shot at starting on this team.
Mike D'Antoni's high-scoring offense would also suit Iverson, as he would likely be able to run the court, put up quick shots (and points), and rack up some assists in this system.
Finally, New York, as the media capital that it is, would immediately embrace AI and hype up his signing. His jersey would be flying off the racks and the team would probably make him one of the faces of the "new Knicks."
Consequently, New York seems like a great fit for Iverson, although he probably has one better option.
No. 1: Retirement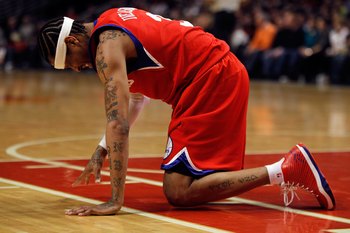 Allen Iverson in not the player that he once was, and at 35, he is among the oldest players in the league.
That, coupled with his insistence on being a starter, only spells trouble for AI.
Even if he were to sign with a team for the 2010-11 season as a starter, his skill will continue to diminish, and who's to say that he won't be benched soon after?
It's likely that another benching would result in a situation similar to the one Iverson experienced in Detroit, where he went to the media complaining about playing time and publicly expressing his discontent.
Such a scenario would tarnish his image even further.
And continued negative outbursts, alongside a lack of production, could result in AI's becoming a Stephon Marbury-like persona (albeit Marbury was never the player or icon that Iverson was).
And more important that Iverson's image or legacy is his personal life.
If it is indeed true that he has been suffering with all of the issues which have been alleged, than Iverson ought to forget about basketball for the time being and focus on how to get better (unless he needs the money that badly).
The last thing anyone wishes on Iverson is for him to become another former NBA star, plagued by monetary, legal, or substance issues.
So for all of those reasons, AI's best bet is to retire. He would still be remembered as one of the faces of the post-Jordan NBA, an all-time great, and a highly influential cultural icon.
But whatever Allen Iverson finally decides upon, all we can do is wish him the best of luck.
Honorable Mentions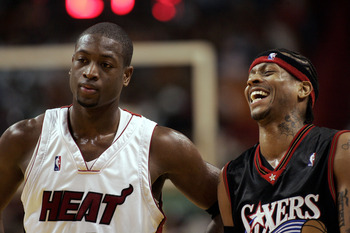 Miami Heat
Allen Iverson would have a shot at starting at point guard for the Heat, but with Mario Chalmers and the recently signed Eddie House already there, it is a long shot. Additionally, Iverson would be at best the fourth option on offense, a role which he would likely not be willing to accept.
Philadelphia 76ers
Iverson could potentially re-sign with the Sixers, but with a young core of guards (Louis Williams, Jrue Holiday, No. 2 pick Evan Turner, and Andre Iguodala), it would be difficult for him to earn a starting role.
Keep Reading

Philadelphia 76ers: Like this team?