Brett Favre Retires: His 10 Most Heartbreaking Losses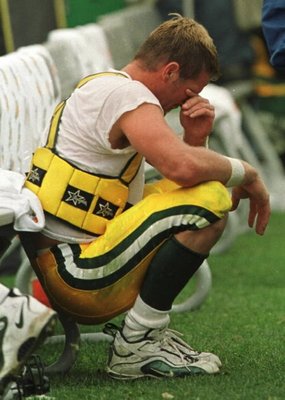 Now that Brett Favre has once again announced his retirement, NFL fans everywhere are paying tribute to a legendary career (again).

Favre holds many football records and has brought his magic to fans across the nation. Fans in Minnesota are understandably disappointed, but Favre fans are no strangers to heartbreak.
Even though Brett Favre is one of the best quarterbacks to ever play the game, Favre's career is studded with devastating losses as well miraculous wins. Here we will count down Favre's 10 most heartbreaking losses.
No. 10 2002-03 NFC Wild Card Playoffs vs. Atlanta Falcons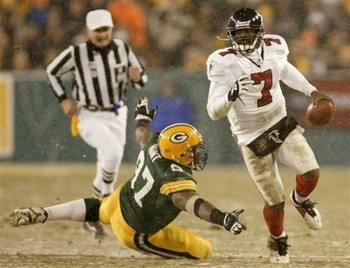 During a 2002-03 Wild Card Playoff game against the Atlanta Falcons, Brett Favre and the Green Bay Packers were completely blown out.
The Falcons forced five interceptions this game.
The Packers fell 24-0 in the first quarter and simply could not recover, ending that year's hopes of a Super Bowl.
Final Score: 27-7 Falcons
No. 9 2004-05 Wild Card Playoffs vs. Minnesota Vikings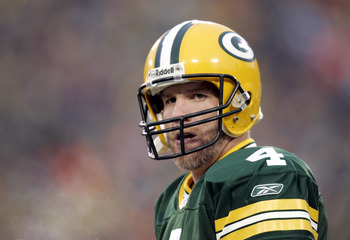 This seemed like an easy win for Favre and the Packers, seeing as the Vikings were only .500 on the regular season.
In fact, the Packers had already defeated the Vikings in both of their regular season games.
In true Brett Favre fashion, Favre threw four interceptions during this game.
A second quarter drive to the Vikings' eight yard line gave hope to Packers fans, but an illegal forward pass by Favre ended this dream.
The Packers tried to catch up in the third quarter, but a 34-yard completion by Daunte Culpepper to Randy Moss sealed Green Bay's fate.
Final Score: 31-17 Vikings
No. 8 2001-02 NFC Playoffs vs. St. Louis Rams
This was a storied match up between two great quarterbacks, Brett Favre and Kurt Warner.
Unfortunately for Packers fans, the Rams' defense proved to be too powerful to overcome, forcing eight turnovers.
Favre threw six interceptions (three of which were returned for touchdowns), and the Packers ended up losing miserably.
Final Score: 45-17 Rams
No. 7 Entire 2008-09 Season with the New York Jets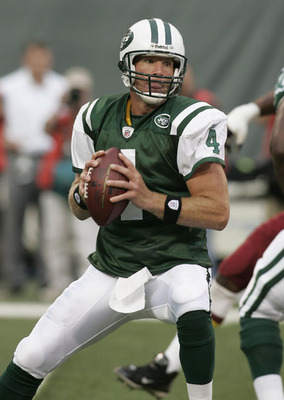 While the Jets did not have a horrible season in 2008, Favre didn't play like the superstar that we were all used to.
The Jets finished with a 9-7 record, third in the AFC East.
No. 6 1998-99 NFC Playoffs vs. San Francisco 49ers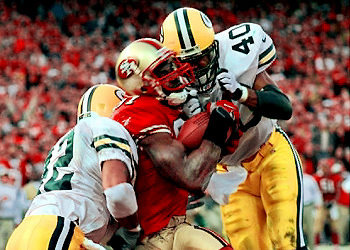 The Green Bay Packers had eliminated the 49ers in the previous three playoff seasons, but the 49ers wouldn't go down so easy in 1998.
It seemed that the Packers had it in the bag when Favre completed an 89-yard drive with two minutes left in the game, but the 49ers answered with 76 yards of their own.
It was very apparent that Jerry Rice fumbled the ball on this last drive, but there was no instant-replay in 1998, so the 49ers won by three points.
Final Score: 30-27 49ers
No. 5 2003-04 NFC Divisional Playoffs vs. Philadelphia Eagles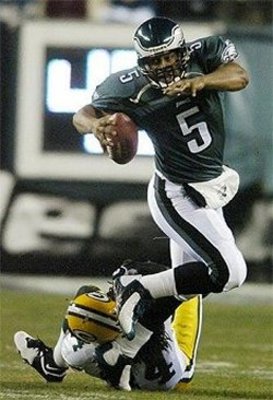 After an overtime win against the Seattle Seahawks, the Packers seemed poised to win against the Eagles.
The Packers had an early 14-0 lead until the dreaded "Fourth and 26" in which Donovan McNabb completed a 28-yard pass to Freddie Mitchell, setting up a 37-yard field goal to tie the game.
In overtime, an interception by Eagles' Brian Dawkins set up another field goal for the win.
Final Score: 20-17 Eagles
No. 4 Super Bowl XXXII vs. Denver Broncos
This game was an utter disaster for the Green Bay Packers. By the end of the first half, the Broncos led 17-14.
It seemed that the Packers had a chance when Tyrone Williams forced a fumble at the Broncos' 26-yard line, but the Broncos forced a "three and out." An offside call gave the Packers a brand new set of downs inside the Broncos' 20 yard line, but they were again forced to a three and out.
The game was tied with 1:28 left in the fourth quarter. Packers coach Mike Holmgren told his team to let the Broncos score to maximize the time in which the Packers would try to send the game into overtime.
Big Mistake.
Final Score: 31-24 Broncos
No. 3 1995-96 NFC Championship vs. Dallas Cowboys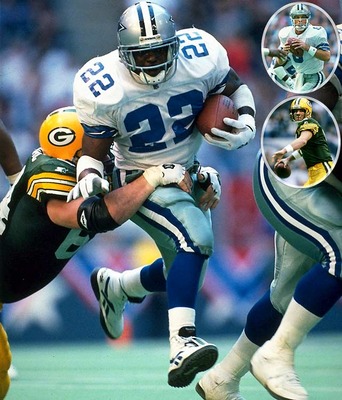 This disappointing loss happened when the Cowboys were able to come back from a 27-24 deficit.
First, there was Emmett Smith's five yard touchdown.
Then Larry Brown intercepted the ball and returned it for 28 yards.
A sad day for Packers fans.
Final Score: 38-27 Cowboys
No. 2 2007-08 NFC Championship vs. New York Giants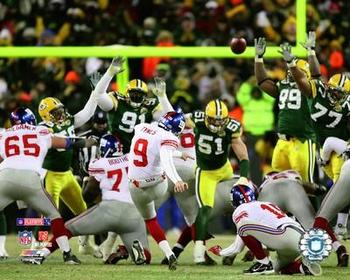 2007 proved to be Brett Favre's year. Recent ankle surgery seemed to have the superstar back to fighting shape this season.
Even though Brett Favre completed a 90-yard pass touchdown pass to Donald Driver (the longest in Packers playoff history), the Packers were not able to pull out a win over the Giants.
Final Score: 23-20 Giants in OT
No. 1 2009-10 NFC Championship vs. New Orleans Saints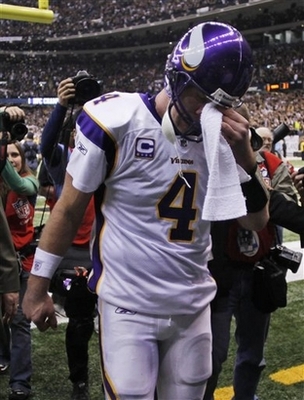 Again, 2009 seemed to be a great year for Brett Favre, and fans everywhere were predicting the football legend to go out with a bang, retiring after one last Super Bowl win.
However, the Saints had other plans.
In overtime, Favre tried a last-ditch effort to score which resulted in the Saints intercepting the ball and running out the clock for the win.
As big as a disappointment this was at the time, it seems even more so now that we know this was Favre's last game.
Final Score: 31-28 Saints OT
Keep Reading

Minnesota Vikings: Like this team?