Brett Favre: Top Minnesota Vikings His Retirement Affects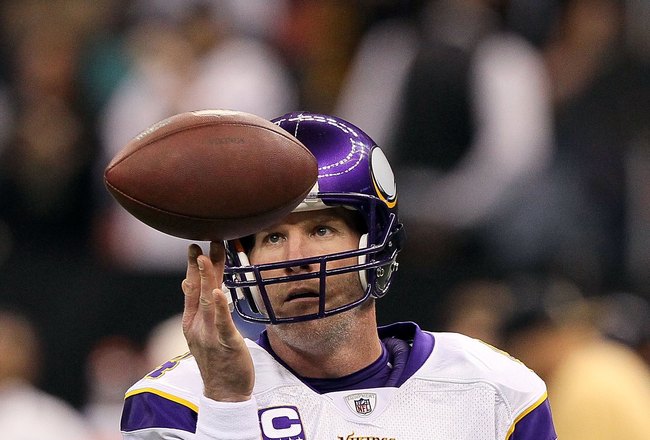 With it all but certain that Brett Favre is set to retire, he leaves the Vikings scrambling for a backup plan in his wake.
His previous two retirements didn't feel as definitive as this one. With his lingering ankle injury affecting him, the third time feels like a charm in this case.
But Favre is hard to read. In two weeks, he could realize his ankle feels okay and that he has what it takes for another season. Right now, however, the Vikings must pick up the pieces.
His decision leaves numerous Vikings with chances of increased roles for the team. Whether it's Tarvaris Jackson and Sage Rosenfels at quarterback or the Viking defense, everyone is affected by the loss.
Here are the ramifications of Favre's decision on the Vikings.
Viking Defense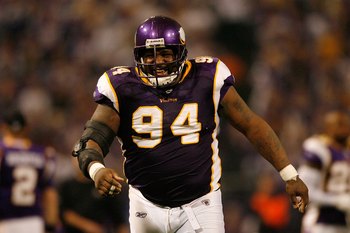 Favre's departure could affect the defense in good and bad ways.
On the good side, the Minnesota offense will rely more on the running game with Favre gone. With less emphasis on the passing game, the offense will look to chew up time and yards on the ground with Adrian Peterson.
This means the defense won't be on the field as long and receive longer breaks when the offense is on the field.
On the other hand, the stalwart Minnesota defense will have more pressure put on them without the offense being as dynamic.
The Vikings' D finished second in the league last season when they only surrendered 252.5 yards a game. The same sort of season is needed with Favre gone.
That could prove to be tough, however. Top linebacker E.J. Henderson is still recovering from a broken leg. Arguably the top defensive player for the Vikings, Henderson's return will be essential.
Without Favre, the defense will find itself in many more close, pressure-packed games than last season.
Viking Offensive Line
Favre's departure will force the offensive line into a lot more running plays than last season.
This means that if the Vikings want a chance at succeeding post-Favre, the offensive line will have to step up to make holes for Adrian Peterson and others.
While many people give high praise to the Minnesota offensive line, it is actually somewhat overrated.
Guard Steve Hutschinson is still great, but left tackle Bryant McKinnie hasn't lived up to his immense potential and plays soft.
Center John Sullivan doesn't offer what Matt Birk did at center, and Phil Loadholt provides a big body (6-foot-8, 340 pounds), but needs to get tougher.
This season, the line as a whole will have to play tougher. The offense will rely on it's ability to run-block. If they fail, it will cause the whole offense to sputter.
Toby Gerhart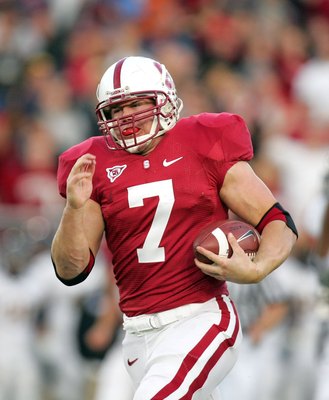 Favre's departure inevitably means more carries for the Viking running backs.
When Adrian Peterson needs a break (which could be often with the amount of work he'll receive this season), Gerhart will be there to replace him.
The hard-running Stanford alum came into training camp projected as the third-down back. His power-running style doesn't exactly make him effective in passing situations, though.
Now, Gerhart will get plenty more opportunities to show his power when he gives Peterson breathers. Don't be surprised to see Gerhart receive some carries on first and second down as Peterson rests.
The increased workload gives Gerhart the chance to show he can succeed in the NFL. He'll be able to showcase his talents better than if he was just a third-down back.
Sidney Rice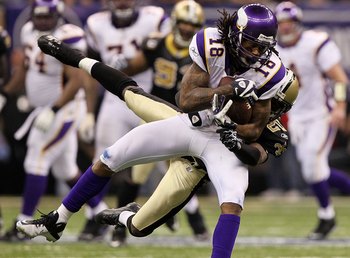 The players mentioned before will see increased loads without Favre. Such is not the case with Rice.
Before Favre, Rice looked to be a bust when Tavaris Jackson was at the helm. With Favre, the receiver looked like one of the best in the league when he brought down 1,312 yards and eight touchdowns.
As Football Outsiders' Brett Barnwell points out, Rice thrived because he ran intermediate routes, like slants and digs, effectively. Those happen to be Favre's favorite routes, and thus he targeted Rice more than the other receivers.
Without Favre, Rice will see his numbers fall. He'll still be considered the go-to guy at receiver, but Jackson and Sage Rosenfels won't hit him nearly as much as Favre did.
With Favre gone, Rice might be the Viking who suffers the most.
Percy Harvin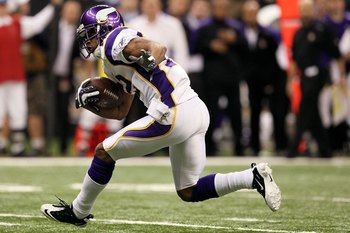 Expect Harvin the benefit greatly from the Vikings' switch to a more run-oriented offense.
When given the chance last season, Harvin proved he could thrive as a runner. He rushed for 135 yards on just 15 carries.
Now, Harvin will get the ball in numerous ways. From jet sweeps to end-arounds to Wildcat plays, Harvin will be used all over the place for Minnesota.
On top of that, his growth as a receiver will make him more effective in the passing game.
When it comes down to it, Harvin might actually benefit from Favre's retirement.
Adrian Peterson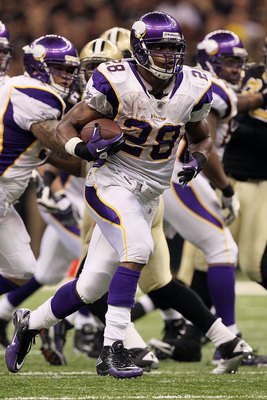 When it comes down to it, no one will see their production increase more than Peterson.
Favre's addition to the Vikings last season allowed Peterson more rest than expected. He saw less carries, which allowed him to stay healthy throughout the year. He did see his numbers dwindle, from 1780 rushing yards to 1383.
Now, the Vikings will rely on AP like they did in 2008. The offense will be all Peterson and Minnesota's success depends on his performance.
If he can stay healthy and fix his fumbling problems, Peterson should rush for 1500+ yards and guide the Vikings to the playoffs.
If he slows down, Minnesota will be in trouble. The Vikings' success lies in his hands.
Tarvaris Jackson/Sage Rosenthals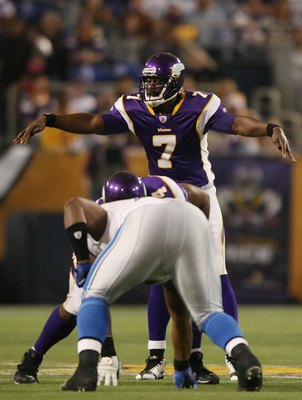 One of these two quarterbacks has to step up and replace Favre.
Right now, Jackson appears to be the front-runner. The Vikings will have to hope that a year on the bench hasn't stagnated his growth as a passer.
With Jackson at the helm in 2008, the Vikings were still 10-6. Can they do that well with him now?
It is possible. The year on the bench also could have been a blessing to Jackson. It gave him an extra season to progress and learn under one of the best quarterbacks ever.
If Jackson can steadily manage games and provide accuracy (which has been his biggest problem), the Vikings can succeed.
If he doesn't, Rosenfels will get the call. As a career backup, he definitely isn't the long-term answer the Vikings are looking for out of Jackson.
In the end, Jackson's success is paramount. If he fails, the Vikings' will have a hard time getting back to the playoffs.
Conclusion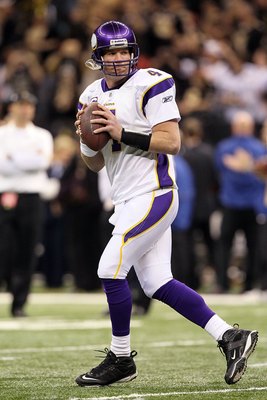 As the dust settles following Favre's decision, Minnesota now must move on.
The offense will need to be redone. The potent passing attack of last season is gone, replaced with the power-running style used before Favre's arrival.
Adrian Peterson and Toby Gerhart will receive tons of carries. Their success on the ground is essential for the Vikings to compete.
Tarvaris Jackson must manage the offense and make accurate throws to move the chains. He won't need to be a gunslinger like Favre, but he does need to take some pressure off the running game.
When it comes down to it, the Vikings can't expect the same success as last season. A return to the playoffs is definitely possible, but Jackson's development and Peterson's health will determine how well they finish.
Keep Reading

Minnesota Vikings: Like this team?