2010 College Football Predictions: Big 12 Teams Over/Under Win Totals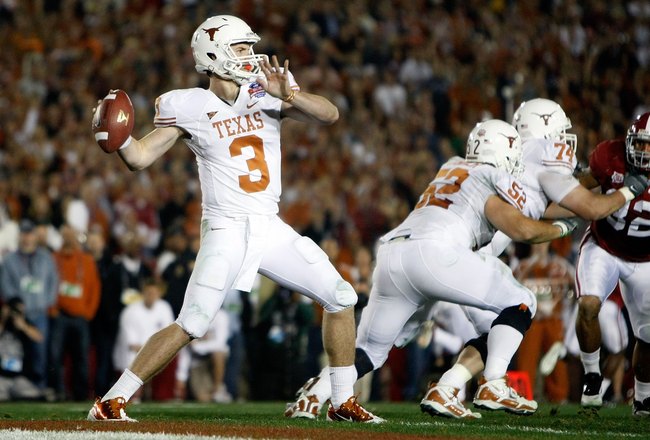 The Big 12 remains one of the premier conferences in college football.
Several talented teams have aspirations of winning the Big 12 title and clinching a spot in a Bowl Championship Series game.
Texas, Oklahoma, and Nebraska lost several key players, while Missouri, Texas A&M, and Texas Tech are on the cusp of improving.
This should provide an interesting and tight race in the conference.
Here are over/under predictions, as far as wins, for all the teams in the Big 12.
Kansas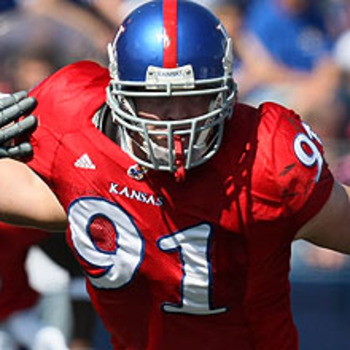 2009 Record: 5-7
Head coach Turner Gill is in his first season as head coach for the Jayhawks, but do not expect the shotgun spread offense former head coach Mark Mangino produced.
Sophomore Kale Pick seems to hold the starting quarterback advantage over redshirt freshman Jordan Webb, but Gill has not named a starter.
Running back Toben Opurum rushed for a team-high 554 yards and nine touchdowns and should be featured in a larger capacity to take pressure off first-year starter Pick.
The Jayhawks return a veteran offensive line with all five starters from last season returning, including key reserves.
Defensive end Jake Laptad leads a defense with six returning starters.
Laptad has been consistently improving every season and will have experienced tackles to help bring pressure on opposing quarterbacks.
Linebacker may be the deepest position on the defense, with as many as five players regularly playing at the position.
Kansas does not have a dominant playmaker on either side of the ball, and with a tough schedule, the Jayhawks will have a difficult time exceeding their record from last season.
Over/Under: 4.5 wins
Kansas State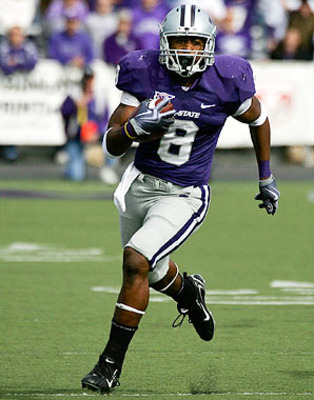 2009 Record: 6-6
Kansas State just missed a bowl game last season, but the key to success in 2010 should be the offense.
Senior tailback Daniel Thomas returns; he finished last year with 1,265 yards and 11 scores, earning him Big 12 Newcomer of the Year honors.
Four starters on the offensive line return, allowing the offense to produce and playmakers to emerge.
Senior quarterback Carson Coffman, despite looking impressive in the spring game, needs improvement after struggling down the stretch last season.
On defense, a healthy Brandon Herold returns at defensive end but missed all but one game last season due to injuries.
Little experience will be found at the linebacker position, where Alex Hrebec will be accounting for all of the position's three previous starts.
The offense should be reliable and, behind Thomas, have the ability to put points on the board, but depth will be a major concern for this team, resulting in an outside chance of the Wildcats reaching a bowl game.
Over/Under: 5.5 wins
Iowa State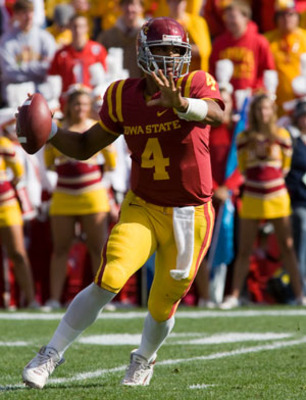 2009 Record: 7-6
Iowa State should be improved from last season, as 16 starters and many playmakers return on both sides of the ball, but the key to the season will be the play of two potentially emerging stars.
Quarterback Austen Arnaud has another year of experience under his belt and will lead a more potent offense in 2010.
Athletic running back Alexander Robinson returns and will provide the offense with a jolt of energy, as well as relieving pressure on Arnaud to constantly make big plays.
Robinson finished last season with 1,195 yards and six touchdowns and should be the focal point of the offense.
Six starters return on defense, including three on the defensive line.
However, the linebacker position was ravaged, as all three starters from last season have moved on.
The secondary provides a lot of experience and may be relied upon to avoid giving up the big play.
Iowa State may have a better team than last season's bowl squad, but with an extremely difficult schedule and concerns on the defensive side of the ball, the Cyclones may not enjoy bowl success for long.
Over/Under: 5.5 wins
Oklahoma State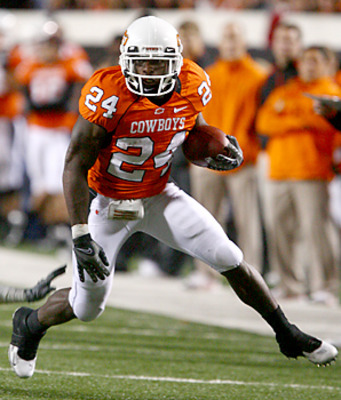 2009 Record: 9-4
Fresh off an impressive season in 2009, Oklahoma State is now in rebuilding mode.
Quarterback Zac Robinson, among other key contributors, has departed, but Oklahoma State has enlisted former Houston offensive coordinator Dana Holgorsen to the same position, and the Cowboys hope to achieve the same success the Cougars did.
Running back Kendall Hunter returns and should be completely healthy, as injuries plagued the speedy senior throughout last season.
The receiving corps gained plenty of experience with Dez Bryant's NCAA suspension, which gave many others the opportunity to make the team better.
Over the past few seasons, the Oklahoma State defense has been improving consistently, but it may need more help from coordinator Bill Young, as only three starters return on that side of the ball.
Safeties Victor Johnson and Markelle Martin should help lead a defense that ranked 31st in points allowed last season.
The defense will have to mature quickly, as top offenses are on the schedule throughout the season.
With both sides rebuilding, the offense will be relied upon until the defense can consistently hold its own. It may be a long process, but next year the Cowboys could be a contender.
Over/Under: 5.5 wins
Colorado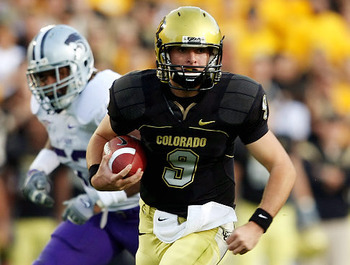 2009 Record: 3-9
After a disappointing season last year, Colorado returns a Big 12-high 17 starters and will attempt to reach its first bowl game since 2007.
Tyler Hansen looks to be the starting quarterback, as he finished last season with 1,440 yards passing and eight touchdowns, but he must limit his interceptions and become more efficient throwing the ball.
The Buffaloes have a very talented group of receivers, led by former walk-on Scotty McKnight.
Rodney Stewart rushed for 804 yards and nine touchdowns last year, and he will return as the featured back.
All five starters from an experienced offensive line return and will provide the offense with plenty of opportunities to make plays.
On the defensive side of the ball, seven starters return, led by the cornerback duo of Jalil Brown and Jimmy Smith.
The defensive line should be improved, as three starters from last season are back.
This veteran Colorado team has gained depth and should be improved from last season. However, if this year does not result in at least a bowl game, Colorado may be looking for a new coach at season's end.
Over/Under for 2010: 6.5 wins
Baylor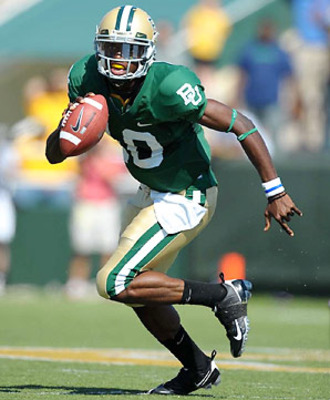 2009 Record: 4-8
For Baylor to enjoy any kind of success this season, quarterback Robert Griffin must show that his knee has completely healed from the ACL injury he suffered in 2009.
The sophomore signal caller threw for four touchdowns without an interception before being lost for the season.
Griffin should have plenty of weapons on offense to ease him back into leading the Bears.
Running back Jay Finley and receiver Kendall Wright both return. They had solid seasons last year and will hope to surpass their numbers from 2009.
Baylor lost several key contributors on the defensive side of the ball and will need players to fill the void immediately.
Linebacker will continue to be a strength of the defense, as Antonio Johnson—who finished last season with 77 tackles—will lead an athletic group of playmakers.
Experience also comes in the form of the secondary, as three of the projected four starters are seniors.
Baylor is looking to become a surprise team in a highly competitive Big 12, and with a favorable schedule and a healthy quarterback, things may be looking up for the Bears.
Over/Under: 6.5 wins
Texas Tech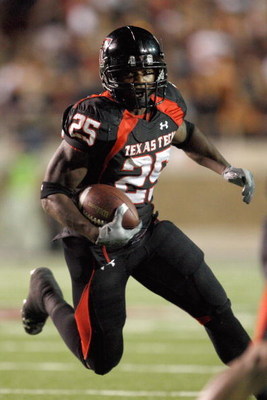 2009 Record: 9-4
New head coach Tommy Tuberville will hope to enjoy the same success with the Red Raiders that he did with Auburn, and they could mean great things for Texas Tech.
The Red Raiders have the luxury of choosing between two quarterbacks more than capable of leading the offense.
Both Taylor Potts and Steven Sheffield threw for seven touchdowns in a game last season, but neither has a stranglehold on the position.
Running back Baron Batch will add another dimension to the offense. The 5'11", 205-pound senior rushed for 884 yards and 14 touchdowns and should be utilized just as much to keep defenses honest.
James Willis, who coached linebackers for the defending national champions Alabama, was brought into Lubbock to transform the Red Raider defense into a strong unit.
Tech returns six of its eight top tacklers from last season, and this aggressive unit should be able to produce big plays.
The secondary will be a staple of the Red Raider defense, as three starters and a veteran make up the last wave of defense.
Texas Tech faces a stiff test against Texas in the third game of the season, which could serve as an indicator of how successful the Red Raiders can become.
Over/Under: 8.5 wins
Missouri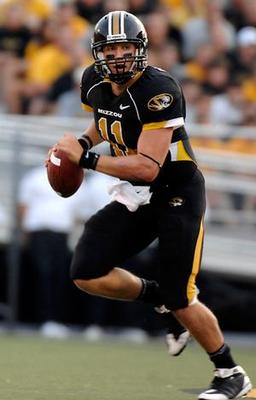 2009 Record: 8-5
Missouri finally has the pieces to contend not only in the Big 12 North, but in the entire conference as well.
Eight starters return on offense, including junior quarterback Blaine Gabbert, who threw for 24 touchdowns and only nine interceptions last season. He should have plenty of playmakers to help him exceed those numbers.
Tailback Derrick Washington will provide Missouri with a change of pace on the offense, and his 10 touchdowns from last year will put opposing defenses on notice.
Despite the departure of All-American slot receiver Danario Alexander, several playmakers will be set to emerge in a talented receiving corps.
On the defensive side of the ball, Missouri will be led by a deep, talented linebacking corps, but the key to the defense will be the front four.
The front four will be led by a potential All-American candidate, defensive end Aldon Smith, who finished last season with 11.5 sacks.
The secondary is experienced and could help improve on its 104th-ranked passing defense from last year.
Missouri has the tools this year to make a serious run in the Big 12, but unproven receivers and a pass rush besides Smith could be issues that the Tigers need to address soon. Otherwise, an improvement on their record from last season is realistic.
Over/Under: 8.5 wins
Texas A&M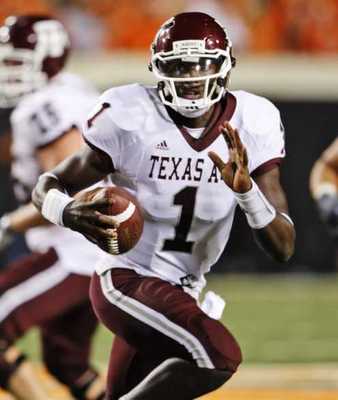 2009 Record: 6-7
Texas A&M has not won a bowl game since 2001, and head coach Mike Sherman has an athletic, talented team that could snap that streak.
Quarterback Jerrod Johnson has already shattered numerous school records, and coming off a season in which he threw for 30 touchdowns and rushed for eight more, the offense may be the most dangerous in recent memory.
The solid running back duo of Cyrus Gray and Christine Michael returns to provide the Aggies with a solid rushing attack capable of wearing down opponents.
Gray and Michael combined for 15 scores last season and will provide Johnson with an opportunity to execute and make big plays.
On defense, linebacker Von Miller will anchor a unit that should see improvement.
Miller led the nation last year with 17 sacks and is a potential All-American.
The defensive line may be the weak point of the defense, as depth could become a concern.
The secondary should be much improved, as three starters return and should limit offenses from executing game-changing plays.
If Texas A&M can avoid injuries and improve on defense, they have a chance at becoming a surprise team in a loaded Big 12. They may be a step away from contending for the conference title, but it will take plenty of points to put the Aggies away.
Over/Under: 8.5 wins
Nebraska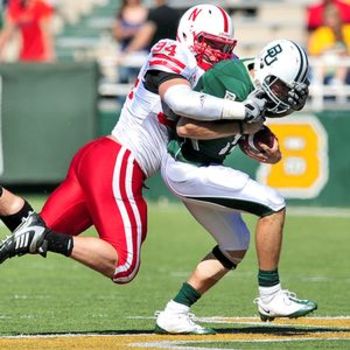 2009 Record: 10-4
After being one second away from winning the Big 12 and sending the BCS into chaos, Nebraska will look to build on its postseason success and make another run at the conference crown.
Eight starters return on an offense that stumbled throughout last season.
Quarterback Zac Lee should have a better year as Niles Paul returns to lead an experienced receiving corps.
I-backs Roy Helu and Rex Burkhead will provide the Cornhuskers with the ability to wear down defenses and give Lee plenty of chances to take advantage of matchups on the field.
The departure of dominant defensive tackle Ndamukong Suh to the NFL will leave a gaping hole in the Nebraska defense.
Defensive tackle and potential All-American Jared Crick will lead the defense to help fill the void left by Suh.
The cornerback position is another staple of an improving Cornhusker defense. Prince Amukamara also has All-America potential, and Alfonzo Dennard returns and provides experience.
Nebraska has a strong running game and dominant defense that can shut down opponents. The offense needs to find a rhythm to avoid becoming one-dimensional. If they can accomplish this, look for the Cornhuskers to once again contend for the Big 12 title.
Over/Under: 10.5 wins
Texas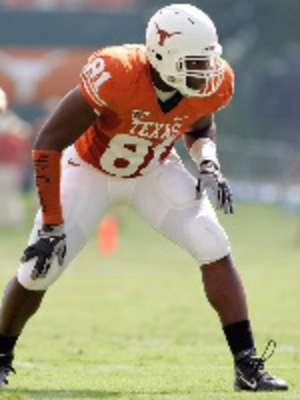 2009 Record: 13-1
The Texas Longhorns had a direct look into their immediate future after quarterback Colt McCoy was injured in last year's BCS National Championship Game.
Freshman Garrett Gilbert gave the Longhorns reassurance after a solid performance.
Gilbert tossed a couple of touchdown passes in the national title game and will retain an athletic receiving corps, led by James Kirkendoll and Malcolm Williams, to help create plays on the offensive end.
The running back position still may not have a featured back, but if Tre' Newton can stay healthy, he may take the reins and relieve pressure on Gilbert.
On the defensive side of the ball, seven starters return, including defensive end Sam Acho.
Acho, who led the team with eight sacks last season, will help anchor a stout defense.
The secondary will be one of the most talented in the nation, as three cornerbacks—Curtis and Chykie Brown and Aaron Williams—all have shutdown cover skills.
If Texas can recover from losing McCoy to the NFL and the defense continues to make big plays, expect the Longhorns to reach at least a BCS bowl game.
Over/Under: 11.5 wins
Oklahoma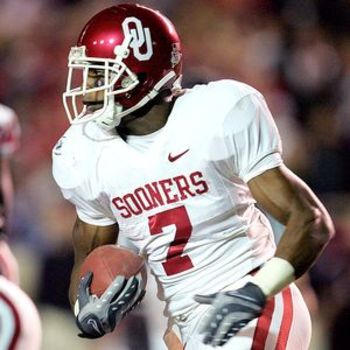 2009 Record: 8-5
Oklahoma was ravaged by injuries to key playmakers last year and still fought their way to a respectable 8-5 record. That allowed Sooners players to mature and develop skills, and that could lead to a much improved season in 2010.
Oklahoma lost quarterback Sam Bradford for the majority of the season, so freshman Landry Jones filled in and played strong, throwing for 26 touchdowns.
Jones will have a pair of proven playmakers, Ryan Broyles and Dejuan Miller, to lead a solid rotation of receivers.
Broyles caught 89 passes for 1,120 yards and 15 scores, despite missing two games, and will help Jones improve his already stellar numbers.
On defense, six starters return to a unit that allowed only 14.5 points per game last season.
With the void left by tackle Gerald McCoy, defensive end Jeremy Beal will look to be the anchor of the defense.
Beal, who finished last year with a team-high 11 sacks, will have help on the line, as athletic Frank Alexander will man the other end position.
Oklahoma fought adversity after suffering numerous injuries and still stayed competitive in most of their losses. If they can stay healthy and key players contribute, a conference title and, more importantly, a national title could be in the future for the Sooners.
Over/Under: 11.5 wins
Keep Reading

Texas Longhorns Football: Like this team?