Buffalo Bills Training Camp Battles Part Four: Inside Linebacker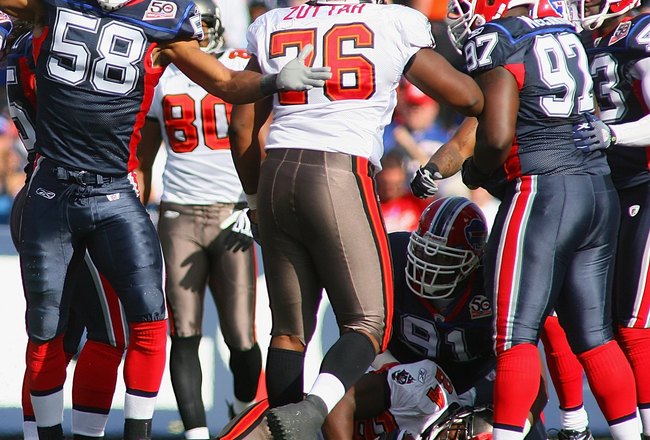 Rick Stewart/Getty Images
The Buffalo Bills are in the first year of a complete franchise overhaul. One of the changes being made at One Bills Drive is the transition from the Tampa 2 defensive scheme the Bills have used for the past decade to the 3-4 defense, which will be run by new Defensive Coordinator, George Edwards.
The transition from a 4-3 defense to a 3-4 defense is one of the toughest feats to accomplish in football, and often takes two to three seasons to fully complete, as many players are changing from positions they have played for their entire professional careers. In addition, the responsibilities of each player change with the transition as well.
Under Dick Jauron and Perry Fewell, the Bills defense operated in mostly zone defensive scheme, utilizing the lighter, quicker players that are good in coverage. But the 3-4 relies on bigger and stronger players that can clog holes and make tackles.
The inside linebacker positions are the centerpiece of a 3-4 defensive scheme, and fortunately for the Bills they have some depth at the position, which is very rare for a team in the middle of switching to a 3-4 defense.
Position Responsibilities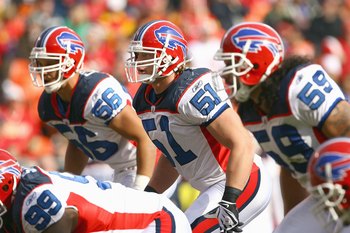 Jamie Squire/Getty Images
The 3-4 defensive scheme features two inside linebackers, the "Mike" and the "Will." The "Mike" linebacker is responsible for taking on blockers, plugging the holes, and creating space for the "Will" linebacker. Andra Davis was signed in free agency to take over this duty, as he is a proven veteran that is well versed in the 3-4 defense.
The "Will" linebacker is responsible for having a strong point of attack, and making tackles that the "Mike" opens up for him. Paul Posluszny will most likely take over this role, as he isn't great at shedding blocks yet but is a consistent tackler and blitzer.
The Bills will use a variation of the 3-4 defense this season, as Kyle Williams is expected to be the starting nose tackle, while rookie Torrell Troup, out of Central Florida, develops. Therefore, the positional responsibilities and points of attack will vary from play-to-play, depending on the game situation.
Andra Davis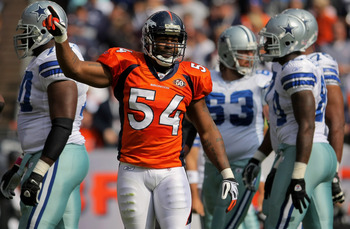 Doug Pensinger/Getty Images
Andra Davis was signed as an unrestricted free agent this summer to a two-year contract in order to assist the other defensive players as they adjust to the 3-4. Davis has played in the 3-4 for most of his nine year career, having played seven seasons for the Cleveland Browns and spending last season on the Denver Broncos.
In his career, Davis has been a playmaker, recording over 700 tackles while forcing four fumbles, and making eight interceptions.
Davis is the perfect fit for the "Mike" linebacker position, as he is a skilled tackler and can shed blocks with ease. He has reportedly been extremely helpful with the Bills' younger players, and has often been seen explaining different coverages to veterans during training camp.
Kawika Mitchell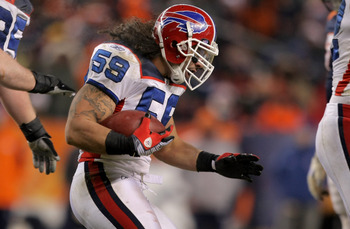 Doug Pensinger/Getty Images
Kawika Mitchell came to the Buffalo Bills after winning a Super Bowl with the New York Giants in 2007 as an outside linebacker. Chan Gailey and defensive coordinator George Edwards see Mitchell fitting into the inside linebacker role, though he lacks ideal size to play either the "Mike" or "Will" positions.
Mitchell is a quick and agile player who can make tackles and blitz, but he is coming off a season-ending injury that he suffered in Week 5 of the 2009 season in a loss to the Cleveland Browns.
In his eight-year career with the Kansas City Chiefs, New York Giants, and Buffalo Bills, Mitchell has made 487 tackles, recorded 12 sacks, forced six fumbles, intercepted six passes, and defended 23 passes.
Mitchell is a playmaker that the Bills can't afford to have sitting on the sidelines, so it will be interesting to see how he is utilized in this year's defense.
Paul Posluszny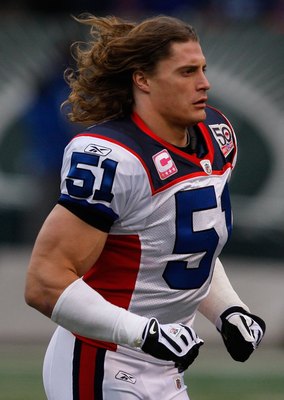 Jared Wickerham/Getty Images
When he can stay healthy, Paul Posluszny is an elite linebacker in the National Football League. Entering his fourth season out of Penn State, Posluszny is looking to make an impact as a 3-4 "Will" linebacker, and is the closest thing to an every-down player that the Bills currently have on their roster.
Although his measurables don't place him as an ideal inside linebacker, Poz has played middle linebacker in a 4-3 for his entire career, and it isn't pertinent that should change anytime soon.
Posluszny appeared in only 12 games last season after suffering a broken arm, but he still managed to record over 100 tackles, force three fumbles, and intercepte three passes.
Arthur Moats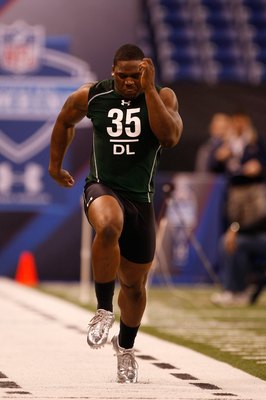 Scott Boehm/Getty Images
The Bills selected Arthur Moats out of James Madison in the sixth round of the 2009 NFL Draft as a defensive end, but the coaching staff projects him as an inside linebacker.
Don't expect any huge playing time for Moats outside of special teams, but his explosiveness and intelligence could have him on the field as a starter within a year or two.
This season, Moats' speed and tackling ability will earn him significant reps with the special teams units, which will get him accustomed to NFL game day speed.
2010 Outlook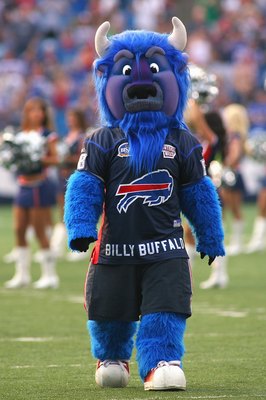 Rick Stewart/Getty Images
Paul Posluszny will likely be on the field for almost the entire game at the Will position. Posluszny is the team's most consistent player and is a fan favorite.
Andra Davis won't see the field as much as Posluszny, but he will be a two-down linebacker, and will play on obvious run downs. Davis is a superior run defender, an area the Bills weren't able to perform in last season.
Kawika Mitchell will be rotated with Davis, as his coverage skills exceed those of Davis, and he could also see time at both outside positions as well.
Contracts
Wesley Hitt/Getty Images
Andra Davis signed a 2-year deal worth $4.4 million this offseason. WIth this year being his ninth season in the NFL, it is unlikely he will get resigned when the deal is up.
Paul Posluszny is in the last year of his rookie deal, and is slated to earn $665,000 this season. If he can prove himself worthy of a starting job throughout the season, which is likely, expect the Bills to resign him before he can hit the market.
Kawika Mitchell is signed for three more seasons, and will earn $8.2 million.
Keep Reading

Buffalo Bills: Like this team?