Why the Arizona Wildcats Can Win the Pac-10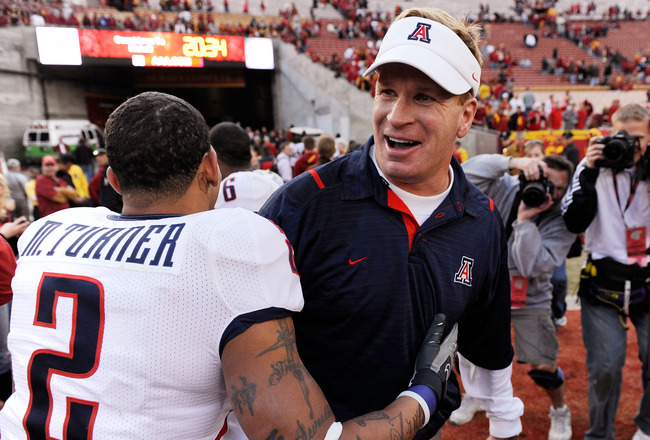 The Pac-10 (soon to be the Pac-12) has been in the news quite often recently.
The conference has received some bad exposure (USC and Reggie Bush) and good rep (all the coaches traveled to the Big Apple to promote the Pac-10) recently.
On top of all this, the Pac-10 had its media day.
In the midst of all this, U of A has remained fairly silent.
But what should be noticed is that for the first time in many years, the Wildcats are actually predicted to finish in the top half of the conference (fifth in the preseason poll).
But, at the same time, seven different teams received first place votes.
This could be the most wide open Pac-10 we've seen in years.
And Arizona could take advantage of it. Here's why:
1. The Quarterback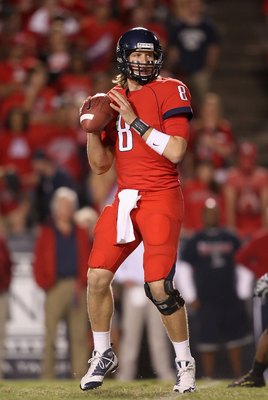 Let me introduce you to an under-the-radar Heisman candidate:
Nick Foles.
The junior from Texas passed for 2,543 yards in what was basically nine starts last season (he played a few series in two other games) to go along with 19 TDs and nine INTs.
Sure the interceptions are a bit high, but in a conference that's not known for having great defenses lately (Arizona St. could have the best this year—and they're projected to finish ninth), a great QB is always a plus.
And yes, he does have a lot to work on, evidenced by the terrible game he had in the Holiday Bowl against Nebraska.
But Foles is already considered to be a possible future pro by scouts because of his size (6'5", 235 lbs.) and arm.
But Foles can also be very accurate. He went through a seven game stretch last season where he completed at least 60 percent of his passes, including a three game stretch where he completed 70 plus percent of his passes.
And now that Foles is the starter, I imagine he could get around 25 TDs and top 3,000 yards in a wide open Pac-10.
For Arizona to succeed in the conference, Foles must be sharp and on his game.
If he is, not only will Arizona be in the race for a Rose Bowl berth, but Foles will put himself in the Heisman race.
2. The Running Game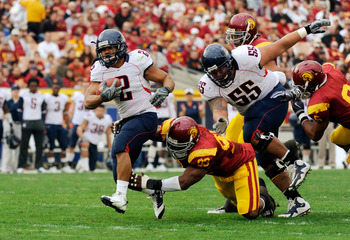 No, Arizona doesn't have the running backs that USC always gets, or a dynamic runner like Jaquizz Rodgers.
But they may just have the best one-two punch in the conference after the Oregon schools.
And by that I mean Nic Grigsby and Keola Antolin.
Grigsby has been around for a couple of seasons, but I get the feeling we've yet to see the best from him.
Last season, I think we saw a taste of what he could do given some more carries, as he averaged a whopping 7.2 yards a carry to go along with a 94-yard touchdown.
He started the year well, but Antolin stole a lot of carries later on in the season and Grigsby had some injury issues late.
If Grigsby can stay healthy though and get around 150 carries, he could pass the 1,000 yard mark as he did the previous season on just 214 carries.
As for Antolin, the 5'9" runner stepped up big when U of A needed him too last season, filling in when Grigsby struggled or was injured.
He averaged 5.6 yards a pop himself, getting 637 yards on the ground.
What makes this combo great though is the contrasting styles: Antolin tends to run between the tackles, and Grisby tends to use his speed to his advantage.
If these two can be on their game this season, it will really open holes for Nick Foles and the passing game to succeed.
3. The Coach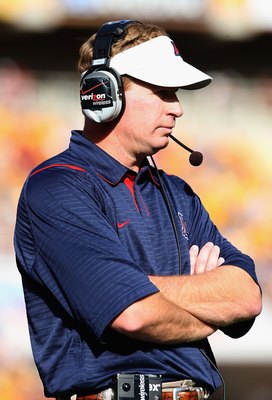 You've heard of Bob Stoops right?
Well, in case you didn't know, his brother coaches Arizona.
Let me just say that Mike Stoops is a very underrated coach.
His record doesn't show it, but then again the program was in disrepair when he inherited it back in 2004.
Stoops knew it was going to take time.
But after a couple of winning seasons, Stoops is sitting pretty.
He could very well make it a third.
And we all know that great coaching can make a huge difference.
4. The Secondary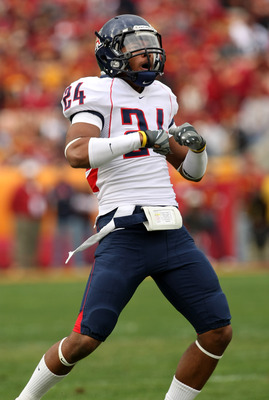 In what appears to be a very talented offensive conference, having a good secondary is a plus.
But don't let me try to convince you by myself. Here's what scout.com had to say about the Arizona secondary:
"The defense prefers to attack without blitzing and locking down opposing receivers with one of the most athletic defensive backfields this side of Troy."
Arizona has had a history of good cornerbacks (Antoine Cason and Devin Ross the last couple of years), and now Trevin Wade is the star of the defensive secondary.
Wade, a junior, was voted as a Second-Team Pac-10 performer last season...as a sophomore.
So while there are a lot of questions about the front seven (mainly the linebackers), the Wildcats can fall back on what appears to be on of the better secondaries in the Pac-10.
5. The Schedule
And by the schedule, I mean it's not overly difficult.
Arizona opens the season on the road at Toledo, but then play five of their next six games at home with a bye in between.
If the Wildcats can somehow manage to beat Iowa at home (no easy task, especially considering what Nebraska did to them in the bowl last year), U of A could start out 6-0. Maybe even 7-0.
After Toledo, which I expect to be a win, here's the schedule:
2. Citadel
3. Iowa
4. Cal
5. OPEN
6. Oregon St.
7. at Washington St.
8. Washington
9. at UCLA
10. at Stanford
11. USC
12. OPEN
13. at Oregon
14. Arizona St.
Arguably their toughest games will be Stanford and Oregon on the road, and probably USC at home (who will want revenge for last season's loss).
If you look at Arizona's three losses in conference last year, they were all close games (Washington 36-33, Cal 24-16, Oregon 44-41 2OT).
And this year, Arizona gets two of those opponents at home (Cal and Washington).
As well, they get arguably one of the better teams at home in Oregon St.
The road schedule is not difficult, with all save Oregon being very winnable.
I honestly think that Arizona could get at least seven or eight wins again just because of their schedule alone.
Final Result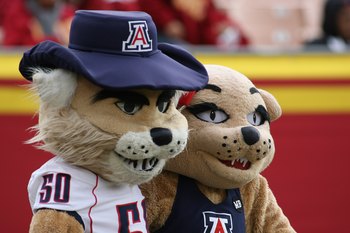 I think that Arizona will will at least seven games again.
Combining the five factors I just mentioned, I think they will win against Toledo, the Citadel, California, Washington, Washington St., UCLA, and Arizona St. at the very minimum.
If they do, Arizona will once again be in a bowl game.
But, as I've said, they could do so much more than that.
If Arizona is to get to a Rose Bowl, they'll need to win the big games this year, most notably on the road against Oregon and Stanford, and at home against Oregon St. and USC.
Enjoy the season Wildcats fans! It should be another good one!
Keep Reading