2010 College Football Preseason Rankings: A Case For No. 1 Florida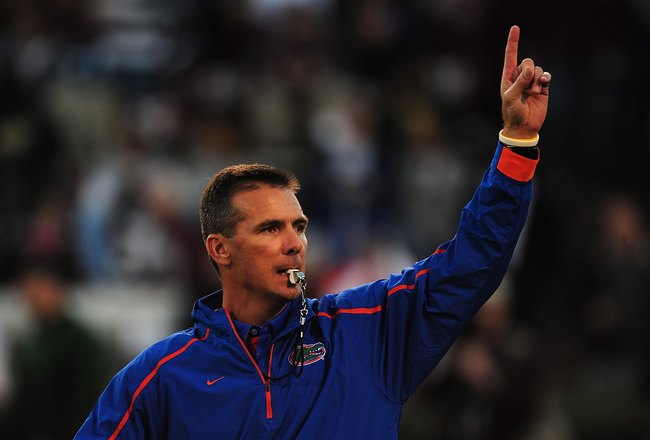 No, it is not 2009 when Florida was the preseason favorite to win the BCS National Championship. However. But after looking at several factors including, but not limited to, returning starters on offense and defense, strength of schedule, and coaching staffs, a strong case can be made to predict that Florida, not Alabama, will win it all in 2010.
Let's take a look at the top 25 while counting down to No. 1 Florida.
No. 25: Stanford Cardinal (Tie)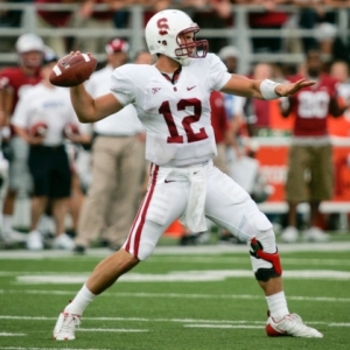 Stanford has become a legitimate contender for the Pac-10 championship. QB Andrew Luck will lead a potent offense, but questions surround the defense with new DC Vic Fangio and his switch from a 4-3 to a 3-4 scheme.
Here is a preview of Stanford's 2010 Spring Practice:
No. 25: Georgia Bulldogs (Tie)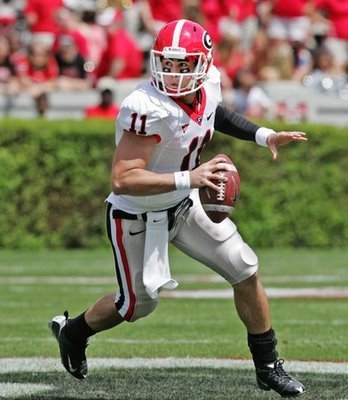 After a mediocre 2009 season, the Georgia Bulldogs are looking to make a strong return and run at the SEC Eastern Division Title.
The Bulldogs will start redshirt freshman Aaron Murry, but return eight starters on offense. The defense will have a new look since head coach Mark Richt fired three of four defensive coaches, hiring new DC Todd Grantham from the Dallas Cowboys, who will switch the defense from a 4-3 to a 3-4.
Here is a preview of the 2010 Georgia Bulldogs.
No. 24: Connecticut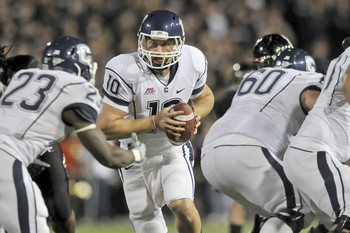 Randy Edsel, head coach of the Connecticut Huskies, has arguably the best returning team since he's been there. In 2009, all five losses were by 15 points or less, and they led each game into the fourth quarter with the exception of one.
With a favorable home schedule, don't be surprised if UConn wins their first outright Big East title.
No. 23: Utah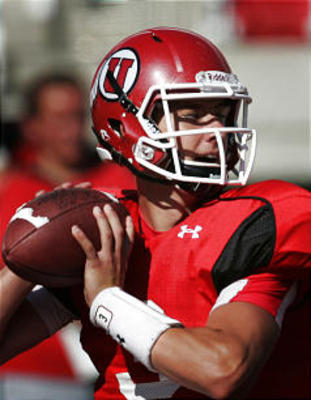 Will Utah bid farewell to the Mountain West Conference by winning the conference championship in 2010?
Yes.
Opening the season at home against Pitt, the Utes have a relatively easy schedule until November 13 when they travel to South Bend to visit Notre Dame.
No. 22: West Virginia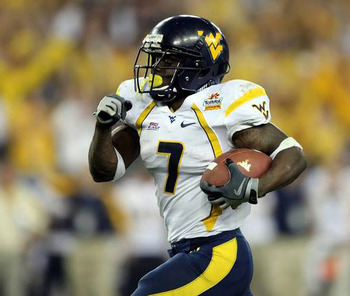 RB Noel Devine will soon be making millions of dollars in the NFL, but for now he will continue to lead the Mountaineer offense in 2010.
Now that Jarrett Brown is gone, sophomore Geno Smith looks to be the man at QB in Morgantown. With six returning starters on offense and 10 on defense, the expectations are high for West Virginia this season.
No. 21: Florida State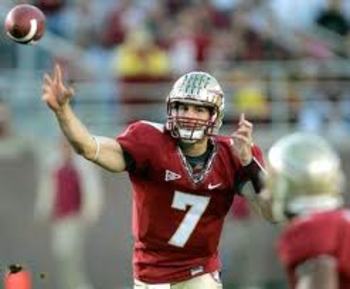 Goodbye Bobby Bowden and hello new head coach Jimbo Fisher. Will Bowden's questionable departure from Tallahassee finally allow Fisher to get the Seminoles back into the national spotlight?
Fisher also welcomes new defensive coordinator Mark Stoops to FSU, and they will need to get the defense up to speed fast, with a schedule that includes Oklahoma and Miami on the road, if they want to contend with Miami for the ACC Championship.
No. 20: Oregon State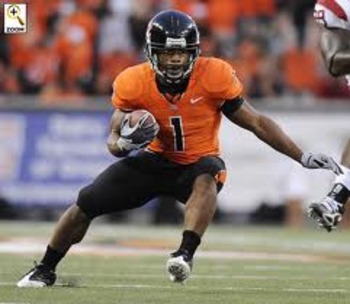 The Beavers return 19 Letterman to the fold and may be in a position to finally defeat rival Oregon.
RB Jacquizz Rodgers will anchor the offense as either Ryan Katz or Peter Lalich earn the QB job (most likely Katz). Moreover, the defense must improve it's pass rush if they are going to make it over the final hurdle and represent the Pac-10 in the Rose Bowl.
No. 19: North Carolina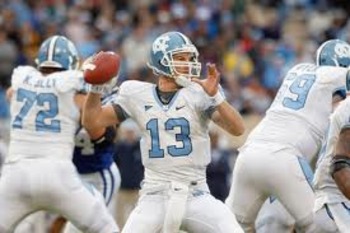 With the NCAA breathing down the program's neck to start the 2010 season, North Carolina starts the season against LSU in Atlanta playing in the Chik-Fil-A Kickoff Classic on Sept. 4.
Head Coach Butch Davis has accomplished quite a bit in his three seasons in Chapel Hill, but he has yet to win a bowl game or defeat in-state rival NC State. If he can put an offense together, he may be able to cross those off the to-do list as well.
No. 18: Auburn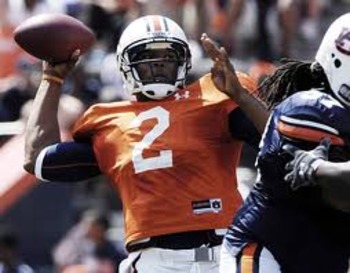 How quickly things changed down on the plains in the state of Alabama.
Head Coach Gene Chizik enters his second season at Auburn with a top five recruiting class, and an almost stunning upset in the 2009 Iron Bowl. His once hated arrival is now accepted and Auburn fans are looking forward to the 2010 season.
With the arrival of former Florida Gators QB Cameron Newton, the Tigers are looking for great things in 2010. The question remains—can they hold back Arkansas and defeat their arch-rival Alabama?
No. 17: LSU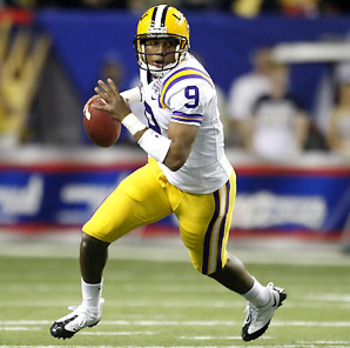 Head Coach Les Miles lost some clout last season with some very questionable play calls, and is on the hot seat in Baton Rouge this season. With former head coach Nick Saban winning a SEC and National Championship last season with rival Alabama, Coach Miles will need to improve on last season.
LSU has both starting QB Jordan Jefferson and back-up Jarrett Lee in the wings, but neither one has been consistent. Will one care to step up and help improve an offense that was ranked last in the SEC in 2009?
No. 16: Penn State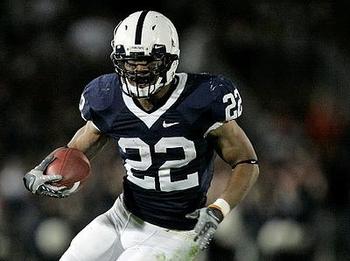 As Joe Pa enters his 45th season has head coach of Penn State, the questions start all over again asking if this will be his final season as head coach.
With a murky QB situation, RB Evan Royster will be called upon to carry the load for the offense. The Nittany Lions can only hope that Royster can garner his third 1,000-yard season in 2010.
No. 15: Miami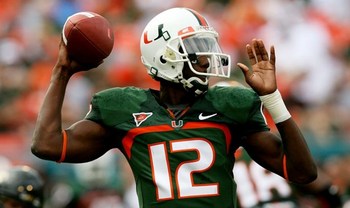 Is the "U" back? Are they serious contenders to win the ACC? Is Jacory Harris in a position to lead the Canes back to their glory days? All very good questions that have yet to be answered.
With a strong returning defense, the Canes must face a tough early schedule against Ohio State, Pitt, and Clemson, but if they survive the aforementioned, these questions will quickly be answered.
No. 14: Arkansas
If there is a team that could take the SEC West other than Alabama, it is Arkansas.
Led by QB Ryan Mallet, the Razorbacks have the offensive power to make a serious run at an SEC Championship. The only thing holding them back is their defense, which is a big question mark.
No. 13: USC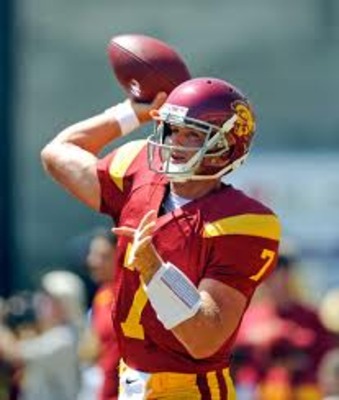 And then there was USC. Pete Carroll is gone, Lane Kiffin has arrived and with him courtesy of the NCAA serious sanctions thanks to that guy who now plays for the New Orleans Saints.
QB Matt Barkley will continue to grow with other players and head coach Lane Kiffin.
USC loses 30 scholarships over the next three seasons, and cannot go to a bowl game for the next two years. Ouch.
No. 12: Oklahoma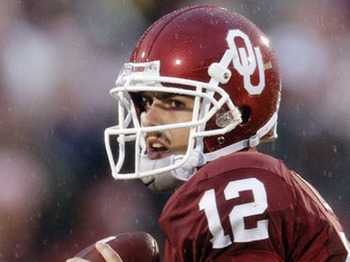 A truck load of injuries kept Oklahoma from being a serious threat in 2009. Now the Sooners must contend with the continued progression of QB Landry Jones and other untested players.
With early tests against FSU and Cincinnati, OU will quickly find out if they are in a position to contend for the Big-12 title, which currently belongs to Texas, their hated rival, which they have lost four out of the last five games.
No. 11: Wisconsin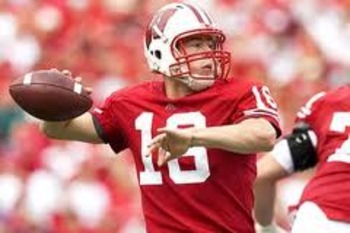 A candidate to win the Big-10 in 2010, Wisconsin led the league in scoring in 2009, and could again in 2010.
The defense is a step behind the offense, but if they catch up, the Badgers could easily compete for the Big-10.
No. 10: Iowa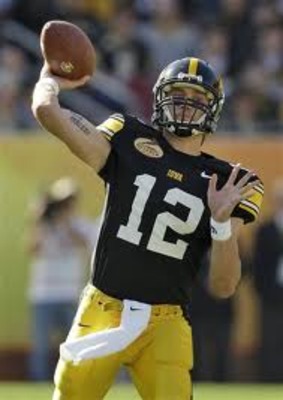 My upset team to win the 2010 Big-10 championship, the Hawkeyes are set to make a run at Ohio State.
With a home record of 44 wins in the last 53 games, and their toughest games at home, Iowa is set to meet the Pac-10 champion in the Rose Bowl.
No. 9: Nebraska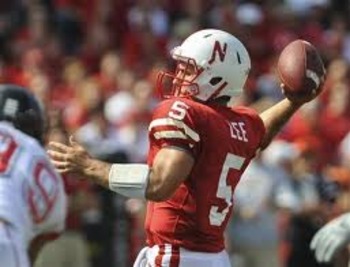 The 2010 season for Nebraska all depends on their offense—not unlike the 2009 season. The Cornhuskers were one play away from winning the Big-12 Championship.
Moving over to the Big-10 in 2011, what a way to kiss the Big-12 goodbye by winning the 2010 Big-12 Championship. Don't be surprised if it happens.
No. 8: TCU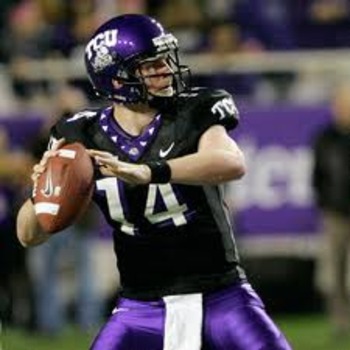 With a good core of seniors returning, the Horned Frogs should find themselves competing for a 2010 BCS bowl bid. And, not unlike Boise State, if they go undefeated, don't be surprised if they find themselves in the BCS Championship game.
No. 7: Virginia Tech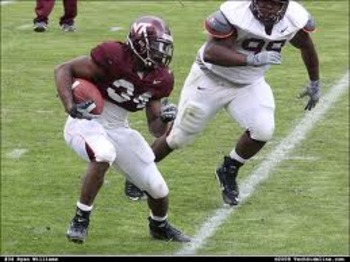 For the first time in a very long time, the Hokies offense will have to carry the defense while it settles in. Defeating Tennessee in the Chik-Fil-A Bowl to end the 2009 season, it was Virginia Tech's six consecutive 10-win season.
Expect Virginia Tech to win the ACC in 2010.
No. 6: Oregon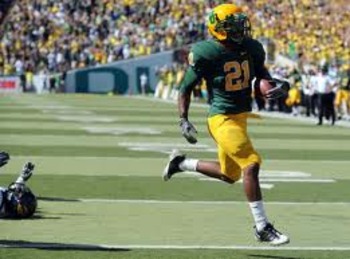 For a team that booted their starting QB off the team and lost their starting RB for the first game of the 2010 season, Oregon is still in a great position to win the Pac-10 in 2010.
However, with all the off-season and prior player problems that the team has experienced, do the Ducks have the leadership via coaching and players to have a legitimate shot at winning the Pac-10? Back in 2008, fans looked to 2010 as the season that might bring a national championship to Eugene, but now...?
No. 5: Ohio State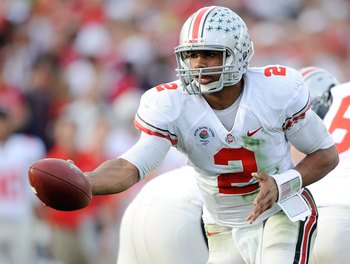 After dismantling Oregon in the 2009 Rose Bowl, fans and critics both applauded the long-awaited arrival of Terrelle Pryor. Everyone knew he had the talent and tools, but had a knack of doing something to make everyone shake their head.
The only potential concern on offense is the line being susceptible to good pass rushers. Other than that, take a look at the 2009 Rose Bowl, and you will quickly see what you can expect in 2010.
There are questions on defense with only five starters returning. That shouldn't prevent Ohio State from winning their sixth straight Big-10 title; Buckeye fans just need to hope that if they do play for the BCS National Championship they don't face a SEC team.
No. 4: Boise State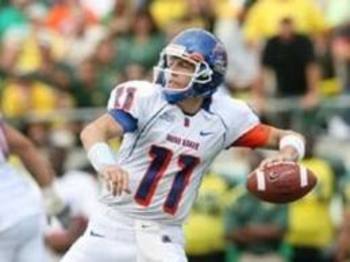 Could this be the year that Boise State finally gets invited the BCS Championship game?
If they go undefeated again, you can count on it.
By the way, you have to love how Boise State's president lit up rival Idaho:
No. 3: Texas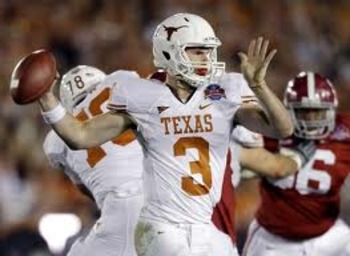 Texas' defense will continue to be top-notch, but head coach Mack Brown plans on changing the offense to a power-run, play-action scheme. With QB Garrett Gilbert and a group of talented RBs including Tre' Newton, the Longhorns will win the Big 12 and possibly face the SEC champion for the BCS Trophy.
No. 2: Alabama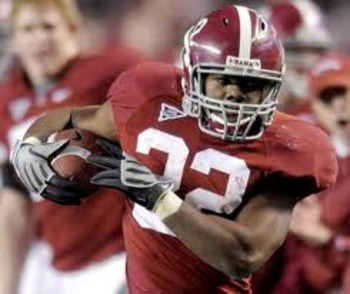 Mark Ingram and the Alabama Crimson Tide will attempt to do in 2010 what the Florida Gators tried in 2009—repeat.
And just like the Florida Gators—they will fail.
Alabama's offense is not the concern. Eight offensive starters return including QB Greg McElroy, Heisman Trophy winner Ingram, and WR Julio Jones.
The defense, on the other hand, is a serious question mark. The entire defensive line is gone, and DE Marcel Dareus is in trouble with the NCAA for allegedly attending a party in South Beach during the offseason.
The secondary lost everyone accept S Mark Barron.
With all the losses on defense, and young but talented players being asked to step in, the expectations may be too high in Tuscaloosa. Alabama will struggle to stop teams with offensive firepower in the SEC (i.e. Arkansas and Florida).
Here is a peak of the 2010 Alabama Crimson Tide:
No. 1: Florida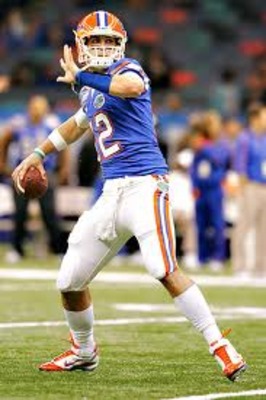 Yes, Tim Tebow is gone.
Now that we've broken that story, let's discuss the remaining firepower on the Gator offense. Starting QB John Brantley has WR Deonte Thompson, and RBs Jeff Demps, Chris Rainey, and Emmanuel Moody ready to drive the offense.
Redshirt freshman Andre Debose is the secret weapon that will not be a secret for long. Three of the five offensive line starters from 2009 remain. If there is a question mark, it's at TE with the departure of Aaron Hernandez.
The big difference between Alabama and Florida is on defense, specifically the secondary. All-Everything Joe Haden is now in Cleveland, but Will Hill, Janoris Jenkins, and Ahmad Black still remain.
The one big test for Florida is against Alabama in Tuscaloosa, but even if the Gators lose that game, it will be a SEC West loss and they will remain in contention in the SEC East.
The only other teams that could cause the Gators trouble are LSU, Georgia and South Carolina—teams that are expected to be improved from 2009. Florida has owned Georgia as of late, and the Gators get LSU and the Gamecocks at home. Lastly, the Gators end the regular season in Tallahassee against FSU, but it is too soon to expect the Seminoles to bounce back.
Defense wins championships, and that is why Florida will take back both the SEC and National Championships from Alabama.
Take a look at the 2010 Florida Gators:
Keep Reading