2011 NFL Mock Draft: The Other Guys--Top Prospects Not Named Jake Locker
The 2010 College Football Season is exactly a month away. As we countdown to game day, and the anticipation builds, we ask our Inner Football Analyst this singular and most important question, "Who will be the stars of the year?"
Almost instantaneously, Jake Locker's name flashes before your eyes. And then reigning Heisman trophy winner Mark Ingram's face appears. Then who?
This 2011 NFL Mock Draft will size up fifteen of 2010's most NFL-worthy players not named Jake Locker or Mark Ingram. So sit back, relax, and be prepared for a few surprises.
Christian Ponder, Quarterback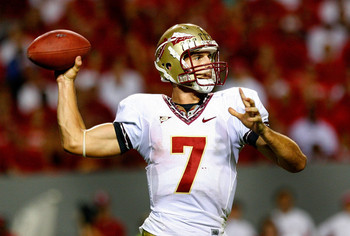 Let's start this list with something to Ponder.
The cover boy of NCAA Football 2010 is well worth the hype. Putting all the statistics aside for a moment, let's break down the mechanics of what qualifies Christian Ponder as a top NFL prospect.
First, he has a quick release, and accurate under pressure. He has a fantastic instinct to feel when the defense is closing in--he'll react by either stepping up and out of the pocket, or by running. He's no Tim Tebow, but he's agile enough to pick up a few yards. Ponder is notably confident in the pocket and does not panic when it collapses. As a fan of the game, what I enjoy most about Ponder is his willingness to throw a shoulder down and block for his runner. That shows heart and that he's a team player.
Now for the statistical breakdown. Last season, Ponder was a fantasy's player dream quarterback, excepting the last few games he missed due to injury. In the games he did play, however, Ponder has a pass completion of 68.8%. He threw for a total of 2717 yards in the games he did participate in, and added 14 touchdowns with only 7 INTs. Against ranked teams, he attempted 136 passes and completed 92 of them. That is a 67.6% completion rate. He threw 300+ yards in four games. Most impressively, he maneuvered a come-from-behind win against UNC, posting 395 yards and three TDs.
Let's hope he has an injury-free senior year that will improve his NFL draft stock.
Awards and Honors:
2010 Preseason ACC Player of the Year
Mark Barron, Safety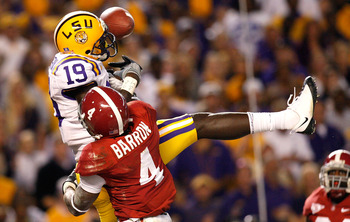 As one of the more subtle stars of the 2009 BCS Championship team, Mark Barron is set to have a season that will have even CBS's eye watching.
He is the only returning starter to the Alabama defense and is poised to become the star of it. As a sophomore in 2009, Barron showed that he could hang with the big boys (though the 6'2"/214 pounder is by no means small). He was second on the team in tackles, recording 76, with six of those tackles occurring in the National Championship game. The 1st Team All-SEC safety led the league in interceptions with 7 for the season; stunningly, the sophomore averaged 17.9 yards return on those INTs.
With two safeties drafted in the 2010 draft, there is a strong indication that Barron's package of speed, size, and tackling ability will make him a top draft prospect 2011.
· 2010 Preseason All-SEC Coaches 1st team
· 2009 First Team All-SEC at Safety
· 2009 Third Team All-American at Safety
Jared Crick, Defensive Tackle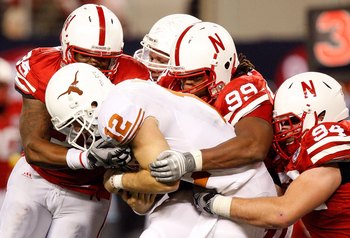 Now here's a guy many overlooked last season simply because he played alongside Ndamukong 'King Kong' Suh. But the 2009 1st Team All-Big 12 had no problem holding his own, or holding the other team's offense for that matter. As an member of the fearsome Nebraska defense, Jared Crick posted a whopping 73 tackles last season, 12.5 of those for loss. Not to mention he was second in sacks, behind only Suh, with 9.5 for the season.
Standing 6'6" tall and weighing in at 285 lbs, he's earned the respect of his competitors as he was recently named 2010 Preseason Co-Defensive player of the year.
His size and quickness alone make him a top prospect for the 2011 draft. Combine that with a solid pass rush technique--he notched 14 QB hurries and four pass breakups last season--and you have NFL written all over this DT package.
If Crick continues to build on 2009's breakout season, this just might be his last season with the Huskers.
Awards and Honors:
• 2010 First-Team Preseason All-American
• 2010 First-Team Preseason All-Big 12
• 2010 Preseason Co-Defensive Player of the Year
• 2010 Lombardi Award/Outland Award/Nagurski Trophy Candidate
• 2009 First-Team All-Big 12
Dion Lewis, Running Back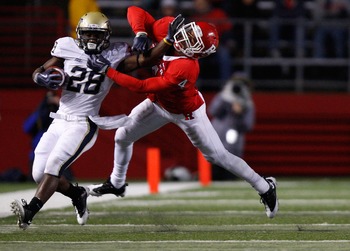 Watching Dion Lewis slip and slide through tackles is going to be AWESOME! He runs without hesitation and breathes life into every moment and every yard. Lewis has this exciting ability to cut up the defense. When he sees an open window, he punches through it. And my oh my! he jukes defenders like he's Allen Iverson.
In the open field, he's dangerous and fast. And if he can help it, he'll leave a trail of defenders pounding their fists into the turf behind him. And he achieved all this as a freshman!
Lewis has definitely set the bar high with a performance that earned him the 2009 National Freshmen of the Year award. Try to hold up your jaw during this next segment. In 2009, Dion Lewis:
Rushed for over 100 yards in all but three games
Rushed for 194 yards and racked up 3 TDs against #5 Cincinnati
Rushed for 159 yards and 1 TD in the Meineke Car Care Bowl
Rushed for a total of 1799 yards in 325 attempts
Scored 17 Rushing TDs and 1 Receiving TD
Caught for 189 yards in 25 receptions
He's only a sophomore, but if he decides to turn pro and continues to post staggering numbers, he'll have NFL scouts lining up.
Awards and Honors:
· 2009 Meineke Car Care Bowl MVP
· 2009 Second Team All-American
· 2009 National Freshman of the Year
· 2009 Offensive Freshman of the Year
· 2009 Freshman All-American
· 2009 ECAC Rookie of the Year
· 2009 Big East Conference Rookie of the Year
· 2009 Big East Conference Offensive Player of the Year
Adrian Clayborn, Defensive End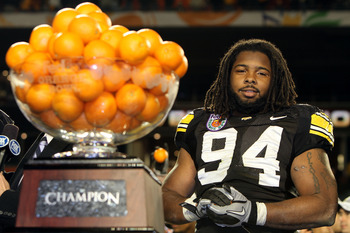 The reigning Orange Bowl MVP almost looks like he's wearing a Pittsburgh Steelers uniform (wink wink). If he's not dawning the black and gold next season, he'll definitely be wearing an NFL jersey come 2011. This 6'3", 282 lb All-American has scouts drooling! But Clayborn's in no rush to join the big leagues; in fact, it was reported that he turned down an NFL offer to "finish his career right" and win a Big Ten title. With all the hoopla surrounding big fancy contracts, it's nice to have a guy who has a "I'll take my time" approach.
Of course, it's not just the character decisions Clayborn has made that makes him so enticing--it's the decisions he has made on the turf as well! As the 2009 Defensive Player of the Year, Clayborn handed out 70 tackles, with 20 TFL. He also got to personally know a handful of Big Ten quarterbacks, delivering 11.5 sacks--with two of those coming in the Orange Bowl. To top off his 2009 All-Big Ten season, Clayborn posted 9 QB Hurries, 4 Forced Fumbles, 2 pass break ups, and 1 Kick Blocked.
Kaboom!
Awards and Honors:
· 2010 Pre-season First team All-Big Ten
· 2009 Orange Bowl MVP
· 2009 All-American Defense End
· 2009 1st Team All-Big 10
· 2009 Defensive player of year
A.J. Green, Wide Receiver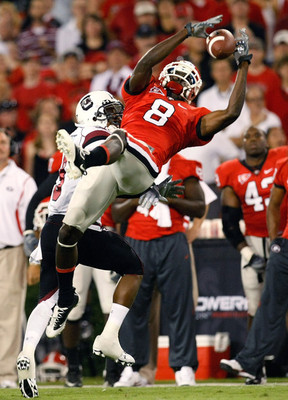 At 6'4", and 207 lbs, A.J. Green is long, lean, and a catching machine. He brought down 53 catches and 6 TDs last season. Notable strengths include his ability to catch in stride, while falling down, and in mid air. Adding value to his draft stock is his ability to extend his body to pulldown pigskins, and his ability to break free of tackles.
Last season, Green notched 808 yards in only 10 of 13 games. He missed 3 games due to injury.
All eyes will be on the junior this year, and if he has the season many project him to have, the NFL could be next.
Awards and Honors
• 2009 All-ACC First Team
Rodney Hudson, Offensive Guard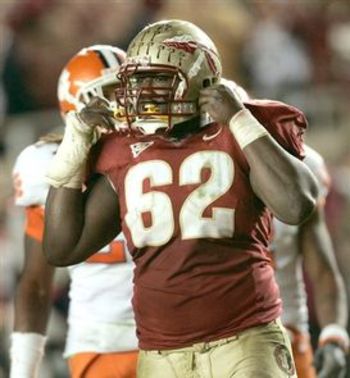 Now here is a player poised to become the first offensive lineman in ACC history to earn All-ACC honors in each of his four years. With the ACC accounting for 25% of the NFL's Top 10 draft picks over the last two years, the honor speaks well for Hudson's draft stock.
Let's break it down and examine exactly why this lineman has received such high honors. For starters, he graded out at 88% for the 2009 season. He didn't allow a single sack or quarterback pressure all season long. He racked up 38 knock down blocks. AND, he was only penalized twice all season. Just ask the Oakland Raiders how valuable that is in a linesman.
Last season ended on a high note for Hudson when he was awarded the ACC Jacob's Blocking Award as the most dominant offensive linesman in the league.
At 6'2", 285 lbs, Hudson could be the missing plug for many a NFL team.
Awards and Honors:
• 2010 Preseason All-American Candidate
• 2010 Lombardi Award / Outland Trophy Candidate
• 2010 Preseason All-ACC Candidate
• 2009 1st Team All-America
• 2009 All-ACC
• 2009 ACC Jacobs Blocking Award
Marvin Austin, Defensive Tackle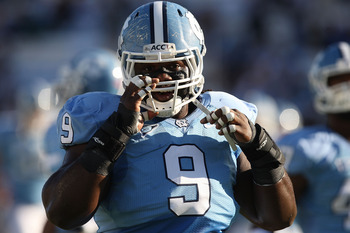 I hate to state the obvious, but this guy is MASSIVE. It's like having Sasquatch, the Jolly Green Giant, and a ferocious hippopotamus rolled into one! At 6'3" and 305 lbs, Austin is a force that is emboldened on all the scouting reports.
Now for the subtleties. What increases Austin's draft stock is his surprising quickness off the line. Once he gets moving, he's like a freight train that can't be stopped. He's great at fighting double teams, and even better at collapsing the pocket. In 2009, he was credited with six QB hurries and three pass breakups.
Against the run, Austin proves just as quick. He moves his feet well and has extremely strong tackling ability. In 2009, the junior posted 42 tackles, with 6 of those tackles for loss. Add 4 sacks and 1 forced fumble, and what you have is a solid first-round pick!
Awards and Honors:
• 2010 All-America Candidate
• 2010 Lombardi Award/Outland Award/Nagurski Trophy Candidate
• 2009 Second-Team All-ACC
Prince Amukamara, Corner Back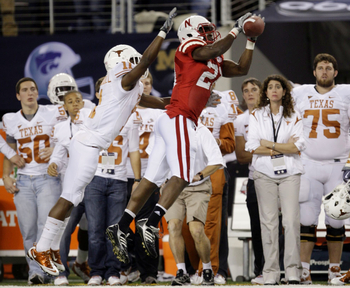 Senior Prince Amukamara is back for a final season. Last year he lit up the football field with his incredible speed, agility, size, and natural football instinct. At 6'1" and with lengthy arms, the corner back makes it difficult for receivers to transition smoothly into their route. Amukamara also possesses incredible ball hawking skills. He posted 5 interceptions (one each in the Oklahoma and Texas games) and 11 pass break ups last season.
The 1st Team All-Big 12 athlete also has a remarkable talent for staying uncomfortable close to his opponent in man coverage, and for a big dude, Prince has great footwork. Along with his interceptions, Prince posted 64 tackles and 2 sacks last season.
If the NFL continues its trend of drafting defensive players early in the first round, look for Prince to be a top pick.
Awards and Honors:
· 2010 First-Team Preseason All-American
· 2010 First-Team Preseason All-Big 12
· 2009 First-Team All-Big 12
Nate Solder, Offensive Tackle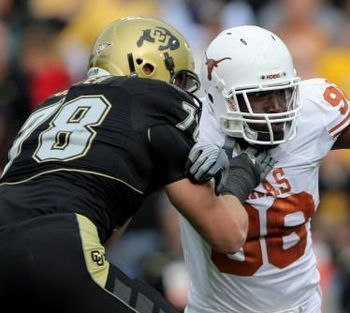 When your football coach claims to have a "huge man-crush" on you, how can you not take it as a compliment! But maybe that's just the kind of love Nate Solder garners from people who are fans of strong work ethic, a willingness to improve, and an eagerness to win. His workout room habits have even won him the Jon Wooten award for outstanding work ethic.
So how does that translate into an NFL player?
Well for one, working hard pays off. At least it did for Solder last season. In 7 of his 12 games, the offensive guard graded out at 90% or better. He led all linemen with 69 knockdown blocks last season, while allowing only one sack! Last season we saw Solder develop into a mature pass and rush blocker.
On top of that, we know how much the NFL loves size, and Solder has no shortcomings in that department. His whopping size of 6'9" and 305 lbs makes defenders cringe. And because he is so lean, he's deceptively quick.
NFL teams looking to beef up their O-Line will surely look to Solder as a first-round pickup.
• 2010 Preseason All-Big 12 Team
• John Wooten Award
• Iron Buffalo Award
Bruce Carter, Outside Linebacker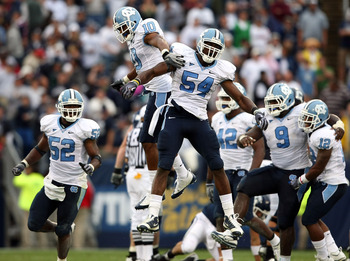 Defense, Defense, Defense! At least that was the trend in the 2010 NFL Draft. If that trend continues, and I have a faint suspicion it might, then here is another defensive player to look out for. Bruce Carter is not only a member of one of college football's toughest defensive teams, he is a huge contributor. On the field, the 6'3", 230 lb outside linebacker had 65 tackles, one sack, one INT, four QB hurries, and two pass deflections last season.
His presence in the workout room is also a thing to be regarded. ESPN's Bruce Feldman ranked Carter the No. 1 Workout Warrior. Most impressive though is the fact that Carter has had 31 consecutive starts in his position. Durable players with a strong work ethic go along way in the NFL, just ask Brett Favre!
Awards and Honors:
• 2010 Nagurski/Butkus Award Candidate
• 2009 Second-Team All-ACC
Ryan Williams, Running Back
Last season this was the guy defenders just could not seem to tackle. If you watch the footage, he truly is that buttery! What makes Williams good at what he does is that he is patient and waits for his blockers. He finds the hole and bursts right through it. Not to mention he's quick. He'll twist out of tackles and make it look effortless. In the open field, this guy might be the most dangerous running back on the grass.
I'll post the stats, but seriously, check out some footage of this ACC Rookie of the year! I look forward to watching him dive into what should be an exciting year.
Height: 5'10"
Weight: 206
Conference: ACC
ATT: 293
YDS: 1655
TD: 21
REC: 16
YDS: 180
TD: 1
Averaged 107 yds/game Against Ranked Teams
Scored 2 TDs Against Alabama
Ran for 107 yards Against the Immobilizing Nebraska Defense
Rushed for a Season High of 179 Against East Carolina
Awards and Honors:
• 2009 All-ACC Performer
• 2009 ACC Rookie of the Year
• 2009 3rd Team All-America
• 2009 All-ACC Team
• 2009 Freshmen All-America
Julio Jones, Wide Receiver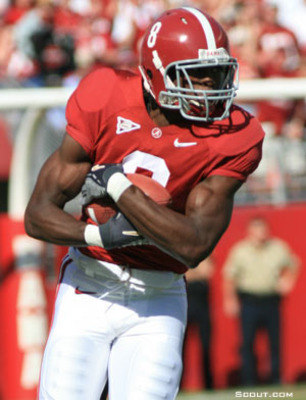 It's definitely a challenge to stand out when Mark Ingram is your running back, but Julio Jones has no problem stepping up when called on. He's a strong receiver that will stiff-arm the nerves out of defenders. At 6'4" and 212 lbs, he is a prototypical NFL receiver that can out-play his opponent with sheer will.
He's not as flashy as A.J. Green, nonetheless, he's reliable and consistent. Last season, he recorded 596 yards and 4 TDs in 43 catches. Though his numbers dipped from his 2008 SEC Freshmen of the Year season, they're not bad considering that most of the Crimson Tide offense consisted of Mark Ingram. Even when he's not cradling the pigskin, Jones is contributing by delivering critical blocks down field.
His consistency and on-field attitude makes him a top WR for the 2011 draft.
Awards and Honors:
2010 Preseason All-American Team (Playboy)
Robert Quinn, Defensive End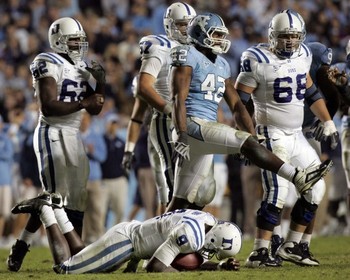 He's mean, nasty, and he overcame a friggin' brain tumor! I don't know about you, but that spells FIGHTER. With 19 of 32 first round picks going to defensive positions in the 2010 NFL draft, here is why Robert Quinn has a solid chance of being an early pick.
1. Burst Speed: His quickness off the line garnered him 11 sacks, 12 QB Hurries, and 3 passes broken up.
2. Ability to overcome the double-team: His speed has earned him the double-team distinction, but Quinn has equipped himself with some pretty snazzy pass-rush moves to get around it.
3. Overall Athleticism: Though he still has some filling out to do (weighs 270 lbs at 6'5"), Quinn's overall athletic ability makes him a deadly threat. Last season he posted 52 tackles, 19 of those for loss, and six forced fumbles.
Now here's a guy who really walks all-over the offense.
Awards and Honors:
2009 All-America Second Team
Andrew Luck, Quarterback
Let's wrap up this list with a bit of Luck.
In his freshman season, Luck won the starting quarterback position and led his team to an 8-4 season which earned the Cardinals a spot in the Sun Bowl. On route to the Bowl game, Luck threw for 2,575 yards with a 56.3% completion rate. He threw 13 touchdowns in contrast to only four INTs. Not to mention the kid isn't afraid to run. He rushed for 354 yards and two TDs last season. And what he did to league-rivals USC was fantastic! He demolished them with two passing TDs, one rushing TD, and 205 Total Offensive Yards.
What places Luck high on the list of NFL prospects is his high football IQ, his on-field decision making, his craftiness outside the pocket, and most of all--the fact that he is being groomed by former NFL offensive assistant coach Jim Harbaugh, the same guy that helped Rich Gannon earn the 2002 NFL MVP. With Harbaugh bringing him along, Luck should have no problem developing into an NFL-ready quarterback.
Awards and Honors:
• 2009 All-America team
• 2009 1st Team All-Freshmen Offense
• 2009 Pac-10 All Freshmen Team
Keep Reading