NASCAR: Greg Biffle Wins Pocono for Jack Roush, Elliott Sadler Crashes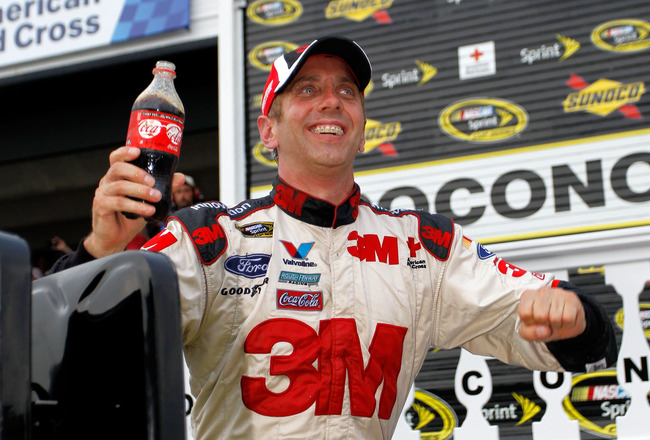 When team owner Jack Roush was injured in a plane crash earlier last week, NASCAR's Greg Biffle took it upon himself to turn things around for the group at Pocono Raceway.
Biffle did so in stunning fashion, winning the Sunoco Red Cross 500 Sprint Cup race—his first win since 2008—for Roush, who was at the Mayo Clinic during this weekend's race.
"We know he's watching," Biffle told the Associated Press following his victory, referring to team owner Roush. "It's been really tough. We worked so hard."
For Biffle and his crew, the Pennsylvania 500 win is a breath of fresh air.
"The whole company needed it," Biffle crew chief Greg Erwin said. "I can't really explain what this means. I know [Roush] is with us. This is a brand new car at Indianapolis and we brought it here because we liked it so much."
More on Biffle's Victory at Pocono for Roush Fenway Racing
According to Houston Chronicle news services, Biffle radioed into his crew as he closed in on the finish line to dedicate the monumental victory.
"This one's for Jack!" he said over the radio.
The win at Pocono on Sunday also snapped a 64-race winless streak for Biffle.
"I have to tell you, when it got to be five to go, I started thinking about it," Biffle said. "I started thinking, this race is meant to be."
Elliot Sadler Involved in Major Crash at Pocono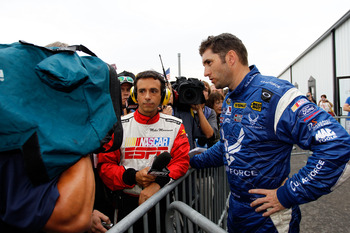 In other news from the weekend's raceway, Kurt Busch and Elliot Sadler were knocked out of Sunday's race after being involved in major wrecks (thankfully, no life-threatening injuries were sustained by either driver).
For Sadler, he called it his "hardest hit ever" in a race after crashing his No. 19 Ford and having to lay down on the triangle track after suffering a sore chest and stomach.
"Yeah, I'm okay; I'm a little sore," Sadler said following Sunday's race. "The breath definitely got knocked out of me. It was probably the hardest hit I've ever had in a race car, but I've got to thank all my guys back at home that put these things together.
"It knocked the engine out of it. I know it knocked the swaybar tube and the whole swaybar out of it and the whole left-front wheel assembly, but I'm still in one piece so it did its job."
A Few More Words on Wrecks and Safety Measures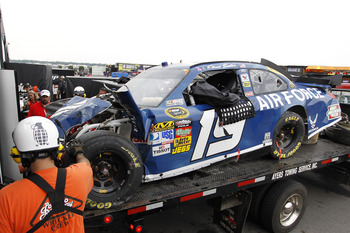 The car that Sadler was driving when he had a violent head-on wreck is actually proof that the new NASCAR vehicle is indeed safer.
And others in the sport have begun taking notice after Sadler walked away from the crash without any major injuries.
"Thank God for the car and thank God that he's alive—he's gonna be a little bit sore," Sadler's crew chief, Todd Parrott, told NASCAR.com writer Dave Rodman. "The car obviously did its job. I walked out of the infield care center with a guy that, four or five years ago probably wouldn't have lived through that wreck, right there.
"Hat's off to NASCAR and all they've done with the safety stuff since Dale Earnhardt's tragedy [in 2001]. Elliott's a very lucky man, from what I see."
Pocono Raceway Rain Delays and Restarts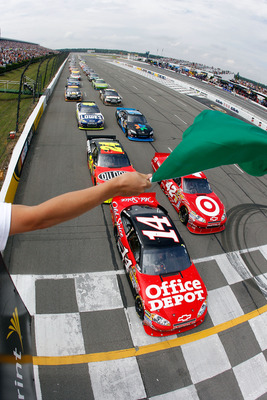 The Sunoco Red Cross Pennsylvania 500 was delayed on numerous occasions, from heavy rains to violent crashes, before a final restart at Lap 180 following the second red-flag of the race.
Heavy rainfall delayed the start of the 500-mile race, and a stoppage of nearly 29 minutes was needed to clear debris from a violent crash on Lap 165.
But the final red-flag stoppage, again due to rain, was exactly what Biffle needed to win Sunday's race.
"I felt like we didn't have the best car [Sunday]," Biffle said. "For some reason, when it cooled down, this car just took off—that's all there was to it. The temperature cooled down, we really didn't make any adjustments, and the thing just started going on the restarts and got in clean air, and the thing just took off. I don't know what happened."
Coincidence Win, or Fate? Junior Wins at Daytona Following Dad's Death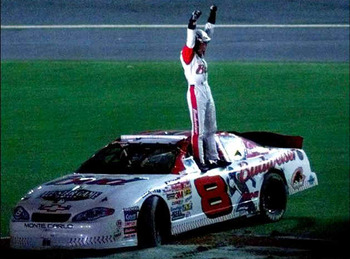 On Sunday, Greg Biffle won for the first time in nearly two years while his owner was lying in a Mayo Clinic hospital room after surviving a plane crash.
But that's not the first time a pull-at-your-heartstrings moment has occurred on the race track.
Ten years ago, Dale Earnhardt Jr. won at Daytona in the first race back at that track following the tragic death of his father.
Some may call that a coincidence, while others may argue the victory was fate.
Regardless, it's a moment that will forever ring true in the hearts and minds of NASCAR fans around the globe.
[Photo Courtesy of Google Images Search]
Coincidence Win, or Fate? Petty Wins 200th Race on July 4, 1984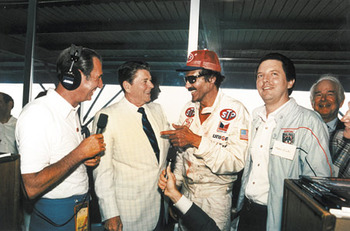 Another milestone moment—or nothing more than a coincidence, depending on how you look at it—occurred when Richard Petty won his 200th race on July 4, 1984.
Oh yeah, President Ronald Reagan was also in attendance.
Not only was it Petty's 200th victory, it was also his final one.
Coincidence that Petty took home No. 200 on Independence Day with President Reagan in the stands? Possibly, but another magical moment in NASCAR history nonetheless…
[Photo Courtesy of Google Images Search]
Latest Sprint Cup Standings (Top 12 Drivers Through Race No. 21)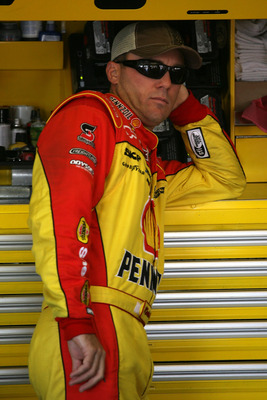 The following are the top 12 drivers in the latest Sprint Cup Standings, according to Sunday's Associated Press (ranked by driver, points, and points behind leader).
1. Kevin Harvick 3,080 —
2. Jeff Gordon 2,891 -89
3. Denny Hamlin 2,820 -260
4. Jimmie Johnson 2,803 -277
5. Jeff Burton 2,757 -323
6. Kyle Busch 2,724 -356
7. Kurt Busch 2,722 -358
8. Tony Stewart 2,719 -361
9. Matt Kenseth 2,682 -398
10. Carl Edwards 2,666 -414
11. Greg Biffle 2,652 -428
12. Clint Bowyer 2,564 -516
What's On Tap: Race No. 22, Watkins Glen, August 8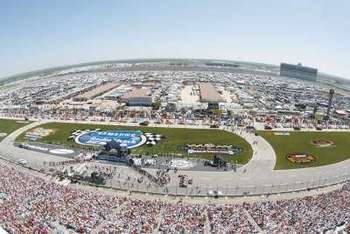 Next up for NASCAR drivers is the 22nd race of the season at Watkins Glen International: Heluva Good! Sour Cream Dips at the Glen.
The race is slated for Sunday, August 8 at 1 p.m. EST and will be televised nationally on ESPN.
[Photo Courtesy of Google Images Search]
*****
Denton Ramsey may be reached via email at denton.ramsey@gmail.com
Keep Reading