Seven Things to Expect During the 2010 Big Ten Media Days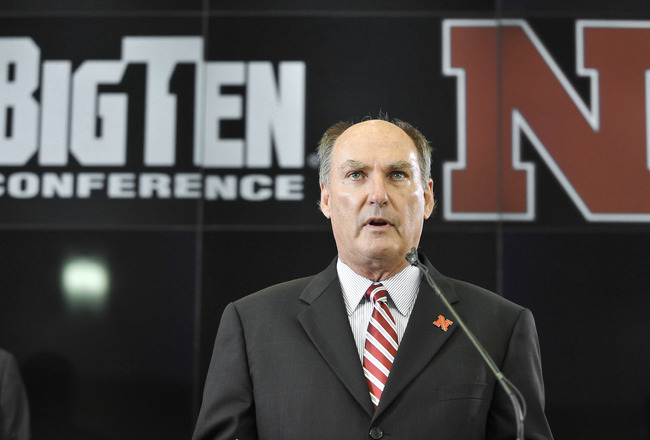 Just when college football writers were starting to run out of things to blog about, college football's media days finally arrive.
Media days are the universal-yet-unofficial start of the football season, and begin to feed the withdrawal symptoms of writers across the country.
This year, one of the most anticipated conference media events has to be the Big Ten's. The 2010 Big Ten media days kick off today at the Hyatt Regency McCormick Place in Chicago, and will be covered live on the Big Ten Network.
The event will feature all 11 conference head coaches, the school athletic directors and 33 players from around the league.
With the conference undergoing a transformation during the college football expansion wars, members of the media are foaming at the mouth for an opportunity to gather the conference's finest for questions about the chaos. Here's a list of things to expect over the next few days.
Monday, August 2
11:00 a.m. Wisconsin's Bret Bielema
11:15 a.m. Northwestern's Pat Fitzgerald
11:30 a.m. Illinois' Ron Zook
11:45 a.m. Michigan's Rich Rodriguez
12:15 p.m. Michigan State's Mark Dantonio
12:30 p.m. Indiana's Bill Lynch
12:45 p.m. Purdue's Danny Hope
1:15 p.m. Penn State's Joe Paterno
1:30 p.m. Minnesota's Tim Brewster
1:45 p.m. Iowa's Kirk Ferentz
2:00 p.m. Ohio State's Jim Tressel
2:30 p.m. Big Ten Commissioner Jim Delany
Tuesday, Aug. 3 - From 9 to 11 a.m
Illinois: Eddie McGee, Clay Nurse, Tavon Wilson
Indiana: Ben Chappell, Tyler Replogle, Terrance Turner
Iowa: Adrian Clayborn, Karl Klug, Ricky Stanzi
Michigan: Mark Moundros, Stephen Schilling, Troy Woolfolk
Michigan State: Kirk Cousins, Greg Jones, Keith Nichol
Minnesota: Brandon Kirksey, Kim Royston, Adam Weber
Northwestern: Corbin Bryant, Quentin Davie, Dan Persa
Ohio State: Bryant Browning, Cameron Heyward, Dane Sanzenbacher
Penn State: D'Anton Lynn, Evan Royster, Stefen Wisniewski
Purdue: Ryan Kerrigan, Robert Marve, Keith Smith
Wisconsin: John Clay, Scott Tolzien, Jay Valai
Expect Questions about the Big Ten Title Game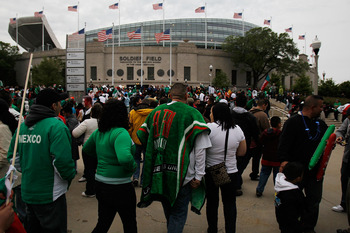 During the Big Ten's announcement that the Nebraska Cornhuskers would join the conference in 2011, Commissioner Delany said that he assumed a conference title game would be forthcoming.
That's as close as Delany's political instincts will let him get to a solid yes, and according to the Chicago Tribune's Teddy Greenstein, that's all some venues needed to hear to start planning their sales strategies.
While the Big Ten has allegedly not scouted possible venues yet, venues aren't wasting any opportunity to try and recruit what could be the conference's most lucrative game of each season.
Among those floating their pitches to anyone willing to listen are Lucas Oil Stadium, Ford Field, and the Minneapolis Metrodome.
Another idea floating around on the interwebs is to have the championship game rotate the Big Ten stadiums. This would work for a handful of schools like Penn State, Michigan, Ohio State, Nebraska and Iowa, but would put limitations on tickets in venues like Northwestern and Indiana.
Media members will have no shortage of questions about the possible Big Ten title game and its location.
Expect Questions about Joe Paterno's Health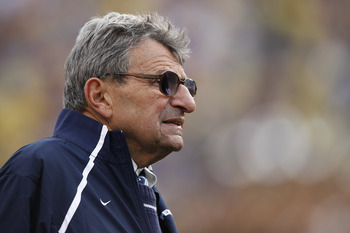 Joe Paterno has been relatively hidden from the public since his recent health issues.
Paterno is 83 years young, and still out-coaching many of his younger contemporaries, but his health is always a topic for concern.
The media will seek to find out the status of his health, as well as ask him about the possibility of retirement in the near future.
The media will also be curious about Paterno's opinions on the recent addition of Nebraska. Expect to hear JoePa tell a good Cornhusker story.
Expect Questions about Politicians from Texas and Iowa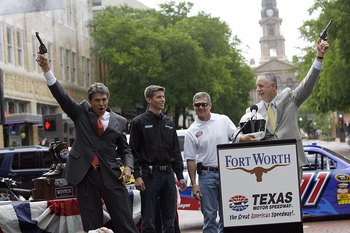 During the college football expansion nonsense earlier this summer, politicians in Texas and Iowa flexed their muscles in an attempt to influence the momentum of merging conferences.
Politicians in the state of Texas brainstormed the idea of demanding that Baylor be included in a shift to another conference over other schools like Colorado and Iowa State.
They viewed a cultural and economic importance in keeping the Big 12's Texas-based schools in a conference together.
Then, two U.S. Senators from the state of Iowa decided to put forth a bi-partisan effort to investigate the intentions of college football expansion.
Sen. Charles Grassley (R, IA) and Sen. Tom Harkin (D, IA) asked Big Ten Conference officials to disclose their expansion plans and release financial information about the league's cable television network.
In a letter to Big Ten commissioner Jim Delany dated June 10, 2010, the two politicians expressed concern that the Big Ten's possible expansion appeared "to be designed not to further the charitable operation of the Big Ten."
Reporters are likely to walk lightly around this topic, but several questions will be asked on the political influence tossed at the conference during the height of the craze.
Expect Questions about Player Arrests
A few players around the Big Ten were in (and out of) trouble this summer.
Iowa head coach Kirk Ferentz will almost certainly hear a few questions relating to his three player arrests (DE Binns, RB Hampton and CB Bernstein) this summer.
Alcohol-related player arrests in Iowa City during the summers seem to be a recurring theme for the Hawkeyes, and Ferentz will likely have to answer a stream of questions about the trend.
Michigan State head coach Mark Dantonio had too many players involved in legal incidents than can be listed in a blog post. He will see a few questions about the status of certain players and how that might affect the Spartans early this season.
Ohio State head coach Jim Tressel will field a question or two about his involvement with former Buckeyes star Maurice Clarett returning to classes at Ohio State.
The coach has been working hard to help Clarett get a second chance, and the feel-good story is bound to intrigue a few members of the media.
Expect Questions about the Possibility for Further Additions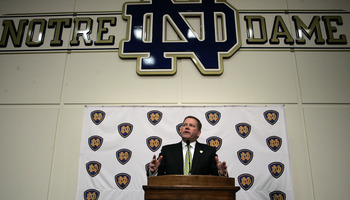 One of the main questions on reporters' minds is undoubtedly, "is the Big Ten finished expanding?"
The conference is only eight months into its study timetable, and many expect the league to add more teams into the mix.
That speculation was fueled recently when Wisconsin's Barry Alvarez suggested that the league might look east for future expansion efforts.
"It would not surprise me if we continue to expand," Alvarez was quoted as saying by the Free Press. "We've always talked about and had research done that we haven't taken full advantage of Penn State being in the east and we need someone else in the league from the east to maximize Penn State. It wouldn't surprise me if we went that way."
Will the conference add one more school? Two? Four? None?
The media members will interrogate Delany to find out more information about the Big Ten's expansion study, and who the possible additions might be.
Members of the media will also try to find out what everyone in attendance thinks about all of the hypothetical possibilities.
Expect Certain Players to be More Popular than Others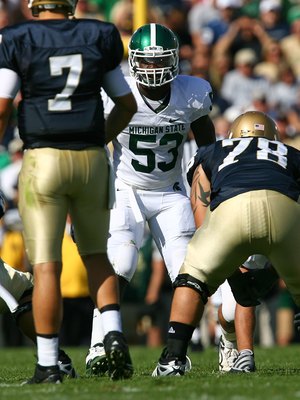 The variety of players partaking in this year's media day coverage is as diverse as ever. A few players field more questions than others,though, especially with Big Ten's leading Heisman candidate not in attendance.
Every member of the media will have to ask Iowa's Stanzi their wittiest America-related question. He's already heard all the jokes, but it's un-American not to smile when asked a question about the United States.
Players like Michigan State's Jones and Iowa's Clayborn will see a heavy flow of questions like Stanzi, as their names have appeared on several watch lists so far this preseason.
Wisconsin's Clay and Penn State's Royster will also be popular with the media, as both of their names have been mentioned as long-shot Heisman candidates.
With 33 players in attendance, time will be limited. Thankfully, all of the questions will be live on Big Ten Network.
Expect Questions about Possible Divisions and Rivalries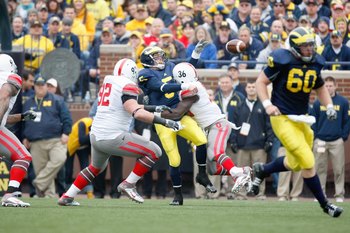 Theorizing possible divisions for the new conference has killed countless hours for fans of the Big Ten this summer. It also took up a big chunk of time for league athletic directors.
When the Big Ten's athletic directors conducted their spring meetings, they discussed hypothetical scenarios about dividing the conference into divisions.
It's believed two six-team divisions is the preferred format, but three four-team divisions is also a possibility being discussed.
Some divisions are arbitrary; some geographical. Some divisions favor rivalries; some didn't. Some divisions favor eight conference games; some nine.
That spawns the questions about which rivalries would be preserved once Nebraska enters the league and which ones would fade away.
Wisconsin and Iowa have both expressed interest in adding a Cornhusker rivalry to the schedule, but other teams have expressed concern over changing long-standing tradition.
Divisions and rivalries will be the point of many questions floating during this year's media days.
Possible Division One
Ohio State
Michigan
Wisconsin
Michigan State
Purdue
Indiana
Possible Division Two
Nebraska
Penn State
Iowa
Minnesota
Illinois
Northwestern
Keep Reading