NFL Predictions for 2010 Season: Why Bills Will Gain Respect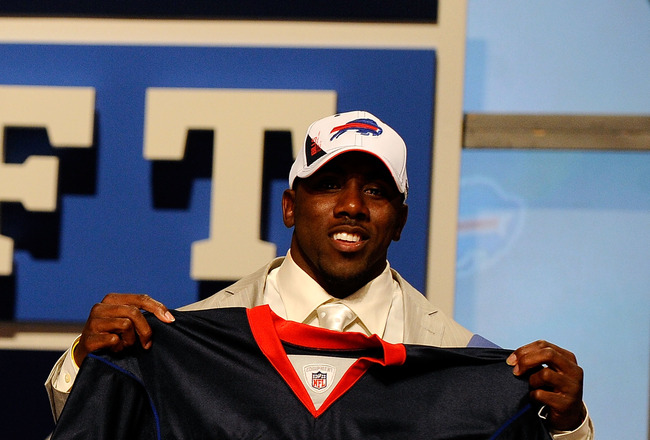 Since the Music City Miracle the Buffalo Bills have not found their way back to the post season. Either the team is stacked on one side but not the other, the coach made a bad call, or the refs missed it. always something and always nothing.
This year will be different! Now wait a minute and hear me out. I'm not saying the Bills are going to the Superbowl. All I'm saying there is light at the end of the tunnel and they are lot closer to greatness than "experts" think. Some stations and networks don't even mention the Bills when talking about the AFC EAST.
Luckily this off season the Bills achieved the three things that had to happen in order for the them to have success.
The first of which is Finding an Identity. A new start. A fresh face that can promise and deliver. One thing is for sure. Newly acquired GM Buddy Nix and head coach Chan Gailey know football and are proven people with loads of experience. They believe in hard work and discipline. Buddy is known to have an eye for talent and it already looks like he hit a Home run with RB C.J. Spiller.
The second thing is staying healthy. The Bills have been plagued with injuries. They were among the leaders in that category for the past few years.
the coaches have made changes with the workout equipment and way the players workout. hopefully, this should help keep a healthier roster.
Finally, for the team to achieve respected cooler talk. The O-Line must hold up. In the Opening game last year versus the Patriots the front-line was adequate, but by week 14 I didn't know half the players.The backup of the backup. at one point they even signed a guy named Incognito.Lol.
In my opinion,when its all said and done the performance of the O-Line will be the determining factor in a playoff birth or an early exit.
STILL SPECIAL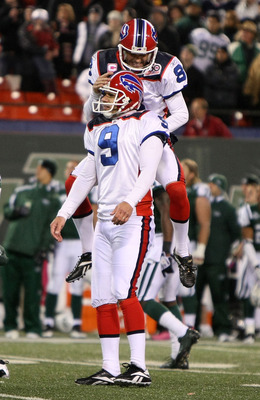 One thing that has been a constant is the Special Teams. Truly a sensational group. Brian Moorman is arguably the best punter in the world. 46.6 average for his career and 73 is his longest.
On every punt or kickoff Bills Fans Expect Leotis McKelvin, Terrance Mcgee, Roscoe Parrish, or as of late Freddie Jackson to run one back. they're almost spoiled........almost.
Ryan Lindell is as a solid of a kicker as there is.
Look for the Bills to continue to pin teams deep, nail field goals from anywhere, and return the ball from a 97 yards back for a touchdown.
RIDE THE BIG"D"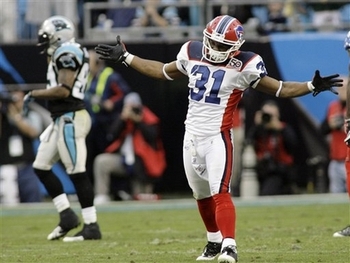 One thing that has been fun to watch, is this young explosive defense. Although plagued with injuries last year, patch job and band-aids all over. They still had lots of takeaways and plenty of interceptions. Even more interesting is that the Bills switched to a 3- 4 from a 4- 3 which could take some time to adjust to but once they get it, be careful. This group is as talented as anyone, and would probably be more dangerous in a 3-4 scheme.
In my opinion this secondary is among the best in the league. with a healthy Leotis Mckelvin and Terrance McGee the corners are safe. plus SS Dante Whitner is ready to go. Not to mention Hawk FS Jarius Byrd who led the league in picks with 9 last year as a rookie. (has to be a record).
Kyle Williams, Marcus Strout, and Aaron Maybin are ready to take advantage of the 3-4 scheme and get to the Quarterback.
If this defense had an ache lies heel it was stopping the run, but with the addition of DE Dwan Edwards from the Ravens and Rookies DT Torell Troup, and LB Alex Carrington should stack up the line and solve that problem.
With a proper scheme in place, this balance of extremely talented veterans and youngsters should be a "LIGHTS OUT" Defense.
THE OFFENSE HOLDS THE KEY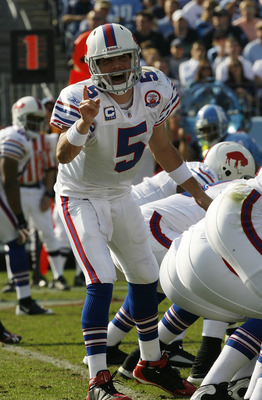 Most people don't realize that Football starts and ends up front, and the Bills never had a shot once their line was depleted. The coaching staff got it right by not acquiring a Big Name QB. Last season Trent Edwards and Ryan Fitzpatrick had little time to progress and lots of time to eat grass. Trent has shown signs of greatness until he got nailed two years back. Since then he hasn't had a stable line and is taking all the blame, Don't get me wrong he has struggled a little with 3-4 defensive teams, but I figure since the Bills changed to a 3-4 themselves, he'll get used to seeing it in and it shouldn't be a problem. Right?
Plus hes a smart guy. he realizes his window to prove "he's the man" is closing. I strongly believe Trent Edwards will have an outstanding season and will prove wrong all the haters that wanted him out.
The key to a good offense is a Strong healthy O- line,
Second year G Eric Wood is coming back from injury as is LT Demetrius Bell. C Geoff Hangartner should anchor Andy Levitre and the rest of the line nicely. Plus throw in rookie T Ed Wang and Sean Allen in the mix and things get very interesting. Last year this line was very raw and plagued with injuries. Look for these guys to have a strong season. When its all said and done the performance of the O-Line will be the determining factor in a playoff birth or an early exit.
The one thing that will not be a problem, in fact will only make the offense better, are the tree headed monster Running-backs. Marshawn Lynch, Fred Jackson, and rookie sensation CJ Spiller. a Fantasy backfield that will take lots of pressure off the line. Undoubtedly this is the group that will carry most of the load for this offense, setting it up for everyone else.
Lee Evens is the number one receiver. the number two spot is open but James Hardy has worked hard to get back and he will probably earn it What a difference a year makes. Last year Roscoe Parrish had a tough season and didn't play much because of problems with Dick Jauron. this coaching staff is reeling on Parrish to do what he do.
Sean Nelson Impressed many until he went down with injury. Look for him and Shouman to be consistent and solid at the TE position.
This offense is capable of doing some damage its all about the calls and the execution of them. Staying healthy will be key for their success.
PUTTING IT ALL TOGETHER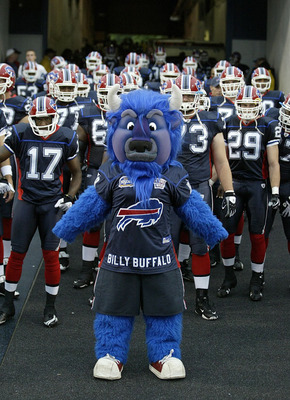 There's no doubt that the Buffalo Bills have an explosive running attack with an unwavering defense, and a Special teams that is truly special. The questions are what brings us back full circle.....The offense. A real popular issue in Buffalo's recent history.
There are only two questions you must ask yourself if you want to know if the Bills will make the Playoffs.
Can the Buffalo Bills Offensive line protect Trent Edwards(cause hes gonna be the #1 at the end of the day).
and Secondly can they overcome the schedule. The schedule is brutal. They play the NFC North and the AFC North. Arguably two of the best divisions. If that weren't enough, they have their own fish to fry in the AFC East.(lol)
So if in fact the Bills do make the playoffs even by a hair would say a lot about this team.
Nobody expects anything from this group. Everyone thinks it's rebuilding time. Let me tell you, these guys will sneak up on teams and steal games away. All they have to do is put it all together. Let the Special Teams and the Defense Do what they do. If the O- line holds up, then Trent Edwards and the offense can produce, taking pressure off the other two phases making this team silent and deadly. Whatever the case may be let's get ready for some hard nosed football. !!!!!!!!!!!!!!!!!!!!!!!!!!!!!!!!!!!! IT'S BACK !!!!!!!!!!!!!!!!!!!!!!!!!!!!!!!!!!!!!!!
PREDICTION: With a relatively healthy roster, and momentum on their side look for a solid "D", an explosive running game, CJ Spiller Rookie of the year, and the the Bills go 10-6 sneak into the playoffs breaking the long drought.
Keep Reading

Buffalo Bills: Like this team?