Arsenal Transfer News: 10 Players They're Gunning For This Summer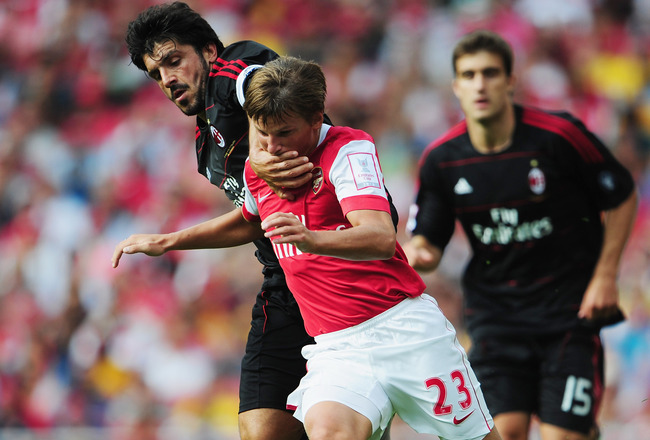 ...Or: How I Learned to Start Worrying and Embrace the Rumor Mill.
I know, I know.
I recently called for an end to the never-ending parade of transfer chatter, but tactical previews are tough work! I promise, though, that this will not be just another flavor of the month list, trotted out because I like my club, and would love to see every promising young player on the planet in red and white.
Over the next ten pages, I will examine the team's real needs (Hint: they don't have many), and offer my thoughts on who is likely to move to the Emirates this summer.
Players We Don't Want and Don't Need, So Don't Ask!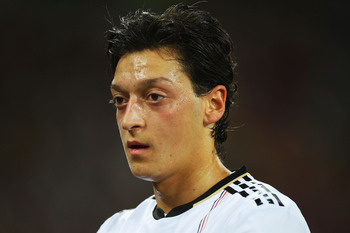 For those of you who didn't watch the World Cup, that's not Marty Feldman; that's Mesut Özil.
Many supporters who didn't know he existed three months ago are sure that the young German midfielder is exactly what Arsenal need to improve the club's title chances in 2010-11.
Never mind that Fabregas is staying for at least another season.
Forget that if Fabs were to leave tomorrow the team would still be loaded with creative midfield talent—speaking of which, I hope nobody missed the Jack Wilshere show in yesterday's 3-2 win against Celtic in the Emirates Cup.
"We finally have the money," some say, "so let's go out and spend it!"
The truth is that just like we didn't need Joe Cole, we don't need Özil.
With our current midfield and wing options, a trio of assist-happy center forwards, and youngsters like Aaron Ramsey, Jack Wilshere, and Nacer Barazite, the question is not, "how do we cram another ball-handling playmaker into the squad?" Rather, we should be asking, "how do we get everyone we have onto the pitch as much as possible?"
Arsenal are a team with an enviably short list of transfer needs. Aside from the necessary addition of a reliable, experienced goalkeeper, the team is short a center back. Period.
If not for the tidal wave of injuries that completely eliminated the club's depth at two key positions, Arsene Wenger's "young," "inexperienced" side may have won the title last season.
With the likely addition of a center-back who fits the manager's preferred style of play and, I hope, a more dependable goalkeeper, I am confident that this will be Arsenal's year.
Mark Schwarzer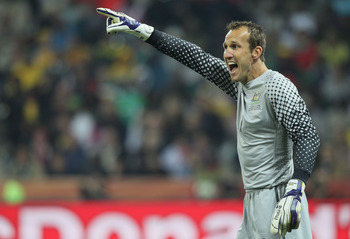 Arsenal needs a goalkeeper they can count on, and Mark Schwarzer fits us to a tee.
Nobody disputes that Manuel Almunia is capable of truly spectacular saves when he is on his game, but title-contending clubs need dependability, confidence, and experience more than they need the mere potential for magic.
Style and substance would be ideal, but given a choice, sensible managers will choose stability every time.
In 20-year-old Wojciech Szcesny, the Gunners feel they have the next big thing between the posts, someone who brings both reliability and game-changing athleticism to every match.
But for now, Arsenal need a replacement for Manuel Almunia who can hold down the fort while Chez matures.
Doubtless, the first impulse for many supporters, especially considering Arsenal's substantial transfer budget, is to say that we should buy the best keeper available. I disagree.
I think it would be better to bring in a veteran whom we know we can count on, and sign said player to a three to four year contract that will give us more room to maneuver with other players' salaries.
Enter Mark Schwarzer.
The 37-year-old Australian has made more than 70 international appearances, and over 400 Premiership appearances in his career.
The very model of consistency, Schwarzer tended the Middlesborough net throughout the Teesside club's most successful period in the Premiership, and was one of the most important pieces in Roy Hodgson's ultra-stingy reign at Fulham.
As an experienced veteran who would not command a massive transfer fee, and would not demand a wallet-busting salary, Mark Schwarzer may not be world class, but he fits the bill for a club in need of security.
Maarten Stekelenburg
Maarten Stekelenburg is a player whose stock has risen since the World Cup, though his solid form over the last six seasons at Ajax already made him a premier European goalkeeper.
Though he has already played in a World Cup final and has appeared over 100 times for his Amsterdam club, the giant 6'6" net minder is just entering his real prime.
The transfer fee would be steep, signing him to any kind of serious contract would make no sense for the team's long term finances, and it would completely clash with young Szczesny's status as the future No. 1. Yet who could complain about picking up a keeper of Stekelenburg's literal and figurative stature?
Fit at Arsenal? In the end, Stekelenburg would be great for the team, even though his distribution is not the most precise. Chances of signing him? Slim.
Federico Marchetti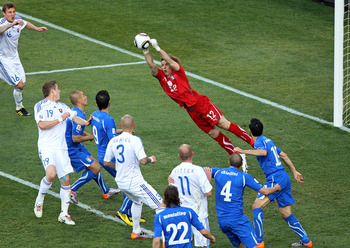 Like Stekelenburg, 27-year-old Italian national team and Cagliari goalkeeper Federico Marchetti made waves at the World Cup, though his may have been more ignominious than glorious.
Marchetti presided over the Azzurri's worst World Cup flop in history, and tended one of the most scored upon nets in the Seria A last season.
Nonetheless, the last 12 months have inflated his asking price to outlandish proportions.
Within the last week, Cagliari have reportedly put their star goalkeeper up for sale, but they apparently want £12.5 million for him.
Marchetti is a superb goalkeeper. What he lacks in experience, he makes up for in excellent positional awareness, impeccable technique, and a dynamic aerial game that compensates for his lack of height.
Marchetti's meteoric rise through the Lega Calcio was confirmed by the superb form he demonstrated for his new Sardinian club during the last two seasons.
During that span, he jumped onto the national team radar, and deservedly gained the recognition of Gianluigi Buffon as a star of Italy's younger generation.
Nonetheless, £12.5 million is a non-starter, and if that is seriously the kind of offer Cagliari want for him, it's probably because they would prefer to keep Marchetti in town.
Per Mertesacker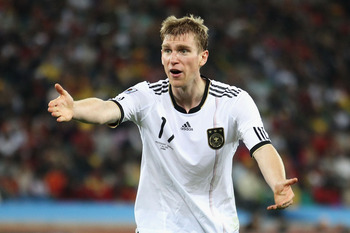 Other big name center-backs have come and gone, but the towering Teuton is still linked to Arsenal.
On the face of it, Mertesacker, who anchored Germany's formidable back four this summer, would seem like the perfect signing.
At 25, he is just entering his prime, but already possesses loads of experience at the highest levels of European and international football.
For a 6'6" central defender he plays a remarkably clean game, and he would also answer a lot of questions about the Gunners' perceived lack of height.
Digging a little deeper, Mertesacker may not be the ideal fit for Arsenal right now.
If the post-World Cup inflation rate was high for a goalkeeper who failed to get his team out of the first round, depend upon it that the rate will be astronomical for a successful player on a team that did not end the summer a laughing-stock.
Aside from the issue of the price tag, Mertesacker himself is slow by Premiership standards, to say nothing of Arsenal's more stringent standards.
His touch and ball-handling have improved over the last few seasons, but they are still not up to snuff considering the possession-oriented game championed at Ashburton Grove.
Also worth consideration is the roster shuffling that would result from Mertesacker joining the side.
A player of his experience and ability would start just about anywhere he went.
That would mean that Wenger just spent £8.5 million on 24-year-old Laurent Koscielny just to have him sit on the bench behind two rock solid starters (Vermaelen and Mertesacker) in the primes of their respective careers.
I would probably jump for joy if Mertesacker were to join Arsenal. Nonetheless, he doesn't look like the Wenger ideal at center-back, nor does his signing exactly make sense given the team's situation.
Phil Jagielka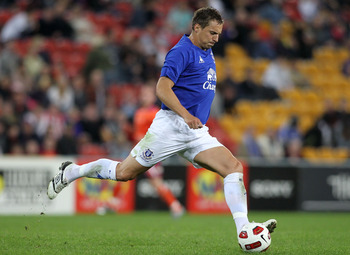 More in the Arsenal mould is Everton's Phil Jagielka.
At 6'0", he doesn't exactly solve the height problem, but his pace, supreme confidence in possession, and versatility make him as close to ideal as anyone out there.
Several sources have claimed that Arsenal have made multiple offers for the 28-year-old Toffee, who is currently in the second year of a five-year contract.
The problem is that whatever offers we have made have been rejected, and Everton manager David Moyes is not likely to look favorably on any future deals.
Unless we make Moyes an offer so ridiculous that he can't possibly refuse, Jagielka probably won't be our man.
As a Premiership-tested, right-footed center-back who is fast enough and skilled enough to play midfield, Jagielka would be quite a coup.
Desirability? High, especially now that Sol Campbell has signed for Newcastle. Likelihood? Increasingly low as the beginning of the season approaches.
Mamadou Sakho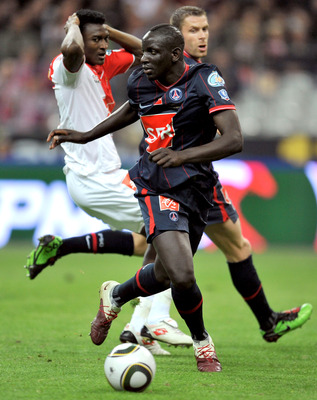 20-year-old Mamadou Sakho is not the polished, EPL-ready center-back that Jagielka is, nor does he posses the towering presence of Mertesacker. Be that as it may, the left-footed Paris Saint-Germain defender would fit in at the Emirates without breaking the bank.
It doesn't take a math whiz to realize that the ideal center-back signing for Arsenal would be a younger, cheaper, left-footed player to slot into the depth chart behind Thomas Vermaelen.
Laurent Koscielny played left center-back at Lorient, but, like Johan Djourou, he is a primarily right-footed player. That means two right-footers, one left-footer, and one question mark at present.
Break the bank on a right-footed partner for Vermaelen, and there's a log-jam with three righties battling for time on the pitch and poor Vermaelen without an ideal backup in case of injury.
Splurge on a left-footed starter, and get ready for the jokes about Arsenal playing with two left feet...
Sakho is fast, physically intimidating, and more than tall enough at 6'2". He is good on the ball (he was originally a striker in the PSG youth system).
He may be something of a hothead (he racked up six yellow cards and one red in 32 appearances last season). However, he would be a work in progress, which would give him time to mature.
Low risk. Low cost. High potential—some have dubbed him the next William Gallas, though I'm not sure if that's a good thing. Sakho, or a player in a similar situation, would seem to fit the profile of what Arsenal need right now.
Madjid Bougherra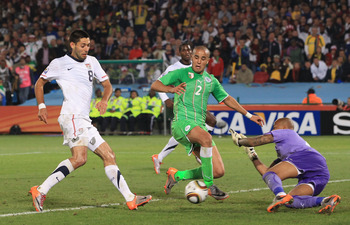 Madjid Bougherra, who had a stellar World Cup for the undaunted but outgunned Fennecs, has quietly enjoyed a solid career in the secondary levels of British professional football.
For two years, the 27-year-old Bougherra played for Sheffield Wednesday and Charlton Athletic before moving on up to the Old Firm, where he has been a rock for Rangers over the past two seasons (a long-term injury last season notwithstanding).
Bougherra might not be a skilled, super fast goal-scoring threat, but he is tough, aggressive, intelligent, and well-attuned to the style of the English game.
There are a couple reasons why his age and experience might make him a more sensible signing than a player like Sakho.
First of all, Arsenal already have a few young center-backs in Havard Nordtveit, Kyle Bartley, and Gavin Hoyte that should be pressing for first-team action in the next couple seasons.
For a number of reasons it might not be wise to slot another youngster into the mix. All the more reason, however, to pursue a 27-year-old who will be leaving his prime just as the younger players are entering theirs.
Second, and related to the first point, Bougherra has a lot of experience. With 44 international caps, and almost 50 appearances for an historic European club, there would be far less concern about Bougherra's ability to perform under pressure.
With Bougherra, you get what you pay for. He is not going to blossom into a PFA team of the year type of guy (there's a reason he has not played in the Premier League already).
He would not be an expensive option, and I would certainly rest easier knowing we have him as a backup.
Serdar Tasci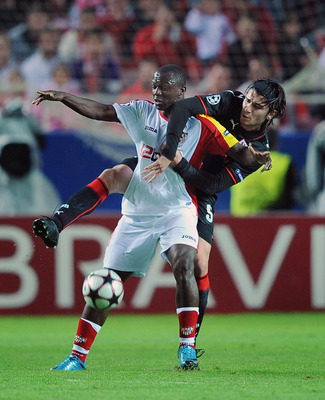 Another German defender who has been linked with Arsenal is Serdar Tasci.
There is no reason to believe that Arsenal are interested, no offers have been made, and Stuttgart are keen to hold onto Tasci after the departure of Sami Khedira.
The 23-year-old is a superb young defender, however, and would certainly make a strong replacement for William Gallas.
Tasci is 6'1" with good pace and a strong frame. More importantly, he is an extremely intelligent player with superb positional sense, solid tackling ability, and a soft passing touch. Sounds like an Arsenal player to me.
Dubbed a player of the future for the German national team, he is perfectly suited to the possession-oriented, fast-paced game that made Jogi Löw's squad by far the most entertaining in South Africa.
He's right-footed, he would most certainly not be a backup, and it would cost a kaiser's ransom to bring him to the Emirates. But as with Mertesacker or Jagielka, I can dream, can't I?
Jan Vertonghen
There is much to like about the way Ajax develop their young players, and Jan Vertonghen exemplifies the best of the Ajax system.
Last but not least, the 23-year-old Belgian international is a technically adept left-footed player who can contribute from either of the left side defensive positions or as a defensive midfielder.
He is quick for his size (almost 6'3") and with over 100 appearances for Ajax and RKC Wallwijk over the last five seasons, he is remarkably poised and experienced for one so young.
Vertonghen is rumored to be on the radars of both Arsenal and Barcelona, so he likely would not come cheap, but I would love to see the left-footed defender backing up his national team and former club partner at the Emirates this year.
Keep Reading

Arsenal: Like this team?