2010 Alabama Football Clinic: Five Games With Blowout Potential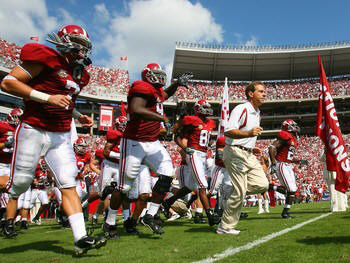 On the 2010 Alabama football schedule I see five opponents that have the possibility of getting slaughtered when they face the Crimson Tide.
There is usually only one, maybe two teams on any given schedule that can be shut out. The Crimson Tide of Alabama however, are not an average team.
The 2009 BCS National Champions are stacked again in 2010, and I expect at least three of their unfortunate opponents will be scoreless when the final whistle blows, but five is not unlikely.
#5: Ole Miss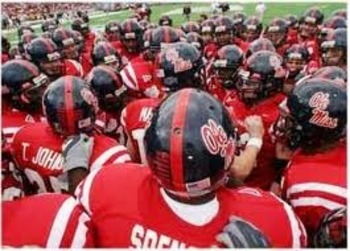 When Alabama hosts Ole Miss on October 16, 2010 for the Homecoming game, the Rebels will be in for one hell of a beating.
With Jevan Snead (who was just released by the Tampa Bay Buccaneers) out of the picture, Ole Miss has no shot of making a game of it.
I am not saying Snead was a great QB or anything, but the Rebels are lacking significant skill at almost every position (only three starters return). If you can't score, you can't win.
#4: Duke
Duke has the same problem as Ole Miss, but on the opposite side of the ball. The Blue Devils return very few starters on defense in 2010.
In addition to having a slump year on defense, Duke's offensive line isn't the greatest, and let's face it, no one conditions like the SEC. This is a recipe for destruction.
The dominance of the Alabama defense will penetrate the O-line of Duke at will and Alabama's Mark Ingram should have no problem running on a diluted defense.
#3: Mississippi State
As I have said before, I believe that Sly Crume was the best fit for the Bulldogs. A lot of you disagree, but that's my opinion.
I am not saying Dan Mullen is a bad coach. His career speaks for itself and he almost had a winning season in his first year as a head coach. Unfortunately, almost doesn't cut it in the SEC.
Even though the Bulldogs are returning quite a few talented athletes, they will not be able to match Alabama's level of play. The one thing they do have going for them is that they will have a week of rest before facing the Tide. Let me know how that works out for ya!
#2: San Jose State
San Jose State. That's all that really needs to be said, right? No need to divulge details? Just kidding Spartan faithful.
Interestingly enough, San Jose State started play in 1892, the same year Alabama football kicked off. The Spartans' record however, can not even be mentioned along side Alabama's, 446-429-37. OUCH!
Anyway, the Spartans bring in a new coach in 2010, and they get things started right by playing the defending national champs. I commend them for accepting the offer to play Alabama, and for taking it on the chin. Good Luck Spartans.
#1: Georgia State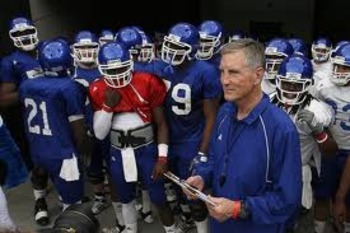 You got it! The number one team on the Alabama football schedule that has the best chance of being blown out is Georgia State.
I know, I know...Bill Curry! So what! good coaching can only take you so far. The Panthers do have a little talent, but come on. An inaugural football team can only dream of scoring on Alabama.
Folks, Curry ain't the Alabama coach anymore. I certainly wish him well, but he is coaching a team of youngsters.
Being able to get his team into field goal range against Alabama's defense would be a major accomplishment. This one is over in the first quarter.
The End
Well there you have it. The top five teams that have the best chance of getting destroyed by Alabama are Ole Miss, Duke, Mississippi State, San Jose St., and Georgia State.
I mentioned the defense of Alabama in here a lot, and some of you may have bought into that lie going around that the Tide's D will not be very strong this year due to losing nine starters.
If this is you then I recommend these articles for you:
http://bleacherreport.com/articles/424953-2010-alabama-defense-why-they-have-little-to-worry-about
http://bleacherreport.com/articles/424391-should-alabamas-defense-really-be-a-big-concern-in-2010
Enjoy!
Signing off and Roll Tide,
Derek Smith
Keep Reading

Alabama Crimson Tide Football: Like this team?