Waiver Wire Warning: Five Players Likely To Clear Waivers and Get Traded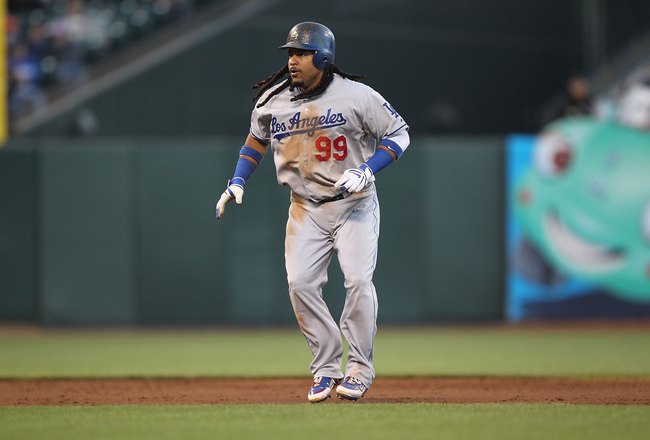 The MLB "Non-Waiver" Trade Deadline has come and gone but another has yet to arrive, the August 31st Waiver Trade Deadline. This simply means teams can still trade players but with the requirement of placing their players on the waiver wire, which is pretty secret in MLB and often if a contract is too hefty a player goes free.
Last year the Chicago White Sox shocked the baseball world by claiming outfielder Alex Rios from the Toronto Blue Jays and his expensive contract, in the neighborhood of $50 million left on it and getting him with no trade whatsoever. This scenario is unlikely to happen this time around but I can tell you that there are a handful of players out there likely to clear waivers for postseason hungry teams needing a final piece in order to win and here they are.....
Manny Ramirez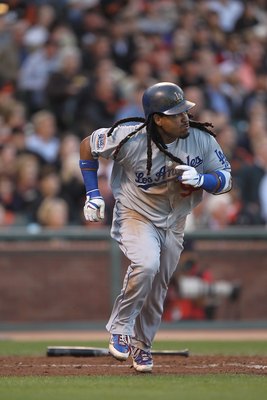 Rumors were swirling around that Manny Ramirez was possibly on the move, either to the Chicago White Sox, Tampa Bay Rays, and even to the crosstown rival Los Angeles Angels of Anaheim.
In the end nothing got done, the Dodgers wanted big league prospects in exchange and if they were to get a ton of money off their hands amid a messy divorce at the ownership level they would do it only at the right price.
Ramirez is hitting .317 with 8 HRs and 39 RBIs but has missed a bulk of games this season due to multiple trips on the disabled list. Manny has played in only 61 games this season while missing nearly half of the Dodgers' games.
Claiming Candidates: Tampa Bay Rays, Chicago White Sox and San Francisco Giants
Verdict: The only way the Dodgers deal Manny Ramirez is if they are out of the playoff race by a longshot in a crowed NL West with the Rockies, Padres, and Giants are battling for a spot in October.
They made a deal for Ryan Theriot and Ted Lilly so they are hardly sellers but if they feel they can get some valuable pieces in return the Dodgers might be tempted to pull the trigger, otherwise its Mannywood for the rest of 2010.
Chone Figgins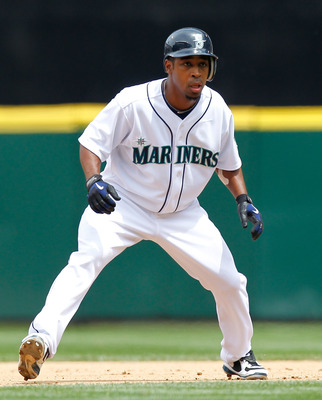 The Mariners have been an extreme disappointment in 2010 and Chone Figgins is no exception. He is hitting around .250 but has stolen a respectable 27 bases. The speedster Figgins is signed thru 2013 and is owed $9 million in 2011 and 2012 and $8 million in 2013. He can be a valuable piece to a team needing a spark plug and rumors were that the Atlanta Braves, a team without much speed at all, wanted to take on his contract but got denied.
Claiming Candidates: New York Mets, San Francisco Giants, and Atlanta Braves
Verdict: Why the Mariners denied the Braves a chance to rid them of a bad contract is odd but part of their strategy might be to not have to pay a cent at all remaining and left him go on waivers. The Mariners have to continue to build and similar to the Toronto Blue Jays last season with Alex Rios, this might be that other claiming contract off a rebuilding teams books.
Carlos Zambrano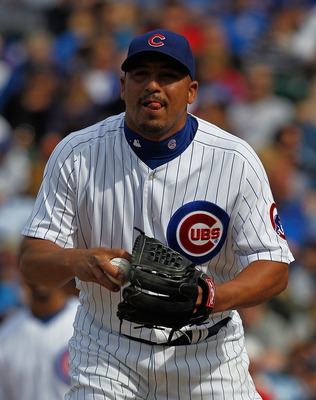 Reportedly, the New York Mets were trying to trade for Carlos Zambrano but nothing got done because the Cubs didn't want Luis Castillo's contract in exchange, odd, because Castillo's contract ends in 2011 with $6 million due next season and Zambrano's continues on until 2013 for nearly $60 million.
Yet, I don't expect for this to die down, if Zambrano pitches back to his true form coming off the restricted list in time for August, I find it hard that the Cubs wont try to get a deal done while the market for him is high. He will almost certainly clear waivers but if the Cubs deal him they still will have to pay a chunk of his remaining contract.
Claiming Candidates: New York Mets and New York Yankees
Verdict: Zambrano will clear waivers and when that happens they will try to gauge interest. The only teams who need pitching and can take on his contract, or at least part of it, are the Mets and Yankees. The Mets went after Brett Myers and Carlos Zambrano at the deadline but failed if they are desperate and in the race, the Cubs with a new manager and team will want to get rid of another bad seed in Big Z.
Adam Dunn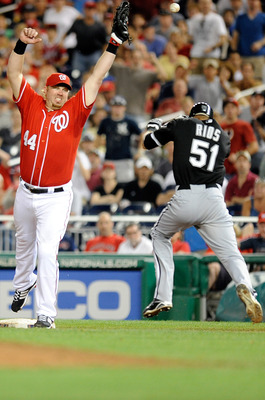 Adam Dunn trade rumors aren't done just yet. The Washington Nationals will try to have Dunn clear waivers but this might be unlikely as a couple of teams looking for a bat want a power hitter like Dunn. August might allow for time for the Nationals to talk about a contract extension but if nothing works out they will turn their attention to Bryce Harper instead.
Claiming Candidates: San Francisco Giants, Los Angeles Angels, Chicago White Sox, and Tampa Bay Rays
Verdict: The Nationals can always get draft pick compensation for Adam Dunn but so can the team that gets him and for the Nationals its about finding the right prospects for them that are first round worthy. The Giants would have first dibs on him being in the National League and they may claim him in hopes of swinging a deal.
I doubt Dunn will slip by waivers because many teams would take on his remaining salary (expiring contract) for a power bat that will change the direction of the team that gets him in a big way.
Vernon Wells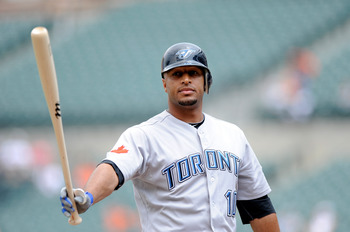 Vernon Wells wasn't mentioned in any trade talk and its understandable since he is owed $86 million beyond this season. Most of the talk centered around his teammate Jose Bautista who is getting paid $2.5 million and will be arbitration eligible this offseason.
Yet, Wells is having a breakout season after struggling for the better part of three seasons from 2007-2009. Wells has 20 HRs and 55 RBIs but his bat has cooled off a bit since his hot start.
Claiming Candidates: Chicago White Sox
Verdict: If White Sox GM Kenny Williams is oh so desperate to land a big bat and hopes to catch lighting in a bottle twice (first with Rios) with Vernon Wells he will pull the trigger and obtain him without hesitation. That would land Williams in the category of Desperate General Managers on the Windy Lane. He tried to obtain Manny Ramirez but this might seem more likely.
Only the White Sox seem to be that team that would obtain Vernon Wells after last years coupe of Alex Rios. With Paul Konerko coming off the books after this season I wouldn't be surprised if Wells came to the Windy City.
Keep Reading