Cincinnati Bengals 2010 Training Camp: Top 10 Veterans on the Roster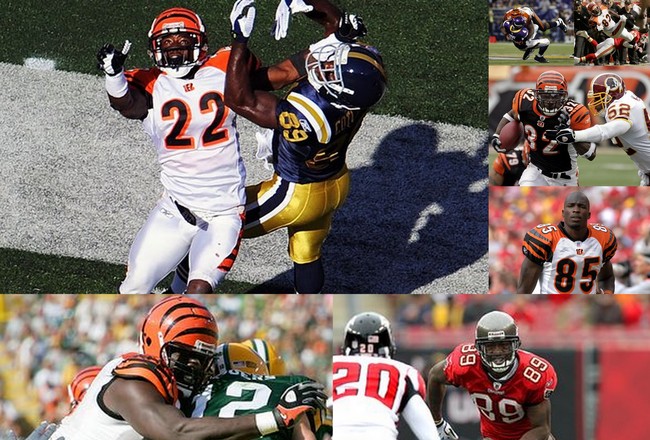 The Bengals are a rag-tag group brought together under various circumstances and experiences. Underlying this puzzle of a team are the veterans which have experienced the bone-crushing hits that separate professionals from amateurs.
As of July 31, 2010, the average NFL experience of a Bengals player is approximately three and a half years. Leadership, though, generally demands at least five years prior to being considered a veteran player.
The following are the top 10 veterans (five years or more of NFL experience) representing the Bengals in 2010.
10. Tank Johnson (DT)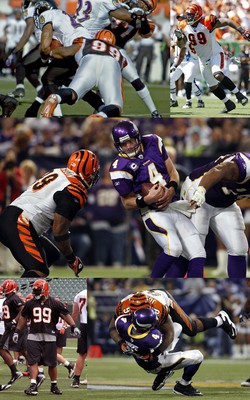 At 6'3" and 315 pounds, Johnson has seven years under his belt in the NFL. With a troubled off the field record, Johnson has played in Chicago and Dallas prior to coming to the Bengals in 2009. Yet, this troubled defensive tackle is extremely talented. Statistically, Tank had one of his best years last season and is likely to further break out in 2010.
9. Roy Williams (S)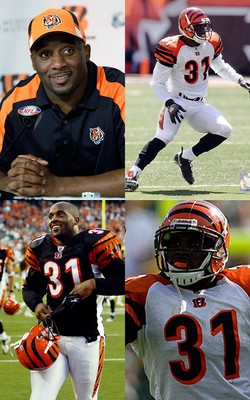 After eight years in Dallas, Williams was signed by the Bengals for the 2009 season. Unfortunately, Roy was limited to four games due to the lingering affects of a broken forearm which had kept him off the field in 2008 for 14 games.
Nevertheless, between 2002 and 2007, Williams averaged per season a little over two sacks, three interceptions, nine passes defended, 1.5 forced fumbles, 69 tackles, and 15 assists.
With a new forearm protective brace, the five-time Pro Bowler and one-time All-Pro is expected to step in as the leader at safety he was brought in to be.
8. Terrell Owens (WR)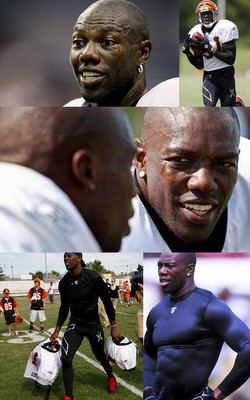 Optimism is abound with lingering uncertainty behind the scenes as one of the NFL's most colorful characters joins the Bengals for the 2010 campaign.
With 15 years of experience, six Pro Bowls, and being a five-time All-Pro, Terrell is expected to help fill in the gaps in the abysmal passing game which doomed the Bengals in 2009.
Owens has proven to be extremely durable, playing no less than 14 games in each of his 15 seasons, save one (2005).
Owen's career season averages are: 71.9 receptions, 1067.9 yards, and 10.28 touchdowns.
Yet, the past two years have seen Terrell's statistical accumulation decline. With Buffalo in his most recent past and having a new opportunity to play with a quality quarterback, Owens might yet be back in the mix for a remarkable 2010–if he can keep his infamous ego in check.
7. Jonathan Joseph (CB)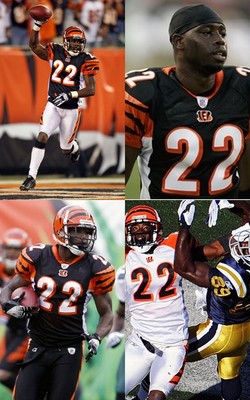 In 2009, Joseph emerged along with Leon Hall as being a member of one of the most improved and up-and-coming cornerback tandems in the NFL.
During a breakout year in which he started all 16 games, Joseph compiled six interceptions (one returned for a touchdown against the Steelers), 20 passes defended, 57 tackles, and 11 assists.
Could 2010 be a Pro Bowl year for Johnathan....?
6. Reggie Kelly (TE)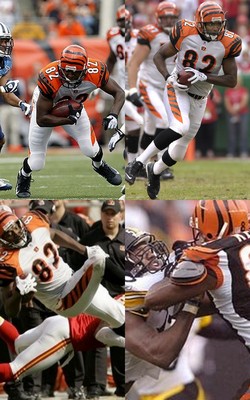 Though Kelly missed 2009 with a torn ACL in the pre-season, he has become a leader in his 11 years in the NFL, seven of which have been with the Bengals. Though he will likely end up losing his job to Jermaine Grisham during some point in the season, his leadership and guidance will be important in enabling a successful transition to a new era.
Ever dependable, Kelly has show tremendous blocking ability to go with a 9.3 yards per reception career average.
Veteran guidance is Reggie's key contribution as he works into the twilight years of his career at one of the most critical positions the Bengals need to emerge in order to take the team to the next level.
5. Antonio Bryant (WR)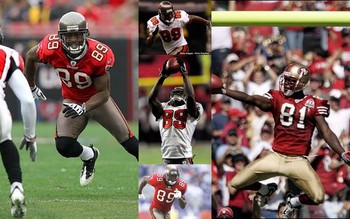 Bryant was picked up by the Bengals this off-season to bolster the weak passing game which haunted the 2009 season. Bryant has many questions surrounding him after suffering a knee injury in 2009.
Bryant's career seasonal averages are respectable with 53.14 receptions, 812.14 yards, 15.44 yards per reception, and 4.29 touchdowns.
Bryant will be asked to help fill the spots vacated by Chris Henry and T.J. Houshmandzadeh. Lingering doubts remain about the knee but Antonio is insisting that he is ready to go.
4. Antwan Odom (DE)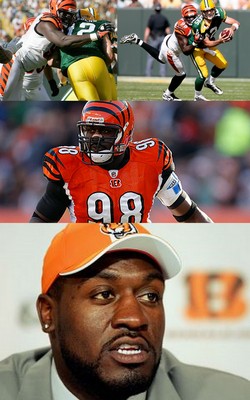 Odom was on target for a pinnacle year in 2009. After only four games, Odom had compiled a league-leading (tied with Elvis Dumervil at one point) eight sacks–five alone coming against Green Bay in Week 2. Then, Week 6 rolled around and Odom ruptured his Achillies' tendon, ending his season.
Coach Zimmer picked up and moved on despite losing Odom but had he been able to play the season through, this veteran could have very well been one of the missing links needed to make the difference in games like the one against the Chargers.
3. Cedric Benson (RB)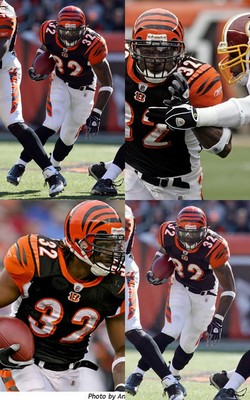 The Bengals can breathe a sigh of relief now that Benson will no longer have to worry about his off-season issues. Last season was a pinnacle year for this running back as he became a one-man offensive threat (and was the one glimmer of hope in the playoff loss to the Jets).
In 13 games played in 2009, Cedric amassed 301 rushing attempts for 1,251 yards, and six touchdowns for a 4.2 yards average per carry.
Benson is also coming into a contract year and will want to make his mark before free agency starts.
With an opened up passing game to compliment Cedric's running threat, it is safe to expect similar or better statistics from 2009.
2. Chad Ochocinco (WR)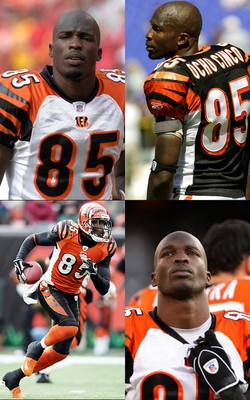 With six Pro Bowls and two first team All-Pro honors, Chad Ochocinco is coming into his tenth season in the league and with the Bengals.
In a decade that has seen this problem child morph into leader and marketing mogul, the Ocho has become one of the key individuals to the success of the Bengals. Now with Terrell Owens on board, Chad will be expected to dial back into his old form of 1200+ yards and another nine-plus touchdown season.
Coming off of the two most under-productive years since his rookie season, the Ocho should find more opportunities are available now that there are complimentary position players.
The real testament to the Bengals success though, will be how the Ocho and Owens compliment each other, the team, and keep a positive attitude in a championship-potential year.
1. Carson Palmer (QB)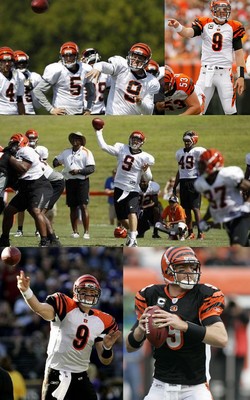 It seems like it was only yesterday that this young, Heisman winning quarterback from USC was being drafted number one overall in the 2003 draft.
Now flip to today where Carson Palmer is entering his eighth season with two Pro Bowls under his belt.
Last season Carson was not entirely sub-par but was handicapped without consistent targets at wide receiver (only one being blanketed in Chad Ochocinco). Nevertheless, in a season where fans started questioning if Palmer had already peaked in 2007, a dismal playoff appearance started the alarm bells ringing.
Yet Bengals fans should not be alarmed but excited as this will be the first time since 2007 that Palmer has had a cast of wide receivers to compliment his skill as a quarterback.
Expect 4,000-plus yards to go along with another 80-plus rated season.
Keep Reading

Cincinnati Bengals: Like this team?