All-Time Greatest NFL Players By Jersey Numbers: 11-20
Even though he hasn't been in the NFL for that long, he's accomplished a lot. He's had 523 receptions, 7,067 receiving yards, and 59 receiving touchdowns. He's also a 4-time Pro Bowler and still plays at a high level.
I picked Brady over Hall of Famers Joe Namath, Roger Staubach, Terry Bradshaw, and Bob Griese, but I did it for a good reason. He's been NFL MVP, 2-time Super Bowl MVP, 3 Super Bowl victories, 4 Super Bowl appearances, and has a supermodel wife.
All he had to do was win a couple Super Bowls and he probably would've been the greatest quarterback of all time. But he still had Hall of Fame statistics.
He threw for over 60,000 yards, completed almost 5,000 passes, was a 9-time Pro Bowler, NFL MVP, and was also Offensive Player of the Year.
Before Bart Starr, Terry Bradshaw, Joe Montana, Troy Aikman, and Tom Brady, Graham was the ultimate quarterback for the decade. He led the Cleveland Browns to 10 consecutive league championships. Enough said!
If any quarterback was to play for the greatest head coach in NFL history and do well at the same time, Bart was the guy.
The greatest quarterback in NFL history!
Harold Carmichael had 590 receptions, 8,985 receiving yards, and 79 touchdowns. How is this guy not in the Hall of Fame?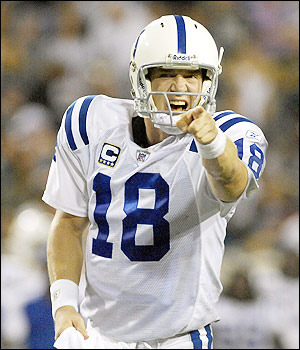 He's done more commercials than any athlete ever, he went to 2 Super Bowls, he's already thrown for over 50,000 yards, and he's started every game since he came into the league in 1998.
This guy might've been the original Peyton Manning. He was an NFL MVP multiple times, he's won 3 championships, and threw for over 40,000 yards. You would've been able to rest a coffee mug on his head.
Had he stayed in the league for a few more years, he probably would've been considered the greatest halfback of all time.