Ron Artest: The 10 Most Hilarious Moments from 2009-10 (with Video)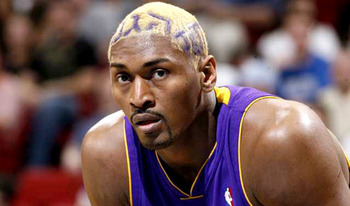 Ron Artest will always be remembered for the Brawl in the Palace of Auburn Hills. That is a given.
Now, he is trying to rewrite his story as he builds upon his career post-Indiana.
He enjoyed decent success in Sacramento and Houston before finding his way to L.A. in the off season. With a title now in his grasp, it is worth looking back and seeing what made Artest more than just a basketball player, what really makes him most resemble the Dennis Rodman of this generation, and what makes him the funny man that he happens to be.
There are many different ways we could go about looking at his hysterical ways. We could recall the time he sang to Paul Pierce for his forgiveness for pulling down his pants or we could look at the image of him with a puppy in each of his hands with a grin on his face. These are both good examples which could be used. However, we are going to focus specifically on this past championship fulfilling season.
Here then, are the top 10 most hilarious moments of the past season.
10. Ron Eating on the Beach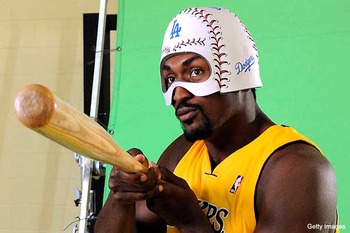 Many things could be said for this video, and I just don't think they need to be said.
Playing Monopoly on the beach in its own way is an intriguing way to start your time in Tinseltown.
9. Twitter Wars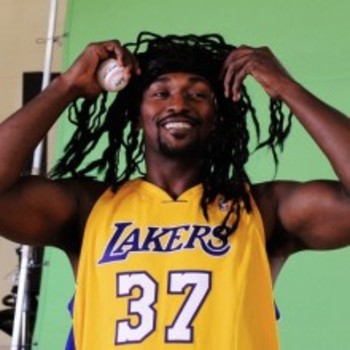 According to Artest, his brother is a better ball player and rapper than him. Yet, he lives as a family man just hanging out in Indiana.
That is part of the uneven talk that surrounds the back and forth banter that went on between Ron's brother and Trevor Ariza. Reportedly, after Artest replaced Ariza in L.A. they got into it with each other through twittering and this was Artest's response.
Supposedly, he is forced to be a fan of the San Antonio Spurs because of his brother. I wonder what other types of control his brother has upon Artest. Ah, the power of Twitter.
8. Ron's Single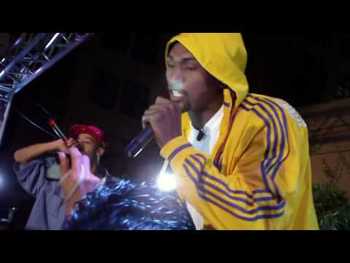 Throughout all the times in which Artest is ever given a chance to speak, he tells us about how he has this new single called "Champions" coming out and we would finally get to hear it after they won the title.
What makes this song so hilarious is that he's reppin' his Lakeshow as they had just won the Championship, and what is he and his buddy wearing on their heads? Different cities.
We have Artest representing San Diego and his buddy in the NY cap. I thought this was all about titles; when did the Padres win one? (No disrespect to the Padres, just trying to be correct in my analysis). Anyway, the song is not as bad as I expected; but he's not going to be winning any Championship belts with this track.
7. Ron Artest Interviews Ron Artest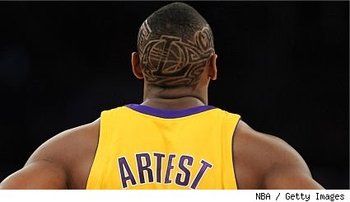 For ESPN the Magazine, Artest was given the task of interviewing none other than himself.
He enjoyed talking about his desire to do a song with Celine Dion (there's video of him singing My Heart Will Go On for those who so desire).
This was among his many different avenues of discussion he traveled. The most humor inducing might have been his desire to travel to Pluto so he could ice skate there.
6. Artest's Game Winner off Kobe Air Ball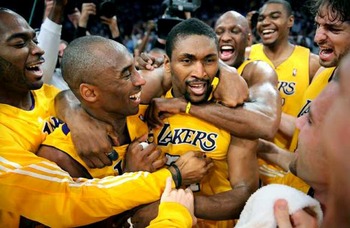 The Suns had just made their way back into the game off a Jason Richardson banked-in three just when all hope looked lost for them.
The Lakers needed to do something to finish off the Suns, and that something came not from Kobe Bryant, but Artest. Bryant's air ball was picked up and scooped in by Artest for a game winner at the buzzer.
This led to pandemonium and one of the most fun shows of excitement in NBA history. Bryant and Artest hugging like lovers lost being reunited as the Lakers celebrated a 3-2 series lead.
5. The Chelsea Lately Pants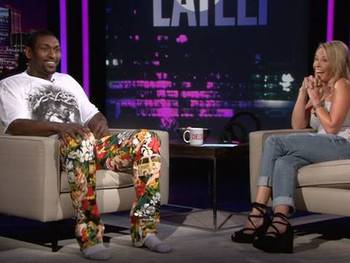 Chelsea Handler is funny in her own right, so Artest had to bring it up a notch by wearing pants featuring images of Handler. His reasoning: he had heard she was playing hard to get and since he couldn't get her in his pants, he'd put her on his pants.
That was enough to start a riot of laughter as she corrected him by stating she was easy to get.
The equation Chelsea + Ron = Humor is on the dot correct.
4. Artest on Jimmy Kimmel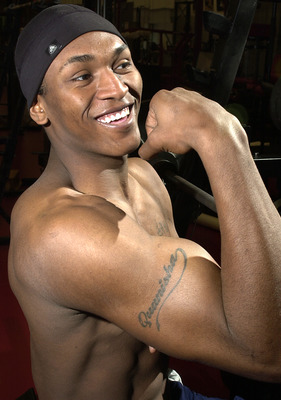 It's nothing new for a Professional athlete to make his way into the realm of news and entertainment through a permanent job or just a brief interview on a comedy show.
What's not normal—well, for those not named Ron Artest—is to show up in your boxers.
That's what Artest did in his initiation to the Jimmy Kimmel show and ranted for a few minutes about all things Artest, but made sure to mention that he wasn't "Free-Ballin" on the show and that he had put the host's name into the back of his head to the disapproval of one, David Stern.
3. Ron Artest on Kobe on George Lopez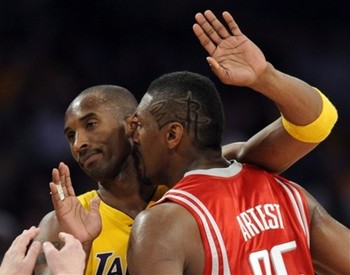 Last season, while Ron Artest was with the Rockets, he and Kobe Bryant were quite confrontational with each other in the Playoffs. These physical altercations would lead to Bryant getting Artest ejected from a game.
This led to a post game interview with Artest stating: "Your hitting the wrong person, don't you know your hitting Ron Artest."
Well, maybe Artest was able to sooth some of his wounds by letting go of his feelings about Kobe in this George Lopez Show skit with Hellen Mirren. He reassures everyone with: "Don't worry, I'm mental."
2. I Got Wheaties!—Post Game 7 Finals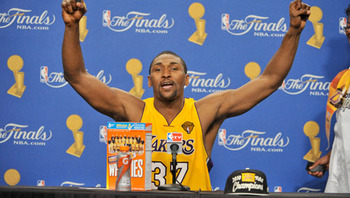 I Got Wheaties! I Got Wheaties!
He rings out these words as he springs to the speaker with the exuberance of a young child. He states his kids don't want to shine as if they are the shy to the nth degree.
"Why are you staring at me daughter?," he states to his daughter as if they are brother and sister.
He gives personal waves and shout outs to his whole family and the entire group of reporters in the building as the lovefest for all goes on.
His statement that Phil Jackson as the Zen Master can "speak to you" is another insightful bit of material to read into. All these parts just turn into a true celebratory feeling.
1. Doris Burke Interview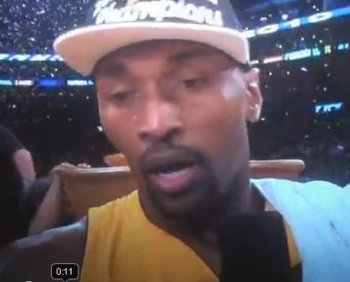 So, the Lakers have just won the title Ron, and you have won your first. What would you like to talk about?
Ranking up there with Kevin Garnett's postgame "Anything's Possible" and Jordan crying as he held the trophy has to be Artest's random run of the mouth after acquiring the first title of his career.
Statements such as "My psychologist really helped me relax alot." and "I did a song called Champions Last...June!"
"He's no the perfect player, he's not the perfect person" as one drone Mike Breen states; but he is Ron Artest. A man that is unusual and pretty damn funny.
Keep Reading

Los Angeles Lakers: Like this team?