Tim Tebow and the Denver Broncos Quarterback by Committee Philosophy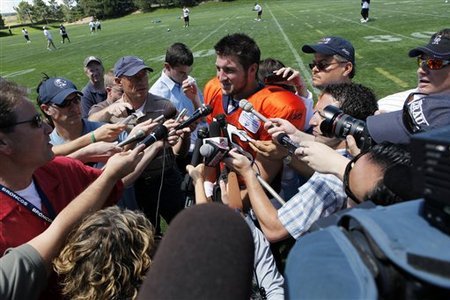 Denver: Head Coach Josh McDaniels was entertaining the notion of taking a quarterback by committee approach after Tim Tebow made it a very "Good Friday" for the Broncos Training Camp session today.
"You know, I haven't ever used more than one quarterback in the NFL. I don't think that's something that can't be done if you choose to do it," McDaniels said.
"Certainly, people have speculated about, you know, how we may or may not use him in those roles, but since we haven't really done any of it in pads, I haven't had the opportunity to evaluate what that may do for our team. It's hard to say exactly if we would feel that way too."
Sounds to me as if McDaniels can't wait to get these players in pads to evaluate how his new quarterback by committee philosophical approach for the 2010 season is going to work.
"You know, there's going to be some things that he can obviously do that the other two can't in that regard. How much we do or don't do will depend on how productive we are at it," McDaniels said.
Kyle Orton was arguably the dink and dunk king last season, considering how his short passing game got him jacked all the way up to the 14th best quarterback ranking in the NFL last season.
We are not likely see Kyle Orton throw 50-60 yard passes ten yards off the ground on a frozen rope to a receiver in stride.
This is where Tim Tebow comes in; he has been known to do that a time or two, the rookie has a cannon for an arm.
Tebow is highly accurate as well, he broke the NCAA Division 1A 4-year quarterback passer efficiency rating record; this factor will most certainly help keep the safeties from stacking the box while Tebow is the quarterback.
Tebow, being a proven deep passing threat, will help to spread out defenses and open up running lanes to the Broncos rushing attack as well.
Begin Slideshow

»
Wide receiver Javon Walker was the Broncos' last legitimate deep threat, and Josh McDaniels is hoping to revive the deep passing attack of the Denver Broncos.
Jay Cutler, who is also known for having a cannon, was the quarterback when Eddie Royal emerged on the scene as a rookie sensation.
Royal, in his rookie season, had five times the touchdowns and nearly three times the yards of his sophomore season with Kyle Orton at the helm. Yet, his kick returns remained nearly identical.
"I don't know, it's tough to say," Royal said about his lack luster 2009 season. "It was everybody's first year in the offense, everybody was adjusting."
Do you know why international waters are only three miles offshore? That is how far the cannons could fire back in the day. This could explain why Royal fell off the map last season. Orton was firing a pea shooter at him...
"I think he's (Royal) a smart player, a versatile player, (and) a guy that we need to do better with," McDaniels said.
"We didn't do a good enough job of getting Eddie involved in the offense in certain games and we have to do a better job of that. He is certainly capable."
Orton said, "I just think a lot of it was I was new to him, he was new to me and we just kind of...we missed some plays." Orton predicted Royal was "going to have a great year this year."
With Brandon Lloyd and Demaryius Thomas joining Royal in the deep passing threat department, something has got to give in regards to getting these guys on the map, and this is what making the move to draft Tebow was all about.
Demaryius Thomas the 6'3', 229 lb. WR, has a strong stiff arm that makes him hard for a cornerback to bring him down. The unique combination of size, body control, and speed has scouts hopeful he will be able to make a smooth transition to the NFL.
Thomas broke school and ACC records, and his 25.1 yards per reception was second in the nation. He had posted career highs in 46 receptions for 1,154 yards and eight touchdowns.
After seeing Josh McDaniels take his dink and dunk passing offense into a No. 13 ranking in the league, imagine what he can do with a legit deep passing threat at the helm.
"...he's (Tebow) certainly getting the hang of some of the things we are doing and we are working on—specific reads and drills that mimic some plays we've installed and talked about and shown a lot of film the last few days," said McDaniels.
"Our expectations for him are to just compete and try to learn and do the things that we are asking the other guys to do. What other peoples' expectations are of him or how much he'll play or contribute or compete to play early—I don't really know. I'm not that worried about it. I think if he's the best player at some point in some area, then he'll be able to affect the team. That's really what I think his focus is on."
Denver Broncos third-round selection of the 2010 NFL Draft, Eric Decker is Minnesota's all-time leader in receptions.
"I think he's the best wide receiver in college football, period," said Tim Brewster, Minnesota head coach.
Decker's college career came to a premature end with a Lisfranc foot injury last season. This allowed him to be a steal in this year's draft.
Decker only dropped three balls his whole college career. One can't help but wonder if Decker could wind up being the next Eddie McCaffrey.
Decker is just in from Minnesota after having participated in the passing camp of Arizona Cardinals' Larry Fitzgerald. Vikings Sidney Rice gave the camp all the credit in the world for his remarkable success last season.
The Broncos may very well indeed possess a top five receiving corp in this league, and for some time to come, considering how young it is.
When you consider that there are only two teams on this season's schedule who ranked in the top 10 for passing defense last season, things get very interesting for McDaniels.
Does it get any better than this in regards to the timing being so opportune?
It is as if this schedule is doing nothing more than acting as a red carpet for Tim Tebow to actually have a breakout rookie season.
It is as if McDaniels is only entertaining the quarterback by committee philosophy to just get the rookie's feet wet in regards to the speed at this level.
Since Aaron Rogers was drafted in 2005, only one first-round QB pick has not started during his rookie seasons. Ironically, that quarterback was Brady Quinn.
It is virtually a given Tebow will start in 2010,
"We stole a lot of (University of Florida's) plays maybe three or four years ago. They run a lot of different things. They ask their quarterback to do a lot. No college quarterback—or very few I should say—have run or done what we're going to do, or what other NFL teams do necessarily, because the game has spread out so much."
"There are so many different things going on right now in the college football game that maybe you don't see in the professional football league. What Tim has been asked to do—mentally, there is a lot of burden on him—same thing here."
"What he's been asked to do in terms of reading defenses and progressions and those types of things is similar to what he'll have to do in the National Football League. He's been well coached—I have a great deal of respect for (University of Florida Head) Coach (Urban) Meyer."
Dwight Freeney was recently found bragging about how he could not wait to hit the rookie.
"I'm licking my chops," Freeney said. "All these rookies coming out? They don't know anything. I can't wait."
"I couldn't wait to hit Mark Sanchez," he said. "And I can't wait to hit Tim Tebow even more."
Gee, I wonder what one of the premiere left tackles in the game today, Broncos left tackle Ryan Clady, has to say about that?
Not to mention Tim Tebow, who has got to be licking his chops to make a statement against the likes of Dwight Freeney?
Dwight is only 6'1" adn 268 lbs. I am sure at 6'3", 240 lb. Tebow will manage to hold his own against Freeney just fine.
But we will have to wait till the Week 3 matchup at Mile High?
Once he is dialed into the scheme and speed at this level, McDaniels will most certainly throw Tebow to the wolves, and the wolves better BEWARE!
This is what McDaniels had to say about Tebow's toughness and eagerness for contact today:
"I think that's part of his demeanor. I think that is also part of what he brings to your football team. There's no question about it. I think that may be a little unique in terms of the contact part of it."
"I think normally quarterbacks add a certain level of toughness of your team because they get hit a lot when they're defenseless and have to get up and continually get up and do those types of things."
"And I know he's had an opportunity in college to do some of the other stuff where he actually is inflicting some of the hitting at the end of a run or something like that, but it doesn't surprise me that he would say that."
"It felt great – it was so much fun just getting out here with my teammates and practicing and playing – and breaking a sweat was a lot of fun."
"I've been trying to be patient but it's been extremely hard."
"(Laughing) We were definitely trying to push and get out here – I was – and I was blessed though with a great front office here and a great agent that handled everything and got it done and now I'm out here and I don't have to worry about anything except playing football."
"I've talked to a lot of veterans here, other veterans that I know around the league and different coaches and just tried to get a feel for what it's going to be like – how to prepare myself, my body, my mind, everything, the right nutrition program, the right rest program – all those things, just to handle it the right way."
"Well, I'm definitely focused on the playbook but I'm also focused on mechanics, my drops, my footwork, learning a new offense, the play-action fakes we've got, the different stuff that I'm not used to from college and so it's a combination of both, definitely."
"I think I've improved a lot. I think this last month of just being able to work on those things really helped me mechanically too and then continuing to study and get better every day."
Tebow made mention of John Elway downplaying the spectacle being made about Tebows mechanics.
"Well sometimes it definitely can be (overemphasized) because like he said, at the end of the day it's if you can get it to the receiver or not and how quickly you can get it to him, so I think it definitely improves your game. It can help, but also, you just got to be able to get it there."
Tebow is eager to get physical, but it looks like he will have to be patient till the first preaseason game that is just two weeks away.
"I am looking forward to it – it may be a negative of mine is that I look forward to that and I'm a quarterback so you kind of have to stay calm but it is fun once Sunday gets out here and everybody is hitting - I'll get excited too."
"I definitely have to be smart and I don't think they're going to let anybody hit me or me hit anybody so I think it's just going to be constantly doing drops, throwing and just learning the offense."