The Top 10 Greatest "Freak Show" Fights of All-Time
The weird thing about freak show fights is that you'd think they'd be as terrible as they sound, but really, some of them are good.
Best fights in the world? Yeah right, don't kid yourself, kids.
They may feature the best in the world at times, and that alone is sometimes what makes them great, but sometimes the "freak show" in the fight actually does his best to hold his own.
That way, no one can say he didn't at least try to win the fight before he gets beat down.
In ten such fights did this occur where a fighter who was considered a freak show did make more of an effort than people gave him credit for in order to win the fight.
Begin Slideshow

»
James Toney verses Randy Couture has yet to happen, so it obviously doesn't make the list.
Should the fight at UFC 118 be entertaining for its duration, though, it could make its way into another list of top 10 freak show fights...
... or maybe James Toney could prove himself to be less than a freak show and more of a fighter in what is a clash of two legends from two different sports.
For now though, let's kick off the list.
Why this fight to kick off the list?
Because Royce Gracie hadn't fought Sakuraba yet, hadn't fought Matt Hughes yet, and he was fighting Akebono for heaven's sake!
To Akebono's credit though, he did get the dominant position on Gracie a few times, and if the former Sumo had pushed the legs of Gracie to pass guard, maybe he could have mounted him.
As entertaining as the struggle was, it had to end, and it did about two minutes into it with an omoplata.
Hopefully you will find this to be an entertaining fight between a Sumo Champ and a BJJ Legend.

Royce Gracie vs Akebono
Uploaded by mabko. - Check out more sports and extreme sports videos.
Zuluzinho actually was kind of a scary dude in the ring, and I say in the ring because I never saw him in the cage much.
After being beaten up a bit by Fedor Emelianenko, Zuluzinho had the unenviable task of facing Antonio Rodrigo Nogueira.
In Zuluzinho's defense, he actually looked like he could hold his own, but eventually Minotauro submitted his fellow Brazilian with an armbar.
Give him an A for effort, though. At least he tried.

Antonio rodrigo nogueira vs zuluzinho
Uploaded by haroun57. - Check out more sports and extreme sports videos.
Tough to not love Minowa sometimes, you know?
He's not the most prominent name in the sport, definitely not one of the most revered unless we're talking Japanese MMA, but the guy is by no means a forgettable name.
I'd say anyone who can entertain while still being able to beat someone up or submit them is someone worth keeping an eye on (i.e. Tom Lawlor, Jason Miller, etc.)
Here, Minowa fights another freakish human being, Bob Sapp, in a battle off Japanese MMA's two most heard of entertainers.
Needless to say, this one doesn't end pretty.
Tanaka is the guy in the mask, he's actually experienced in amateur wrestling, but the night of Dynamite 2008, he had the misfortune of facing Bob Sapp.
The fight did actually go to the ground, and there was a time in the fight that Tanaka actually did control the fight on the ground.
That time was short-lived.
The fight eventually went back on the feet, Sapp delivered some shots, and then Tanaka adjusted his mask.
Watch the video to find out what happened when Tanaka adjusted his mask.
As long as we're talking about freak show fights, let's let your head cool off from these insane bits of action to bring you a K-1 Sumo matchup.
Bob Sapp faces Butterbean in a mat that doesn't last too long and proves that while Sapp isn't the best heavyweight fighter ever, he is a beast, as his nickname implies.
We now return you to your regularly scheduled countdown :-)
(And by the way, there are a lot of Bob Sapp's fights that could make this list.)
Can't talk freak show fights without mentioning Fedor's go with Choi, now can you?
Back in the day, The Russian Experiment really was unstoppable, but he was coming up against Hong Man Choi, who was just starting out when he faced Emelianenko.
That shows you how wiped out most of the heavyweight scene outside of the UFC was, and this is all before Lesnar-Couture ever happened.
Choi could have been the man who gave Fedor his first MMA loss by KO, but instead he became another victim by submission of the once-unstoppable Fedor.
Minowa has a reputation of being a "giant killer" in MMA so to speak.
Not really giants in the sense of the tall and menacing figures, although he's beaten a few of them too.
A classic Minowa fight that sees him take on and beat a giant is his 2006 bout at PRIDE Bushido 10 against Giant Silva.
The fact that Silva was even taken to the ground by Minowa is a feat in itself, but the rest of the fight was fun also, as is any Minowa fight, before Silva was finished off.

EMBED-Giant Silva vs. Ikuhisa Minowa - Watch more free videos
Wow, nothing left to say about this one except crazy all throughout.
Kimbo and Tank aren't the best fighters in the world, but damn could they fight.
Something about putting them together in a fight at an EliteXC event seemed natural... or just flat out freakishly cool to the Showtime execs.
Either way, I can't knock the fight. I do tend to like stand up wars.
Besides, it was exciting, even for a Kimbo fight, and some Kimbo fights aren't too bad.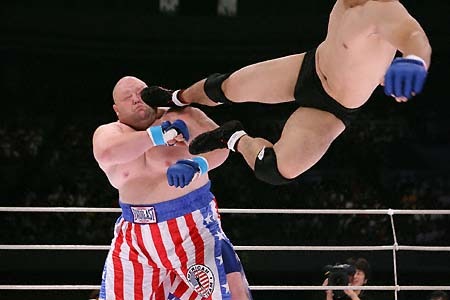 The dropkick was the first of two Minowa landed on Eric Esch, AKA Butterbean, before Esch finaly hit the ground.
Eventually this one ended by way of armbar, resulting in a win for Minowa.
The full fight can be seen.
One of the many fights that made Minotauro's career memorable, his fight with Sapp actually showed something from Sapp as well as from Rodrigo.
Sapp would actually catch Minotauro on the ground and nearly finish him, but Minotauro showed some heart and came back to finish off Sapp with an armbar.
This is one of the more overlooked fights of Minotauro's career, but it stands as a highlight in Nogueira's reel.
The two faced off in a bout for... someone... or something.
Whoever or whatever it was for, it happened at DREAM 9 and it, like most of these mentioned fights, did not end well for one of these guys.
Sad thing is, one's a legend in baseball, while the other is a kickboxer whose K-1 record isn't too shabby, but both of these guys are considered freak show fighters.
Hence, their induction in the Freak Show Fights Hall Of Fame.
At PRIDE 34, these two mammoths collided in a bout for the ages, per se.
The bout started on the feet and ended on the ground when a submission hold was applied by one of these two behemoths for a win that few could have seen coming.
Take a look for yourself in order to see which man took it all.
http://player.youku.com/player.php/sid/XNTQyNDE4MTI=/v.swf