2010 Broncos Predictions: Game by Game (Raider/Chief/Charger Fans POed)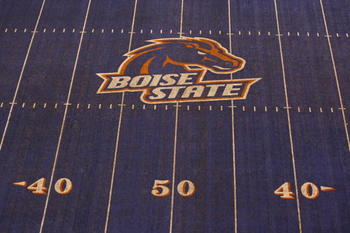 No, No, not THAT Broncos schedule. Although they had the better record last year and most likely will next year, we are going to look at the Denver Broncos schedule. That Broncos team without a blue duck pond home field.
We now know who the Denver Broncos will be playing and only the current makeup of the opponents and the Broncos roster, this will be an early look at what may transpire.
OK, the DENVER Broncos
Now that I probably lost most of the potential readers with that first slide, I take it that the die-hard Denver fans are still with me, right?
The article is over here, not in the picture, OK? Please stay focused if you want to stay abreast of the important stuff in this article.
Setting the Stage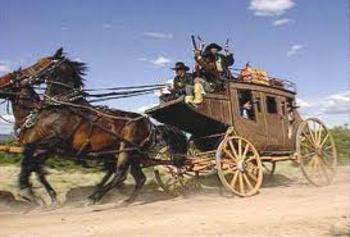 Notice that this stage is pulled by HORSES (aka Broncos), so as not to confuse those Raider/Chief/Charger fans who think it is the Denver Donkeys. Got it? Good.
We will begin with the dreaded "Assumptions", as they are important in predicting both the final roster after training camp (for both the Broncos and their opponents) drafts and of course, wins/losses.
And we all know what assuming does, but here goes, anyway:
Assumption 1: The team isn't sold.
Assumption 2: The drafted players will sign and most of the first six drafted players will make the roster.
Assumption 3. Orton is the starter and stays that way, unless he gets hurt and/or the team goes south.
Assumption 4: The Bronco stores don't run out of No. 15 Tebow jerseys, which would cause all the Gator fans to riot and destroy Invesco at Mile High, causing the rest of the Bronco season to be canceled.
Assumption 5: There is no Gator Chomp at Invesco at Mile High, which would cause all the true Bronco fans to riot and kill or maim the Gator fans that started it and causing the rest of the Bronco season to be canceled.
Game 1 - @ Jacksonville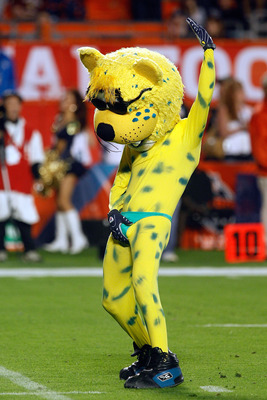 WHOAAA! Is this any way to act when your team is on the verge of moving?
No wonder attendance is down (other than not having a very good team).
Denver goes into a sold-out JAX (Thanks to Tim Tebow's appearance on the bench and the standing ovation he gets each time he breathes) and leaves with a 10-point W against a pretty bad team.
Record 1 - 0
Game 2 - Seattle @ Mile HIgh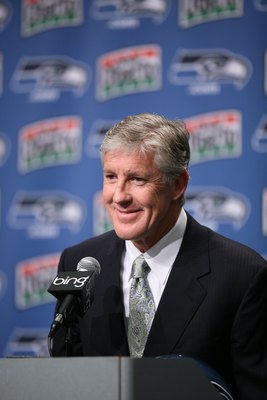 Would you buy a slightly tarnished Heisman from this man?
Oops, he is now the head coach at Seattle not USC. MY Bad.
However, he has some serious work to do in Seattle, without Reggie Bush. And it won't get done in front of a hungry home crowd of Broncos fans.
Sunny weather, a few beach balls blowing in the breeze and Denver's D shuts down the Seahawk offense. Denver goes home to their own beds with a comfortable 24-10 W.
Record 2 - 0
Game 3 - Colts @ Mile HIgh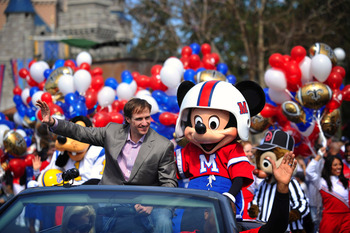 I know, I know Colts fans. That should be Peyton next to Mickey, not Drew, but ...Stuff happens.
Not to worry in Indy, they come back this year hungry and leave Denver with a pound of chewed Broncoburger. Manning back in the driver's seat.
Colts win a close one, 27-23.
Record 2 - 1
Game 4 - Denver @ Tennessee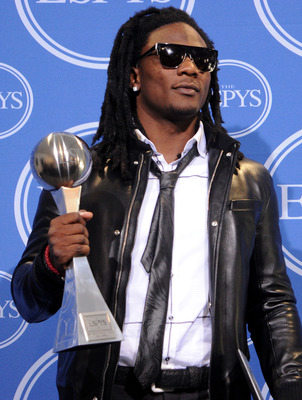 Chris Johnson let his hair down, got his ESPY and a well-earned contract extension.
He and Vince Young will have to work hard to overcome a great game by Knowshon (100+ YD/2 TD) and rookie Eric Decker (9 Catches/1 TD) to come away with a hard-fought 36-31 win.
Record 2 - 2
Game 5 - Denver @ Baltimore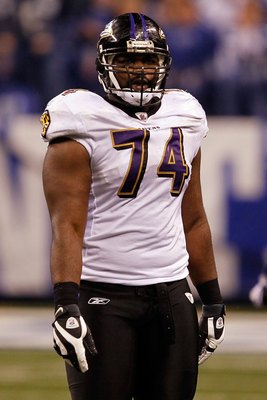 Kind of hard to get "Blind-sided" by Mr. Oher when he is this big but he does his job to (barely) keep the Ravens in this close game, dominated by both defenses.
Denver goes ahead 9-7 at halftime but unluckily for Denver they come up short in a 14-9 as their only scores come from Prater's foot. Redzone issues still haunting the Broncos.
A tough road trip for the Broncos but luckily they are relatively injury-free as they prepare for a strong close to the first half of the season.
Record 2 - 3
Game 6 - NY Jets @ Denver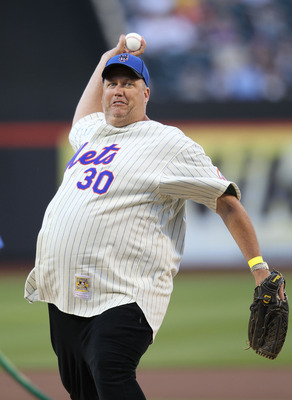 Will we see this version of Rex Ryan or the new, improved slimmed down look on the sidelines?
In any case, this man may not be able to pitch but he can coach and he will have his team ready for the Broncos. But so will McDaniels.
Josh has a working knowledge of the AFC East as he showed last year against his old NE team. The new 3-4 D will slow down the run and Elvis will make Sanchez's day a long one, as he sacks him 3 times.
Denver takes this much-needed W, 17-10 to even their record.
Record 3-3
Game 7 - Oakland @ Denver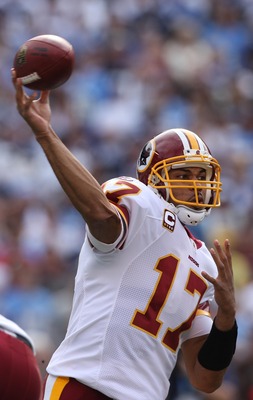 Sorry Bronco fans, but I have an eerie feeling that this may the game that Jason Campbell breaks out and proves he will be a true long-term starter for the Raiders.
But after Fatass Russell, anyone would be an improvement.
Denver goes down in a tough fight, 27- 24
Record - 3-4
Game 8 - Denver @ San Francisco in London
Now that is showing fans some true appreciation!
So the UK now gets to watch the SECOND most popular game of football in the world. And Denver and SF have to play it at midnight or some such Gawdawful hour so we can see it in a more normal watching time.
I still find this regular season game outside of North America to be a bad thing for both participating teams.
Denver overcomes jet lag, (maybe because they have one less time zone change) and we see the first coming out party for Thomas as he has a 100 yard game and 2 TDs.
The D shuts down Alex Smith and they leave Merry Olde England with a 30-17 win. More points scored in this game than in all the English Premier games in the past season.
Record 4-4
Game 9 - Kansas City @ Denver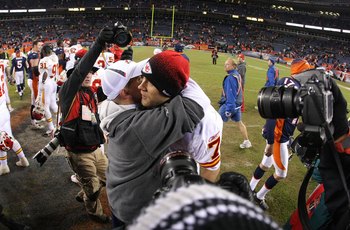 Following the much-needed Bye week, McDaniels learns from last season and doesn't allow a letdown.
Matt Cassel continues to prove that he was a one-hit wonder in NE and is having another average season driving the KC offense.
The only saving grace is the running game but that gets controlled by the tougher inside players of Denver's 3-4.
Orton is methodical and drives Denver to two red-zone TDs in the second half, allowing Denver to leave the Chiefs with their warpaint smeared, winning 20-13.
Record 5 - 4
Game 10 - Denver @ San Diego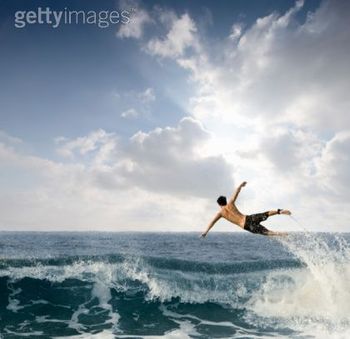 Like Totally Gnarly, Dude! WIPEOUT - Just like what happens to the Chargers on MNF. Rivers still doesn't have a decent corps of WRs with VJ still holding out, nor a great RB, and he is harassed all over the field.
Denver finds its running game and Orton is efficient as the Broncos "wave" Bye Bye to San Diego beaches and the Chargers, 31-21.
Record 6 - 4
Game 11 - St. Louis @ Denver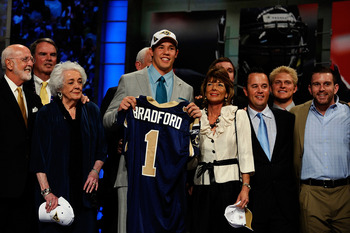 Playing off a two-game winning streak and having the lowly Rams coming into the Mile High air looks good for the home boyz, even with the Rams' #1 pick at QB.
This allows Denver to breathe easy and even has Timmie Tebow run a few plays, actually throwing for a short crossing TD to Eddie Royal and running for a first down on third-and-8.
The Rams get sheared, 17 - 3.
Record 7 - 4
Game 12 - Denver @ Kansas City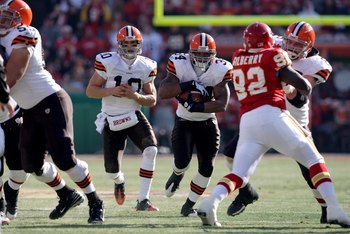 Yes, that is Brady Quinn in this picture. And no, he won't be playing in this game.
A trip to Arrowhead, where the fans are frustrated and many show up as empty seats.
They do get to watch an exciting game with several lead changes but Denver pulls it out in OT 20-17 on Prater's foot.
The state of Missouri is left in a state of misery by creating an 0-3 record for their two NFL franchises against the Broncos.
Record 8 - 4
Game 13 - Denver @ Arizona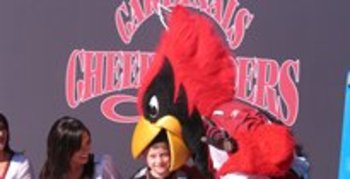 Looks like this fan had some issues with the Cardinal. And the trip to the desert unfortunately doesn't go any better for the Broncos this warm Sunday afternoon.
A left-handed QB (no, not the Broncos third stringer, wearing No. 15) by the name of Leinart has a career day throwing for 375 yards and 3 TDs before getting hurt in the fourth quarter.
Denver leaves PHX with sand in their cracks, losing 34-21.
Record 8 - 5
Game 14 - Denver @ Oakland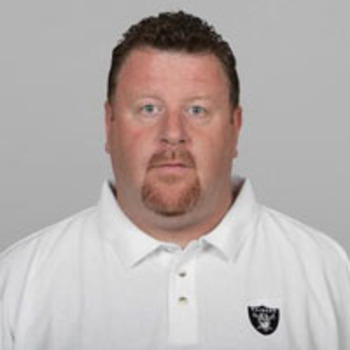 Is this a mug shot or a picture for Tom Cable's resume? Both may be the right answer.
The Black Hole is looming large for Denver after the tough loss at Phoenix and some minor injuries over the past few games.
But in a replay of last year, the visiting teams take the W. The Denver secondary comes up big with two INTs, one being returned by McBath for a 60 YD TD right into the face of the kind folks in the aforementioned Black Hole.
Denver leaves the Bay Area with a tough-fought win, 17-13.
Record 9 - 5
Game 15 - Houston @ Denver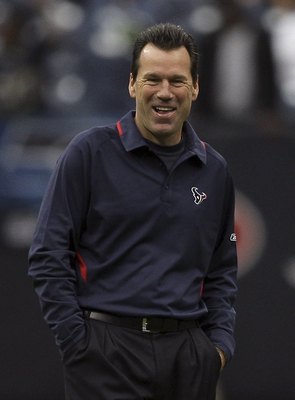 Game 15 and the return of one of the most popular Assistant coaches (and backup QB) in Bronco history, Gary Kubiak.
In addition, ex-Bronco coaches Rick Dennison, Ray Rhodes and Gary Gibbs are on the coaching staff.
Add to that six ex-CSU players, all this making it a bit like Colorado South coming North.
Kubiak and company have put together a strong team that very well could make the Playoffs.
But the Texans leave with burnt lungs from the Mile High air and a strong showing by Denver's efficient short passing game, gives Denver another W, 21-10.
Record 10 - 5
Game 16 - San Diego @ Denver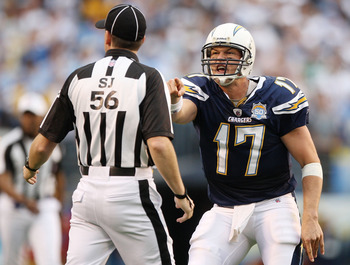 Deja vu all over again. San Diego and Denver playing down to the wire for playoff positioning. But this time San Diego enters two games back of Denver and hanging on by their fingernails for a playoff berth.
Rivers and company put together a huge game on both sides of the ball with VJ back playing in front of many of his college fans and make it a long cold January afternoon for the Broncos.
They leave with a well-played 35-23 win and a Wild Card berth.
But Denver has the last laugh, winning the AFC West with a 10-6 record and a guaranteed home game in the Playoffs.
Playoff Game 1 - Denver vs. TBD
I have to confess that I have no more prognostications left for this season.
A home game in the Playoffs but I have no more insightful info to share beyond that.
Keep Reading

Denver Broncos: Like this team?