College Football's Passing Leaders: How Have They Fared in the NFL?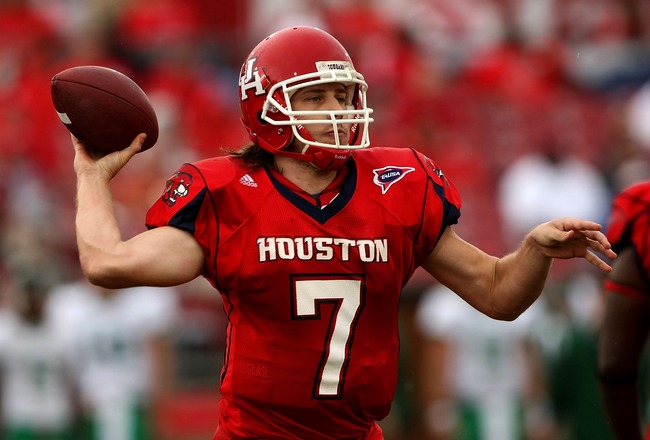 Houston quarterback Case Keenum is a little over 4,000 yards away from reaching the all-time passing yard mark in NCAA football history.
The record is held by former Hawaii signal-caller Timmy Chang, who threw for over 17,000 total yards in his college career.
Keenum currently sits in eighth place in the passing yardage category with 12,950 yards. He is right behind his former Houston teammate, Kevin Kolb, who now stands at seven on the list. The senior also sits in eighth place on the all-time passing touchdowns list with 102.
Even though he has been a prolific passer during his career, there are still those that question if Keenum is a legitimate NFL prospect or just another novelty system QB putting up big numbers in a gimmicky offense.
While Jake Locker seems to be almost universally recognized as the top senior QB prospect, Keenum is in the conversation with guys like Texas A&M's Jerrod Johnson and Florida State's Christian Ponder for that second tier right behind the Washington QB.
So is he really a bona fide NFL prospect?
Well, judging from some of the other quarterbacks who have put up eye popping stats in college, one would be foolish to say yes just because of the extraordinary numbers Case has amassed thus far.
Here's a look at how the top 10 all-time leaders in passing yardage have fared when they tried to make the transition to the next level.
10. Tim Rattay: Louisiana Tech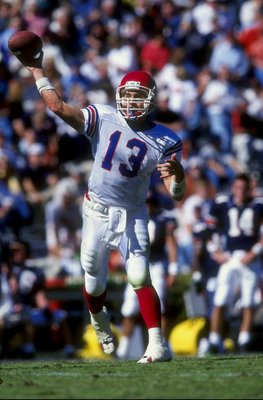 Because he sat on the bench throughout most of his high school career, Rattay didn't receive much recruiting interest from major schools. After a year at Scottsdale Junior College, Rattay would choose to play for the Louisiana Tech Bulldogs.
It was there where he set numerous records in passing and other offensive categories. He finished with 12,746 total passing yards and threw 115 scoring strikes, which is good for fifth best all time.
Rattay was drafted in the seventh round of the 2000 NFL Draft by the San Francisco 49ers. He was largely used as a backup for Jeff Garcia during his time in San Francisco, but he did see some action as a starter along the way. His best season came in 2004 when he started nine games for the 49ers.
During that season he threw for over 2,000 yards with a 60 percent completion percentage and an even 10-10 TD to INT ratio.
Rattay also had a two year stint in Tampa before his last season in Arizona in 2007.
Rattay now plays for the Las Vegas Locomotives of the UFL.
9. Dan LeFevour: Central Michigan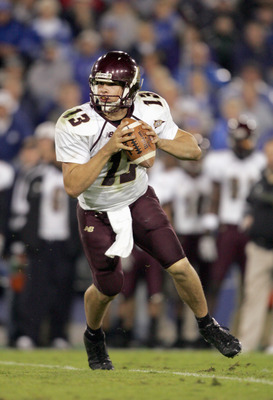 LeFevour came in for injured starting QB Brian Brunner in the first game of the 2006 season against Boston College and hit the ground running. For the next four years, LeFevour would not only rewrite the school record book, he would rewrite the conference and national record books as well.
During LeFevour's time at Central Michigan, the Chippewas averaged just under 10 wins a season, and appeared in four straight bowl games after going on a 12 year bowl drought.
LeFevour ended his career with 12,905 passing yards and 102 TD passes. The dual threat QB also holds the record for total touchdowns with 149 scores in his career.
The MAC star was selected by the Chicago Bears in the sixth round of the 2010 NFL Draft. It looks he'll battle it out with Caleb Hanie and Mike Teel in training camp for the right to back up current starter Jay Cutler.
8. Case Keenum: Houston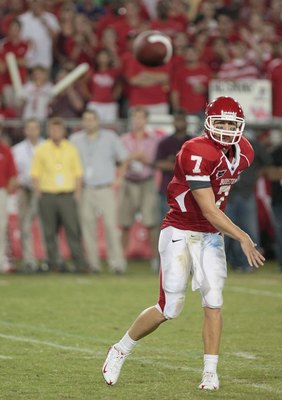 Keenum is the only current active collegiate football player in the top 10.
The senior currently has 12,950 total passing yards and has thrown for over 5,000 yards in each of the last two seasons.
The Cougar QB has earned numerous awards such as conference Freshman of the Year (2007), conference Offensive Player of the Year (2008), and conference MVP (2009) for his efforts over the span of his college career.
7. Kevin Kolb: Houston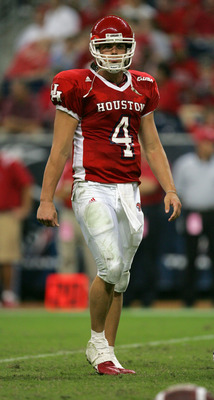 Kolb came to Houston to play for Art Briles, the current head coach at Baylor. The Texas native started from day one as a freshman and led the team to a 7-6 winning season in his first year. Over the next two years, the team would have its ups and downs, but Kolb finished off his time in Houston with a bang.
As a senior, Kolb threw 30 TDs as he guided his Cougar team to a 10-win season. He would go on to finish his career with 12,964 passing yards.
He was drafted in the second round (actually with the team's first pick) by the Philadelphia Eagles in the 2007 NFL Draft. The selection was surrounded with questions and controversy because Philadelphia already had long time starter Donovan McNabb leading the team.
He would see spot duty in his first few seasons, but with McNabb now in Washington, Kolb is expected to be the new leader of the Eagles offense.
6. Colt McCoy: Texas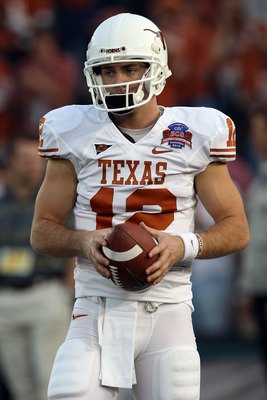 McCoy won a battle with fellow freshman Jevan Snead to earn the right to replace Vince Young after the Longhorns took home the National Championship in the 2006 title game.
Even though he was just a freshman, McCoy started to gain a large following with the Texas faithful in just his first year as a starter.
Colt would go on to become one of the most recognizable figures in Texas football history after his four-year career as a starter concluded. The Longhorn quarterback led his team to four straight 10-plus win seasons and became the winningest QB in college football history. He finished his career with 13,253 total passing yards.
McCoy was drafted in the third round of the 2010 NFL Draft, which turned out to be much later than many analysts predicted even though it seems about right when you look at his potential as a pro.
Colt still has a long way to go in his development, and even Browns President Mike Holmgren has told fans to temper their expectations for the young signal caller.
But this hasn't stopped some analysts and fans from putting the unfair "Next Drew Brees" label on him.
5. Philip Rivers: North Carolina State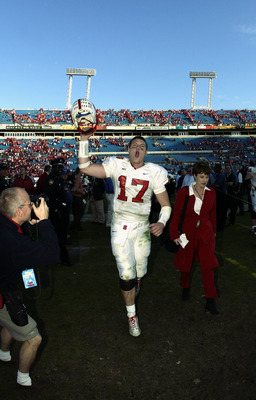 Rivers is considered by many to be the greatest QB to ever play at NC State, and one of the best to ever play in the Atlantic Coast Conference. Under Rivers' leadership, the Wolfpack made it to four straight bowl games. He finished his career with 13,484 total passing yards.
After being selected by the New York Giants with the fourth pick of the 2004 NFL Draft, Rivers was traded to the Chargers in exchange for Eli Manning and an assortment of draft picks.
Rivers has made the most of his time in San Diego up to this point. His fiery personality has been a welcome addition to the Chargers locker room, and he has been able to carry the team to success year in and year out.
Philip has turned out to be the best pro player on this list.
4. Colt Brennan: Hawaii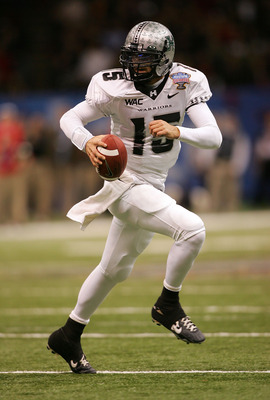 After a rocky start to his collegiate career at Colorado, Brennan found a home in June Jones' Run-N-Shoot offense down in Hawaii. Jones molded Colt into one of the most dominant passers in the country and the coach would go on to sing his pupil's praises time and time again.
During his final two seasons, Brennan guided the Warriors to a combined 23-4 record and a berth in the Sugar Bowl. He would finish his college career with 14,193 total passing yards.
Even though Coach Jones exerted as much effort as he could to pump him up, Brennan still fell to the sixth round in the 2008 NFL Draft. That's where he was scooped up by the Redskins.
He has spent all of his career as a backup so far. Now, with a new regime in place and a new starting QB in Donovan McNabb, it's hard to predict what Brennan's future role will be with the team.
3. Ty Detmer: BYU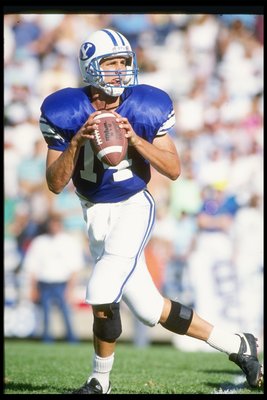 Detmer is the only Heisman winner on this list. The former BYU QB brought home the honor in 1990, along with a host of other trophies including the Maxwell and Davey O'Brien Award.
The 1990 season that Detmer put together was surely deserving of such high praise. As a junior, Ty threw for 5,188 yards and 41 TDs during the regular season.
For his career, Detmer finished with 15,031 total passing yards.
The BYU quarterback was selected in the ninth round of the 1992 NFL Draft by the Green Bay Packers. At just six feet tall, it was hard for Detmer to adapt to the NFL game. He bounced around from team to team throughout his career without ever making a substantial impact.
His stops included the Packers, Eagles, 49ers, Browns, Lions, and Falcons.
The only record Detmer came close to breaking in the NFL was the dubious single-game interception record. He threw seven picks in a game against the Browns in the 2001 season.
2. Graham Harrell: Texas Tech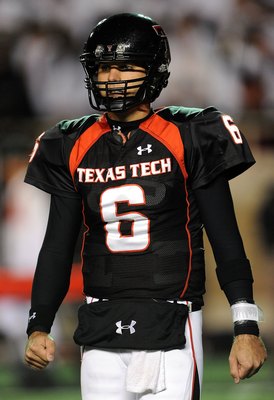 Harrell became another in a long line of Tech QBs to put up big statistics under the tutelage of former Red Raider head coach Mike Leach. Harrell proved to be a perfect fit for Leach's Air Raid Attack as he amassed 15,793 yards in his three years as starting quarterback.
Harrell had opportunities to leave school early for the NFL, but he chose to stay and finish out his career. He was picked apart by NFL scouts during the evaluation process and ended up going undrafted in 2009.
He got a look from the Browns before heading up to Canada to play for the Sasketchewan Roughriders.
He was released this past April, but ended up signing with the Green Bay Packers. It's unlikely that he will make the 53-man roster coming out of training camp.
1. Timmy Chang: Hawaii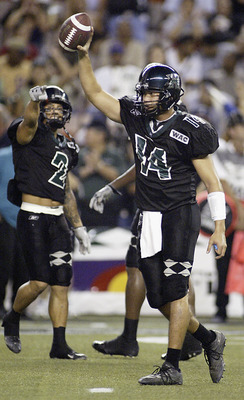 Timmy Chang may be the pure definition of a system quarterback. The Hawaii native started 50 games for June Jones and tallied some remarkable numbers during that time.
Chang is the all-time passing yards leader in college football history with 17,072 yards, but he also holds some rather unremarkable records as well, such as the all time INT mark, which he has with 80.
In 2005, Chang went undrafted, but he was signed by the Arizona Cardinals. He was cut and soon afterward he signed with the Eagles. They ended up allocating him to NFL Europe.
After his stop in Europe, Chang found a home in the Canadian Football League where he played for the Hamilton and Winnipeg squads.
He is currently out of football.
Fun Fact: Timmy was just put on probation after his involvement in an incident with a women that centered around her video camera.
Conclusion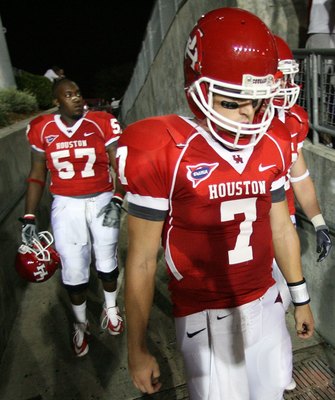 If Case stays healthy and keeps up with the pace he's been on, there's no doubt he will break college football's all-time passing yardage record.
But as we've seen, that certainly doesn't guarantee him a successful career at the next level.
Keenum will have to do his real work at the Senior Bowl, NFL Combine, and Houston Pro Day in order to show that he is more than just another system quarterback.
Keep Reading