MLB Trade Deadline: Top Five Midseason Pickups of the Last Decade
With July 31 rapidly approaching, teams throughout Major League Baseball are scrambling to bolster their squads for the remaining two months of the regular season, hoping to propel themselves into October baseball.
Whether your team is in the market for a middle of the order bat, a veteran utility man to cover for potential injuries or rest a few regulars down the stretch, an ace starting pitcher, or a dependable reliever to add depth to your bullpen, there is likely a player available to suit your needs.
Teams have long since determined whether hope remains for their 2010 aspirations or if the club is best served by turning their collective eye toward the future. Do we hold on to the few recognizable names we have to help fill seats over the remainder of 2010 or is it best to jettison those in favor of youth and potential building blocks for the future foundation of the franchise?
It's clearly never an easy decision to make, but the time is now to either act decisively or stand pat and take your chances with the squad you've constructed up to this point. Of course, there is always additional maneuvering prior to the August 31 waiver deadline, but that's an entirely different story altogether.
A clever deal for the right player can alter the destiny of your team but can also prove fruitless and make the baseball world question your sanity. Occasionally, you end up with a scintillating Randy Johnson at the deadline, as the Houston Astros did in 1998, and other times, you may get a woefully over-matched Denny Neagle like the Yankees did during the summer of 2000.
With several high-profile deals already completed, the majority of the deadline dealing may be finished. There are still plenty of rumors floating around several teams and occasionally one team's move forces the other contenders to attempt to counteract their rivals' maneuvers. No one wants to remain stagnant while their potential playoff foes are fortifying their squads.
In light of all the recent activity around the league, let's take a closer look at several of the most significant mid-season trades of the last decade.
Cliff Lee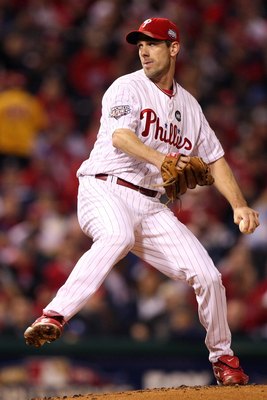 The 2010 season may hold another chapter yet-to-be written about the post-deadline exploits of Cliff Lee. After being traded for a second consecutive summer, Lee is with his fourth team in 12 months. Don't worry Cliff, you'll be able to settle and put some roots down in one place in a mere few more months.
2009's version of the Cliff Lee saga helps one to understand how he has become one of the most coveted arms in the game. Prospective suitors will be lining up around the block over the off-season in an attempt to secure Lee's services for the next several years.
Much like former teammate CC Sabathia in 2008, Cliff Lee was toiling on an under-achieving Cleveland Indians squad, already at 17 games under .500 on July 26 when he was traded. Due to his breakout 2008, in which Lee won the AL Cy Young award, his profile had risen drastically, giving Cleveland little hope of retaining their star left-hander once his free agency arrived after the 2010 season.
Cleveland moved to capitalize on the new-found star status of Cliff Lee and moved to trade him for a package of young players to once again contribute to the future foundation of the franchise.
Although the results didn't match his stellar 2008 season, Lee was still off to another fine start with the Indians in 2009. Owning a 7-9 record, he had a 3.14 ERA in 152 innings over 22 starts, while completing three games.
Near the trading deadline, the Philadelphia Phillies were looking to bolster their pitching staff for a run at repeating their 2008 World Series Championship. 2008's ace, Cole Hamels, was a mere shadow of the previous season's version. If Philly intended to repeat, they needed a top-flight starting pitcher to lead their rotation into October.
Cleveland had made Cliff Lee available, so on July 29, the two teams worked out a deal to send Lee and outfielder Ben Francisco to Philadelphia. Heading to Cleveland would be infield prospect Jason Donald, catcher Lou Marson and minor league pitchers Carlos Carrasco and Jason Knapp. The Phillies had found their new ace.
In light of Hamels' inconsistency, Lee provided the stability that Philly craved in their rotation. Making an instant impact, he hurled a complete game victory over the Giants in his first start and won his first five consecutive starts in a Philadelphia uniform. In only 12 starts in the City of Brotherly Love, Lee compiled a 7-4 record, a 3.39 era, three complete games and 74 strikeouts in 79 2/3 innings.
The Phillies were already in first place and six games up when they acquired Cliff Lee. They would stay in first for the duration of the season, while maintaining their six game cushion. Lee's regular season impact may not be dramatic, but October is where his reputation was forged.
En route to a second consecutive World Series appearance for the Phillies, Cliff Lee, in his career playoff debut pitched masterfully. Making five starts over three series, Lee was a stellar 4-0, with two complete games, averaging over eight innings per start. Over 40 1/3 innings, he allowed only 33 base-runners, an opponents batting average of .156, an OPS of .460 and sported an ERA of 1.56. Postseason heroes are made of such performances.
Unfortunately for him, the Phillies were defeated in six games by the New York Yankees who would claim their 27th World Series Championship. However, performing so heroically on the game's grandest stage propelled Cliff Lee into the collective consciousness of baseball fans everywhere. It remains to be seen whether his most recent trade-deadline move will bear the same fruits, but in 2009, Cliff Lee etched his name among the great mid-season pickups in recent memory.
CC Sabathia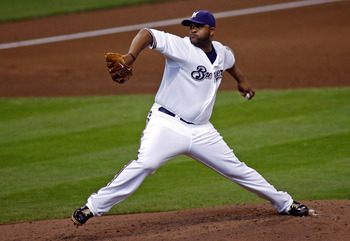 With free agency looming at the conclusion of the 2008 season, the Cleveland Indians were aware that the likelihood of them retaining CC Sabathia was rather slim.
CC, after getting off to a rough start, was finally rounding into form atop the Cleveland starting rotation. After his July 2 start against the White Sox, CC was an unimpressive 6-8 with a 3.83 era, but was leading the AL in strikeouts and was the horse that every team wants, second in the league in innings pitched while also pitching three complete games.
At the time of the trade, the Indians were 37-51and sinking quickly. In the midst of an eight game losing streak, they stood in fifth place in the AL Central, 13.5 games out of first place.
Cleveland's GM Mark Shapiro, knowing that the team's short-term hopes were devastated, made the difficult decision to trade the team's ace and perennial fan-favorite for a package of young players who could potentially impact the team over the next several seasons.
Milwaukee, sensing their first glimmer of hope in many years, were initially reluctant to part with top prospect, Matt LaPorta, but they knew that CC was the man they needed. Standing at 49-40, in third place, but only four games off the NL Central lead, Milwaukee felt they were one shrewd move from their first taste of playoff baseball since winning the American League pennant in 1982.
On July 7, 2008 CC was shipped to the Milwaukee Brewers for the Brewers' 2007 seventh overall draft-pick, Matt LaPorta along with fellow minor leaguers Michael Brantley, Zack Jackson, and Rob Bryson.
The trade paid immediate dividends for Milwaukee. CC, apparently invigorated by his move to a contender with a core of exciting, young budding stars, came out dominating.
Winning his first four starts, throwing complete games in three of them, CC instantly ingratiated himself to the team and its fans. The Brewers had acquired a genuine leader for their pitching staff, a man capable of elite performance and an inspirational willingness to sacrifice himself for the good of the team.
From July 7 onward, CC went an astonishing 11-2 in 17 starts for the Brewers, owning a minuscule 1.65 era, a better-than 5:1 K/BB ratio, while allowing opponents a meager .222 batting average and an OPS of only .553.
Surpassing even the greatest of expectations, Sabathia pitched his last three starts on three days rest, providing the spark and leadership that Milwaukee needed. Shouldering the massive burden of the hopes of an entire city, CC shrugged off his impending free agency and pitched for the immediate future, never once backing down from the challenges presented him.
On the last day of the season, CC hurled a dominant complete game victory over the Cubs, allowing only five base-runners and one unearned run to seal a Wild Card victory and the Brewers' first playoff berth in 26 years.
After acquiring the massive left-hander, the Brewers marched to a 41-32 record after July 7 and reignited the dreams of a passionate baseball town that had too long suffered in mediocrity.
The heavy late-season workload and dramatic sprint to the finish may have finally caught up to CC, as he struggled in his only October start, lasting only into the fourth inning against a potent Philadelphia lineup. Quickly dispatched by the eventual World Champions, Milwaukee's long-awaited playoff dreams were dashed for 2008.
CC's Brewer career was short-lived, as he soon made his new home in the Bronx, signing with the Yankees as a free agent prior to 2009 . His impression he made in Wisconsin was indelible however, helping to restore long-dormant passions and making baseball in Milwaukee thrilling once more.
Manny Ramirez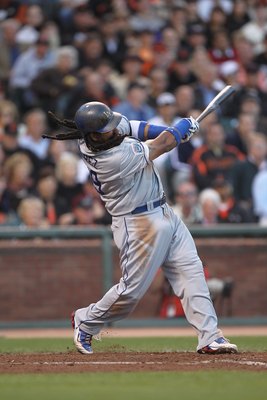 After amassing Hall of Fame worthy numbers over the course of 16 occasionally tumultuous seasons split between Cleveland and Boston, Manny Ramirez finally wore out his welcome with the Red Sox. At the July 31 trading deadline in 2008, the team decided that they had enough of Manny being Manny to last them a lifetime.
Between the mysterious, inexplicable injuries, dugout spats with teammates to assaults on team traveling secretaries, the Red Sox came to the conclusion that Manny's incredibly talented bat was ultimately outweighed by his increasingly erratic behavior.
Despite the personality and commitment concerns, there will never be a shortage of teams interested in a hitter of Manny's caliber. A bat like his instantly transforms any lineup and gives his team a chance to win nightly.
In the Dodgers, the Red Sox found a new home for their enigmatic slugger. The trade proved slightly complicated however, as the two teams also needed the Pirates' involvement to complete a multi-player transaction that would satisfy all parties.
To unload Manny to LA, the Red Sox also sent outfielder Brandon Moss and pitcher Craig Hansen to the Pirates, in exchange for All-star outfielder Jason Bay and minor leaguer Josh Wilson. The Dodgers for their portion of the deal, sent 3B prospect Andy LaRoche and minor league pitcher Bryan Morris to Pittsburgh.
The 2008 Dodgers were a team loaded with young, rising talent, but lacking a definite middle of the order power threat. In Manny Ramirez, they were able to obtain one of the most talented right-handed hitters in the last 50 years of baseball history. Adding Manny's formidable veteran presence immediately legitimized LA's lofty playoff ambitions.
Making his Dodger debut on August 1, Manny was an instant hit in the newly dubbed "Mannywood". In his first six games, Manny hit like a video game version of himself, batting .565 and slugging 1.130 with four home runs and nine RBI. Whatever concerns there were about his character quickly evaporated with each swing his potent bat. As far as Dodger fans were concerned, the guy could do no wrong.
Finally happy to be free of what he viewed as a smothering situation in Boston, Manny unleashed his offensive firepower upon the National League. Earning Player of the Month honors for August with his scorching bat, Manny continued his explosive play with a similarly productive September.
In his two months as the Dodger left-fielder in 2008, Manny played 53 total games. During that stretch, he boasted an unreal line of .396/.489/.743 with 17 HR and 53 RBI. His OPS from August 1 on was an incredible 1.232. It would be difficult to make a more dramatic offensive contribution to a baseball team than that.
After standing at 54-54 on July 31, the Dodgers rode Manny's incredible hot streak to a 30-24 record after August 1, which was good enough to vault them into first place for their first NL West division title since 2004.
Manny continued his hot hitting into October, as his bat helped drive the Dodgers to an NLDS three game sweep of the Cubs. In those three games, Manny hit two HR with three RBI, batting .500 with an OPS of 1.743.
Although the Dodgers would lose the 2008 NLCS to the Phillies in five games, Manny continued to carry the offensive load for LA. In the best-of-seven series, Manny crushed two home runs with seven RBI, batting .533 with another amazing OPS of 1.748. Though victorious, Philadelphia pitching discovered what the rest of the National League already had in 2008, containing Manny Ramirez was a near-impossible feat.
Whatever Manny's motivation, a desire to prove the Red Sox wrong, his impending free-agency or a cocktail of designer performance enhancing drugs, the acquisition of Manny Ramirez at the 2008 trading deadline proved to be a masterstroke for the Los Angeles Dodgers.
Mark Teixeira
Angel fans have grown fond of booing Mark Teixeira in the last few years, showing their disdain for his spurning them in order to sign with the New York Yankees
If he had stayed, it's possible that they may have never seen the emergence of their own slugging first-baseman, Kendry Morales whom, before his bizarre injury incident, had put up comparable numbers to Teixeira for the fraction of a price. Maybe they should be grateful.
For one brief sliver of a season, Teixeira called Anaheim his baseball home.
The Los Angeles Angels of Anaheim, desperate to recreate their World Series glory of 2002, needed a legitimate bat and power threat to complement Vlad Guerrero and Torii Hunter in the heart of their order.
With free agency waiting in the off-season, teams knew that by acquiring Teixeira mid-way through 2008, they might only secure his services as a short-term rental until the end of the year. The Angels were willing to make that gamble.
Having just been traded to Atlanta from Texas on the previous season's July 31 trading deadline, this short-term work was nothing new to Teixeira. Whereas Atlanta had paid a king's ransom for Teixeira, in the form of future stars Elvis Andrus and Neftali Feliz among others, the Angels were able to obtain Teixeira for a considerably cheaper package.
To complete the July 29 trade, the Angels sent light-hitting first baseman Casey Kotchman and minor league pitcher Stephen Marek to Atlanta for the switch-hitting slugger Teixeira. Atlanta cannot enjoy looking at the trade-off in retrospect.
Teixeira, returning to the very familiar AL West, was seamlessly integrated into the middle of Mike Scioscia's lineup. As a switch-hitter, he helped to balance the order, as most of the Angels' power hitters were all right-handed at the time.
He started slowly, as Teixeira is prone to, but seeing that his new team was in the midst of a difficult road trip through Boston and the Bronx, it was not terribly surprising. In his first five games, he only collected four hits in 23 plate appearances, but despite his struggles still knocked in five runs in those five games. The Angels had found the run-producing bat that they had so coveted.
Upon leaving the Bronx, Teixeira caught fire almost immediately, going on a tear and driving in runs seemingly every day. Over the last 54 games of 2008, Mark compiled a highly impressive line of .358/.449/.632, smacking 13 HR with 43 RBI, scoring 39 runs with a huge OPS of 1.081.
The Angels rode their new star to the franchise's first 100 victory season and directly into a Divisional Series clash with the defending World Series Champion Red Sox.
Teixeira tried valiantly to lead his new team to October success, but his efforts were in vain as the Angels fell to Boston for the second consecutive October. His massive power never materialized over the course of those four games, but Tex did collect seven hits in 15 at bats, amassing a .467 average and a 1.017 OPS. Unfortunately the lack of men on base led to him only collecting one RBI, but it's difficult to drive in runners that aren't there.
Ultimately Mark Teixeira chose to return closer to his Maryland home and followed the huge contract offer made by the Yankees in the off-season. Considering his tremendous production and low cost to the Angels, Tex definitely can be counted among the best mid-season pickups of the last decade.
David Justice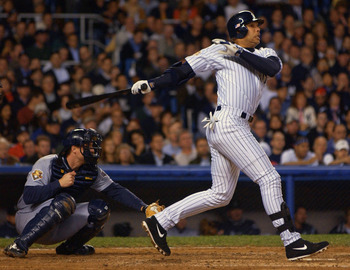 Okay, you got me. There must have been some significant deadline deals made between 2000 and 2008, weren't there? Originally, I intended to write about just the last five years, but this is one of the mid-season trades I just couldn't stop thinking about.
In June of 2000, the Yankees in the midst of their late 90's -early 00's dynasty were looking for options to bolster their lineup in an effort to win a third consecutive World Series.
With Shane Spencer and Ricky Ledee sharing much of the time in left-field and the likes of Glenallen Hill seeing too much time at designated hitter, there was clearly room for a veteran bat to add some more danger to the Yankee lineup.
After spending eight seasons in Atlanta and the prior three and a half in Cleveland, Justice was precisely the type of player the Yankees were coveting. A seasoned hitter with a sweet left-handed swing, seemingly tailor-made for Yankee Stadium, Justice was already a veteran of four different World Series teams before joining the Yankees.
David Justice spent the 90's honing his playoff game, playing in October in every year but 1996, and the strike-shortened 1994. Experience and calm under intense pressure were attributes that Justice possessed in abundance.
With a power-laden lineup, Cleveland found the 34 year-old Justice to be expendable. On June 28, they agreed to a trade with the Yankees which brought pitchers Jake Westbrook, Zach Day and outfielder Ricky Ledee to the Indians.
Justice began his short Yankee career in unremarkable fashion, looking old and tired over his first eight games in pinstripes. He meekly hit .154 with no power to speak of, forcing many in the Bronx to wonder why they sacrificed young talent for this over the hill DH. For those that remained patient, their trust in the organization was rewarded greatly.
David almost immediately caught fire after his tough first week. He began lacing balls all over the field, providing ample evidence to support the Yankees' lust for his bat. Justice began familiarizing himself with the infamous short porch in right field, regularly launching balls deep into the humid summer nights.
In 78 games from June 30 onward, Justice tallied a batting line of .305/.391/.585 with an impressive OPS of .977. He slugged 20 home runs to go with his 60 RBI, providing the Yankees with exactly the type of experience and run production they needed to strengthen their lineup for yet another postseason run.
They needed every bit of Justice's offense, as the team went into a funk in late September and barely held onto their slim lead to fight into October once more.
Drawing on his deep reserve of playoff baseball experience, Justice helped the Yankees to their third straight World Series victory. Although his overall numbers in the 2000 postseason were not up to the level of his stellar regular season totals, he was provided plenty of clutch moments along the way. His ALCS performance against the Mariners earned him the honor of being named that series' MVP.
Although injuries derailed his career a mere two years later, the Yankees' acquisition of David Justice in the summer of 2000, shall remain as one of the most significant pre-deadline trades of recent baseball history.
Keep Reading