Five Reasons Why Bellator Is Becoming a Success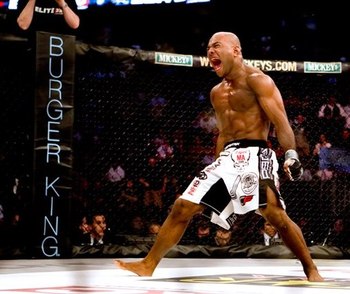 In not much more than a year's time, Bellator Fighting Championships has become a series of high quality events that MMA fans look forward to each week.
While so many upstart MMA promotions have fallen just as quick as they popped up, Bellator has found a way to establish their place in the sport, and develop a loyal fan base that never misses a show.
What is it that Bellator does that say, EliteXC or Affliction did not do?
Certainly, establishing a promotion in MMA is not as simple as putting on fights and waiting for the seats to fill. You have to know the game and you have to have something to offer the people that could just as easily watch UFC re-runs instead of your show.
As we count the days until the third season begins, let us explore five of the reasons that I think are responsible for Bellator becoming such a quick success.
5. Scouting for Talent, Not Just Names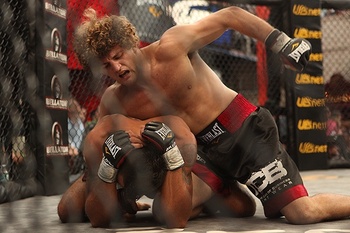 One area where promotions like EliteXC go wrong is that they concentrate on promoting a recognizable name rather than legitimate top-notch talent. Undoubtedly, a main event between Kimbo Slice and Ken Shamrock is nowhere near an elite level matchup.
Bellator has built their reputation on putting together competitive fights between talented fighters. They have not sacrificed their credibility by signing "sideshow" names to draw in the casual fan.
Trust has been built with the hardcore fans by not giving anyone an easy ride to the top, evidenced by Roger Huerta's surprising loss to relative newcomer Pat Curran.
EliteXC would have given Huerta enough tomato cans to open an Italian restaurant, but that is not what people want to see. We tune in to see fights, not beatings.
Besides Joe Warren, I was not familiar with any of this season's champions, and I am not ashamed to say that. Bellator has done a fabulous job of finding talented fighters that have yet to build names for themselves.
They are building many of these fighters into recognizable names from the ground up, and that is what a promoter is supposed to do. Anyone with a briefcase full of money can pay a big name to fight under their banner, but that is not what makes a promoter.
Bellator realizes that and hopefully, they will not lose sight of it.
4. Free TV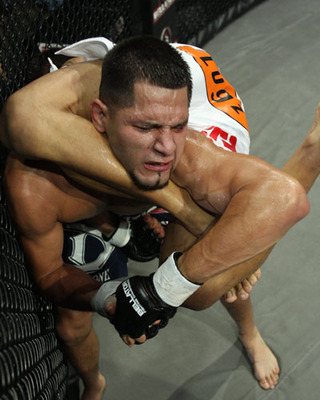 The tool of being able to broadcast your product routinely on free TV cannot be overvalued.
The majority of fans cannot afford to purchase a pay-per-view every month. Sure, you can usually find a bar to watch it for the price of buying a few drinks, but viewers of this sport are not all 21-years-old or over—not to mention not everyone enjoys the drinking atmosphere.
Being shown on Fox Sports Net, and other similar stations, opens the door to so many more potential fans.
Of course, Spike TV offers free UFC events a few times a year, but Bellator is shown on a weekly basis. Not to mention, Bellator is not shown on a network that many people have written off due to its repetitive programming, mainly consisting of CSI re-runs and shocking home videos.
The commentating of Bellator is also more geared to the average sports fan. A stark and refreshing contrast from the usual insults toward baseball and golf from Joe Rogan.
There is a large group of people, including myself, that are fans of most any sport, not just MMA. Someone that has been a fan of baseball their whole life that tunes into the UFC for the first time only to hear Joe Rogan insulting his sport, may decide to turn it off.
A sports fan that stumbles onto Bellator on a channel he is familiar with will likely give it a chance, and that is a tremendous asset.
3. Format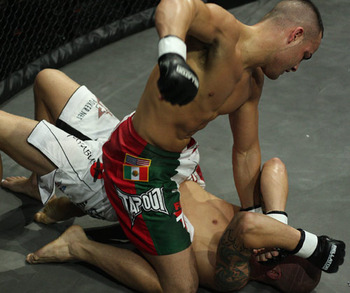 Bellator revolves itself around annual tournaments in their four weight classes. Each event takes place on the same night of every week, with the previous round's winners meeting each other usually less than a month down the road.
If the viewer didn't know one or all of the fighters at the start of the season, they will certainly become familiar with them as they continue to win and face other winners in a relatively short span of time.
If they were just putting these athletes against each other with no real direction in sight, viewers might not be as interested. This way, in the later rounds when everyone is fighting, the viewer has already seen them look impressive in a win.
The winner of each tournament gets a scheduled date with the champion of their division, making familiar and worthy challengers on a regular basis.
2. Bjorn Rebney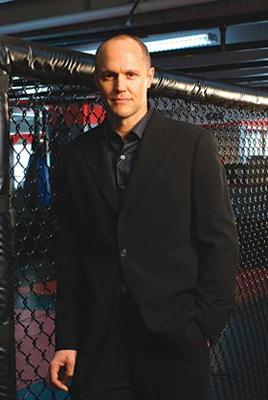 Bjorn Rebney came out of nowhere last year inspired by his product (Bellator), and has made his name known in the MMA world as someone motivated to put on good fights. However, there is not a ton known about him. The man doesn't even have a Wikipedia page, for Christ sake!
What I will say about him is he clearly likes what he is doing. From every interview I have seen with him, it is obvious he is making this his full time job, and he is excited to put on good shows.
He always takes the time to answer any questions, and he knows the details of every fighter. You need someone like this to spearhead a successful company. Bjorn is truly the right man for the job.
1. Not Imitating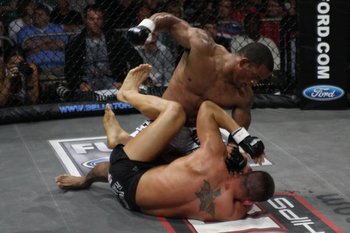 So many MMA promotions make the horrible mistake of trying to compete with the UFC by imitating them—Bellator does not.
Pride Fighting Championships was the UFC's biggest competitor for years because they had something different to offer than what was taking place in the octagon. Pride had it's own vibe, rules, structure, and attitude—the same can be said for Bellator.
MMA promotions that wish to succeed in this business have to offer the fans something they are not already getting. The UFC has done away with tournaments, but there are plenty of fans who still appreciate the format. Bellator realizes that and is capitalizing on it.
If promoters wish to compete with the UFC, they have to be the best at doing what the UFC doesn't. Bellator seems content to have their own style, and that gives fans a break from the same "title shot" talk that is forced down their throats from the UFC.
Keep Reading