By the (Sports)Book: Predicting the 2010 Philadelphia Eagles' Season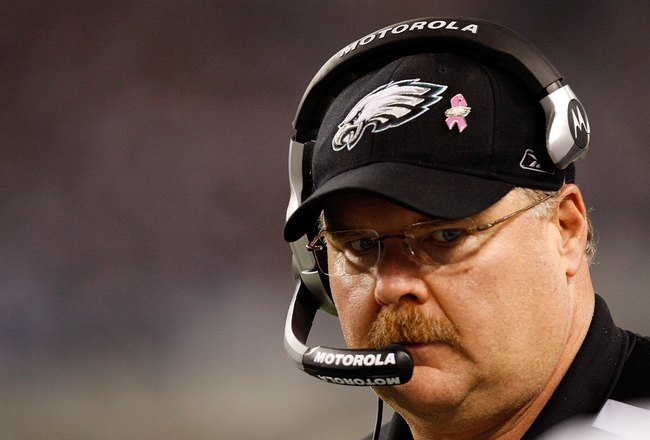 Andy, I'm not sure who you're lookin at.
But all eyes are on you and what you can do with this young team that we are led to believe has plenty of talent.
With training camp underway, Eagles fans have gone nuts trying to figure out how many wins this team will have and if they will make the playoffs.
I put out predictions before the draft claiming the Eagles would go 6-10 and I wasn't going to budge off that number.
Well things have changed, but I won't reveal how much or if it is even for the better.
The following predictions are the ones I will go down in flames with and they are complimented by odds, which are out on the Internet for your consumption.
The lines are from an online sports book called sportsbetting.com.
The legality of the site is definitely in question, and its practices are kind of sketchy, but hey, they produce lines that are on par with those posted in Vegas.
These lines are considered future wagers so whatever number you get today you are stuck with it. And the lines won't stay like this either. Once the season starts they will be adjusted.
It is certainly a risk to place a bet this far in advance, but you could look like a genius if things fall in your favor.
The predictions are followed by a running record. The first record is the team's overall record, the second record is their mark against the spread. The home team is listed second at the title of each slide.
Most of the predictions are based on trends or where games fall on the schedule and not entirely based on matchups or who is supposed to win the game, but that's how the NFL works.
Week 1: Green Bay Packers Pick 'Em vs. Philadelphia Eagles: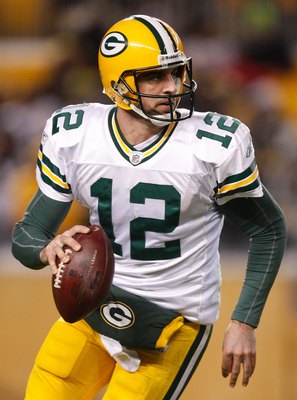 Whoa, whoa, whoa.
When this line opened up it was set as the Eagles -1 and now it has moved the Packers way.
Think about this for a minute. Who is betting on games this early in the year?
Is it going to be some putz down the street or someone who knows what they are doing?
I would say anyone putting action on games this early knows what they are doing, and the line moving in Green Bay's direction for a pick 'em scares the beJesus out of me.
If Aaron Rodgers is as good as I think he will be and the Eagles defense takes time to gel and get used to one another, then this is the recipe for an opening day rout.
Keep an eye on DeSean Jackson as well and see if he finally shows up after his disappearing act against the Cowboys to close out the season last year.
Looking around the Internet the over/under is hovering right around 45 points, which is bad news for the Birds. In the six games where the posted total was at 45 points or higher the Birds were 1-5 against the spread.
I don't like this game even a little bit as a Birds fan: Green Bay 50, Philadelphia 21 (0-1, 0-1).
Week 2: Philadelphia Eagles -10 vs. Detroit Lions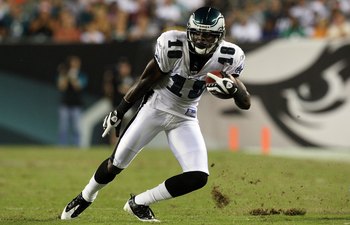 This game is an absolute layup, right?
Wrong.
Don't forget the Eagles lost to the Oakland Raiders last year and they tied the Cincinnati Bengals the year before that.
If bad things occur in threes you better prepare yourself for something ugly in Detroit.
Calvin Johnson will scare the living hell out of the a secondary that just got burnt by the Packers. With Matthew Stafford at quarterback I am going to hope that Sean McDermott can draw up a game plan that can confuse the second-year pro.
Last year the Eagles were a road favorite six times and they covered on five of those occasions, with Oakland being the only non-cover.
I expect this game to mark the emergence of Jeremy Maclin as the Eagles' top receiver.
If the Birds lose this game you might as well cancel the season.
The Birds win, and I stick with this trend as well: Philadelphia 30, Detroit 17 (1-1, 1-1).
Week 3: Philadelphia Eagles -3.5 vs. Jacksonville Jaguars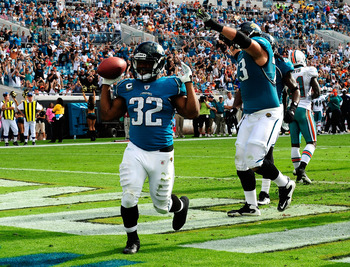 Ughhh. This is a tough game to pick and one that I wish I could avoid completely.
The biggest question is if the Eagles can contain Maurice Jones-Drew even a little bit.
Based on history, the Eagles have proven to be able to stop studs like LaDanian Tomlinson (in his prime), Adrian Peterson (in the playoffs) and Steven Jackson (with a bad team).
I honestly think the Eagles can slow down one of the game's elite. And when you factor in David Garrard being a borderline stiff, I can see the Eagles playing fairly aggressive around the line of scrimmage and daring Garrard to beat them.
But on the flip side I can see the same thing happening to the Birds. I have my doubts about LeSean McCoy and I'm not convinced the Eagles will be successful running the ball on a consistent basis this year.
The Eagles are once again a road favorite, but I am not going to back them here because there is a pretty big game next week against Washington.
The Birds get caught looking ahead: Jacksonville 21, Philadelphia 16 (1-2, 1-2).
Week 4: Washington +7 vs. Philadelphia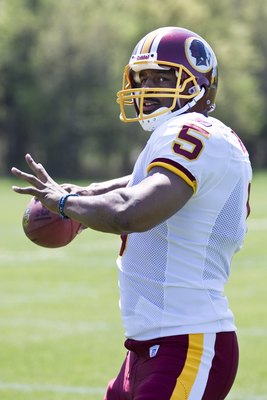 Obviously this game is huge for Donovan McNabb and Kevin Kolb, but I think it is even bigger for the respective franchises.
The Eagles parted ways with arguably their greatest quarterback in franchise history and replaced him with the great unknown.
The Redskins meanwhile did their traditional offseason gallivanting and landed a quarterback that has given their fan base the hopes of winning now.
Stats will be compared throughout the game, and the winner of the game may be seen as the team who got the best of this deal. I would argue that a statement like that cannot be made yet.
Going back to 2005, these two teams have alternated sweeping each other with 2007 being the exception. If the trend holds true then the 'Skins are due for the sweep.
Washington takes care of step one: Washington 27, Philadelphia 23 (1-3, 1-3).
Week 5: Philadelphia Pick 'Em vs.San Francisco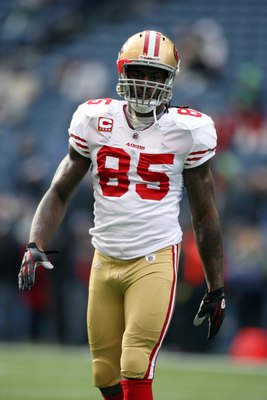 The Eagles have four consecutive wins against the 49ers.
The last time the 49ers beat the Eagles was 2003 and Jeff Garcia and Terrell Owens were teammates. Brian Dawkins sent T.O. off the field with an injury in the game as well.
Things have obviously changed since then and this will certainly not be an easy game for the Eagles.
San Francisco has a formidable defense and they will give Kevin Kolb fits.
The scariest part about this game is Vernon Davis.
The Eagles are God awful when it comes to covering tight ends. Until I see any kind of change, I have to believe this matchup will cost the Eagles in the end.
The long season continues: San Francisco 23, Philadelphia 20 (1-4, 1-4).
Week 6: Atlanta +4.5 vs. Philadelphia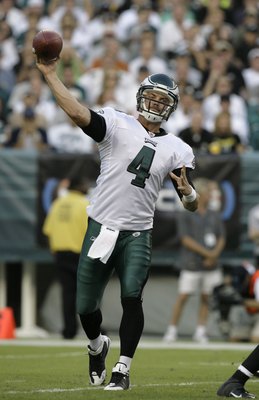 If the Eagles open up the season at 1-4, this would certainly take on the label of being a must-win game.
Much like the 49ers, the Eagles have the Falcons' number as they have won three straight. The last time the Falcons beat the Eagles, Michael Vick was doing his thing in Atlanta while the Eagles were imploding with T.O. and Donovan McNabb bickering.
The last two wins against the Falcons came on a controversial call in 2008 and an injury-riddled Falcons roster in 2009.
By this point we should begin to see what this offense is all about and it should be pretty clear that it is inconsistent at best.
I really want to take the Falcons in this game, but…
The NFL is so bad that the Eagles find a way to win this game, even though they fail to cover the number: Philadelphia 20, Atlanta 17 (2-4, 1-5).
Week 7: Philadelphia +1.5 vs. Tennessee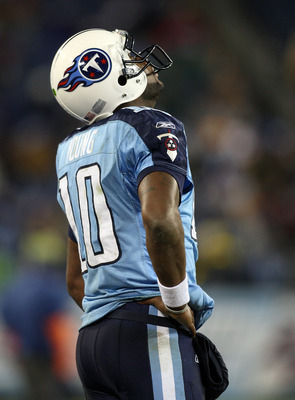 Chris Johnson puts the fear of God in me while Vince Young makes laugh hard enough to hurt my sides
So who is going to dominate the game?
I think once again the Eagles find a way to limit a top-tier running back, which means this game falls on the shoulders of Young.
If that's the case, I have to go with the Eagles in this spot.
Going back to 2005, the Eagles are a respectable 9-12 straight up when they are a road pup. So an outright win in this spot should not shock a lot of people.
Yes, I had the Eagles losing four games so far, but three of those were one-possession games so it's not like I think they are hot mess.
With field position and running the ball being paramount, I expect Mike Bell to get some extra carriers and impress a lot of people.
The Eagles get a huge win before the bye week and make the fans believe: Philadelphia 17, Tennessee 14 (3-4, 2-5).
Week 9: Indianapolis -2.5 vs. Philadelphia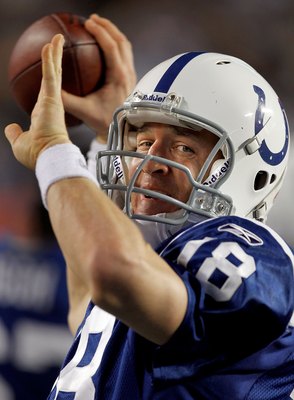 This game is going to mess with the minds of everyone.
The degenerate gambler will see the Eagles catching points at home and begin salivating like Pavlov's dog.
The general public will see a skinny line with the Colts and blindly throw everything they have at Peyton Manning and company.
But don't forget that Andy Reid is a perfect 11-0 after the bye week. That might be one of the more impressive records Reid holds.
To make things better for the Eagles, they will be catching the Colts after what should be a highly emotional game against division rival Houston and before a pivotal game with Cincinnati. It may not be a trap game in the truest sense, but the schedule does set up nicely for the Birds in this spot.
A win here and Kevin Kolb will have the fans believing he can do just about anything: Philadelphia 27, Indianapolis 26 (4-4, 3-5).
Week 10: Philadelphia -1.5 vs. Washington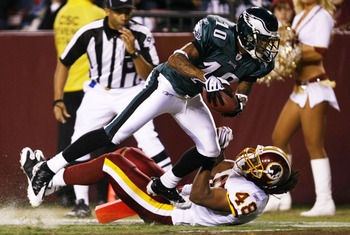 If the Eagles lose to the 'Skins earlier in the year, this line certainly won't be at this number. I actually see pretty good value in this game for Washington backers and it is a game I would strongly consider placing a future wager on.
For some reason everyone is in panic mode because they think the 'Skins line is horrendous.
Don't forget that McNabb can buy time in the pocket with his mobility. Couple that fact with a fast receiver in Santana Moss and McNabb can buy enough time to allow his play-making receiver to break down coverage.
I honestly think the Redskins can be a real threat in the NFC this year and they make a statement by sweeping the Eagles, which turns that win against the Colts a distant memory: Washington 27, Philadelphia 14 (4-5, 3-6).
Week 11: New York Giants +3 vs. Philadelphia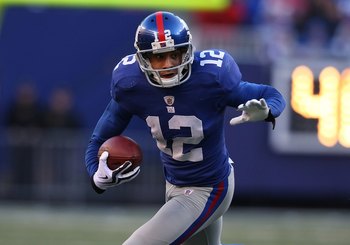 Really? The first time we see the Giants isn't until late November?
And to make the situation even worse, the Eagles are coming off a short week.
Thanks a lot Mr. Schedulemaker.
The one good thing is that the Giants are coming off a game against the Cowboys, but I still hate seeing the Eagles play on a short week and taking on a divisional rival.
Philadelphia has quietly put together a four-game winning streak against the Giants, which is pretty solid considering they are 70-80-2 lifetime against the long-time rival.
I have never liked it when one team dominates a series in the NFC East because it seems like that is the perfect time for things to swing in the other direction.
I certainly don't fear Eli Manning, but I do have concerns with Hakeem Nicks, Steve Smith and even Mario Manningham. Young receivers against a fairly young secondary should make for an interesting matchup.
This game could mark the beginning of the end: New York 28, Philadelphia 17 (4-6, 3-7).
Week 12: Philadelphia -3 vs. Chicago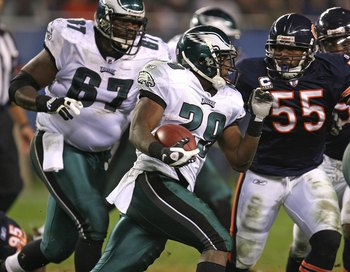 I am really starting to hate the clown who put this schedule together. How many times do we have to go on the road to play Chicago?
I know things are predetermined to a certain extent, but I have to blame someone so I am blaming the schedulemaker once again.
I'm not fearful of Chicago on the road, but enough already.
Hopefully Jay Cutler is doing his best to help the Bears self-destruct, but I think Brian Urlacher might break his face if he screws up again.
It really seems like the books want you to remember the Eagles of yesteryears and play them as a road favorite once again, but there is no way this line holds up by the time these two teams meet.
Chicago will be a favorite.
The Bears' defense will be much healthier this time around and that is going to present Kevin Kolb with one of his biggest challenges of the season.
A trip to Chicago in late November means the weather could take a turn for the worse and the running game will have to come up clutch.
Such was the case last year as rookie back LeSean MCCoy came within one yard of his first 100-yard game and arguably his best performance of the season.
Another performance like that will go a long way in picking up the fifth win of the season, but with Kevin Kolb struggling in this one I can see the Bears making life hell around the line of scrimmage, which is bad news for the offense: Chicago 30, Philadelphia 9 (4-7, 3-8).
Week 13: Houston +4 vs. Philadelphia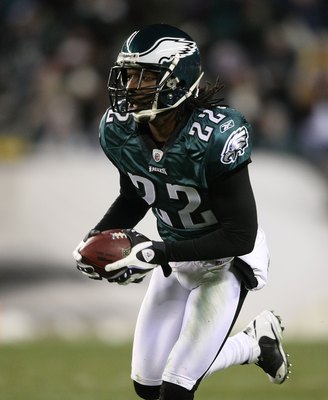 Lock it up.
When the season started I feared this game since Houston's offense reminds me a little bit of the Packers and we all know how I think Week 1 is going to unfold.
But then I looked at the schedule a little closer and saw Houston is coming here on a Thursday night after they play the Tennessee Titans the week before.
Philadelphia gets a nice break in the schedule and they will capitalize on it in a big way.
Remember that blowout against Arizona on Thanksgiving night in 2008?
Well this game could get just as ugly and it has nothing to do with the matchups or how well either team is playing.
Toss in an Asante Samuel pick-six for good measure too.
This game is all about the schedule: Philadelphia 38, Houston 17 (5-7, 4-8).
Week 14: Philadelphia +6 vs. Dallas
Oh, Dallas? They're in our division this year? Who knew?
It only took us till about mid-December to finally play the Cowboys. I have no idea what that is all about.
Remember my logic earlier about teams dominating a series only to see things swing in the other direction?
Well it holds true here.
Much like the Houston game, I am doing a 180 again, but this is not solely based on the schedule even though it does help a little bit.
The Eagles have the extra time to prepare while the Cowboys will be coming off a highly anticipated road game against the Indianapolis Colts.
I can almost assure you that Dallas fans will not be happy about this schedule mishap, but there is no way I would ever show sympathy for a Cowboys fan.
Outside of where the game falls on the schedule I really hope the Eagles' offensive line can stay healthy long enough to see how Kevin Kolb can play against one of the more aggressive front seven in all of football.
With a devastating injury to center Jamaal Jackson, Donovan McNabb had little time to make plays and the offense sputtered.
This time around I expect the Eagles to use quick passes to Jeremy Maclin and Brent Celek, which will allow Kolb to get into a rhythm and keep the Dallas defense on their heels more than they like.
DeSean Jackson who? Oh they guy who fell off the face of the earth against the Cowboys last year and then pointed fingers everywhere except at himself?
Well, he will be relegated to the second man in command behind Maclin and it won't matter much because fans will see that Maclin brings more to the table than Jackson.
The Eagles are going to be kicking themselves for that dumb loss to the Jaguars and getting swept by the 'Skins: Philadelphia 26, Dallas 20 (6-7, 5-8).
Week 15: Philadelphia +1.5 vs. New York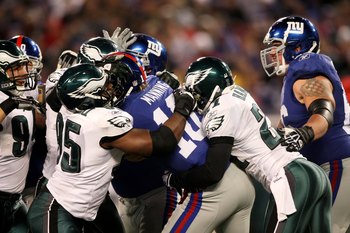 This is it boys and girls.
If the Birds lose you can pack things up and start thinking about the draft. But a win gives the fans hope the playoffs are still within reach.
Something tells me the same can be said for the Giants when this game rolls around.
I hate that this game is on the heels of a road trip to Dallas. There is something so incredibly tough about winning back-to-back road games against Division opponents. Especially with a quarterback who has not been through this scenario before.
The same thing happened back in 2002 when AJ Feeley closed out the season with road games against the Cowboys and Giants. The Birds managed to beat the Cowboys but lost to the Giants the following week.
But then in 2006, the Eagles were lead by Jeff Garcia and they won at Washington, New York and Dallas en route to a playoff berth.
Oh, this is confusing stuff.
The Eagles have had plenty of memorable wins in the Meadowlands over the years and this would certainly be one of them if it leads to a trip to the playoffs.
Look for Eli Manning to struggle in the cold temperatures as he has done numerous times throughout his career.
I know he won the NFC Championship in Green Bay, but go back at look at his playoff loses. Two were at home and in the cold and the other was on the road in Philadelphia.
I can't believe I'm doing this: Philadelphia 17, New York 16 (7-7, 6-8).
Week 16: Minnesota Vikings -1 vs. Philadelphia Eagles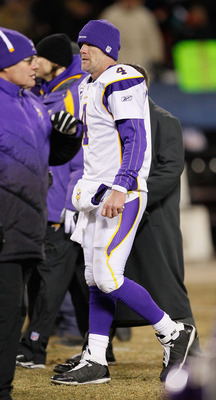 Old man Brett Favre gets to play in three straight games in the friendly confines of his dome before he takes to the road to play in Philadelphia.
That makes this game set up well for Philadelphia.
Brett Favre has been a disaster when playing road games in December over the past three seasons as he has gone 1-7. The lone win came against St. Louis in 2007, who not only finished the year 3-13 when Favre beat them, but they play in a dome.
His overall record in December for the past three seasons is 5-7, with those wins coming against Oakland, St. Louis, Detroit, Buffalo, and the New York Giants. That is shocking considering his lifetime record in December is an incredible 75-51.
But before I get all excited about trends involving players or teams not having success in given situations, I need to remember that Tampa Bay never won a game when the game time temperature was below whatever degrees, and then they promptly beat the Eagles in the NFC Championship at the Vet when the game-time temp was below the magical number.
Can such a pivotal game swing on the temperature of a game? Is it possible that the Eagles playoff hopes ride on Favre being a little chilly?
Why the hell not? There are trends for everything in the NFL. And if you follow them long enough they seem to play out more often than not: Philadelphia 30, Minnesota 12 (8-7, 7-8).
Week 17: Dallas Cowboys Pick 'Em vs. Philadelphia Eagles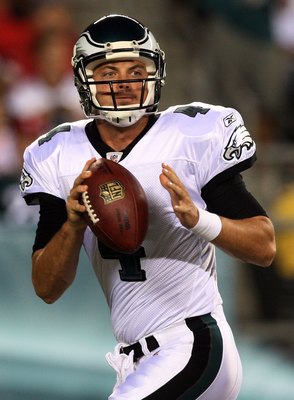 I thought it was a lock the Eagles would not win more than eight games, but this game gives them a realistic chance to win nine games and probably get into the playoffs.
To put this team on the door steps of the playoffs is a huge turnaround from where I thought they would be. With some much excitement pumping through my veins and a love for the Eagles there is no way I can go against them in this spot.
So this is it: One last game and one final prediction that I have to stand by.
In typical Philadelphia fashion we come close and walk away disappointed.
Now we get to see how Kevin Kolb handles himself after a disappointing end to the season: Dallas 30, Philadelphia 20 (8-8, 7-9).
Keep Reading

Philadelphia Eagles: Like this team?