Cleveland Browns 2010 Training Camp: Top 10 Veterans on the Roster
There's a youth movement happening in Cleveland. The restructuring of the team following the hiring of Mike Holmgren and Tom Heckert has focused heavily on building around a core of young players with little to no NFL experience who are every bit as green as they are full of potential.
Someday, this will result in a very close-knit, connected group of key roster members who have evolved together as a team. Right now, it means the squad is going to have some growing pains.
Fortunately for Cleveland fans, the Browns have made sure to maintain a strong veteran presence on the roster as well, boasting a solid group of experienced guys who can anchor the young team as it finds its identity.
Following are ten of the team's top veterans who will be bringing their experience and track records of success to the Browns this season.
Let's hear it for the old guys.
10. David Bowens, LB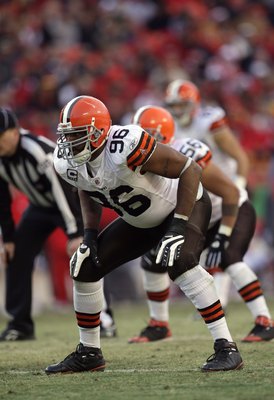 David Bowens, a Mangini favorite from his days as the coach of the Jets, was signed by the Browns as a free agent in 2009 to solidify the Browns' linebacking corps.
Cleveland's linebackers, never exactly the team's strongest asset, will likely flirt with mediocrity again in 2010, unless a few of the vets with potential on the roster prove they can lead the group.
Bowens, entering his 12th season, was one of the few bright spots for the group in 2009, with 72 tackles, 5.5 sacks and one interception in 16 games started. He was the leader of the front seven, both on and off the field last season, and seeks to reprise that role this year.
To be fair, Bowens is beginning to reach the point where his age will show, but he's also one of the toughest guys around, playing through pain and not missing a game in six seasons.
Add to that the fact that Bowens proved last season that he was capable of being effective playing both outside and inside, and he looks like an excellent bet to remain at the top of the Browns linebacking corps this season.
9. Scott Fujita, LB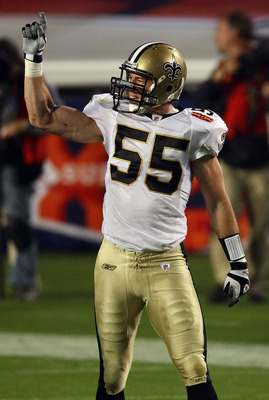 Assisting Bowens with the linebacking duties for the Browns this season will be Scott Fujita, brought in from the Saints this past offseason.
Like Bowens, Fujita is a versatile player who can start both inside and outside, and he's also a smart, tough player who should set an excellent example for his younger counterparts on the roster.
Fujita isn't the best athlete anymore, and is starting to appear slower and less productive as he enters his ninth season in the NFL.
Still, he reads offenses exceptionally well and is a model teammate, which could easily make up for the physical decline experienced by players his age.
8. Eric Steinbach, LG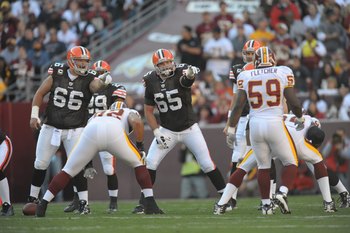 The right side of the Browns' offensive line is heavy on veterans but a bit light on talent. No such problem exists on the left side, where veteran left guard Eric Steinbach complements youthful standouts Joe Thomas (LT), and Alex Mack (C).
Steinbach, entering his eight season, doesn't get the credit he deserves because he's lined up next to the incomparable Joe Thomas.
While no one would argue that Steinbach is comparable to Thomas in skill, something that often gets lost in all the Joe Thomas worship is that Steinbach's quiet, solid play actually makes Thomas look even better.
If you want proof that Steinbach's skill can stand on its own, look no further than how he compares to his right-side counterpart, Pork Chop Womack. The effectiveness of Steinbach's fellow O-line, Womack, in no way compares to his, despite the fact that Womack easily outweighs him by 35 pounds and actually has logged more time in the NFL.
7. Dave Zastudil, P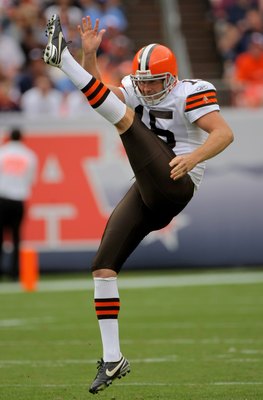 Those with a penchant for worry would be correct in choosing to fret about whether Dave Zastudil can truly overcome the injury he sustained in 2009 that cost him half a season.
However, what should not however be questioned is Zastudil's skill as a punter provided that he's healthy. Keep in mind that part of the reason Zastudil even got injured in the first place last year is how often the Browns' offensive woes forced him to have to punt.
The drastically improved 2010 Browns offense should guarantee that no such problem occurs this season. The only question is whether Zastudil is fully recovered from last season's devastating knee injury.
Let's hope that's the case. Zastudil downed 51 percent of his punts inside the 20 in 2009. Aside from the injury, he was a lock to get the job done.
6. Shaun Rogers, DE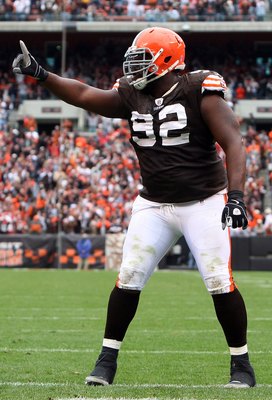 Lucky for Browns fans, defensive lineman Shaun Rogers is a lot better at handling opposing offenses than he is at handling air travel.
Entering his tenth season, Rogers is a proven force to be reckoned with on the defensive line, providing a veteran presence on the front three along with his fellow experienced end (and ironically, fellow experienced airport weapons policy violator), Robaire Smith.
With the young and impressive Ahtyba Rubin at nose tackle, the Rogers' led front three should be stellar this season, provided that two thirds of them don't spend the bulk of the season suspended for exceptionally bad judgment relating to the contents of their carry-on bags.
All joking aside, the Browns need Rogers on their line for both his skill and his experience. Rogers' season was shortened by injury in 2009, but he's proven his worth many times over in prior years. Of he and Smith, Rogers is easily the stronger player, and off-field antics aside, he's one of the most valuable veteran assets the Browns have.
5. Sheldon Brown, CB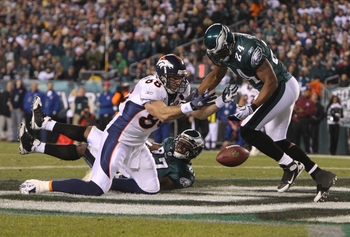 Former Eagle Sheldon Brown was added to the secondary in the offseason to bolster a backfield that is stacked with talent but also lacking in experience.
Brown was a favorite among teammates and fans in Philadelphia, and it's easy to see why. He's a fantastic tackler, plays well in the slot, and his strength and physical style make him excellent at defending against the run.
He's not much of a vocal leader, but he's tough, hard-working and willing to play injured without complaint, making him an excellent candidate to lead the young secondary by example.
Brown isn't the fastest defensive back, but with a young, speed-driven backfield around him, he can focus primarily on short yardage play defense and allow his quicker counterparts to handle defending against deep passes.
4. Ben Watson, TE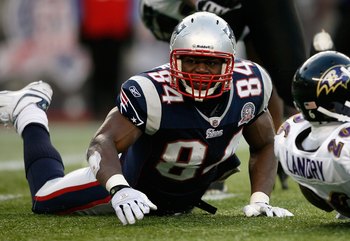 Six-year veteran Ben Watson was imported from New England during the offseason to serve as a veteran anchor for the Browns' tight end corps, a role they desperately needed to fill after Robert Royal failed to adequately do the job in 2009.
Watson has had his share of struggles over the last few seasons, unable to duplicate his impressive 2006 numbers (49 receptions, 643 yards, three touchdowns) in his last three years.
As the lead tight end for the Browns this season, Watson has an excellent chance to bounce back and prove he's capable of matching or even exceeding those career-high numbers he posted in 2006.
Watson's numbers in New England suffered as a result of the bulk of the receiving opportunities there going to WRs Randy Moss and Wes Welker. He'll have no such problem in Cleveland, where he has an excellent shot to be Jake Delhomme's go-to guy and the receiving corps' top dog.
3. Joe Thomas, OT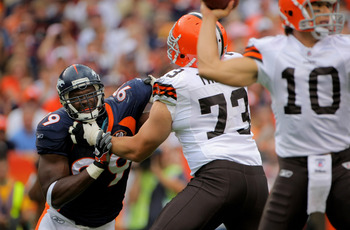 It seems odd to label a 25-year-old as a "veteran" of anything, but fourth-year offensive tackle Joe Thomas plays like a guy with at least twice that amount of experience.
Thomas, who one might argue is the best offensive tackle in the league, successfully protected two quarterbacks (Anderson and Quinn) who appeared to have practically no ability on their own to read a defense and avoid a sack or a knock-down.
Just think what he'll be able to do now that he's protecting a quarterback who actually has the sense not to run into the area Thomas is protecting for him (Anderson did this several times last season).
It's difficult to quantify the work an offensive lineman does since there are no true defining stats for the position. Luckily for Browns' quarterbacks, Thomas' presence on the field speaks for itself.
2. Phil Dawson, K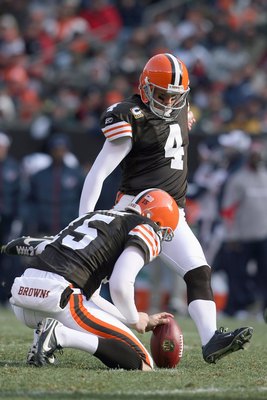 It isn't often that a kicker is one of a team's most popular players amongst its fan base, but then most kickers aren't Phil Dawson.
Dawson is the only player left on the team who has been with the Browns since 1999, and still appears to be just as good as kicker as ever at age 35. Dawson was 17 of 19 last year with a long of 49, his only real miscue on the season being a botched extra point.
Dawson hit 89.5 percent of his kicks last season, even better than his career average of 83.3 percent over 11 seasons. He has proven to be accurate and reliable on 40-plus yard kicks as well, hitting five of six last season.
1. Jake Delhomme, QB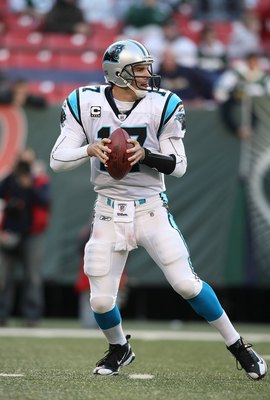 Is Jake Delhomme the most talented veteran on the 2010 Browns roster? Absolutely not. But he could very well be the most important.
It isn't that Delhomme needs to put up monster numbers—or even anything close to that this season. The offense in its current incarnation was deliberately built to be "quarterback proof." It's more that Delhomme's veteran experience is vital to leading and holding together the offense in a way that will be important to team synergy.
Delhomme is coming off of a very rough year. But it was also his only truly concerning season in the 11 he's logged in the NFL. There's no indication that Delhomme won't be capable of handling the job as well as he needs to on the field, and no one should question his ability to act as a leader and as a veteran mentor to future franchise quarterback Colt McCoy.
Keep Reading

Cleveland Browns: Like this team?