Pro Wrestling Countdown: SummerSlam's Greatest Matches of All Time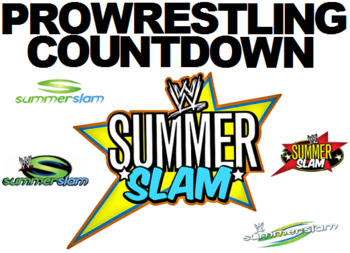 Hello everyone and welcome back to the latest edition of The Pro Wrestling Countdown.
Today we will be looking at ten of the greatest matches that have come from WWE's second best pay-per-view event of the year. Or maybe third best depending on whom you're talking to.
SummerSlam is generally considered WWE's 'blockbuster' event. Every year they have stipulation matches and bring in big name stars to return like Shawn Michaels, Hulk Hogan, or Bret Hart.
This event has had a rich 22-year history and tons of fantastic wrestling matches and moments and I have taken care to showcase some of the best matches from the event in this edition of the Countdown.
You may not agree with all my picks and you are welcome to share your opinions in the comment section below after you are done reading, but remember these are my personal opinions.
So without further adieu let's take a look at SummerSlam's Greatest Matches of All Time.
Honorable Mention: Hardys vs. Dudleys vs. Edge & Christian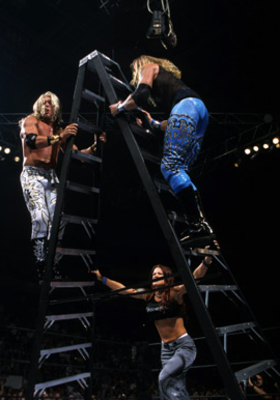 This match was the first ever official "tables, ladders, and chairs" match better known as a TLC match.
These three teams had just had a legendary ladder match at Wrestlemania 2000 and I guess the guys in the back thought why fix it if it isn't broke. I agree as this match is fantastic.
Sure it may be just a "Spot Fest," but it is a lot like a blockbuster movies. It has big explosions and tons of special effects and you don't have to think a lot to enjoy it.
The three teams once again had one of the most innovative matches of the 21st Century. You can say it was messy or that it was just a spot fest, but when it comes down to it this match is just plain entertainment.
People like these matches for the same reason they like Jackass or Viva La Bam. Sure they are dumb and full of spots, but The Hardys, The Dudleys, and Edge and Christian cut out the middle man and gave the fans exactly what they wanted; tables, ladders, and chairs.
The match ended with Edge and Christian holding the Tag Team Championships above their heads. These matches that these teams had would end up making them.
Matt Hardy, Jeff Hardy, Christian, and Edge would all go on to become World Champions and four huge stars in the WWE and The Dudley Boys would become known as one of the greatest tag teams of this generation.
This match helped make these guys into what they are today.
No. 10: The Undertaker vs. Edge (SummerSlam 2008)
You know this is going to be an awesome Countdown when you start it off with Edge and The Undertaker.
This was The Undertaker's return match after Edge "retired" him at One Night Stand. The storyline went that Edge pissed off Vickie Guerrero who in turn screwed Edge by bringing back the biggest threat to his title. Whatever.
In 2008, the Smackdown belonged to Edge. The first half of the year, Edge was either the World Heavyweight Champion or he was challenging the World Champion.
A big problem I have with Hell in A Cell matches is that sometimes the pace of these matches is slow and just horrible to watch, but Taker and Edge do a good job of keeping things going and packing the match full of action. I was never sitting there waiting to see what was going to happen next because I was too busy enjoying what was already happening.
They did just about everything they could to each other to put one another away. We even saw Taker use the Spear and Edge's Con-Chair-To before finishing him off with the Tombstone.
After the match The Undertaker chock slammed Edge to "Hell" and we wouldn't see him again until he replaced Jeff Hardy in a triple threat match at Survivor Series.
This was WWE's "blockbuster match" in the sense that it was big in scale and it featured two of their biggest stars. At least that is how I like to picture it.
A fun match, but even so it barely makes the list.
No. 9: CM Punk vs. Jeff Hardy (SummerSlam 2009)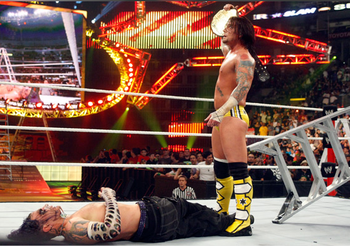 This match was Jeff Hardy's swan song. We pretty much knew he wasn't walking out of Los Angles with the World Heavyweight Championship. However that took nothing away from this match. It is also worth noting this is not Hardy's first TLC match at SummerSlam and that put CM Punk at a disadvantage.
I honestly wanted to talk about this match in depth, but there is just too much to cover. Hardy and Punk build on the foundation of every Ladder and TLC match ever contested and give us one crazy spot after another to show how bad both of them wanted to be the World Heavyweight Champion.
Punk and Hardy used these ladders, tables, and chair to physically abuse each other. They didn't try and do innovative things as most wrestlers do in these matches. Punk and Hardy were more focused on using them in effective ways to hurt one another so they could win.
Near the end of the match, Jeff pulled out what Todd Grisham appropriately called "the tallest ladder I have ever seen" and he gave the fans one last "holy shit" moment to remember him by.
Jeff stood on top of the ladder and looked out into the crowd as he dove off the ladder onto CM Punk and the announce table.
This moment was truly symbolic for me.
The match ended with both men on the top of the ladder, but Punk got the better of the situation for the victory and his third World Heavyweight Championship.
On his way out of the WWE, Hardy helped make CM Punk the despised heel he has become today. Jeff's questionable history with drugs, suspension, and dare devil tactics were perfect for giving CM Punk the ridicule he has now. Hardy put Punk over big time in a grand fashion in this TLC match.
No. 8: Triple H vs. The Rock (SummerSlam 1998)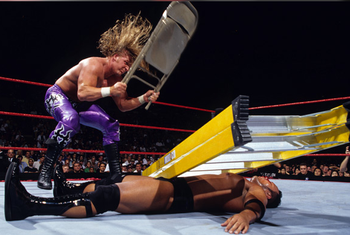 This match was for the Intercontinental Championship and I promise this is not the last time you will see a match for this title on this Countdown.
This match took place when Triple H and The Rock were still up and coming young wrestlers. They had yet to break the glass ceiling that hovered over them. However, this is proof that the Intercontinental Championship can be used to make future World Champions.
Within the next year both men would go on to win the WWF Championship.
The Rock spent most of the match working on Triple H's legs, hindering his ability to climb the ladder. You could tell, even back in 1998, that these two guys would someday become two of the biggest wrestling stars of the 2000s.
The Rock continued to use the ladder in innovative ways to wear down the leg of Triple H. Even though The Rock dominated most the match, Triple H baseball slid the ladder into The Rock's face to finally get some distance.
By this point The Rock has been busted open.
Triple H won the Intercontinental Championship after landing the Pedigree on The Rock and getting some help from Chyna.
This match was incredible and you have to see it. I have never seen a crowd of wrestling fans this into what was at the time two mid card wrestlers. This match could have been for the WWF Championship and I wouldn't have been able to tell the difference. Both guys did such a fantastic job of making this match entertaining and making the Intercontinental Championship feel important.
They both deserved all the accolades they would go on to earn in the wrestling business.
No. 7: Shawn Michaels vs. Triple H (SummerSlam 2002)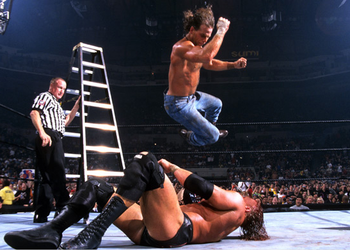 I sometimes think this match is overrated by the fans.
Even after I went back and watched it I still thought it was given too much credit, but then I considered it was Shawn Michael's first match in almost four years and that it was, at the time, considered his last match.
After I thought about these factors, I warmed up to the match and I really bought into the hype it gets.
The match was an all out fight and Michaels was better than anyone could have imagined. It was almost impossible to tell that he had not been in a wrestling ring for almost four years.
I believe this match was also a bit symbolic.
While Michaels was away from the WWF for nearly four years, he overcame addiction and his "old ways" and when he came back, he was a different person and I like to think Triple H represented Shawn's old ways in this situation.
So, in a way, this match was all about Michaels overcoming adversity. At the same time it was about Triple H trying to step out of Shawn Michael's shadow. The story really made this match unless you don't care about back stories that much.
Either way, this match began what ended up being a nearly two-year rivalry between these two men. I think this match is still proof that good friends make better enemies.
No. 6: Mr. Perfect vs. Bret Hart (SummerSlam 1991)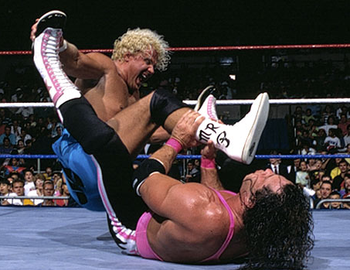 This is one of my favorite matches of all time so I knew it had to be on this list somewhere. I think what I said in my "Pro Wrestling Countdown: My 10 Favorite Matches of All Time" article sums up this match perfectly:
"This match wasn't anything pretty like what Bret Hart and Curt Hennig (Mr. Perfect) are usually known for. This match was nothing more than Hennig trying everything he could to retain his Intercontinental Championship and Hart trying to take it from him in the same fashion."
Hart dominated much of the early going of this contest. Hart, as you can imagine, tried to keep Mr. Perfect on the mat and under control. You got the feeling that all Hennig was interested in was retaining the Intercontinental Championship. He didn't care how; he just wanted to get out of New York with the belt around his waist.
Honestly, these two performers should have been in the main event SummerSlam 1991, not Hulk Hogan and The Ultimate Warrior. Instead they got reduced to the mid card. However to the WWE's credit they did give these guys a good 20 minutes to go at it and boy did they bring it.
Hart won his first Intercontinental Championship on this night after locking Mr. Perfect into the Sharpshooter. Hennig did everything he could to retain the title, but on this night it was Hart who walked away with the victory.
20 years later, Hart and Hennig are two of the most respected and legendary grapplers of their generation. To this day both of them are respected for their drive to have excellent matches to entertain the wrestling purists.
To me, this match is absolutely perfect.
No. 5: 'Stone Cold' Steve Austin vs. Kurt Angle (SummerSlam 2001)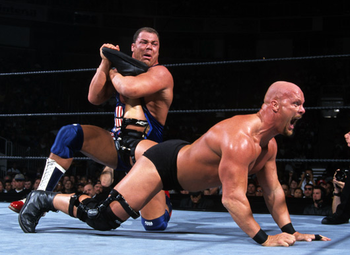 This match occurred during the Invasion angle and Steve Austin was the WWF Champion and the leader of the Alliance. While there was plenty of build up and work put into this story none of this is why this match made the list. Sometimes, the back story helps a match get onto the Countdown, but this is not the case here.
The match hasn't even started when Angle met Austin in the entrance way where the two men began to brawl. Both men did a great job of bringing intensity and a big-match feel to this contest before it even begins.
Stone Cold got the upper hand in the entrance way and Austin dominated Angle in the opening moments of this matchup.
As Angle tried to build momentum, Austin began to wrestle a lot like Angle. At one point in the match Angle hooked Austin from behind and gave him six or seven suplexes.

After two Stone Cold Stunners failed to put Angle away, Austin threw Angle to the outside and rammed his forehead into the ring post a half dozen times before Kurt Angle began to bleed. At this point, this contest was a fight, no longer a wrestling match.
The two men continued to assault each other as the referee tried desperately to get Angle and Austin back into the ring.
The match really felt important. If I didn't know my history, I could have assumed this was a Wrestlemania match. The fans were into it and you could tell they really cared about the outcome. You could also tell how much the WWF Championship meant to both men and the people in attendance.
The match ended with several near falls, until finally Angle won by disqualification after Austin took out three referees. I remember thinking that this match was way better than it should have been.
On paper, it didn't look like anything special, but when Angle and Austin got in that ring they blew everyone's expectations out of the water. I never thought these two could have such a great match together. That is a big reason it is this high on my list.
No. 4: Chris Jericho vs. Chris Benoit (SummerSlam 2000)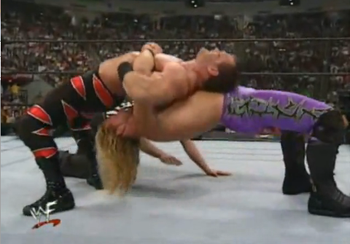 Before I begin let me say that I do not think this is Chris Jericho and Chris Benoit's best match together, but they still put on one hell of a Two Out of Three Falls match.
I am a huge fan of both of these guys and, in the past 10 years, I don't think there have been two better workers in the WWE than Benoit and Jericho.
Benoit spent the entire contest working on the shoulder of Jericho which allowed Chris Benoit to get the first victory via his Crippler Crossface. After the first fall Benoit applied it again trying to finish the match quickly, but Jericho got to the ropes. However, this didn't stop Benoit from continuing to work on the shoulders of Jericho.
Benoit went for a couple German suplexes as he continued to work on Jericho's injured shoulders, but Jericho rolled through and hooks in the Walls of Jericho for the second fall of the match.
Then, Jericho began to work on the back of Benoit after he wore it down with the Walls of Jericho. Jericho continued to stay in control of the match until Benoit reversed a School Boy and used the ropes to get the victory.
I have to say it was very odd seeing Benoit play a heel.
While this was not the longest most epic match in SummerSlam history, I believe it is often overlooked and I think it is well deserving of a spot on this list.
It has always been my personal opinion that these two guys have just a fantastic chemistry with one another and I have never seen the two have a bad match. They have wrestled each other at Wrestlemania, Backlash, Royal Rumble, on Monday Night Raw, and even this SummerSlam match.
All of them were just brilliant matches.
It is just too bad we will never see them in the ring together again.
No. 3: Kurt Angle vs. Brock Lesnar (SummerSlam 2003)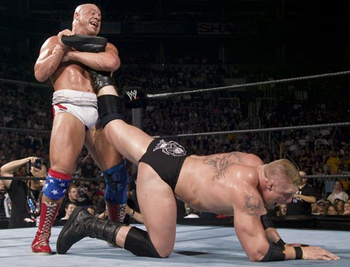 This was the long awaited rematch from Lesnar and Angle's Wrestlemania XIX. It was also the one-year anniversary of Brock Lesnar's first WWE Championship victory over The Rock.
The match played with the great dynamic of power vs. athleticism. Both men possessed both of these qualities, but Lesnar had the advantage when it comes to power and Angle was always considered the better athlete, no matter who he was in the ring with.
Brock brought a different intensity to the heel role and you could feel his frustration radiating throughout the ring.
Angle played well the underdog in this match as Lesnar stayed in control by using his strength and weight to his advantage against the smaller Kurt Angle. However, later in the match, every time Angle bought himself some time, he tried to take advantage of the match by using high-impact, power-based moves instead of taking Lesnar to the mat.
It just wasn't working.
Near the end of the match after the referee is knocked out, Angle makes Lesnar tap out, but Vince McMahon entered the ring with a steel chair to make Angle release the hold. Then, both men were down.
Then, both were up and Lesnar hit the F5 as McMahon looking on with approval. However, Angle somehow kicked out at two. Brock went for another F5 but Angle reversed it into the Angle Lock for the victory to the dismay of McMahon.
Both of these guys were having some of the greatest matches in the WWE at the time. Kurt Angle represented the present of the company and Lesnar was supposed to be the future.
It is funny how things have changed. However, we still have the memories of these fantastic matches between these two terrific athletes.
No. 2: Shawn Michaels vs. Razor Ramon (SummerSlam 1995)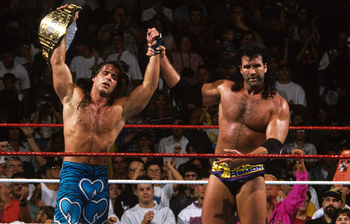 This match was the rematch to Ramon and Michael's classic match from Wrestlemania X from a year earlier and they had some high expectations to meet. These two guys wasted no time as both attempted their finishing moves on each other just moments into the match, but both managed to avoid the maneuvers.
Razor went for the ladder, but Shawn brought him back to the ring. It was smart wrestling by Michaels who made sure the fans knew he wanted to be the one who brought the ladder in the ring, but only when he thought Ramon was vulnerable.-
However, Razor Ramon was the one to put the ladder into play first. Razor began to work on the knees of HBK and this is where the story telling came into play. Shawn sold this injury fantastically and it really made the match feel dangerous and taboo.
Razor also did a great job of working on the knees and legs of Shawn Michaels throughout the entire match.
Near the end of the match Razor Ramon pulled out a second ladder.
In 1995, most ladder matches featured only one ladder, so when Ramon pulled out a second one. people were pretty amped about what he was going to do. Today, there are usually a dozen or so ladders around the ring before the match even starts.
Both men climbed up their ladders. Michaels kicked Ramon off his ladder and Michaels jumps for the belt but missed it.
Shawn finally got the win when he reversed the Razor's Edge and flipped Ramon onto the outside giving him the opening he needed to pick up the victory.
After the match Razor Ramon entered the ring and snatches the Intercontinental Championship out of Michael's hands. Just when you think Ramon is going to turn heel he hands Michaels the belt and shakes his hand.
That title use to mean so much…
No. 1: Bret Hart vs. The British Bulldog (SummerSlam 1992)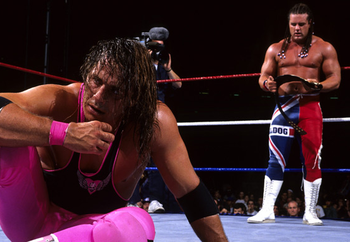 I would like to point out that this is the fourth match on this Countdown to be a match for the Intercontinental Championship. In my mind this match is the greatest match ever contested for the title and maybe the greatest match in the history of the WWE.
In front of over 80,000 British fans at the fifth anniversary of the SummerSlam event The British Bulldog and Bret Hart went one-on-one for one of the most prestigious titles in the WWE at the time. This was also a year after Bret won his first Intercontinental Championship from Curt Hennig at the previous year's SummerSlam.
The two men put on one of the greatest matches I have ever seen. I have to admit; I only recently sat down and watched it for the first time. I was truly blown away by how brilliant these two are in the ring together.
I have never seen such a technically brilliant match and I cannot think of a reason as to why I never sat down and watched this contest. This match was a big reason why I wanted to write this Countdown. Bret Hart and Davey Boy Smith wrestled one of the greatest one on one matches I have ever seen here at SummerSlam.
This match was also the longest match on this countdown clocking in at just over the 25 minute mark and all 25 of those minutes are filled with wrestling brilliance. The amount of heart, emotion, and athleticism Bret and Davey poured into this match just shows you how much the wrestling business means to them.
The end of the match came when The British Bulldog reversed Bret Hart's sunset flip into a pinning maneuver for the three-count to end what was a terrific display of wrestling ability. The Bulldog's fellow countrymen erupted with excitement as the referee hands Davey Boy the Intercontinental Championship.
After the match, Davey Boy Smith extended his hand to his brother-in-law as a sign a friendship and mutual respect. Initially Hart declined and tried to exit the ring, but he came back and shook the hand of Davey Boy and gave him a hug. This is in my mind was, and still is, one of the greatest moments in televised wrestling history.
The event ended with Bret Hart, Dian Hart (Davey Boy's wife), and The British Bulldog standing in the ring with their hands raised in front of the 80,000 delighted fans who all know they had just witnessed history.
This was, without a doubt, the greatest match and moment in SummerSlam history and a defining moment in the history of the WWE and professional wrestling.
Thank you all for reading I hope you all take the time to go back and appreciate these matches and enjoy the performer's talent and athleticism.
Goodbye...
Keep Reading