Fantasy Football: Top 15 Tight Ends of 2010-11 Season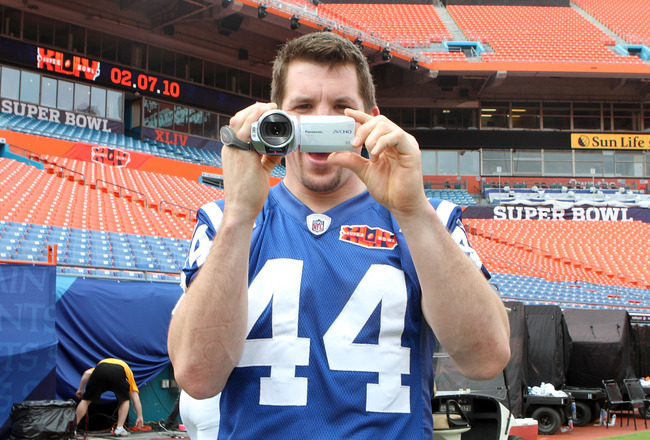 Wait, isn't the camera suppose to be on you Dallas Clark?
I have ranked, 40 wide receivers, 20 quarter backs and 20 running backs. It's time for tight ends.
Tight ends aren't as valuable as the other three already listed, but they can be. Dallas Clark in some scoring systems can be as valuable as a top wide receiver. He basically is a wide receiver. Peyton Manning and Clark have a connection that seems to always go for a touchdown.
Take a look inside at the top 15 tight ends.
No. 15 Dustin Keller, Jets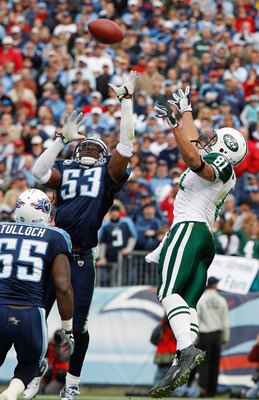 I feel for this guy because he is a great athlete, but the Jets hardly used him last year. So why is he on my top 15? Well because he's poised for a breakout year especially once the Jets get Santonio Holmes back from suspension.
With Holmes as a Jet now and Braylon Edwards and Jerricho Cotchery behind him, the passing game will see a lot more action then it did last year. With Shonn Greene and LT at running backs, the defense will forget about Keller.
If they do forget about him then he will easily breakout and be able to look back at last year's numbers of 45 receptions for 522 yards and two touchdowns and laugh. Keller is a good backup TE but I'm using him as a starter in a few leagues.
No. 14 Zach Miller, Raiders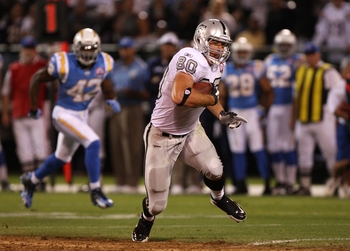 With JaMarcus Russell in town, Zach Miller was still able to be a productive offensive player. He plays tight end but plays the tight end like a wide receiver. His hands and size have led him to be the ultimate offense in Oakland for the past three seasons.
Last season, with Russell throwing to him, Miller caught 66 catches for 805 yards and three touchdowns. Now that Oakland has Jason Campbell at quarterback, Miller could be listed as a sleeper, but his talents put him in this list.
Miller is a good tight end especially if you rather stack up on wide receivers and running backs before you get your first tight end. He's a sleeper first, but I have a feeling he won't be available in many leagues.
No. 13 Greg Olsen, Bears
With Mike Martz in town, this ranking may confuse some people. While Martz is a pass first coach, he doesn't really go to his tight ends. This reason is why Olsen ahead of Miller might confuse people.
Last year Olsen, had 60 receptions for 612 yards and eight touchdowns. That was during an under-performing season from Olsen himself and quarterback Jay Cutler.
If Martz can work plays for Greg Olsen and the chemistry can develop in Chicago between Olsen and Cutler, then Olsen can have a breakout season. Then again, he's pretty much breakout or simply break. Risk pick but could end up worth it.
No. 12 Kevin Boss, Giants
Kevin Boss is set to have a "Giant" year. After Steve Smith broke out last season, it only seems right that Boss follows. While he didn't have the greatest season, he did have a very promising one.
Boss had 42 catches for 567 yards and five touchdowns. While the receptions and yards can improve the touchdowns aren't bad.
As long as he can continue to develop and build off the season that he had last year, Boss will become a reliable fantasy option.
No. 11 Visanthe Shiancoe, Vikings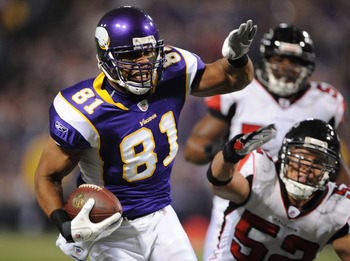 Last year, Visanthe Shiancoe exploded on to the scene, thanks Brett Favre. If you've noticed something in a lot of my rankings you'll notice that Brett Favre makes the players around better. That is what a good quarterback does.
Last year, Shiancoe had 56 catches for 566 yards, but most importantly he had 11 touchdowns. Brett really likes to make his tight ends better players, and will use them no matter what.
Shiancoe is a good fantasy option and could be a good tight end for you whether he's your first or second option. Like most Vikings, this is a one year ranking.
No. 10 Brent Celek, Eagles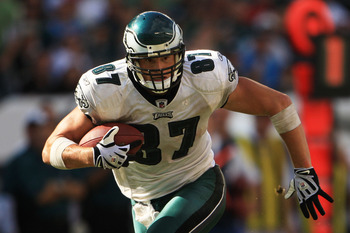 With Donovan in town, this guy was a star. With Kevin Kolb in town, it remains to be seen what that young duo can produce together.
Kolb has some big shoes to fill at quarterback . He needs to make sure that Brent Celek can stay in the top ten for tight ends. With 76 catches last year for 971 yards eight touchdowns Celek was just another dangerous weapon for McNabb.
Celek can be a good first option at tight end, as usually that is all you need for your fantasy teams. He's a good mid to late round pick but don't draft him too high as Kolb has a lot to prove.
No. 9 Heath Miller, Steelers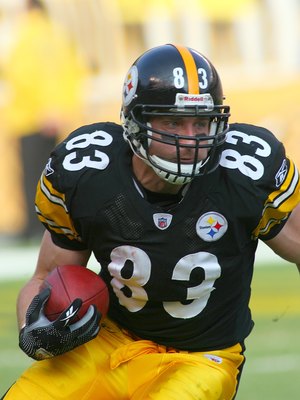 Made top 10 last year and he will again this year even without Big Ben for at least four games. Heath Miller has always been a reliable source for Steelers quarterbacks and will continue to be.
Last year Miller had 76 catches for 789 yards and six touchdowns. He is one of the most targeted end zone players in the league and as mentioned, he scored six times.
Without Roethlisberger, Miller's fantasy stock takes a hit. He won't be a big impact on your team but he'll be a reliable source of catches, yards and possibly touchdowns, for tight ends that is.
No. 8 Chris Cooley, Redskins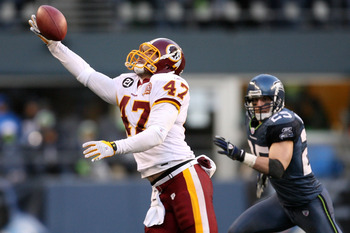 It's always those damn injuries. Chris Cooley would be much higher on this list if he wasn't recovering from surgery to repair a broken ankle that limited Cooley to only seven games.
In those seven games, Cooley was able to pull in 29 receptions for 332 yards and two touchdowns. While those numbers don't pop out at you, don't forget, he only played seven games.
With Donovan McNabb, Cooley is more then likely to finish eight or higher. McNabb loves his tight ends but the ankle surgery remains a question mark. Hw will Cooley play coming off that surgery? If McNabb can keep him healthy, Chris Cooley will have a new best friend.
No. 7 Kellen Winslow, Buccaneers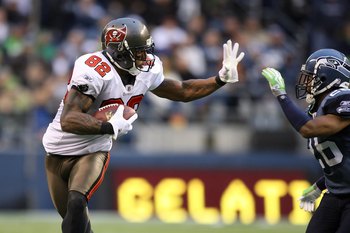 Risky pick at eight? Riskier pick at seven. Or is it? Winslow is actually coming off a productive season for the Bucs. Even more, his production went up when Josh Freeman was named the starter and Freeman is the starter from here on out.
77 catches last year 884 yards and five touchdowns isn't bad for someone who's been injury prone his whole career. Well last year Winslow played all 16 games and did not need offseason knee surgery for the first time since his rookie season.
If Winslow can remain healthy, he'll be the go to option in Tampa and the most proven. Draft Winslow right around the 6th, 7th or 8th rounds because a lot of people won't take his risk. Risk is worth the reward.
No. 6 Owen Daniels, Texans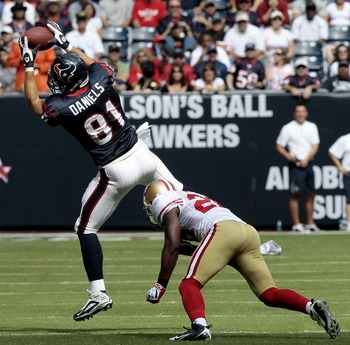 Cooley, Winslow and now Daniels all coming off an injury, all right outside the top five but all have top five talent. With all due respect to the other two players Winslow and Cooley, Daniels might have the most talent.
Daniels might also have the most consistent injury. After tearing his ACL for a third time in his career in Week 8, Daniels missed the rest of the regular season but left a reminder of what could have been with 40 receptions 519 yards and five touchdowns.
Daniels was becoming a serious threat.
His talents override his injuries and Daniels can easily be a top five tight end in a system that does nothing better than throw the ball. With the No. 1 fantasy wide receiver in Andre Johnson and a top five fantasy quarterback in Matt Schaub, Daniels has no problem putting stats up.
No. 5 Jermichael Finley, Packers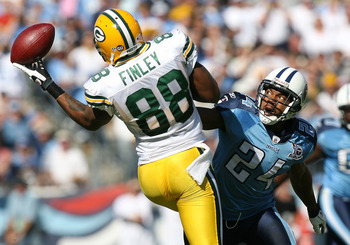 Trust me on this one, Jermichael Finley is a beast and will prove it this year in 2010. In a balanced system like Green Bay, where the running back is dangerous enough to make you forget about their great quarterback, Finley is forgotten about.
He shouldn't be.
He came on late last year and didn't start for the first half of the season but will start this year from opening kickoff. With 55 catches for 676 yards and five touchdowns last season, that's not bad for someone who played half a season.
With a full season ahead of him, I have Finley ranked number five and he can finish even higher. If Aaron Rodgers targets Finley in the red zone, which he should, Finley will be a household name among fantasy tight ends.
No. 4 Jason Witten, Cowboys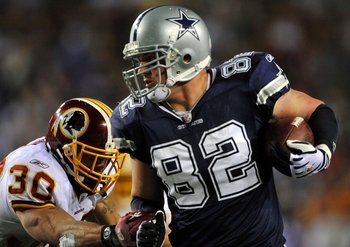 I feel like Witten is in the wrong category because he plays like a Cowboys wide receiver but he's a tight end. If there is any knock on Witten's game it's that he doesn't get enough touchdowns.
If you want proof, just look at his numbers from last year. He had 94 catches for 1,030 yards but only TWO touchdowns. Fantasy football is mostly rewarding players who can get touchdowns, but Witten is a great PPR tight end and will rack up the yards.
Can you afford to take the touchdown hit? If you have enough RBs and WRs then yes. Don't forget Dez Bryant is in town and while he may not effect Witten as much as he does Roy E Williams, Dez being in town just gives Romo someone to go to in the red zone.
No. 3 Vernon Davis, 49ers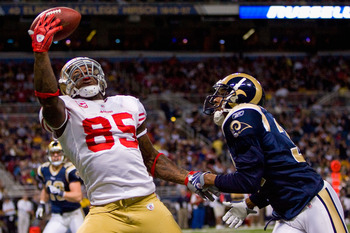 Talk about household names. VD wasn't a big name until he finally decided to turn it on last season. Turn it on he did, with career best in almost every category. Davis also tied Antonio Gates for most touchdowns by a tight end in a single season (13).
Trusting Alex Smith is the main concern here, but Davis had Smith last year and was able to catch 78 passes for 965 yards and as mentioned 13 touchdowns.
If you put trust in Smith, then Davis is definitely your first option at tight end. With an improved offensive line, things will be interesting in San Fran. Fantasy owners just hope Davis wasn't a one year wonder.
No. 2 Antonio Gates, Chargers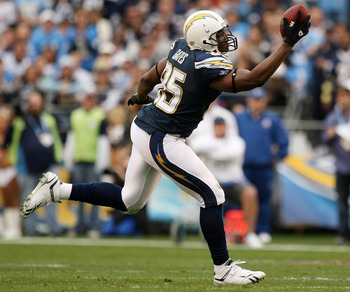 Recently signing a five year extension, Gates is a happy man. Fantasy owners of Gates have been happy each year they've had him as he constantly provides catches, yards and touchdowns for fantasy owners to win leagues.
Last year, Gates had 79 catches for 1,157 yards and eight touchdowns. Tight end wise, that is a very good year, and can make many owners happy.
With Vincent Jackson suspended three games and threatening to hold out the next seven, Gates is the most reliable option and will be the most targeted for San Diego.
He'll also be one of the most targeted tight ends in fantasy football because of that, get him while you can.
No. 1 Dallas Clark, Colts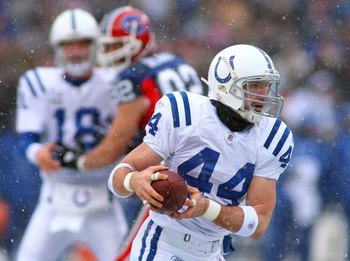 It's always about the cover boy. He's been a cover tight end playing alongside Peyton Manning but hasn't had many defenders who can cover him.
The only tight end to have 100 receptions, 1,106 yards and 10 touchdowns.
Manning to Clark is one of the best NFL duos during the regular season, which is when you fantasy owners need them. Clark will once again reign as the top option at tight end, he could go as high as second or third round.
Keep Reading