NHL Rumors: 10 Teams That Would Love to Trade for Marc Savard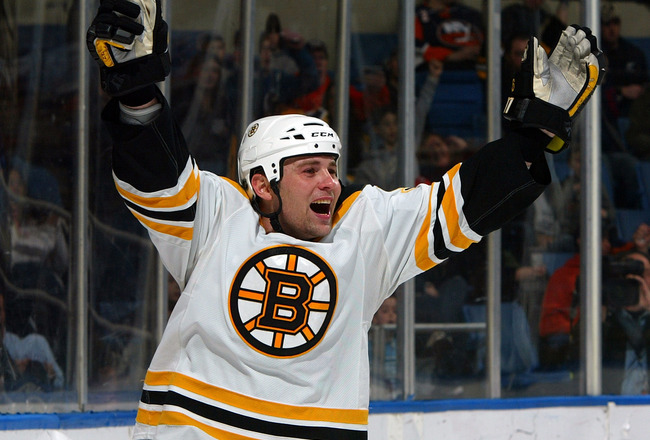 Everybody knows that the Boston Bruins are having salary cap problems, and with Blake Wheeler's arbitration hearing, Tyler Seguin's future contract, another roster player signing, and only $12,000, things aren't looking too good for the B's.
Ever since the lockout Marc Savard has been one of the premiere centers in the NHL. Over the last five seasons he has collected 392 points in 361 games. All this despit this past season being cut short due to injuries, most seriously by another concussion.
With the Bruins looking to clear some cap in order to fill out their roster, they don't really have many options for what they can do. Marc Savard has a limited no-trade clause that allows him to chose five teams to which he will accept a trade. Toronto, Ottawa, Chicago, Philadelphia, and Montreal are teams that have been listed as those which Savard has picked, with some rumors also indicating Calgary.
Even though Savard has already made a list of the teams he'd be willing to go to, this list will look at ten teams who could benefit from acquiring Marc Savard.
Note: This article will not be looking at how logical a trade between the two teams will be but how likely they would be willing to trade for Savard if it were possible.
Atlanta Thrashers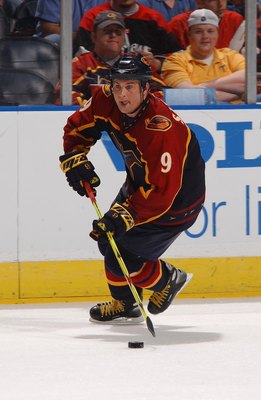 How ironic would it be if Marc Savard ended up going back to Atlanta after leaving them on such bad terms?
Never gonna happen.
After spending three very unproductive seasons with the Atlanta Thrashers, Savard could not have been more pleased to leave that failing hockey market. However, that does not change the fact that the Thrashers would be more than happy to see him return.
Marc Savard is one of the best playmaking centers in the league. While he may be 33 years old with a year contract, he comes at a very cheap price for a player who still has a few good years left in him.
This past season the Atlanta Thrashers' top two centers were Nik Antropov and Rich Peverley. While Antropov can play center, he is much more effective as a winger, where he could really throw around that big body of his and work the boards.
Peverley has had a good career but that by no means entitles him to be a top two center. He may have scored 22 goals and 55 points, but he was also -14 on the season. He can still get better but there is still much work needed to be done.
On top of all the moves they have made so far this offseason, which have made them a much better team, a top notch center is still a piece that the team lacks. Savard could easily fill that void for the team.
This trade could be very possible if Savard was ever willing to go to Atlanta. They have $21 million free in cap space and while they may not have a great prospect pool, a deal could easily be worked out between the two teams.
Columbus Blue Jackets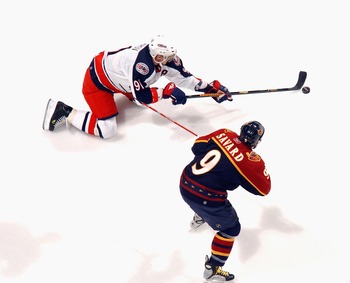 On paper, Columbus looks like a very good team. With Rick Nash, R.J Umberger, Kristian Huselius, Antoine Vermette, Derrick Brassard, and Jakub Voracek being their top six forwards, it's still a wonder how this team can be so offensively challenged.
Nash is a proven 40+ goal scorer, Huselius has once surpassed the 30 goal plateau but is a proven 20+ goal scorer, along with Vermette, Umberger, Brassard and Voracek, who all have the potential to be stars in the NHL.
Maybe the Blue Jackets just need to shake up their top six a little bit to get the players going?
If it were possible for the Blue Jackets to make a move to get Marc Savard, I think that he would make Columbus a much better team.
Put Nash, a pure goal scorer, with Savard, an elite playmaker, and you have a dynamite combination. In his seven years in the NHL, Nash has yet to have a solid center who could help him reach that yet to be achieved 50 goal potential. If Savard went to Columbus and played with Rick Nash, I don't think it would be unreasonable to assume that Nash would eclipse the 50 goal plateau.
Brassard was drafted for the very reason of being Nash's center, but that plan didn't really work out. This year the Blue Jackets drafted Ryan Johansen for the very same reason. Of course he is at least two years away from making the jump to the NHL so until that time a proven playmaker like Savard would be beneficial to the Blue Jackets.
Dallas Stars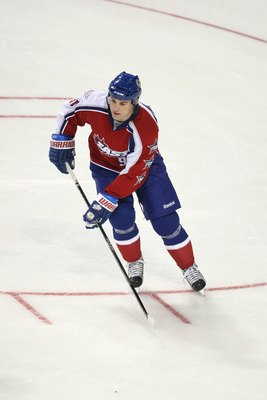 While the Dallas Stars are in no immediate danger down the middle, they could be by the end of next year.
With the conclusion of next season, the Stars could face losing their number one center, Brad Richards, to free agency. All signs are pointing to Richards walking from the declining hockey market down in Dallas.
While Dallas may be set for next season with Richards and Mike Ribeiro as their top two centers, they would look severely weakened if Richards walked.
This is where Marc Savard could help this young team in this now failing hockey market. Last season Dallas had six players score 20+ goals, three of them being wingers 25 years or younger: Loui Eriksson, James Neal, and Jamie Benn.
Nothing would help those young players develop more than to play with an elite playmaker like Marc Savard. Of course, Richards is more than capable of filling that void, but for a team that finished 12th in the western conference, two elite playmakers highlighting their top two lines would help bring the Stars back to the playoffs. Ribeiro is a great playmaking center himself, I think that the Stars need a culture shock to help jump start this young team.
As unlikely as Savard to Dallas may be, it would be a crucial move that would help the Stars in the long run. Dallas has just over $12 million free in cap space, which would allow them to absorb Savard's cap hit, and they also have the picks and pieces that could intrigue the Bruins.
Too bad Savard doesn't want to play in Dallas...
Florida Panthers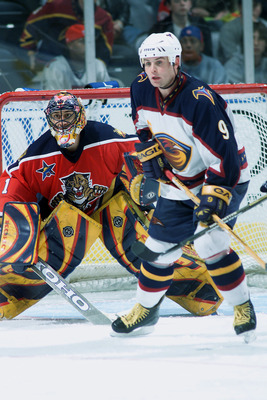 When Dale Tallon became the new GM of the Florida Panthers, he promised that changes were on the way.
So far it's been over a decade since the Panthers have seen any postseason action. They are probably the team that is in most need of a culture shock to help get them back on track.
Tallon already started following through with his promise by sending longtime Panther Nathan Horton to Boston for Dennis Wideman and a first round pick. But he won't be done just there. It has already been reported that everyone on the roster is expendable except David Booth, Michael Frolik, and Dmitry Kulikov.
What better way would there be to make a positive shock to the lineup than by bringing in one of the leagues best playmaking centers?
While Savard has not indicated any desire to play in Florida, the Panthers would welcome him with open arms if he ever changed his mind.
Florida is a team that does not have a single position where they excel at. They are just an overall mediocre team. If Marc Savard were to play for them next season, he alone would not be able to do much to turn that team around. There is still much, much more that needs to be done that will help make the Panthers a playoff contender again. But bringing in Savard would be a step in the right direction.
Minnesota Wild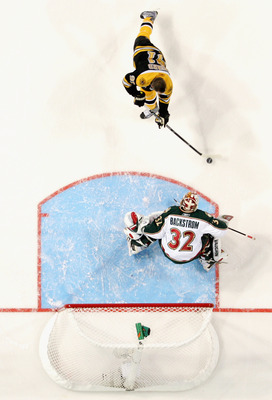 For years and years Minnesota has been known for the defensive system that it employs, and year after year they have had success and consistently made it to the playoffs.
The last two seasons, however, the inevitable truth has began to dawn on the Wild. Goals are actually needed to win games. This past season the Wild finished 13th in the Western Conference and only managed to score 219 goals.
Every since the lockout Mikko Koivu has emerged as the top center in Minnesota and, since the departure of Marian Gaborik last offseason, their best player. But he can't do it all himself. Koivu is a great two way player and a solid center for the Wild but he needs a lot more help in order for them to start competing and not just qualify for the playoffs.
Marc Savard could provide the boost that will help make the Wild a better team. This past season Minnesota only had four players score 20+ goals, three of them being wingers. They also had players like Pierre-Marc Bouchard and Martin Havlat, who have the potential to contribute more than they did this year (in Bouchard's case because he was injured for the entire season).
Marc Savard could help make Minnesota a double threat by increasing their offensive output to go along with their already proven defensive system.
Nashville Predators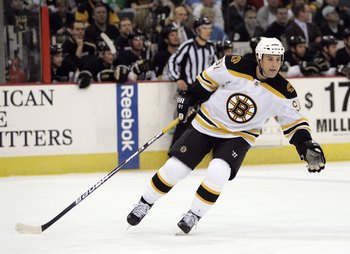 If any team was in need of a number one center it would be Nashville.
This past season their top scoring center was Jason Arnott, who had 46 points in 63 games. He was recently traded to the New Jersey Devils. This would have left Nashville with David Legwand as their number one guy.
Legwand has spent his entire 10 year NHL career with the Predators but has never really reached that untapped potential of his which made Nashville draft him second overall back in 1998. To this date his best season was in 06-07, when he scored 27 goals and 63 points. Since then his numbers have declined until this past season when he only scored 11 goals and 38 points. Nowhere near the kind of caliber that any team would want from their number one center, which is why they went out and signed Dean Lombardi, who is coming off of a career year.
Lombardi is coming off his best season in the NHL, scoring 19 goals an 53 points with the Phoenix Coyotes. While he may have had a great year, it by no means entitles him to be the automatic number one guy come the beginning of next season.
Not only would Marc Savard automatically be penciled in as the number one center if he went to Nashville, but he would also assume the mantle as their top offensive gun.
Savard's playmaking abilities could only benefit a team that has some very talented forwards who can easily score 20+ goals every season, such as Martin Erat, Patric Hornqvist, Steve Sullivan, JP Dumont, Joel Ward, and David Legwand. Bringing in Savard could help provide that culture shock that can get these guys going again.
Even though Nashville did not score many goals this season, they still managed to make it to the playoffs, losing to the future Stanley Cup Champions in the first round of the playoffs.
Phoenix Coyotes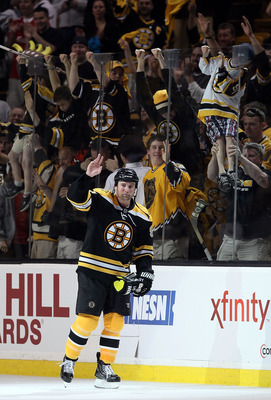 When your teams loses their number one center to free agency something needs to get done in order to replace the lost production.
The Phoenix Coyotes right now are faced with that very dilemma. When Matthew Lombardi left the Coyotes this offseason and signed with the Nashville Predators, he left a gaping hole down the middle in Phoenix.
Last season Lombardi emerged as the team's number one center by scoring 19 goals and 53 points. While those numbers may seem kind of low for a number one center, for a Phoenix team who relied on Ilya Bryzgalov the entire season, they seemed pretty darn good. He was second on the team in scoring next to longtime Coyote and captain Shane Doan.
If Marc Savard were to come to Phoenix he would automatically assume the mantel of the number one center. In the long run the Coyotes still have a hope that Kyle Turris will reach his potential and be the franchise player that they've been looking for, but until then, they will need to find someone to take up the role ahead of him and be his mentor until he is ready. Savard would be a perfect fit for that role even though the chances of him going to Phoenix are slim to none.
The Coyotes have a lot of young assets who will help make them a great team in the future, such as Turris, Viktor Tikhonov, Mikael Boedker, Olivier Ekman-Larsson, Brett MacLean, and Colin Long. They have a lot that could be offered to Boston to acquire Savard and still have the right pieces to make them a great team in the coming years.
Toronto Maple Leafs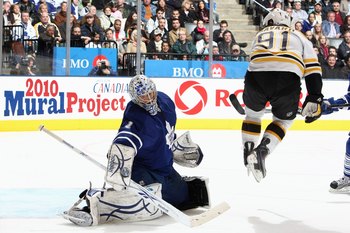 The Toronto Maple Leafs are a very interesting team to look at when it comes to Marc Savard. They are the only team on this list in need of a number one center who Savard has actually listed as one of the teams he would accept a trade to.
Brian Burke has expressed over and over again that he has been looking to acquire another top six forward who could help take the load of Phil Kessel but is not necessarily looking for a center.
So far the Leafs top two centers are Mikhail Grabovski and Tyler Bozak and many people believe that top prospect Nazem Kadri will be able to compete for one of the top two center spots come training camp.
This is where the Savard talks look very interesting. While Savard may not be a Burke type player, he can easily fit in on the team as their number one center. Bringing him to Toronto would benefit the team in more ways than one. Not only to will they get a first line caliber center who has already expressed a desire to come to Toronto and will most likely not command full value, they will be able to reunite him with Phil Kessel and turn him into a bonafide 50 goal threat.
It seems like a win-win for the Leafs. The only problem being what kind of return could they offer Boston. The Bruins would need to find a way to trade Savard to the Leafs for barely any salary hit. That would mean the Leafs would have to trade either picks (which they don't have much of) or prospects (which Burke would not be willing to do). Trading roster players would not help at all because their salary would not be welcome in Boston.
While a Savard trade to Toronto could easily make them a better team, people are more contempt to see how Tyler Bozak and Nazem Kadri pan out before making a rash decision to acquire a guy like Savard.
Anaheim Ducks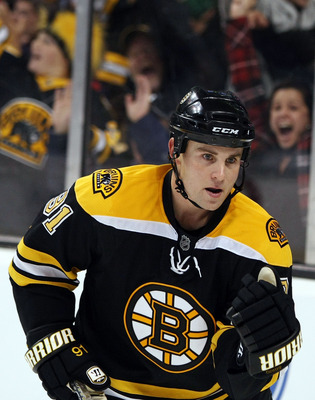 While Anaheim is in no need of another number one center, Marc Savard could help bring the Ducks back into the playoff picture.
Right now Ryan Getzlaf is the teams number one center and will be for many years but after him the rest of the teams centers don't really look too strong. Of course Saku Koivu re-signed with the Ducks for another season, but he can easily play on the wing as well as at center. It was also reported that Bobby Ryan could also play center and that Anaheim might consider using that to their advantage.
Even though these guys are versatile players and can play multiple forward positions, getting a true center who could fit in behind Ryan Getzlaf would help make the Ducks a contender once again.
Marc Savard could help set the stage as the number two guy and give the Ducks two legitimate scoring lines. The problem with a Savard to Ducks deal would be first off the fact that he has no desire to go to Anaheim and also the fact that the Ducks don't really have many pieces that the Bruins would be interested in acquiring.
As much as Savard would help make the Ducks a better team, a deal that could see that happen would be very unlikely.
Carolina Hurricanes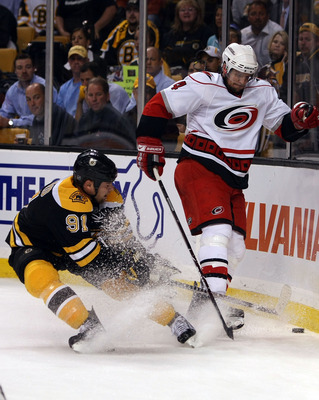 Ever since the lockout Eric Staal has been the face of the Carolina Hurricanes franchise, and he was a key player on their 2006 Stanley Cup winning roster. But ever since that victory the Hurricanes have not been able to rekindle any sort of success, missing the playoffs the following two seasons and then again last year. Just this past season longtime captain and faceoff king Rod Brind'Amour annouced his retirement, leaving a gaping hole in the center position behind Eric Staal.
Right now the Hurricanes have Brendan Sutter penciled in behind Staal. It seems a little too early to give a young player like Sutter the kind of responsibility that would come with that role. Sutter is more of a third line shutdown center and, in my opinion, is better suited for that role over being a second line scoring center.
This is where Marc Savard could seriously help out the Hurricanes.
Savard could help provide that secondary scoring that every team needs. He will be able to set up plays and get other players going and help make the Hurricanes a great team once again.
Carolina has more than enough cap room to take on Savard's salary but the main problem would be what they could offer Boston in return. Boston doesn't really have many option to go for when looking for a return for Savard since they're so close to the cap and need to dump that salary instead of exchanging it. Also, the Hurricanes don't really have the kind of package player-wise that would appeal to the Bruins, but they could easily trade draft picks.
Even though Savard could help the Hurricanes as well as every other team on this list, none of those deals (with the potential exception of Toronto) will happen due to his limited no-trade clause.
Keep Reading

Toronto Maple Leafs: Like this team?