Cincinnati Bengals 2010 Training Camp: Five Possible Surprise Cuts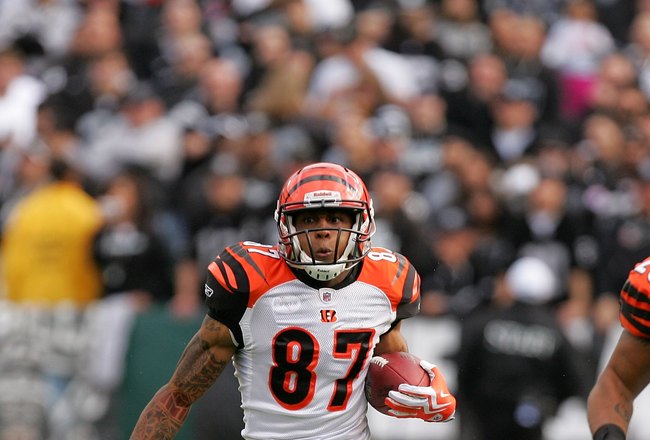 The time has come for Bengals training camp. Many cuts that will happen as camp goes along will be little or no surprise to Bengal fans.
However, there will also be cuts that nobody sees coming. Hopefully, this slide show will help Bengal fans prepare for this.
Here are the top five possible surprise cuts for the 2010 Bengals.
5. Jordan Palmer
Why it could happen:
Many NFL teams will enter the 2010 season with only two quarterbacks on the squad. There is a special rule that allows teams to suit up 45 players on game day plus a 46th player. That 46th player is the emergency quarterback and for the Bengals, his name is Jordan Palmer. He can only play if the other two quarterbacks get hurt.
The Bengals will face many tough roster decisions at cornerback, safety, and wide receiver. This year they may decide there's no sense in wasting a roster spot on Jordan Palmer who probably will never play. There has been some talk that Matt Jones could serve as the emergency quarterback. Whether true or not, the fact still remains that Palmer will likely never play and is a candidate for release.
On the other hand:
Palmer has one important thing going for him—his brother is the face of the franchise. The Bengals will probably play it safe and stick with three quarterbacks.
4. Chris Crocker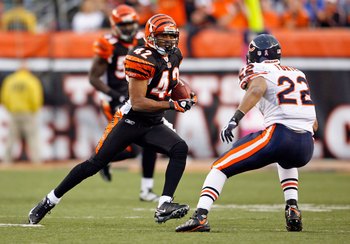 Why it could happen:
This one is a long shot. The Bengals have three veteran safeties. They are Chris Crocker, Roy Williams, and Gibril Wilson. One of these guys has a chance to go. Williams is the enforcer who makes receivers pay after they catch the ball. That leaves Wilson and Crocker. Crocker has spent more time with the Bengals but is older than Wilson. He does not excel as a center field safety and struggles against the run.
On the other hand:
Crocker is a solid player who made 51 tackles in 2009. He serves as the team's defensive leader in the secondary. The team doesn't have a lot of depth at safety.
3. Adam Jones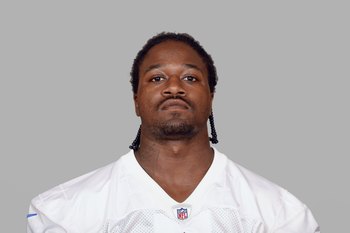 Why it could happen:
It is well known that Jones sat out last season for off-field reasons. So far, there has not been any cause for concern. However, Jones would be off the team quickly if he has one misstep.
On the other hand:
Jones realizes that this is his last chance and has been a model citizen. On the field, he has not lost any speed. He is ready to step into the nickel corner spot. He also gives them versatility on special teams with his ability to step in as a punt returner.
2. Robert Geathers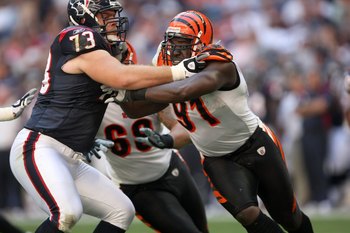 Why it could happen:
Geathers has not done well as a three-down end. His starting job looks to be in danger with rookie beast Carlos Dunlap in the fold. At this point, if he makes the cut, defensive coordinator Mike Zimmer will likely use Geathers as a situational rusher.
On the other hand:
Depth on the defensive line is important. Also, Geathers has done everything the Bengals have asked of him. He started five games at linebacker back in 2007 and drops back in coverage a lot for a defensive end. He is solid against the run should get a few sacks. They also have a lot of money invested in Geathers.
1. Andre Caldwell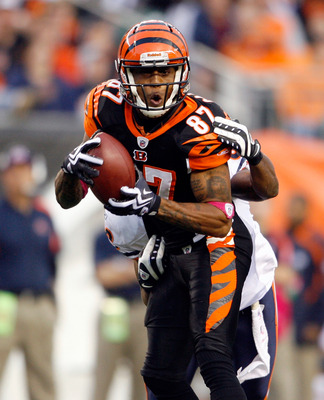 Why it could happen:
Andre Caldwell has a lot to prove this season. Last year he caught 51 balls for 432 yards which is decent until you notice that he only got 8.5 yards per catch. Quan Cosby can give the Bengals the same thing with return and special team skills.
There are four locks to make the Bengals at wide receiver. They are Chad Ochocinco, Terrell Owens, Jordan Shipley, and Antonio Bryant. The Bengals will likely keep five or maybe even six receivers. Bryant may not even suit up for the Bengals due to his lingering knee injury. That might help Caldwell but he would still need to beat out Jerome Simpson, Matt Jones, Dezmon Briscoe, and Cosby for one of the remaining two spots. The Bengals love Simpson's skills, Briscoe's potential, Jones' size, and Cosby's special teams play. Caldwell will have his work cut out for him.
On the other hand:
Many are calling Caldwell a lock to make the squad. He has improved each year and this could be a breakout year. In 2009, he caught game winning touchdown passes in two games.
More Bengal articles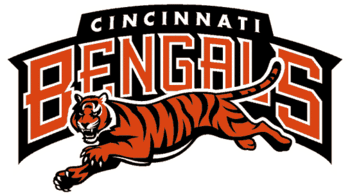 Will any of these guys be cut? Is the author of this article crazy? While thinking about that, check out these other Bengals articles:
Ten Bengals that are on the bubble can be found here.
Five Bengals that should be on your fantasy radar are found here.
Here is a look back at the Bengals of last summer.
Here is a list of the top wide receivers in Bengal history. Spoiler: Ochocinco is No. 1.
This article previews the Bengals' defensive line for the 2010 season. See who may be a surprise cut.
Here is a preview of positive things for the Bengals going into training camp.
This is a list of Bengal concerns going into camp.
This is a list of Bengal weaknesses.
Here are five things the Bengals should not do.
This article reviews the top unrestricted free agent signings by the Bengals.
This article has been criticized on Bengal boards all over the net. It looks at Carson Palmer's career and why he hasn't gotten a playoff win.
This article gives five reasons why the Bengals signed Adam "Pacman" Jones.
Keep Reading

Cincinnati Bengals: Like this team?