NHL Preview: Rating Each Team's Odds to Win the 2011 Stanley Cup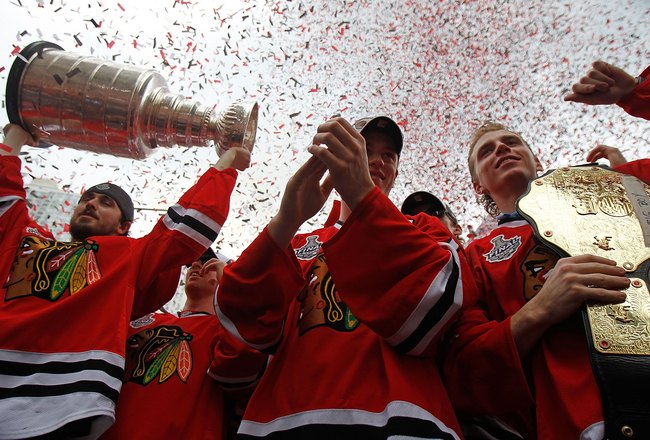 Right now, it's the dog days of summer, especially for the hardcore hockey fanatic. However, the ongoing Ilya Kovalchuk saga has at least given fans something to read about, as well as the large number of free agents still on the market.
In this article, we'll quickly look ahead to next year, but what I'll be doing is analyzing the odds that were provided by the website The Spread (www.thespread.com) on who will win the Stanley Cup in 2010-11.
These odds are as of June 10th, 2010, the day after the Blackhawks defeated the Flyers in six games. Let's take a closer look, as things have changed dramatically for some franchises in the last six weeks.
Are you getting ready for the 2010-11 fantasy hockey season? Then check out the re-launch of Fantasy Hockey Wire, and the $25K Fantasy Hockey Challenge, at www.fantasyhockeywire.com on August 1st!
30. Edmonton Oilers
Odds: 75 to 1
It's only fitting that the worst team in the league last season is listed at the bottom of the barrel again. However, I don't believe that the Oilers will be the worst team in the league. They will still struggle near the bottom of the standings, but there is hope in Edmonton.
Why you ask? Well, because of the kid pictured above.
Taylor Hall is a dynamic talent, and along with other youngsters, such as Jordan Eberle and Sam Gagner, the Oil will be on the rise this season.
Sure, goaltending will be an issue, and there has been no resolution regarding the Sheldon Souray situation, but hey, don't tell me that this will be dead last next year, especially with a healthy Ales Hemsky.
29. Toronto Maple Leafs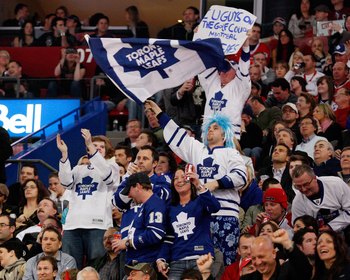 Odds: 75 to 1
My, how things changed in "Leafland" over the course of the season. GM Brian Burke bid adios to such names as Matt Stajan, Alex Ponikarovsky, Ian White, Jason Blake, and Vesa Toskala last year. This season, he'll be going with a whole new look.
Granted, Tomas Kaberle is still there, but you would think that situation will get resolved soon.
Dion Phaneuf, Jean-Sebastien Giguere, Kris Versteeg, and Colby Armstrong are all expected to play full seasons in Toronto, and that will make a huge difference in terms of talent.
Toronto doesn't have the young guns that Edmonton does, but Phaneuf and Phil Kessel are still young, and Nazem Kadri should be joining them very shortly.
The Leafs won't make the playoffs, but I don't think there will be a Tyler Seguin-like fiasco next June when the Bruins make the pick on behalf of Toronto.
28. New York Islanders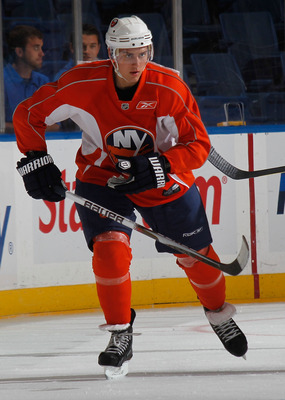 Odds: 75 to 1
John Tavares had a great rookie campaign, but it would be shocking to see JT pull a Steve Stamkos and notch 50 goals this season. 25-30 seems more realistic, but in my eyes, this is probably the worst team in the league this season.
Sure, there's great talent up front in Tavares, Josh Bailey, Kyle Okposo and El Nino, but the blue line is a concern, as is the situation between the pipes.
Will Rick DiPietro ever stay healthy, or is it all about Dwayne Roloson again?
27. Tampa Bay Lightning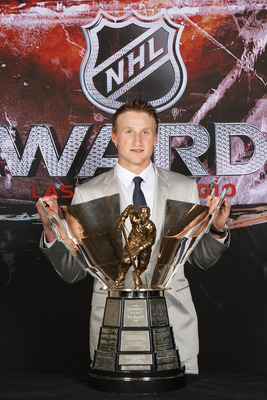 Odds: 60 to 1
The Lightning`s Steve Stamkos is who Tavares hopes to be like in his sophomore year. The Tampa Bay youngster had a huge breakout season, topping 50 goals in his second season in the big leagues.
The team as a whole struggled, but things should be better this time around. Former hockey great Steve Yzerman was hired as the GM, while Guy Boucher is the new bench boss.
The club also was able to add a reliable veteran in Dan Ellis between the pipes, and also picked up sniper Simon Gagne from the Philadelphia Flyers. Those two players, combined with the improved play of Victor Hedman and Steve Downie, should do wonders for this team. They definitely will be a team on the playoff bubble.
26. Florida Panthers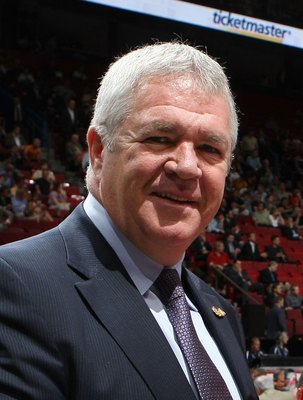 Odds: 50 to 1
Dale Tallon is now the new face of the Florida Panthers. On one side, Tallon brings a sense of great credibility to the front office. Of course, on the other end, when your GM is the face of franchise, you know that you suck.
Florida has some good, young pieces in Michael Frolik, Dimitry Kulikov, Erik Gudbranson, and goaltender Jacob Markstrom. However, don`t look for any of them to make significant impacts this season.
25. Carolina Hurricanes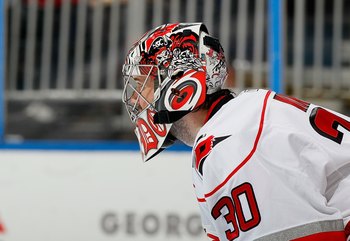 Odds: 50 to 1
The Hurricanes were originally one of the worst teams in the league for a large portion of the year. However, when the man above returned to the lineup, the club make a valiant run, but fell short.
This time around, look for the kids to pick up their game, as Carolina is currently in a transition year. With Eric Staal leading the charge, there is a good chance that the team could be in the hunt for one of the last playoff spots.
24. Atlanta Thrashers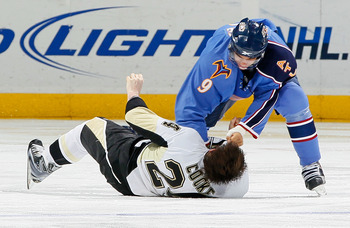 Odds: 50 to 1
Evander Kane had a decent rookie season, topped off with a knockout of Matt Cooke. Look for the youngster to provide a different type of knockout on the ice this season, as he`ll assume a more offensive role with Ilya Kovalchuk no longer in the picture for the whole season.
GM Rick Dudley has reshaped the roster dramatically, and although the team as a whole should be improved, it will most likely still be out of the playoff picture.
23. St Louis Blues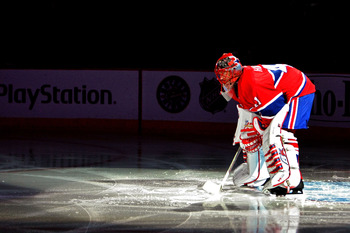 Odds: 45 to 1
If these odds had been done just a week later, the Blues would`ve seen their odds rise dramatically, and it`s all because of the one man pictured above.
St. Louis acquired goaltender Jaroslav Halak from Montreal in a shocking deal in the middle of June. The young team took a step backwards last season by missing the playoffs, but that shouldn`t be the case this time around.
With a bunch of young forwards ready to take the next step, and former first overall pick Erik Johnson also expected to improve, the one area that was a concern has been addressed with Halak, and a playoff spot is on the horizon.
22. Minnesota Wild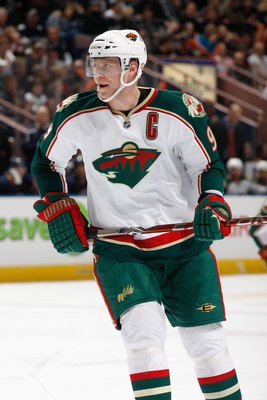 Odds: 40 to 1
How the Wild have better odds than some of these other teams is baffling. Sure, they have a great stud pivot in captain Mikko Koivu and a solid goaltender in Niklas Backstrom, but really, can this team make any noise in the powerful Western Conference?
I don't think so.
21. Dallas Stars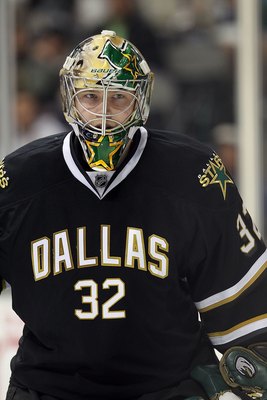 Odds: 40 to 1
The Stars are in better shape than some of these other teams in terms of talent up front. With the likes of Brad Richards, Mike Ribeiro, Loui Eriksson and Brenden Morrow, the team will have no problem scoring goals.
However, who in the world is going to play D? Also, does anybody really think that Kari Lehtonen can stay healthy for a whole season?
20. Columbus Blue Jackets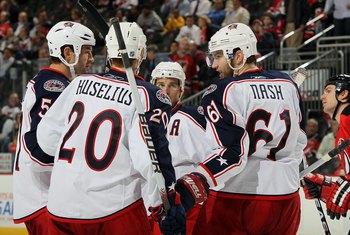 Odds: 40 to 1
This is one of the few teams that the oddsmakers got right. The team should improve and challenge for a playoff spot, but a lot of things have to happen.
Steve Mason needs to rebound, Derek Brassard needs to play like he did in his rookie season, and somebody, anybody (Anton Stralman?) needs to step up on defense to run the power play.
If all of those things happen, the Blue Jackets will be on the playoff bubble. If only some of those things happen, then it could be another horrible year in Ohio.
19. Anaheim Ducks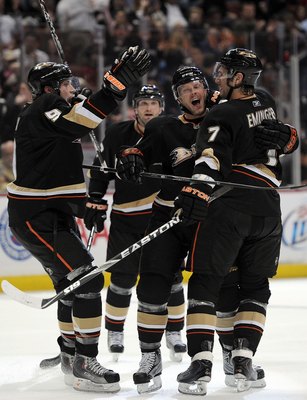 Odds: 40 to 1
The Ducks have seen two Norris trophy winners leave in consecutive seasons, as Chris Pronger was traded to Philly last season, and now Scott Niedermayer has retired.
Besides Lubomir Visnovsky, the blue line corps is not very strong. Sure, Toni Lydman will help, and it's possible that Cam Fowler might make the team, but teams will not have that fear stepping into Anaheim`s zone as they did just a few years ago, when Pronger, Niedermayer, and Francois Beauchemin would be waiting.
That being said, the team has some great talent up front, with Ryan Getzlaf and Corey Perry running the show. Veteran Saku Koivu is back for another run, and it`s still possible that buddy Teemu Selanne might return as well.
In net, Jonas Hiller is now the solid #1 guy. The quacks could still make some noise, especially if Bobby Ryan is back in the fold soon.
18. Montreal Canadiens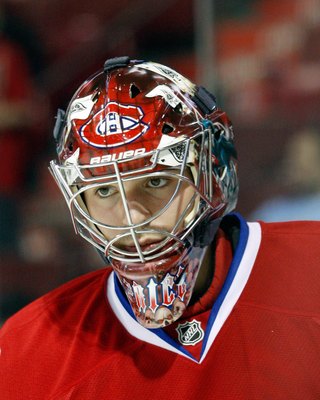 Odds: 30 to 1
It`s safe to say that Montreal has switched spots with the Blues on my list, as there is no Halak in Habland anymore.
Everything squarely falls on the shoulders of young Carey Price, and it`s hard to say if he'll be able to shoulder the load or not. A full season of PK Subban will help, but the Canadiens aren't catching anybody off guard after their playoff performance.
17. Colorado Avalanche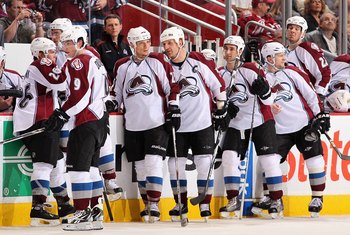 Odds: 30 to 1
I was really surprised to see the Avs this low on the list, but I get the feeling that the oddsmakers are expecting this team to regress.
I find that hard to believe, though. Sure, Craig Anderson will probably not be standing on his head as often as he did last night, and it`s quite possible that Chris Stewart and TJ Galiardi might not repeat their performances from last season, but there are two guys that will make a world of difference for this team—Paul Stastny and Matt Duchene.
Fans in Denver are seeing Sakic/Forsberg all over again.
16. New York Rangers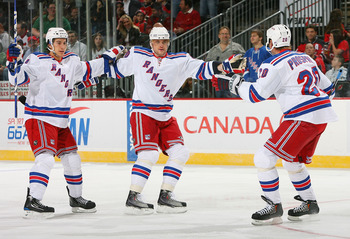 Odds: 28 to 1
Hahahahahaha...really?
Does anybody really think the Blueshirts are going to challenge for a playoff spot?
Yes, the team was on the cusp last season, but Henrik Lundqvist can only do so much. Also, Marian Gaborik was healthy all season, and what are the chances that he can do that for another campaign?
Very low.
The signing of Alexander Frolov was smart, but who is going to play center for these guys?
Oh, and let`s not forget that the blue line sucks and has two of the worst contracts in the league on the back end.
But I guess Sean Avery, Donald Brashear, and Derek Boogard should provide entertainment.
15. Nashville Predators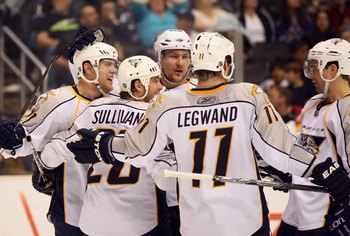 Odds: 28 to 1
Every year, people doubt that this team will do anything, and every year, it does.
GM David Poile has done a great job of keeping this thing going with a limited budget, and some of the moves that he has made over the years have been very shrewd (i.e. shipping out Jason Arnott, and signing a younger, faster, and cheaper Matthew Lombardi).
Pekka Rinne looks like he's going to be something special, and the blue line is full of blue-chippers.
14. Phoenix Coyotes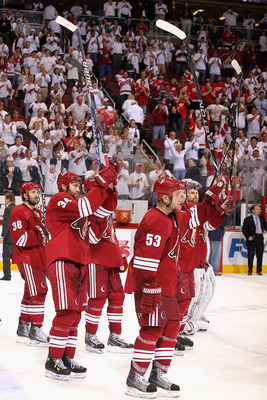 Odds: 25 to 1
These guys were a great story last season, weren't they?
However, a lot of players left via free agency, and although Ilya Bryzgalov should again be solid in net, he will be nowhere near his Vezina form of last season.
13. Los Angeles Kings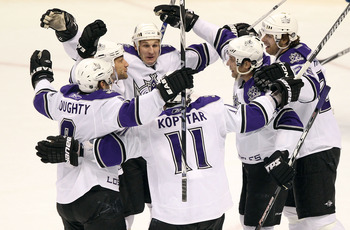 Odds: 25 to 1
This is one of the few teams that you have been constantly hearing about the last few weeks, simply due to the Ilya Kovalchuk saga.
Most fans, and media types as well, believe that the Kings are one player away from being a solid Stanley Cup contender. Kovy would've been that guy, but alas, it was not to be.
However, any team with Drew Doughty leading the charge is a threat to do some damage.
12. Calgary Flames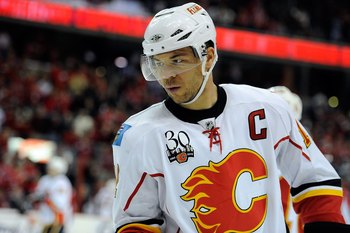 Odds: 25 to 1
Ever heard of the term generosity?
That's definitely what the oddsmakers were doing here, as the Flames have no business of being this high on the list.
Unless Jarome Iginla, Olli Jokinen and Alex Tanguay take the hot tub time machine back to about four years ago, this team will be lucky to even sniff the playoffs.
11. Ottawa Senators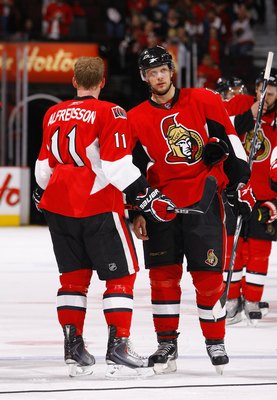 Odds: 25 to 1
Considering all that happened with the Senators last offseason, it was nice to see the team rebound and make the playoffs.
This year, the team should improve again slightly, as the goaltending should be more consistent, and Sergei Gonchar should help Erik Karlsson`s development along just fine.
Jason Spezza and Daniel Alfredsson will once again be counted on to lead the charge, and neither should disappoint.
10. New Jersey Devils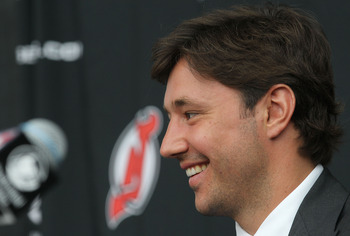 Odds: 20 to 1
This one is easy to call.
If Kovalchuk does end up playing for the Devils, then I would bump them up a few more notches as a serious Cup threat.
If the ruling is against the Devils, then I think New Jersey should be a lot lower on this list. Either way, they shouldn`t be 20 to 1.
9. Boston Bruins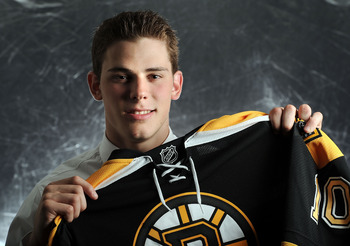 Odds: 20 to 1
It must suck knowing that you are now a part of history, after that brutal choke against the Flyers. However, Tyler Seguin is a nice consolation prize.
Depending on what happens with the Marc Savard situation, the B's should be competitive either with him or without him.
8. Buffalo Sabres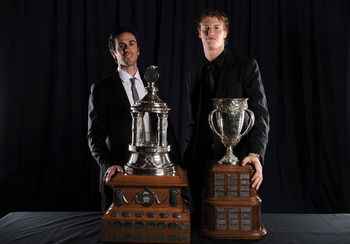 Odds: 18 to 1
It`s Miller time!!
That was the catchphrase for Sabres netminder Ryan Miller, who was the top goalie in the league. He also had a great run at the Olympics, but he`ll have a tough time duplicating his solid numbers this season unless the players in front of him pick up their game.
More is needed from Thomas Vanek, and besides Tyler Myers, the other blue liners need to pick up their game.
7. Vancouver Canucks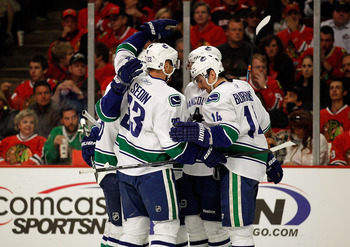 Odds: 15 to 1
It was quite a regular season for the top team in Canada. Henrik Sedin shocked everyone by winning the scoring race over heavyweights like Sidney Crosby and Alexander Ovechkin.
However, it was the same ending in the playoffs, as the Blackhawks eliminated the Canucks in six games in the second round for the second straight year.
The blue line was an issue, but the additions of Keith Ballard and Dan Hamhius will help big time, and if Ryan Kesler keeps improving his game, then watch out.
This could be the year that everything finally comes together.
6. Philadelphia Flyers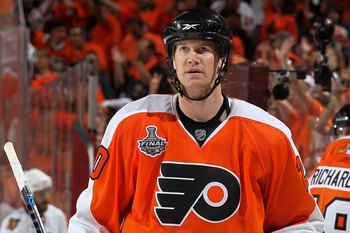 Odds: 15 to 1
It was quite a run for the Orange and Black, wasn't it?
The team should once again be in the playoff hunt this upcoming season, but will a full season of Michael Leighton and Brian Boucher really make a difference?
Loading up the blue line with Andrej Meszaros and Sean O`Donnell definitely helps, but let's hope that Nikolai Zherdev actually pans out.
5. Detroit Red Wings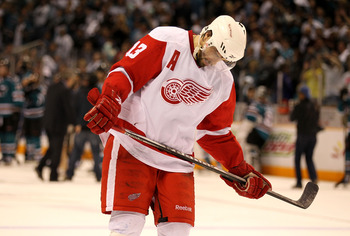 Odds: 12 to 1
They are older, wiser, and slower, but that doesn't mean that the Detroit Red Wings will not once again be in the thick of things.
Nicklas Lidstrom is back for one more kick at the cat, and the return of Jiri Hudler will also help.
4. San Jose Sharks
Odds: 9 to 1
Just because this team always has a strong regular season, does not mean anything in the playoffs.
The chances of San Jose winning the Stanley Cup are just as good as LeBron getting cheered when he returns to Cleveland as a member of the Heat.
3. Washington Capitals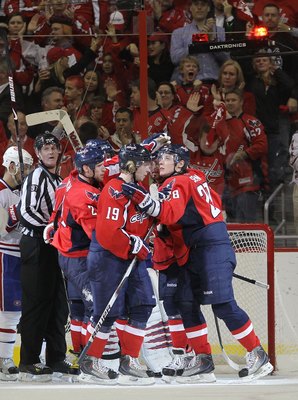 Odds: 13 to 2
The Capitals destroyed everybody in the regular season, but then got Halak-ed in the first round against the Canadiens.
It seems like Ovechkin and company are starting to realize that defense is also important when it comes to winning playoff games.
As long as the young goaltending duo can hold up on their end, the Caps should once again be one of the elite teams, and should do some damage in the postseason this time around.
2. Pittsburgh Penguins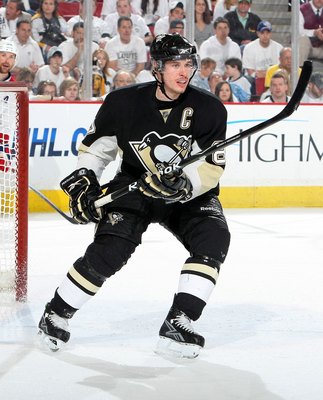 Odds: 6 to 1
Hard to understand why this team is this heavily favored for the Cup next season, but I guess having the face of the league on your team helps.
The additions of Paul Martin and Zbynek Michalek will definitely help the Pens on the back end, but the same problem remains up front. Which wingers are going to play with Sid and Geno?
1. Chicago Blackhawks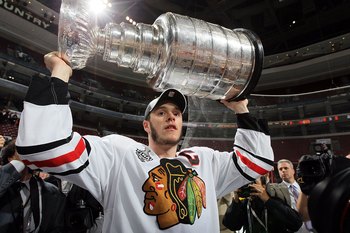 Odds: 11 to 2
This shouldn't come as a surprise to most, as the defending Stanley Cup champions are young and talented. However, what the oddsmakers didn`t realize was the type of mass overhaul that was going to happen to get this team under the cap.
Kris Versteeg, Andrew Ladd, Brent Sopel, Ben Eager, John Madden and Dustin Byfuglien are all gone, and there is still a chance that another body or two will also be lost before the dust settles.
So sure, the depth might be lost, but when you have a team with Jonathan Toews, Marian Hossa, Patrick Kane and Duncan Keith, there is no reason that this team still can't be competitive.
The core is still the best in the NHL, and as long as the team isn`t forced to walk away from Antti Niemi's arbitration settlement, things are still looking up in the Windy City.
Keep Reading