The Best Ballparks, Logos, Mascots, Uniforms, and Team Names in Baseball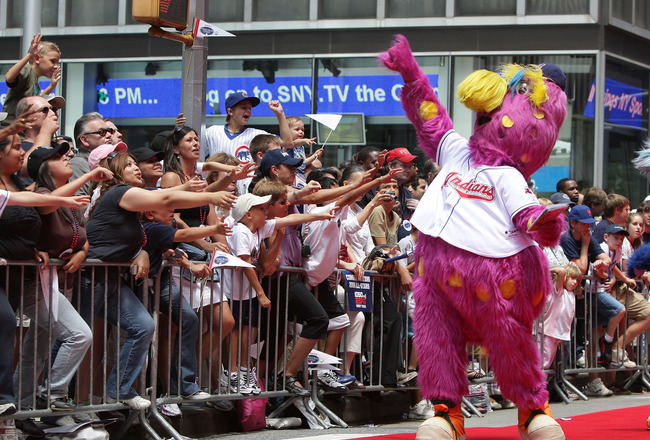 Ask any baseball purist and he'll tell you that the only part of a baseball game that matters is what's on the field. The pitch, the swing, the handling of the ball—everything else takes a backseat to a "real fan."
But that's ridiculous, and anyone who tells you that he doesn't care about what goes on around the game is lying, plain and simple.
After last week's mock Hall of Fame vote inspired a lengthy and serious debate, Bleacher Report's Featured Columnists took a more laid-back approach in this week's poll by looking at some of the more superficial aspects of our national pastime.
For this survey, I asked each FC to name the best ballpark, mascot, logo, uniforms, and team name in baseball (results for "worst" in the same categories will be posted tomorrow). In addition to the full vote totals, each slide includes two or three quick sound bites from the writers explaining the reasons behind their picks.
Thanks to everyone who participated!
Note: I sent this survey only to the Featured Columnists who have been active in previous polls. If you are a new FC or you have changed your mind about wanting to participate, send me a message and I'll be sure to keep you in the loop for next time!
What is the best ballpark in baseball?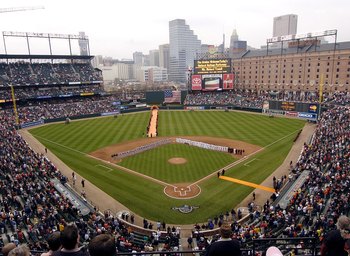 Oriole Park at Camden Yards (Orioles)—4
PNC Park (Pirates)—2
Progressive Field (Indians)—2
Angel Stadium of Anaheim (Angels)—1
AT&T Park (Giants)—1
Citi Field (Mets)—1
Fenway Park (Red Sox)—1
Miller Park (Brewers)—1
Yankee Stadium (Yankees)—1
On Oriole Park at Camden Yards (Nick Cafferky)
These days, when parks are built, the actual baseball game is just a side attraction in a circus of activities—but not at Camden Yards. The game is the center of all of the attention, just as it should be, and a beautiful shot of downtown Baltimore through center field puts it over the top.
On Progressive Field (Lewie Pollis)
The Prog isn't known for its history or architecture, but what it lacks in regalia it more than makes up for with its casual and family-friendly atmosphere, good food selection, bright appearance, and of course the huge scoreboard. All in all, it's a great place to take in a game—unless you care about seeing the home team win.
Who is the best mascot in baseball?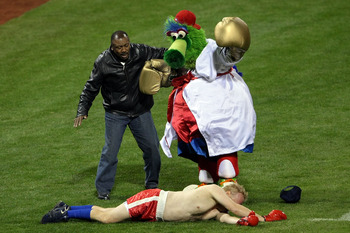 Bernie Brewer/Racing Sausages (Brewers)—3
Phillie Phanatic (Phillies)—3
Dinger (Rockies)—1
Mr. Met (Mets)—1
Rally Monkey (Angels)—1
Raymond the Mascot (Rays)—1
San Diego Chicken (Padres)—1
Screech (Nationals)—1
Wally the Green Monster (Red Sox)—1
None of them—1
On the Phillie Phanatic (Bob Warja)
The Phillie Phanatic is the best mascot because of his unique personality and how engaging and enduring of a figure he is to both kids and adults alike. Probably the most widely known of the MLB mascots, he was inducted into the Mascot Hall of Fame in 2005.
On Raymond the Mascot (Cameron Britt)
You'd think that the Rays would have a big ol' slimy Ray running around the Trop performing wild antics and doing the "YMCA." Well, Raymond the Mascot is a furry blue ray—like some kind genetic engineering accident—that is known for escapades such as attacking security guards and dancing off against other mascots…and winning.
Which team has the best logo in baseball?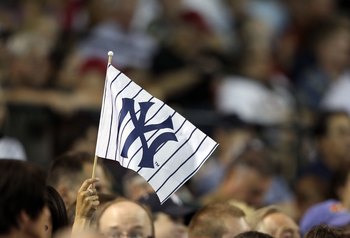 Yankees—3
Diamondbacks—2
Tigers—2
Brewers—1
Cardinals—1
Cubs—1
Mariners—1
Mets—1
Padres—1
Rays—1
On the Yankees (Bob Warja)
Even if you hate the team, you have to admit you love clean looking, classic pinstripes. And the Yankees started the tradition. They not only symbolize Americana and winning, they are known the world over and harkens us back to an era when Babe Ruth, Lou Gehrig, and Joe DiMaggio graced the MLB landscape.
On the Diamondbacks (Lewie Pollis)
From my first Chief Wahoo to my light-up Red Sox hat, I take my caps very seriously and constantly use my head as a forum to display my team allegiances (or, in the case of my "Yankee Hater" cap, my opposition). So the fact that I regularly donned a D-Backs chapeau for more than a month after I visited Chase Field despite not having any real feelings about the Snakes is a profound statement about the awesomeness of the serpent-formed "D."
On the Tigers (Steve Keegan)
I live nowhere near Detroit; I have never even flown over that town. However, I remember that emblem appealing to me as a little kid—before I even knew what the D stood for. There is something so simple and vintage about that big Gothic D on the cap of the Tigers.
Which team has the best uniforms in baseball?
Yankees—6
Red Sox—2
Braves—1
Cardinals—1
Diamondbacks—1
Giants—1
Mets—1
Padres—1
Rays—1
Tigers—1
On the Yankees (Brandon Williams)
Class. The simple formula of pinstripes and numbers (Babe's No. 3, Gehrig's No. 4, The Mick and No. 7, Jeter's No. 2, etc.) have conjured myriad emotions for generations. You don't have to root for the Yankees to appreciate the sheer beauty of their uniforms; no jersey in sports elicits the reaction that comes from seeing them.
On the Cardinals (Samantha Bunten)
Baseball is all about tradition, and the Cards have done an excellent job over the years of preserving a traditional, classic-looking uniform, altering the look of it only for the stylistic and fit-related adjustments dictated by the passage of time. The colors, simplicity, and of course the timeless and easily recognizable logo make for baseball's best uniforms.
What team has the best name in baseball?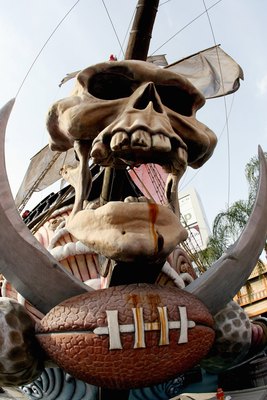 Albuquerque Isotopes (Dodgers, Triple-A)—2
Casper Ghosts (Rockies, Rookie)—2
Lehigh Valley IronPigs (Phillies, Triple-A)—2
Florida Marlins—1
Las Vegas 51s (Blue Jays, Triple-A)—1
Los Angeles Dodgers—1
Pittsburgh Pirates—1
Rancho Cucamonga Quakes (Angels, High-A)—1
Richmond Flying Squirrels (Giants, Double-A)—1
San Diego Padres—1
West Tenn Diamond Jaxx (Mariners, Double-A)—1
On the IronPigs (Cameron Britt)
Does this really need explanation? Is there anything (and I mean anything) cooler than putting a pig with an iron-plated head (that celebrates Lehigh Valley's tradition in the metal-making industry, no less) in your logo/on your uniforms? Let me answer that: no.
On the Ghosts (Nick Cafferky)
Minor League Baseball is home to the greatest names in sports. My close-second is the Montgomery Biscuits (look up their logo if you want to laugh) but a team in Casper? Of course it's the Ghosts. Is there a name more fitting in all of sports?
On the Quakes (Steve Keegan)
The Single-A affiliate of the Los Angeles Angels of Anaheim has a name that just rolls off the tongue—The Cucamonga Quakes. They obviously get points just for being in Cucamonga, which for those of you who aren't from Southern California, have probably only heard mentioned in Bugs Bunny cartoons. Clearly if Bugs is using it, it has comedic value. The kicker is the Quakes play in a stadium that also has one of the coolest names: The Epicenter.
Recent FC Polls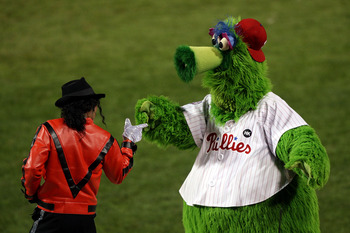 Keep Reading