MMA:The 10 Most Prodigious Talents In History
As we enter fight week for UFC on Versus 2, talk has centered around Jon Jones and just how close he is to a title shot.
As the MMA world grapples with that question, I thought it best to see how he stacks up to the other top young talents in the sport and examine how they've done since attaining such a status.
For the record. this list is about promise shown, not necessarily achievement. That's an important distinction.
For example, Reggie Bush was a prodigious talent in High School and College, but in the NFL, not so much. For the purposes of this list, Reggie Bush would still qualify. That is, if we were talking about Football. Tom Brady never seemed to possess that kind of potential, and thus wouldn't qualify.
Now that we have that taken care of. Let's take a look at number 10.
Begin Slideshow

»
A mere 28 months ago, Jon Jones made his MMA debut. 13 days later, he was a 3-0 LHW prospect, and three months after that, the UFC signed the unknown Jones to fill in for the injured Tomasz Drwal.
After dispatching Andre Gusmao in a tentative affair, he went on to captivate fans by tossing Stephan Bonnar around like he was Kurt Angle.
It's a hype train that hasn't stopped and will likely hit overdrive when he clashes with Matyushenko at UFC on Versus 2, later this week.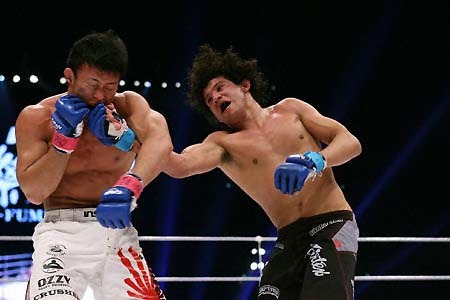 "El Nino" burst onto the scene when he signed with the local, upstart promotion, WEC. In a matter of four fights he had taken the organization's first ever Lightweight crown.
Over his next nine fights, Gilbert would make it look easy—besting Rumina Sato, Hiroyuki Takaya, Clay Guida, and Tatsuya Kawajiri—to become one of the brightest stars outside the grasp of a ZUFFA promotion.
It was then that Melendez suffered a harsh setback. He was dominated by Mitsuhiro Ishida in demoralizing fashion at Yarennoka.
Nearly two years since defeating Guida, he returned home to defend his Strikeforce title where he defeated an overmatched Gabe Lemely.
After the win, Gilbert agreed to face friend and training partner, Josh Thomson. He would lose for the second time in three fights. As 2008 came to a close, many wondered what to make of Melendez's status in the LW food chain.
That seems like a distant memory now, after four consecutive victories over top competition, rectifying both of his defeats in the process. Now, at just 28, Melendez stands as the number three LW in all the world. An incredible feat considering he's never seen ZUFFA sheen.
Josh Thomson made a name for himself as one of the sports premier LW talents signing with the UFC as a 5-0 prospect.
Thomson was a rarity for the division in 2004, bigger than most lightweights and a well rounded game to boot. People had high hopes for Josh Thomson, but after a flying high kick from Yves Edwards, his stay in the UFC was over.
He went on to sign a one-fight deal with Pride before setting root in the Strikeforce 155lb division. He's been successful, but a number of injuries and some questionable matchmaking have left "The Punk" in a weird limbo state befitting only Leonardo DiCaprio.
At 31, he still has time to claim the mantle many thought would one day be his. But he's going to have to stop getting matched up with Ashe Bowman and Adam Lynn if he's going to do it.
Before Urijah Faber made it cool to be a Featherweight, there was Alexandre "Pequeno" Nogueira. A 21-year-old Brazilian who sat atop the 143 lb division in Shooto for what seemed like forever.
At 32, "Pequeno's" career seems to be over. After being stopped by Jose Aldo at WEC 34, he tested positive for bolderone, an anabolic steroid. Now he's 13-6-2, loser of 4 of 5.
The youngest debutant on the list. Gegard Mousasi made his debut at the tender age of 17 defeating Daniel Spek via TKO. Over the next three years Gegard would accumulate a 13-1-1 record, fighting all across Europe and Japan.
It was this success that made Pride take notice, offering him a spot in their stacked 2006 Welterweight bracket. He would defeat Makoto Takimoto before losing out to Gono's experience in the second round.
From there Mousasi's stock has only risen. He's amassed a 29-3-1 record as well as capturing DREAM's Middleweight and Strikeforce's Light-Heavyweight crowns.
Even though he no longer holds either of those belts, he has exhibited a multi-divisional dominance seen only by P4P wonder Anderson Silva—and he's just 24 years old.
The sky still seems to be the limit for this fighter.
The 20 year old Takanori Gomi debuted for Shooto in 1998. 10 fights later, he was Shooto's 154lb champion. 16 fights after that he was 24-2 and the official Pride Lightweight Champion.
Since then "The Fireball Kid" hasn't looked quite the same, dropping contests to Marcus Aurelio, Nick Diaz,(until Mary Jane defeated Nick)Sergey Golyaev, and Satoru Kitaoka. He Compiled a record of 7-5 in his last 12 fights.
Now in the UFC, Gomi's time seems to have run its course. He'll fight for whats left of his career when he takes on Tyson Griffin to open the main card of UFC on Versus 2.
At age 19, Vitor Belfort entered UFC 12, stopping Tra Telligman, Scott Ferrozzo, and crowd favorite, Tank Abbot, in the final. With that act he became one of the UFC's first true prospects. As such, he was christened "The Phenom."
With a rare mufti-dimensional background in BJJ and Boxing/Karate, the sky seemed to be the limit for Vitor. But despite ZUFFA's best efforts, he's failed to claim the lofty expectations previously thought possible.
The story took a happy turn, however, when Vitor rediscovered himself in Affliction. He stopped Terry Martin and Matt Lindland in brutal fashion.
As Affliction crumbled, the UFC came calling once again. But after flat-lining Rich Franklin at UFC 103 he picked up a shoulder injury that took him, temporarily, out of contention for Anderson Silva's Middleweight crown.
The Lord giveth, and then He taketh away. Now He sits and waits for the winner of the Main-Event of UFC 117.
Perhaps Belfort can reclaim the aura that he once had. Or perhaps he'll disappoint again. We'll find out later this year. But don't worry Vitor, one way or the other, god gave you Joana Prado. Life isn't all bad.
There was a time Jose Aldo was no prodigious talent, but instead, an rather ordinary 155lb prospect convincingly dominated by Luciano Azevedo.
Thankfully, Aldo made the choice few others would in his position.(Here's looking at you, Tyson Griffin) He decided to drop to the far less lucrative 145lb division, which is a more natural fit for him.
It wasn't long before the WEC came calling when they needed a gloss opponent for Alexandre "Pequeno" Nogueira.
Whoops! Now Aldo is one of MMA's brightest stars at just 24 years old, and holder of WEC's Featherweight Championship.
We've seen many Striker/BJJ combo fighters come through the ranks of MMA over the years. All of them usually lack a meaningful wrestling game.
Georges is the exception to the rule. He's developed an outstanding single-leg takedown game in remarkably quick fashion, making him the division's only true mixed-martial-artist.
Because of this, the only worthy opponent for Georges, so far, has been himself. Something he's worked hard to rectify since his shocking, upset defeat to Matt Serra.
So far, so good.
How could a list of prodigies not include this man? Everybody knows the story by now, but it's worth repeating.
B.J Penn started training Brazilian Jiu-Jitsu under Ralph Gracie at age 17. Three years later, he was carrying a black belt under André Pederneiras, and winning the black belt division at the 2000 Mundials.
After a little convincing, the UFC managed to get him into the cage at UFC 34. He was a natural, showing a near complete understanding of boxing to go along with his BJJ background.
Unfortunately, BJ has never been able to put together a long string of dominance, bitten chronically by gas tank issues for most of his career.
It's unsurprising really. Everything else has come so easy to him. Why wouldn't something an mundane as cardio follow suit?
Even with his Achilles heel, BJ Penn is the very reason the 155lb division exists in the UFC at all. And despite his 15-6-1 record, the nickname "The Prodigy" befits him in every way imaginable.