NBA Rumors: Five Reasons the Denver Nuggets Won't Trade Carmelo Anthony
It's amazing how quickly rumors can spread, especially in the world of professional sports.
Carmelo Anthony still has two years remaining on his current contract (he can opt out early next summer), but many fans talk about him as if he's already gone.
Of course, Chris Paul helped feed the fire when he announced at Anthony's wedding that Melo should join him and Amar'e Stoudemire in New York City.
Melo discussed the possibility of re-signing with Denver months ago but would only say, "We'll see what's on the table."
What the Nuggets put on the table was a golden ticket—a three-year, $65 million extension that would keep him as one of the highest paid players in the NBA.
If he were to accept the offer, it would be $100 million over five years. Anthony would be a mile high and in the baby blue and yellow through 2014.
In an uncertain time in the NBA, when there's no guarantee about the future with the looming lockout, Melo would be smart to just take the deal.
But as it continues to sit on Stan Kroenke's desk, Anthony makes it seem like he will not stay in Denver and the Nuggets say they won't trade him.
Still, the possibility is alive that Melo could decide not to sign the offer, in which place Denver would be forced to move him.
It would be a worst-case scenario for the Nuggets, and these are five reasons why they cannot move him if at all possible.
Begin Slideshow

»
Nuggets fans must face it, their team is in essence inept when it comes to drafting players.
Try to name a player Denver has drafted after Melo.
Ty Lawson? He was drafted by Minnesota and the Nuggets pulled of a draft day trade, the reason they had no pick this offseason.
Denver didn't have a pick in 2007 or 2008 either, and historically when they have had picks, the players haven't panned out—at least while with the Nuggets.
And in 2003, there were two players that were hyped much more than the others—LeBron James and Carmelo Anthony.
Denver, who sat with the No. 3 pick overall, looked to be on the outside looking in as a decade-long curse seemed to hang over the franchise.
And then there was hope.
Then-GM of Detroit, Joe Dumars, took a wild chance on foreign-born Darko Milicic (who recently signed a four-year, $20 million deal that many though was too high), a player who never came close to reaching his "potential."
The Nuggets were handed Carmelo Anthony and he's paid off ever since, despite Denver's continued struggles through the draft.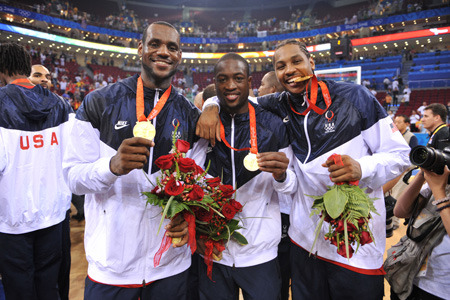 In his freshman year with Syracuse, Anthony led the Orangemen to an NCAA Championship, the first modern-era title in school history.
In 2008, Melo was fundamental in the "Redeem Team's" victory in the Beijing Olympics. Team USA captured Gold once again, after taking home only Bronze in 2004.
Since Anthony joined the Nuggets in 2003, they've never missed the playoffs and are one of only three teams to have made the playoffs in the last seven straight seasons.
Pre-Melo, Denver didn't make the postseason in nearly a decade. During the Melo-era, the Nuggets can't miss the playoffs.
If Denver can't hold onto Anthony, they would almost definitely fall from a perennial playoff contender to division playoff dwellers once again.
After years of waiting for him to gain the recognition from the mainstream media, Carmelo Anthony is a legit superstar in the NBA now.
Anthony is the face of the franchise, Denver loves him, and he's said he loves Denver as well.
But beyond that, Melo is popular across the country, it's his jersey that people in other cities sport, and at least a few can be seen in any crowd from coast to coast.
With Carmelo Anthony came the Nuggets playing on national TV broadcasts once again, something that shouldn't be overlooked in the coast-biased media world in which we live.
Anthony has his own shoe line, which is part of the Jordan Shoe line—making him the first Nuggets player with his own shoes, let alone the most popular basketball brand.
Melo single-handedly made the Nuggets relevant once again and plausibly the most popular they have ever been.
Carmelo Anthony puts butts in the seats, especially in Denver, and it would be ignorant financially for the Nuggets to let him walk away.
Many said Melo was one-dimensional...nothing but a scorer.
But instead of staying stagnant, Anthony has worked on his overall game and has developed into a more well-rounded player.
Melo has worked tirelessly on improving his passing, something he does with ease now, defense and leadership.
Sure, Anthony is not a true leader, but he understands leading by example and rarely expresses discontent on the floor anymore.
And while he still has some work to do on the defensive end, Melo has shown a desire to give a greater level of effort when his team is without the ball.
The most impressive thing about Carmelo Anthony is that he still seems to be getting better.
With Kenyon Martin out to begin the season, Melo will be asked to both rebound and play defense with intensity, so maybe this is the year he undertakes those tasks in order to make his team better on the whole.
He's made leaps of progression before, there's no reason not to believe he can do it again.
Anthony's not perfect.
He, along with nearly every other so-called star to grace the Nuggets since Karl took over as head coach in 2004 (see Kenyon Martin, JR Smith, Allen Iverson), have butted heads with the old coach.
Maybe it's because Karl is stubborn and demands the best out of his players—even if it's not what they think is the best for themselves.
Melo didn't want to come out of a game as Karl instructed in 2008, he was suspended for the subsequent two games.
Then after, Anthony pledged to run to the bench when Karl calls him out of a game, something he did religiously immediately following the incident (he continues to do it on occasion).
Since that minor squabble, Karl and Anthony have been completely on the same page.
Many times Karl can be seen talking directly to Melo in huddles during timeouts, instructing him and letting him know he's the guy.
Melo now understands how important George Karl is to the Nuggets' success (especially when he was out during last season's playoffs) and Anthony knows the old coach is wise when it comes to basketball.
If Denver loses Carmelo Anthony, they risk losing the fan base that he's built after nearly a decade of terrible basketball left Denverites disinterested.
The Nuggets have tried to build around Melo, and they continue to show him that effort.
But getting out of the first round of the playoffs once in seven tries may not be enough to get the superstar to resign, especially when other stars are calling for him to join them in the Big Apple.
Melo could go down as the greatest Denver Nugget ever to play (he's the biggest star in Denver sports currently), or he could opt to go somewhere else and dash the hopes of those fans that he's brought to the game.
Melo, make the right choice and stay with the Nuggets, at least until they can trade K-Mart for a true big man.
Rich Kurtzman is a Colorado State University alumnus and a freelance journalist. Along with being the Denver Nuggets Featured Columnist here on B/R, Kurtzman is the CSU Rams Examiner and Fort Collins Beer Bars Examiner for examiner.com, a fan voice for NFLTouchdown.com and the Colorado/Utah Regional Correspondent for stadiumjourney.com.
Follow Rich on twitter @ twitter.com/richkurt!