The 2010 Greenbrier Classic Six Pack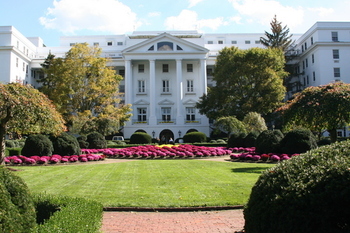 Holy units Batman!
We cashed in THREE top five finishes last week in the six pack for a nice 50:1 return! If Brenden DeJonge hadn't double bogeyed the 16th, it would have been a 62:1 payout.
We may be missing the winners lately, but betting the top five is the key to successful golf gambling and will always keep you in the game. I have a great feeling things are about to heat off for us going into the fall, so stay tuned.
I must send out some kudos to Carl Petterson for his awesome win at the Canadian Open. His 2009 campaign was nothing short of brutal, and 2010 had been a yo-yo like season. Petterson is usually a very reliable fantasy pick and overall solid performer on the PGA tour. This could have been the shot in the arm he needed to get him back on track, so watch for him in the playoffs. Nice work Carl, you'll always be my favorite Swedish Meatball.
This week we head to the inaugural event at Greenbrier in White Sulphur Springs, West Virginia. Probably better known for being a Congressional underground bunker, than a fantastic golf course, Greenbrier will have some very low scores this week. Watch for 20+ under to get it done. This course is short, playing at just over 7,000 yards and has some fairly demanding greens filled with undulations, placing a premium on the short game, especially when it comes to putting.
The fairways are very generous, as this is a resort course, so accuracy off the tee is not quite as important. Look for long hitters with respectable scrambling numbers to be in contention as long as they can read and putt these treacherous greens.
Okay Yahoo fantasy is getting better. I am slowly moving up in the ranks and am poised to make a big move this week. I now have 4125 points on the year. I am leading two Yahoo experts; Michael Arkush by 141 points and Eric Planer by 40 points. I am catching up to Greg Vara and only trail him by 18 points, while Matt Romig has got me by only 166 points. Here's who I like to help me out this week:
GROUP A
Start Kenny Perry
Sit Charlie Wi
GROUP B
Start JB Holmes and Jim Furyk
Sit Nick Watney and Kevin Na
GROUP C
Start Matt Kuchar
Sit Brandt Snedeker
Before we attack the six pack, let's look a few honorable mentions this week: Watney 22:1, Matt Jones 50:1, De Jonge 40:1, and Appleby at 66:1.
No. 1 Jeff Overton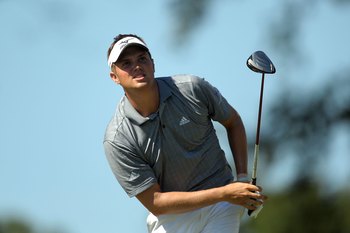 Jeff Overton is used to flying under the radar. Unfortunately for us in the gambling circuit, he is no longer a "stealth" assassin.
The sports books are on to this kid, and for good reason. I guess when you shoot four rounds in the top three and two more in the top twelve in your last ten rounds, you kind of get noticed.
Although he may not be a household name, if you know golf, you definitely know who he is and you also know why he is my favorite golfer to win this week in West Virginia.
Jeff missed quite a few cuts early on this year, but he is on absolute fire right now finishing second, third, 12th, CUT, third and 11th in his last six tournaments. He has earned just over $2.4 M this year, and I think will battle Matt Kuchar for a victory coming down the stretch on Sunday.
Look at some of these numbers for Mr. Overton:
- 20th in Driving Distance at 295.6 yards
- 16th in All Around ranking
- Fourth in Par Three Performance at four under par on the year
- 12th in FedEx points
At odds of 25:1, you can't go wrong with Jeff Overton this week.
No. 2 JB Holmes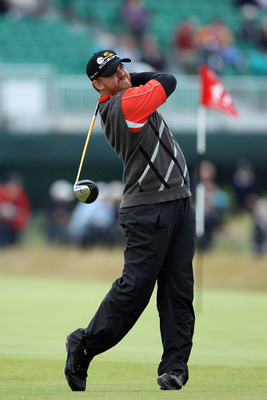 Over the years, JB Holmes will typically miss about half the cuts in the events he enters. Not this year. He has only missed one cut in 17 attempts. JB has put together an outstanding year in 2010 and you can probably credit that to his unbelievable putting improvement.
So far Holmes has hit the top 25 nine times and of those nine times, he has slotted three top ten finishes, two of which were a second and third place. Not too shabby.
As of late, Holmes looks pretty dialed in to me and is showing a strong upward trend. His last five efforts have yielded him finishes that went; 43rd, 28th, 59th, fifth, and 14th.
Some may say Holmes is a risky pick, but I think that the White Course here at Greenbrier plays right into his strengths. He is very long off the tee, and he can putt like nobody's business, at least this year anyway.
Look at some of JB's impressive stats:
- Sixth in Driving Distance at 304.4 yards
- Fifth in Scoring Average at 69.87 strokes per round
- 35th in Putts Per Round at 28.74 strokes (a full stroke better than last year)
- 13th in Scrambling at 64.16 percent
This week is a great week to pounce on JB Holmes at 33:1 odds.
No. 3 Charlie Wi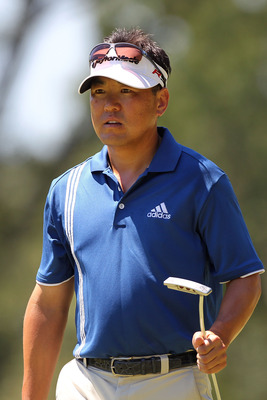 Remember how I mentioned Jeff Overton's hot streak? Well, Mr. Charlie Wi has got a nice run going for himself right now.
Wi is trending up nicely right now finishing 75th, 21st, fourth, 15th, and fourth again in his last five outings.
Wi has only missed five cuts in 18 tries in 2010, and carries a pretty solid flat stick with him, making him a lethal choice this week. He will carry some confidence from the Canadian Open this week and I know he is going to go low.
Out of the 13 cuts that Charlie has made this year, include nine top 25 finishes, with three of those being in the top ten, and also occurring in his last three efforts. He is dialed in and ready to win at Greenbrier.
Look at some of Wi's numbers:
- 17th in Scoring Average at 70.15 strokes per round
- 25th in Putts Per Round with 28.66 strokes
- Ninth in Scrambling at 65 percent
- Tenth in Par Four Performance at eight under on the year
If you're looking for a solid pick at Greenbrier this week, you have to love the 33:1 odds that Charlie Wi offers.
No. 4 Charley Hoffman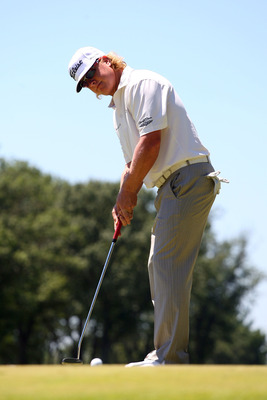 Yeah, yeah, yeah… I will spare you the "surfer dude" and "bad hair" jargon this week and focus a bit more on why I like Charley Hoffman to get it done this week.
Hoffman usually does pretty well on the Texas swing, and then it kind of goes downhill for the rest of the year. This year Hoffman's Texas run was not bad, but he tends to have a good streak each year. He has not seen that "streak" yet, until now.
Charley is actually playing pretty solid golf right now and just might be poised to make a good run this week. Charley is definitely trending up right now having finished 25th, 27th, 41st, seventh, and fourth in his last five tries. He is warming up rather nicely.
This SoCal product only has five top 25 finishes this year in 12 cuts made, but you need to pick him, when he is playing well.
Look at some of Charley's digits:
- 16th in Driving Distance at 296.5 yards
- Eighth in All Around Ranking
- 41st in Putts Per Round at 28.81
- 16th in Par Breakers at 22.13 percent
At 40:1, the second Charley of the six pack get the nod for this week's six pack.
No. 5 Kevin Na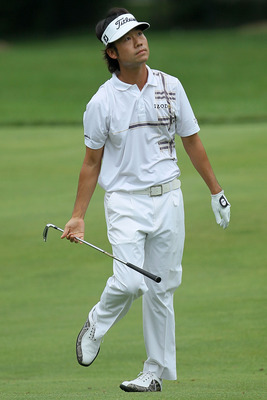 Another mainstay to the six pack over the years is none other than Kevin Na. This year he has had his struggles, but he is playing much better as of late, and he is a great putter which is key for the tricky greens of Greenbrier.
This year Kevin has made 15 cuts in 18 attempts, but where he is lacking is his top 25 performance in comparison to last year. Last year he nailed down 14 top 25 finishes, and so far in 2010, he has six, which is still respectable.
Na is warming up though and I like his upward trend progression. In his last five tries he has finished 22nd, 74th, CUT, 27th and 13th. This course could be just what the doctor ordered for Kevin Na.
Look at some of Na's numbers:
- 15th in Putts per Round with 28.48 putts
- 12th in Final Round Scoring at 69.50 strokes
- Sixth in Scrambling at 65.63 percent
Kevin Na is a value packed 50:1 odds this week.
No. 6 Brandt Snedeker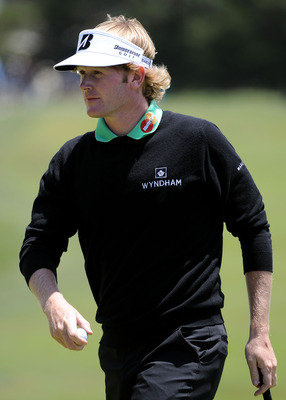 Probably one of the nicest guys on tour, Brandt Snedeker has always been one of my favorite guys to watch. He wastes literally no time when addressing the ball. He walks up to address, sets, and swings, all within about two seconds. I wish I could do that.
Sneds is having his third so-so year in a row, and is poised to jump out of this slump. I am not sure why he has been struggling to find his game this year, but Greenbrier seems like a course that he could do well at, especially if his putter stays hot.
In his last five events, you will notice a trend of alternating between making and missing cuts. This week he is due to MAKE the cut. In his last five finishes he has gone 29th, eighth, CUT, 16th, CUT. He is due for a top ten, and just may come out of nowhere with a win this week.
Snedeker's solid putting will be a factor in how well he does this week.
Let's look at what Sneds does well:
- First in Putts per round with 27.88 putts
- Second in round three scoring average with a 68.85 average
- 13th most birdies made at 247
Snedeker will have to serve as my long shot this week at 66:1 odds.
Good luck this week and hit 'em straight!
Keep Reading