NBA Rumors: Teams It Would Be Fun To See Allen Iverson Play Against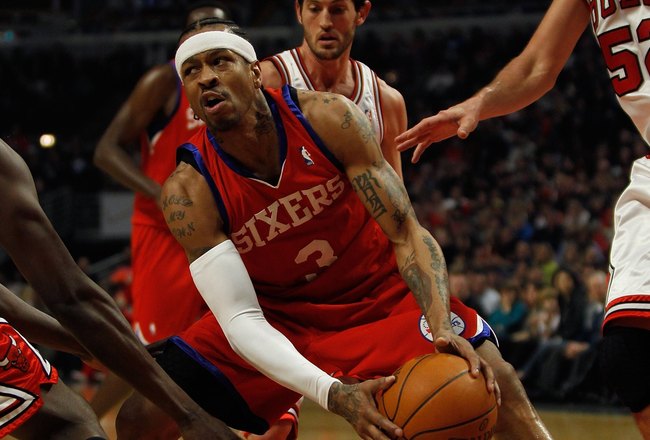 Jonathan Daniel/Getty Images
I want to return to the NBA this season, and help any team that wants me, in any capacity that they feel that I can help.—Allen Iverson, July 5, 2010
With that Tweet earlier this month, a wave of Terrell Owens-like speculation began about which team would be willing to take a risk on Iverson this summer.
Iverson has reportedly expressed interest in joining the evil empire down in South Beach, but ESPN's Marc Stein doesn't sound too optimistic about A.I.'s chances with Miami.
Still, as any faithful Iverson fan would dutifully point out, Iverson averaged 25 ppg only two seasons ago. He's 34 years old — not exactly a spring chicken, but not too old to play by NBA standards. (Otherwise, someone call the mortuary for Shaq!)
No matter what team Iverson plays for, his presence alone will make for some must-see matchups this season. Let's check out five of those matchups.
Philadelphia 76ers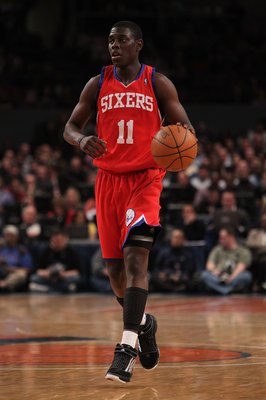 Nick Laham/Getty Images
Let's start with a no-brainer. Though there's no hostility between Iverson and the Philadelphia 76ers, the team that drafted him No. 1 overall back in 1996, there's also no better way for the Sixers to sell seats than to bring Iverson into town.
The Sixers re-signed Iverson last season after his stint with Memphis fell apart (in three games), only to earn themselves a front seat for a string of their former star's personal chaos.
After his daughter's sickness, a sudden divorce, and a Stephen A. Smith-led intervention about a reported gambling problem, the Sixers made it clear that they'd be parting ways with Iverson permanently at the end of last season.
What better way to prove that he still had something to add than by coming back and putting on a show against his former team?
The matchup would also mean more to the Sixers' players, given that they called Iverson a teammate less than six months ago. Jrue Holiday admitted that he grew up watching and idolizing Iverson after A.I. re-signed with the team last year; now that Holiday's called Iverson a teammate, what about going 1-on-1 against Iverson in a live game situation?
Evan Turner would make an Iverson-Sixers matchup that much more intriguing, as it'd be a faceoff of the Sixers' two highest draft picks from the past 15 years. What better way to pass the franchise torch to Turner than to see him torch Iverson on the court?
Los Angeles Lakers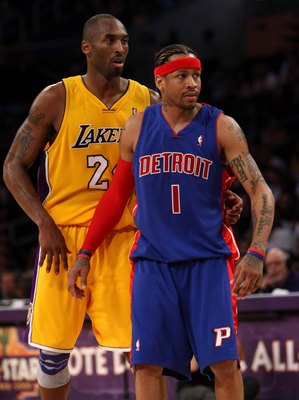 Stephen Dunn/Getty Images
Last season, Kobe Bryant and A.I. gave Sixers fans a trip down 2001 Finals memory lane. After each scoring two points in the first half of a late January matchup, Bryant went off for 14 points in the third quarter, only to be bested by Iverson's 15-point explosion.
While Iverson can't routinely bring his best for 40 minutes a night like Bryant still can, he proved in that quarter that he's got the burst that made him the NBA Hall of Famer that he'll one day be.
Iverson drained a three-pointer on one possession. He broke out the old reliable cross-over and spun Derek Fisher right around on another. It was a vintage Iverson performance, A.I. at his finest.
Yes, Iverson will be one year older and one year more brittle this time around, but what game could you look forward to more than a matchup against the two-time defending NBA champion? The minute Iverson signs with a team, chances are, he's looking up when they play the Lakers first.
Before LeBron James' giant ego takes over the league for good, I'd personally like to see a few more Kobe vs. A.I. showdowns on the court. Even in their 30s, the old guys proved they can still bring it last year; there's no reason to think they couldn't do it again in 2010.
Oklahoma City Thunder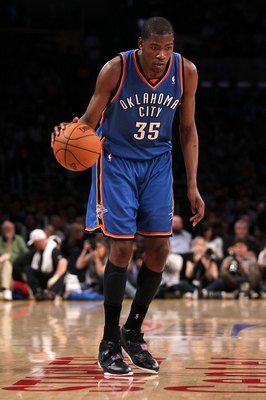 Stephen Dunn/Getty Images
The Oklahoma City Thunder established themselves as the NBA's most exciting up-and-coming in last year's playoffs. With Kevin Durant, the NBA's youngest leading scorer in league history, the Thunder have one of the most potent offensive weapons in the league.
Put Allen Iverson on the other side of that, and you've got the recipe for an excellent, drama-filled regular season matchup.
Iverson, a four-time scoring champ in his own day, put up six 20-point games with the Sixers last season. He's not the 25 ppg scorer that came out firing in the early 2000s, but he's still got that mentality when necessary.
On the other hand, Durant went 29 straight games scoring 25 or more points last season, surpassing all active NBA players' career records in that regard.
At only 21 years of age, Durant is en route to becoming one of the NBA's fastest rising stars, and with his 6'9" frame and silk smooth jumpshot, he's progressing to the point of eventually becoming unguardable.
Iverson and Durant likely wouldn't guard each other; instead, that honor would presumably go to Russell Westbrook, the Thunder's fantastic young point guard. Westbrook's skillset largely resembles Iverson's…which would give Iverson the opportunity to tutor his young opponent by fire.
Detroit Pistons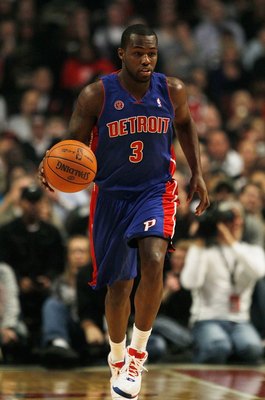 Jonathan Daniel/Getty Images
Revenge may not be a storyline for an Iverson-Sixers matchup…but revenge would absolutely be on the mind of Iverson when he plays the Detroit Pistons.
Iverson felt "disrespected" by the Pistons in the year he played for them, as he said coach Michael Curry lied to him about him coming off the bench. ("They told me, straight up, 'Allen, we would never disrespect you or your career like that,' by making me come off the bench.")
When the Pistons benched Iverson in favor of emerging PG Rodney Stuckey, Iverson understandably felt slighted. Here was a 25-ppg, four-time NBA scoring champion, who started 824 of 829 career games to that point, being asked to relegate himself to a bench role for a second-year PG with lesser talents.
Regardless of whether or not the Pistons actually promised Iverson a starting role for the whole season, he clearly doesn't retain fond memories of his year in Detroit.
And with the Pistons in shambles and Stuckey looking more and more like a 2 guard every game, it's hard to imagine a team that Iverson would like to dominate more than the Pistons.
Miami Heat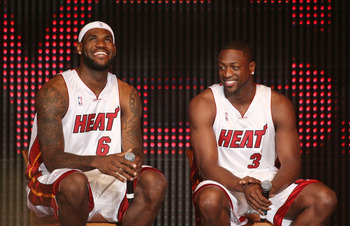 Marc Serota/Getty Images
Of course, the SuperFriends of Miami had to appear on this list.
What do you get when you cross Allen Iverson, Dwyane Wade, LeBron James, and Chris Bosh? Four of the 10 starters from the 2008 All-Star Game. Needless to say, a Heat-Iverson matchup would be a star-studded event of NBA royalty.
The Big Three down in South Beach will be must-see TV every night, barring a huge upset. Add a superstar like Bryant, Chris Paul, or Iverson playing against them, and the game becomes the NBA League Pass Game of the Night.
A matchup of D-Wade against Iverson would pit two of the most prolific-scoring shooting guards of the past decade against each other. Iverson would likely get torched on defense, but let's be honest, you're not watching A.I. for his halfcourt D.
Iverson already has the infamous cross-over against Michael Jordan. A game against the Heat would give him a chance to add Dwyane Wade and LBJ to the victim list.
And let's be honest. After the stunts LeBron pulled this summer, who wouldn't want to see a 34-year-old "washed up" former star embarrass him on the court with a wicked cross-over?
Honorable Mention: Golden State Warriors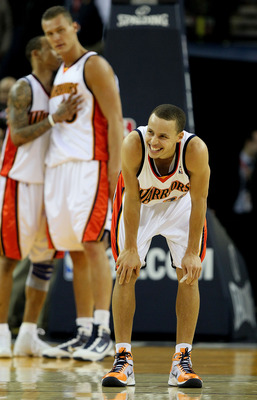 Jed Jacobsohn/Getty Images
If we're talking about offensive showdowns, I had to give some love to Nellie's boys.
As long as Don Nelson coaches the Warriors, they'll play an exciting, up-tempo offense, and they won't think twice about playing defense. That gameplan sounds perfect for Iverson's currently decreased skillset.
While Iverson can't guard anyone beyond Derek Fisher at this point, he's still able to fill up the stat sheet on the offensive end. Going against a team that's racing to 120 points every game would enable Iverson to look 10 years younger for a night.
Also, let's not underrate how fantastic a matchup of Stephen Curry vs. Iverson has the potential to be. Curry, much like the Sixers' Jrue Holiday, likely grew up idolizing Iverson's dominance of the league with his diminutive frame.
Given that Curry finished the season with a 42-point, 9-rebound, 8-assist night, a matchup between Iverson and Curry could rival the Kobe-Iverson duels of years past.
And in a regular season where teams tank for four months to prepare for the playoffs (thank you, Boston), any added drama – like an Iverson/Curry duel – is much-needed relief.
Keep Reading

Miami Heat: Like this team?