Miami Dolphins 2010 Training Camp: Top 10 Players on the Roster Bubble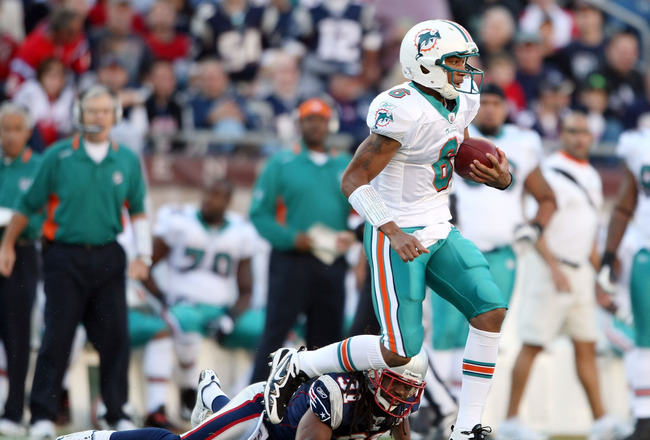 The 2010 Miami Dolphins are probably deeper in talent than the franchise has been in recent memory.
As such, one would figure that roster cuts would be extremely difficult for the Dolphins' brain trust.
I'm not buying it.
At best, there are 10-12 tough roster decisions and that's probably generous.
This article isn't about players such as Tristan Davis, Ray Feinga, Nate Ness, Roberto Wallace, Rolly Lumbala, Evan Ogelsby, Ikaika Alama-Francis, Taurus Johnson, Marlon Moore, Lydon Murtha, Ross Weaver and Julius Pruitt.
If one of these guys make the roster it will be a shock. These players (no offense gentleman, it's a tremendous accomplishment to make it to an NFL training camp) are nothing more fodder and fresh meat to grind during "two a days".
No, this article is about 10 players that the front office and coaching staff will scrutinize and deliberate on.
At the end, I'll tell you which ones I think will make it, and which ones won't. But read through, and make your predictions as well.
Jason Allen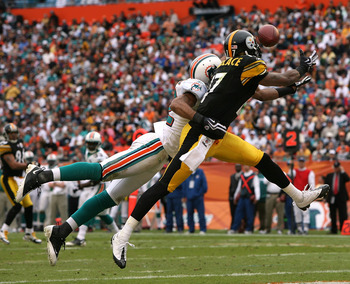 Jason Allen offers a couple of valuable skills to the Dolphins. He is a core special teams player. Allen also has the versatility to play cornerback or safety.
Working against Allen is that Miami has plenty of options at cornerback. Vontae Davis, Sean Smith, and Will Allen are locks for the top three spots. Safety/corner Tyrone Culver can play the "dime" position.
Safety doesn't look much more promising for the former first round pick out of Tennessee. Yeremiah Bell, and Chris Clemons are locks with Culver battling Clemons for the starting free safety spot.
It would probably take both Nolan Carroll, and Rashad Jones stepping up as rookies, but Jason Allen could be looking for a new employer.
Patrick Cobbs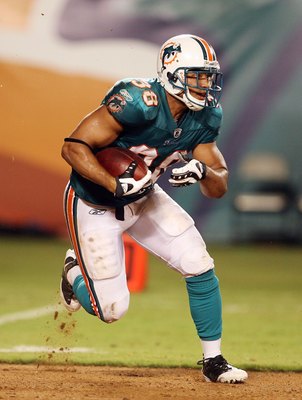 Are you somewhat surprised to see Cobb's name?
You should be.
Cobbs, when healthy, is a great change of pace back for the Dolphins and shows his versatility as a receiver out of the backfield.
He is on the bubble, because he is recovering from a torn anterior cruciate ligament, and Miami is loaded at running back.
Cobbs isn't going to unseat Ronnie Brown, or Ricky Williams. And Lex Hilliard has flashed significant talent.
Even if the Dolphins carry four running backs, Cobbs has to show that he hasn't lost his explosiveness, otherwise Miami could turn to Kory Sheets.
Pat White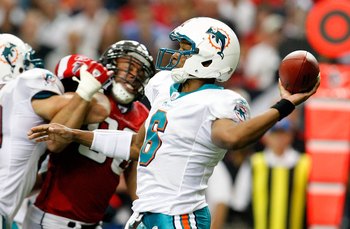 White didn't complete a regular season pass in his rookie season despite seeing semi-regular action in the "Wildpat".
He has three options if he wants to make this roster:
1. Get a whole lot better and convince Miami to keep four quarterbacks
2. Make astronomical improvement and beat out Chad Pennington for the No. 3 spot
3. Change positions
Lionel Dotson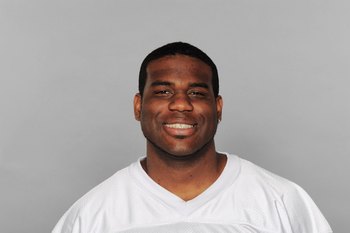 Lionel Dotson was a seventh round pick in 2008. He was only active for two games last season, and might be unseated for the last roster spot at defensive end by an arguably less talented player, but perhaps harder worker in Ryan Baker.
Patrick Turner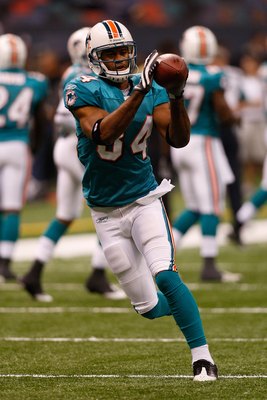 In the NFL, some players have all the physical talent in the world, but the light just doesn't go on for whatever reason.
It's getting close to the time where you have to put Dolphins wide receiver Patrick Turner in that category or club, even though it's just second year in the league.
Its not Turner's fault, that Brian Hartline emerged as a possible breakout start despite being drafted a round later.
It is the former USC wideout's fault that he was active for just two games and didn't catch a pass all season.
How bad is his understanding of the professional game that at 6'5" 220 pounds he can't even get onto the field?
Turner will likely compete with free agent Ryan Grice-Mullen for the last receiver spot on the team.
Quentin Moses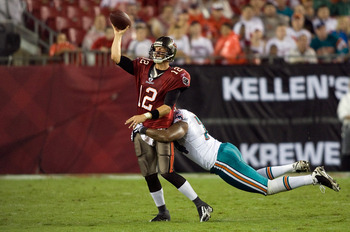 If Patrick Turner is joining the "potential doesn't translate into production" club, then Quentin Moses is unfortunately one of the club's veteran members.
A third round pick by Oakland in 2007, Moses has just 2.5 career sacks during his stint with three different teams.
In Miami's 3-4 defense, Moses fits as an outside linebacker and is projected behind Cameron Wake, Koa Misi, and Charlie Anderson on the depth chart.
If so, Moses will battle rookie seventh-round pick Chris McCoy or veteran Erik Walden for a final roster spot.
Joey Haynos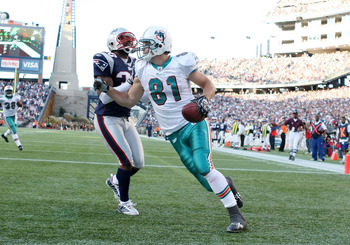 Joey Haynos would seem to be a pretty sure bet to make the roster.
Anthony Fasano had a less than stellar season last year, its one of the Dolphins' weakest postion in terms of depth, and you would think a Dan Henning offense would have three tight ends on the roster.
But for a receiving tight end who is 6'8", catching 19 passes last season for 162 yards, and a 8.5 yard average is not sufficient production.
Truthfully, who knows if third string tight end Kory Sperry is any better, but I expect the Dolphins to give him and last year's fourth-round pick John Nalbone a long look in camp.
Miami will also troll the waiver-wire to see what else is available.
A.J. Edds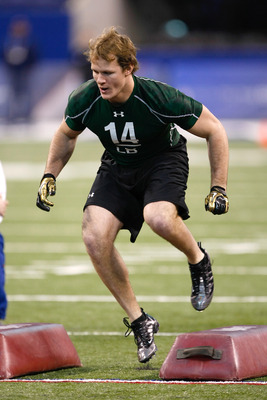 Some fans appear to assume that their team's draft picks will make the roster.
That's just not true especially in the draft's later rounds.
A.J.Edds was drafted in the fourth round and he might turn into an excellent player, but usually a rookie linebacker drafted in that round or later has to make a team as a back-up and by making his mark on special teams.
The Dolphins have the afore-mentioned Walden who is a special team's standout. Seventh round pick Austin Spitler was drafted for his potential on special teams. Reserve linebacker J.D. Folsom is still on the roster.
Edds won't have his spot handed to him.
Richie Incognito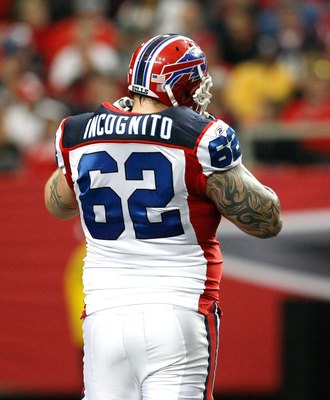 The question has never been about Richie Incognito's talent; it's been about his attitude and behavior on and off the field.
Whether its being kicked off the team at Nebraska, or being waived by the St. Louis Rams in 2009 just two days after receiving two personal foul penalties, and getting involved in a verbal altercation with the head coach, Incognito has always found trouble.
Make no mistake, he is down to his last chance. That's why the Bills, who have perhaps the worst offensive line in football made virtually little or no effort to retain him, and Miami signed him to a one-year contract.
The Dolphins have other options if Incognito's attitude or performance is off during training camp.
Paul Soliai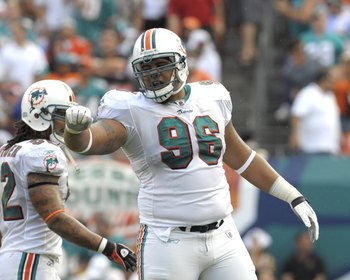 It's unthinkable that with Miami's lack of depth at nose tackle, especially with Jason Ferguson recently retiring, that Paul Solai could not make the team.
Well, not quite unthinkable, because he makes this list.
Solai, for all his size, is maddeningly inconsistent with his effort and has just 31 career tackles in three years (25 stops did come in 2009).
Miami didn't move Randy Starks to nose tackle after an outstanding season at defensive end just because the Dolphins wanted to be creative.
First round draft pick Jared Odrick was quickly moved to defensive end, but he has played the nose before and could do so again.
Recently signed Montavious Stanley, and undrafted rookie free agent Travis Ivey will get a shot a playing time if Solai's work habits are as shaky as they have been in the past.
Remember, Soliai and punter Brandon Fields are the only players left from Miami's 2007 draft class.
The year before Tony Sparano, Jeff Ireland, and Bill Parcells came into power in South Beach.
Ok, the guess here is that Jason Allen, Patrick Cobbs, Pat White, A.J. Edds, Richie Incognito, and Paul Soliai make the roster.
I apologize in advance for doubting Lionel Dotson, Patrick Turner, Quentin Moses, and Joey Haynos.
Of course, I probably just guaranteed those four a roster spot in some sort of reverse hex.
Keep Reading

Miami Dolphins: Like this team?