MLB Trade Rumors: Casey Kelly, Nine Prospects Set To Kill A Deadline Deal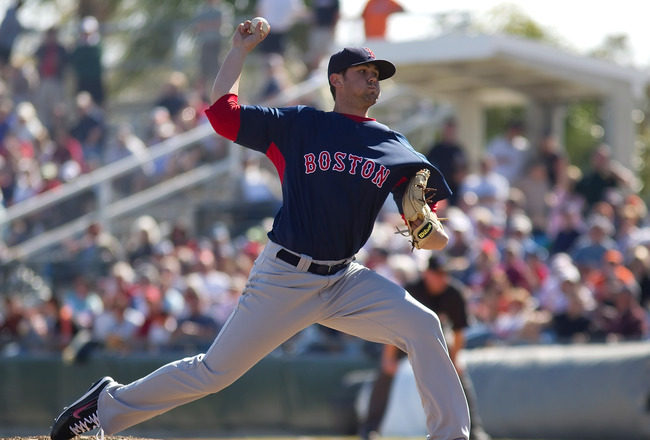 Teams have needs. The Red Sox, Yankees, and Rays in the AL East. The White Sox, Twins, and Tigers in the AL Central. The Rangers and Angels in the AL West. The Braves, Phillies, and Mets in the NL East. The Cardinals and Reds in the NL Central. The Padres, Giants, Dodgers, and Rockies in the NL West.
Teams have needs, but some are too protective of their best prospects to ship them for a deadline deal.
The MLB-controlled Rangers weren't. They dealt Justin Smoak for Cliff Lee.
The Angels tip-toed around the issue somewhat by sending Joe Saunders, Patrick Corbin, Rafael Rodriguez, and Tyler Skaggs to Arizona to acquire Dan Haren. What the Angels didn't do was trade any of their prospects listed by Baseball America as some of the Top 100 in the nation: C Hank Conger, OF Mike Trout, or OF Peter Bourjos.
Among the remaining teams contending for a divisional title or a wild-card berth, many have similar prospects they are highly hesitant to deal.
Some are still pure prospects, and some have already cracked the majors for a prolonged cup of coffee, but they are all highly touted by their current ownership and highly coveted by the competition.
Here are some of the top prospects around who might be so protected by their current teams they'll block a major deadline deal.
10. Phillippe Aumont (Philadelphia Phillies)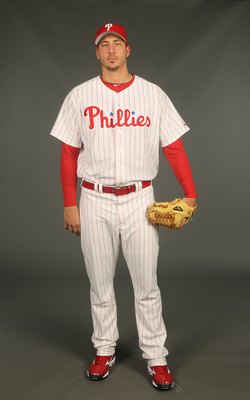 Baseball America Ranking: No. 93
MLB.com Ranking: No. 47
The Phillies have established a reputation for making big deals. They acquired Cliff Lee. They traded for Roy Halladay. This year they considered bringing back Lee and dealing for Dan Haren. Roy Oswalt is still out there, and the Phillies would love to have him, but at what cost?
Phillippe Aumont is one of Philadelphia's top prospects, and he has reportedly been requested in several deals. Yet, Philadelphia seems reluctant to trade Aumont despite his awful 2010 at Double-A.
It seems like Philadelphia has an inexplicable fondness for Aumont, and he could let the likes of Roy Oswalt slip off to St. Louis.
9. Jesus Montero (New York Yankees)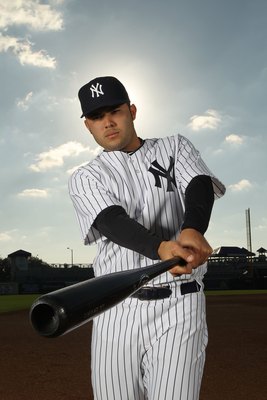 Baseball America Ranking: No. 4
MLB.com Ranking: No. 19
The New York Yankees were prepared to deal Jesus Montero to acquire Cliff Lee, but they claim that was a special situation. If it was, and the Yankees aren't willing to part with Montero, it might cost them a World Series.
Between A.J. Burnett's struggles, Andy Pettitte's injury, and the Rays' willingness to make a deal, the Yankees may have to get better to maintain what they have, and certainly C.C. Sabathia alone can't get New York through the postseason.
Francisco Cervelli has been more than serviceable this year. While he may not be a long-term solution, Cervelli has proven that in the here and now, he can get the Yankees to the top.
Surely the Yankees would like to do whatever they can to win a World Series in a year when the iconic George Steinbrenner passed away. Montero can help them do just that, just not as a Yankee.
8. Donavan Tate (San Diego Padres)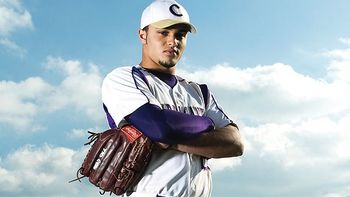 Baseball America Ranking: No. 53
MLB.com Ranking: Not Ranked
Donavan Tate is a five-tool athlete with tremendous upside, according to Scout.com.
The Padres probably never thought they would have such a respectable lead in the National League West approaching the trade deadline, or that they'd be tied for the fourth best overall record in Major League Baseball.
Entering the season, the Padres looked like they'd again be sellers at the deadline. They would limp through the season and be considering dealing Heath Bell and Adrian Gonzalez by early June. That is not the case, and the Padres have several holes they'd like to fill to make a major playoff run.
Most recently, they've been tied to Adam Dunn and any starting pitcher on the market. Were the Padres interested in acquiring either Dunn or Ted Lilly, for example, they would probably be asked for Tate, and he could be a deal breaker.
Tate is one of those high-risk draft-day decisions that general managers love to see pan out for their team, not someone else's.
7. Christian Friedrich (Colorado Rockies)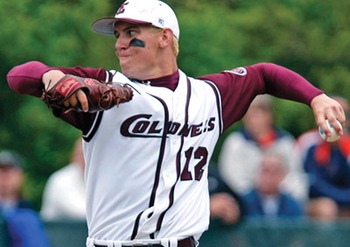 Baseball America Ranking: No. 33
MLB.com Ranking: No. 23
Christian Friedrich is nasty. The young lefty fanned 159 batters in 119 innings at Single A in 2009. While the Southpaw has struggled a bit more at Double A Tulsa in 2010, Friedrich hasn't exactly fallen apart and remains the Rockies' top prospect.
Colorado is only 4.5 games back in the wild-card hunt, and with Ubaldo Jimenez having a career year, the Rockies seem looking to strike while the iron is hot.
Will they be willing to part with their prized pitching prospect to make a run this year?
Doubtful. If the Rockies were atop the division, perhaps they would ship Friedrich for a real difference maker, but Colorado doesn't seem inclined to make a move to get them over the hump.
A major addition could put the Rockies back on top, but Friedrich, for one, might be too precious to return the Rockies to their 2007 World Series form.
6. Ike Davis (New York Mets)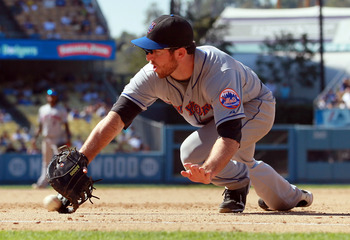 Baseball America Ranking: No. 62
MLB.com Ranking: Not Ranked
The Mets love Ike Davis, and with good reason. In 357 plate appearances during this his rookie season, Davis has hit 14 homeruns en route to a more than respectable 764 OPS. What's more, Davis is an above-average defender, putting up an 8.8 UZR/150 over 753 innings at first base.
There's the rub. While Davis is an excellent addition to the flailing Mets from within their own system, he plays perhaps the most easily replaceable position in baseball. The Mets should be willing to deal Davis, just as the Rangers were willing to deal Justin Smoak, to acquire excellence at a far thinner position.
The Mets' needs are myriad, both for this season and for the foreseeable future. First base should be a hole they plug via free agency or a salary-dump trade. Davis could help fortify the Mets rotation, but they seem overly protective of Davis.
While a team like the Houston Astros or Florida Marlins might have an interest in Davis, if he's not in a deal, the Mets have little left with which to make something happen.
5. Jacob Turner (Detroit Tigers)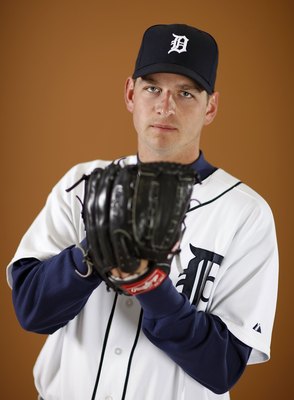 Baseball America Ranking: No. 26
MLB.com Ranking: No. 42
The Tigers' unwillingness to deal Jacob Turner already prevented them from getting Dan Haren, so it would more than likely prevent them from acquiring another major player.
In fact, according to MLB.com, the Tigers are "adamant" about not trading top prospects, specifically Turner.
That said, the Tigers have been riddled with injury of late, and their desire to stay in contention could force their hand.
Most recently linked to Adam Dunn, Jayson Werth, and Ted Lilly, the Tiger will likely have to give up something good to get one of those players, but Turner's untouchable status could leave any such deal on the proverbial table.
4. Shelby Miller (St. Louis Cardinals)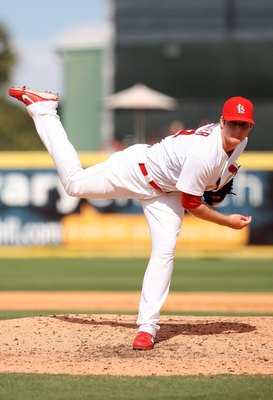 Baseball America Ranking: No. 50
MLB.com Ranking: Not-Ranked
In one of the shallowest farm systems in all of Major League Baseball, Shelby Miller is a diamond in the rough, and with good reason, the Cardinals are extremely resistant to deal him. While the Cardinals now possess a dominant starting rotation, they must look to a very near future without the likes of Chris Carpenter.
At the same time, the Cardinals could almost certainly have Roy Oswalt today if they would build a package around Miller. Joining a rotation led by Adam Wainwright and Chris Carpenter, and followed by Jamie Garcia, Oswalt could take the Cardinals to the promised land, but it would be shocking were St. Louis to deal Miller.
The more aggressive Philadelphia Phillies have an advantage at least in that they are more willing to part with their prospects, and they have a lot more of them.
3. Madison Bumgarner (San Francisco Giants)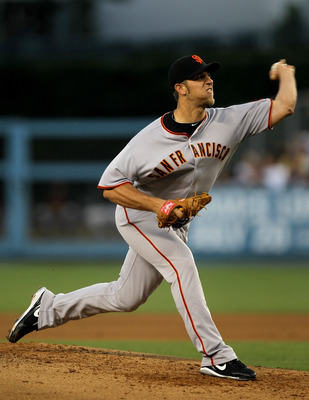 Baseball America Ranking: No. 14
MLB.com Ranking: No. 10
Madison Bumgarner earned his first Major League win earlier this month, so he's definitely still a prospect, in spite of his early success.
Entering this week's play, Bumgarner has gone 4-2 with a 2.43 ERA and a 1.11 WHIP, but holding back the likes of Bumgarner could prevent San Francisco from acquiring that big bat they seek.
Certainly if the Giants are interested in trading for the biggest bat of all, Prince Fielder, they would need to think about letting Bumgarner go.
While the Giants cleary benefit from adding Bumgarner to a rotation already headlined by Tim Lincecum, Matt Cain, Barry Zito, and Jonathan Sanchez, they could further benefit from increased pop in their lineup. Bumgarner can get them that pop.
However, from the snippets coming out of San Francisco, that big bat will have to arrive without Bumgarner departing.
2. Gordon Beckham (Chicago White Sox)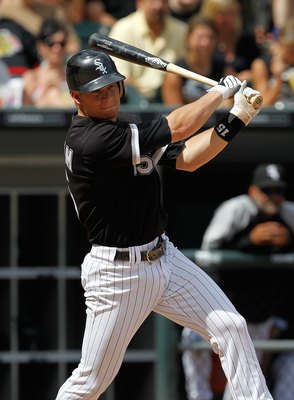 Baseball America Ranking: N/A
MLB.com Ranking: N/A
While Gordon Beckham isn't really considered a prospect by traditional standards, his career is so young that he still qualifies as the kind of young talent demanded in a major deal. In fact, including Beckham could probably easily land Prince Fielder in Chicago.
However, despite a significant offensive decline in this his second Major League season, Beckham has been labeled off limits in any such deal.
If White Sox fans were hoping a young Prince would deliver them all the way to the postseason promised land, they can blame Beckham for stifling that dream, and they better hope he proves more productive than Milwaukee's already dominant first baseman.
1.Casey Kelly (Boston Red Sox)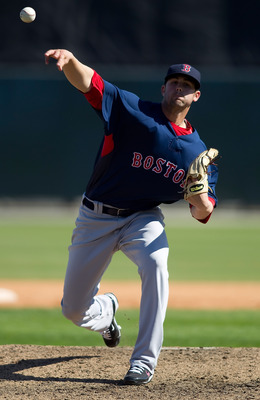 Baseball America Ranking: No. 24
MLB.com Ranking: No. 28
Sitting as far back as the Red Sox are right now in the American League East, and having 80 percent of their rotation locked up for the next half-decade, one would think the Red Sox would be more willing to part with their No. 1 prospect, but Theo Epstein clings to his draft picks like Mynocks to the Millenium Falcon.
Drafted in the first round during the 2008 First Year Player Draft, 20-year-old Casey Kelly certainly has the raw stuff to become another Clay Buchholz, but he could easily help bring the likes of a Prince Fielder to Fenway.
That will never happen, because of all farm systems, Boston's is perhaps the most over-valued, especially by its own farmers.
Keep Reading