NASCAR: Power-Ranking the Top 15 Candidates to Win the 2010 Sprint Cup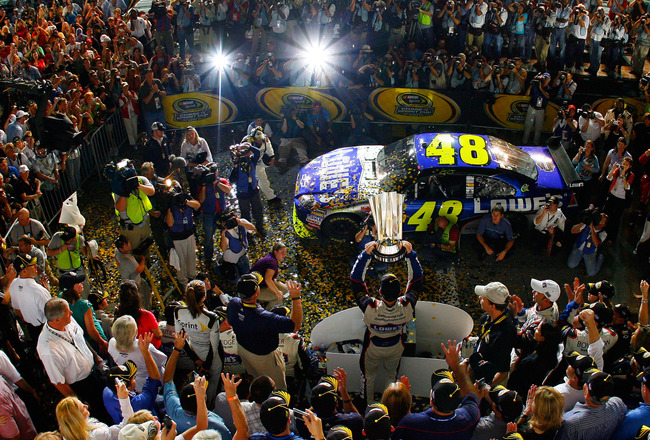 With just six races to go before NASCAR Sprint Cup Chase contenders are revealed, some drivers find themselves sitting pretty, some are teetering dangerously on the fence, while others are just outside looking in.
At the beginning of the year, media outlets and fans alike compiled their predictions of the top 12 drivers they thought would make into in the 2010 Chase for the Sprint Cup.
After researching some of the biggest sports media outlets, such as NASCAR.com, Sports Illustrated, and combing through countless fan blogs, I crunched the numbers, did a little math, and averaged out the "majority rules" theory as to who would make the chase this year are as follows.
1. Jimmie Johnson
2. Tony Stewart
3. Jeff Gordon
4. Kyle Busch
5. Denny Hamlin
6. Mark Martin
7. Juan Pablo Montoya
8. Carl Edwards
9. Matt Kenseth
10. Kurt Busch
11. Greg Biffle
12. Clint Bowyer
Who Wasn't Invited and Who Crashed the Party?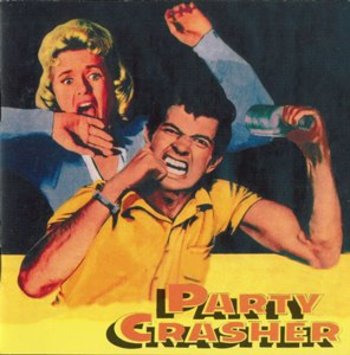 Many of the usual suspects showed up on lists across the board, including two that, as of right now, are on the wrong side of the point standings.
Mark Martin currently sits in the 13th spot, and Juan Pablo Montoya is in 22nd.
Two names that were omitted from most lists were Kevin Harvick, who is the current points leader, and Jeff Burton, who sits comfortably in seventh.
Go figure, but how did they get there?
On the Road to the Chase: Do the Math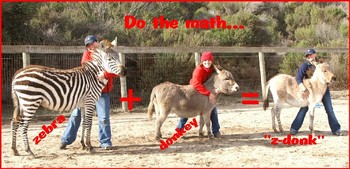 The NASCAR points system can be confusing to someone new to the sport, but in reality, it is elementary, my dear.
The NASCAR season is broken into two parts—the regular season, which consists of 26 races, and the 10 race for the chase.
First, let's focus on the regular season.
During the regular season, drivers are awarded points for their finishing position, and consistency is key. The winner of the race is awarded 185 points, with five-point bonus for leading a lap, and an additional five points should they lead the most laps. The most points a driver can win at any given race is 195.
Second-place drivers are awarded 170 points, and positions two through six are separated by increments of five.
Positions seven to 12 are separated for four points, and 13th to 43rd by three.
As stated with the winner's overall score, five bonus points are tacked onto the driver's total score, should they lead a lap or lead the most laps.
1st: 185
2nd: 170
3rd: 165
4th: 160
5th: 155
6th: 150
7th: 146
8th: 142
9th: 138
10th: 134
11th: 130
12th: 127
13th: 124
14th: 121
15th: 118
16th: 115
17th: 112
18th: 109
19th: 106
20th: 103
21st: 100
22nd: 97
23rd: 94
24th: 91
25th: 88
26th: 85
27th: 82
28th: 79
29th: 76
30th: 73
31st: 70
32nd: 67
33rd: 64
34th: 61
35th: 58
36th: 55
37th: 52
38th: 49
39th: 46
40th: 43
41st: 40
42nd: 37
43rd: 34
How the Chase Works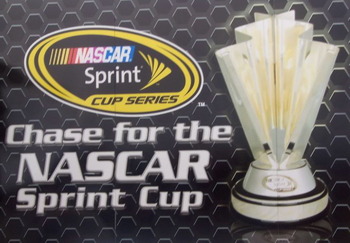 So, now that you've got the regular season figured out, it's time to wipe the slate clean for the last 10 races of the "Chase for the NASCAR Sprint Cup."
Well, almost clean.
The 10 race chase pits the 12 drivers with the highest regular season points against each other, while racing in a standard field of 43.
Drivers' points are reset to 5,000, and 10 points are given to each driver for every win from the regular season.
For example, if the Chase were to start today, Kevin Harvick's score of 2,920 would be reset to 5,020: 5,000 plus 10 for each his two wins of the regular season.
Other drivers, such as Tony Stewart, would enter the Chase with an even 5,000. He would be eligible for the 12-man Chase due to his standings despite not winning a regular season race.
So Who is In?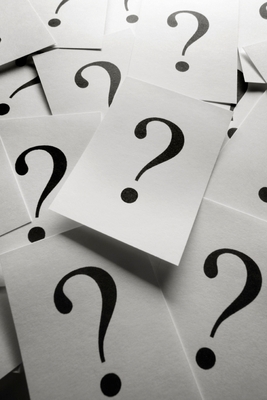 Given that we are only six races from the Chase, the odds are that the current top 10 are shoe-ins, give or take a position or two, but in NASCAR anything can and will happen in a blink of an eye.
Here is the list, according to me as to who will make the Chase and what their odds of winning the whole shebang are.
* in no particular order
Kevin Harvick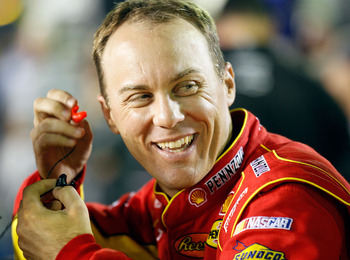 For a guy who virtually no one had on their Chase radar, Kevin Harvick is showing everyone just how "happy" he can be.
With two wins this year and sitting in the No. 1 in the points standings, Harvick has every reason to be smiling.
He has shown tremendous consistency this season with, nine top 5s, 14 top 10s and zero DNFs.
It is a safe bet that we will see him in the top five after Homestead, and if he stays on course and focused, he could very well win it all.
Look out, Jimmie Johnson!
Odds: 1-4 to win.
Jimmie Johnson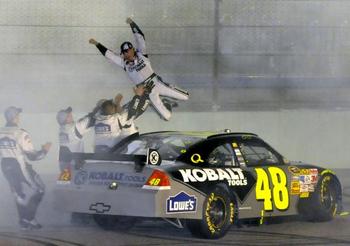 With four Sprint Cup championship trophies on his shelves and five wins this season, Johnson is setting he and his Lowe's No. 48 team up for a record fifth consecutive title.
Currently Johnson ranks No. 4 in the standing, 261 points behind leader Kevin Harvick and would no doubt be a contender for the lead, had it not been for four uncharacteristic DNFs for his team this season.
He has managed to balance his poor finishes with eight top 5 finishes and 11 top 10s.
Johnson will not make an unceremonious enter into the Chase, but with the bonus points awarded for a number of races won during the regular season will propel him up to the top of the Chase leader board.
Johnson not only has become a household name, but a sure bet as well.
Odds: 1-3 to win.
Kurt Busch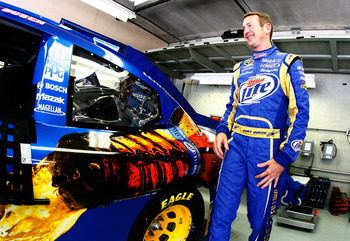 Kurt Busch showed earlier that he wanted to make it to the Chase in the worst way.
He showed Atlanta just how hot it could get and then stormed Charlotte by not just winning the longest race in the NASCAR season, but the All-Star race as well.
While the All-Star race may be nothing more than a spectacular showdown, where no points are awarded, it does come with bragging rights and a cool million-dollar prize the the driver who crossed the finish line first.
Busch, who won the inaugural Chase in 2004 currently has two wins, seven top 5s, 12 top 10s and no DNFs, but will it be enough to get this million dollar man to the Chase winder's circle?
Statistically, he is a safe bet.
Odds: 1-3 to win.
Denny Hamlin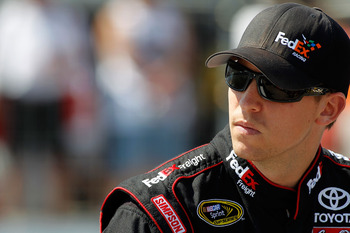 "Gentlemen, we can rebuild him. We have the technology. Better than he was before. Better, stronger, faster."
Denny Hamlin cannot be stopped this season. He didn't even allow invasive surgery to his left knee to repair a torn ACL on March 31st.
In 20 races, Hamlin has scored five wins, top 5s, 8 top 10s, and zero DNFs.
He has shown consistency and beaten the odds. His team is solid and have put him in contention to win it all through their own organization and ability to get him out of the pits fast every time.
Look for Hamlin to give Johnson a serious run for the Championship.
Super safe bet!
Odds: 1-2 to win.
Jeff Gordon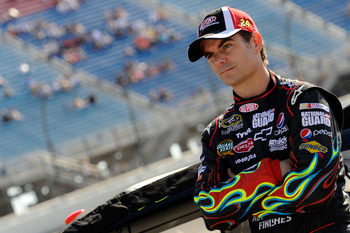 At press time, Gordon has gone 49 races without a win, the longest drought in the driver's history, yet he currently sits in the No. 2 position, 184 points behind Kevin Harvick.
Gordon has four championship titles, and along with teammate Jimmie Johnson, is on the "Drive for Five," but does he have the chops to make it happen come crunch time?
He remains a steady force for owner Rick Hendrick by producing ten top 5 finishes and 11 top 10s. Even with two DNFs, Gordon proves that will not get him down.
He will be in the chase, no doubt, and despite the odds, could pull off an astonishing Cup victory, but will have to work hard to get there.
Take a chance bet.
Odds: 2-3 to win.
Clint Bowyer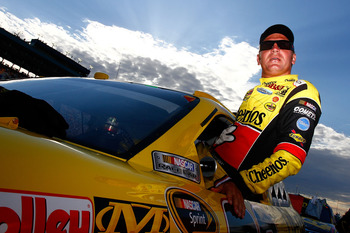 Clint Bowyer happily flies under the radar week in, week out. While he indeed currently sits in the top 12, he is closer to falling out of contention than vying for the Cup.
Hot on his heels are Mark Martin on Dale Earnhardt, Jr., who are looking their way in and it could be at Bowyer's price.
Currently sitting 12th in the points standing, Bowyer has three top 5s, 11 top 10s, and two DNFs to his credit.
In order to stay in contention, Bowyer will have to step up his game.
Don't count on seeing him in Victory Lane at the end of the Chase.
Odds: 1-1 to win.
Kyle Busch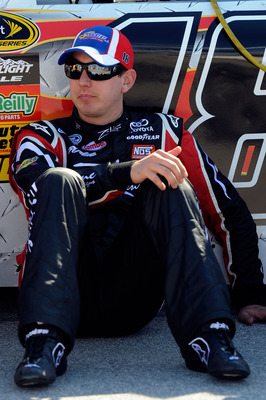 Kyle Busch missed being in the chase last year by just eight points, and a consolation prize for 13th is nothing but disappointment.
You can bet that after that kind of letdown, there is no way that he will ever let that happen again, as he's got an ego to protect.
Currently, he has two wins, five top 5s, 10 top 10s, and one DNF in the books.
With owner Joe Gibbs' help, Busch has maintained a steady level of discipline and focus that will surely plant him firmly in the chase.
Busch is one to watch, he could easily win it all.
Good bet.
Odds: 2-3 to win.
Jeff Burton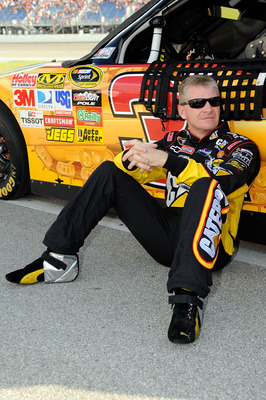 Jeff Burton is another driver who has managed to fly under the radar, but maintains a solid spot in the top 12, where he currently sits in the seventh position.
While he has posted no DNFs thus far, Burton has only managed to place four top 5s and 10 top 10 finishes during the regular season.
Could he be the the contender to take it all? Doubtful at best.
Keep your money.
Odds: 1-1 to win.
Tony Stewart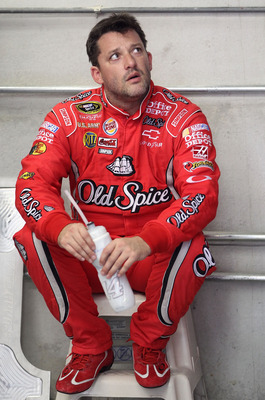 Has Tony Stewart hit the sophomore slump this season as a second year owner/driver?
Stewart has uncharacteristically yet to win a race this season and currently sits ninth in the points standings with five top five finishes, 10 top 10s, and one DNF.
Will this 2005 Cup champion make the chase this year? Yes, but he will have to get a little fire burning under that "Smoke" to even come close to winning it all.
Stewart loves a good comeback, so maybe, just maybe, he is holding out for the biggest win of all this season.
So, go on, play with fire, if you dare!
Odds: 1-1 to win.
Matt Kenseth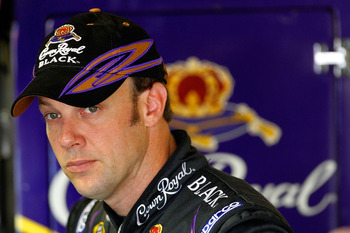 Matt Kenesth is sitting comfortably in his current No. eight position. With just four top 5 finishes, eight top 10s, and no DNFs, he remans steady, but no cigar.
Kenseth will quietly make his way into the chase this year with little fanfare, but will not be crowned the Sprint Cup champ.
Odds: 3-2 to win.
Carl Edwards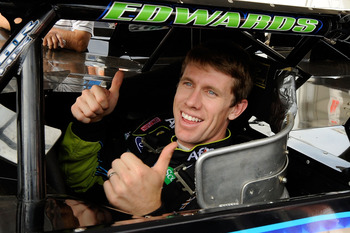 If he keeps all of this beating and banging that so defines him throughout the next six races, he could very well add another couple DNFs to his current two.
Currently sitting 10th in the points standings and with just two top 5 finishes and nine top 10s
Someone is gonna be looking for Cousin Caron the track, and not in a good way. If he keeps it clean and does the right thing, he will remain in the top 12. Otherwise his aggressive style could very well find him on the wrong side after September 11th.
He's the wildcard.
Odds: 3-2 to win.
Dale Earnhardt, Jr.
This could be a long shot or just wishful thinking, but Dale Earnhardt, Jr. WILL round out the top 12 drivers to make the chase.
With just two top 5s and six top 10 finishes, it may seem impossible, but stranger things can and do happen in NASCAR all the time.
Earlier in the season, he found himself in chase contention, and I am betting that we'll see him run hard over the next six races to get in by the skin of his teeth.
Will he win it all? Sadly, no.
Odds: 2-1 to win.
Greg Biffle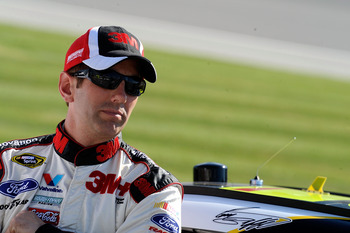 Greg Biffle could, and by all accounts should, remain in the top 12. He has had a consistent season with little fanfare.
Will three top 5 finishes an 11 top 10s up against his two DNFs be enough to keep him there for the next six races? Or, like fellow driver Clint Bowyer, will he fall to one of the more hungry boys sitting 13th and beyond?
Don't bet on the Biff—chances are he will be on the outside of the top 12 looking in.
Odds: 1-1 to win.
Mark Martin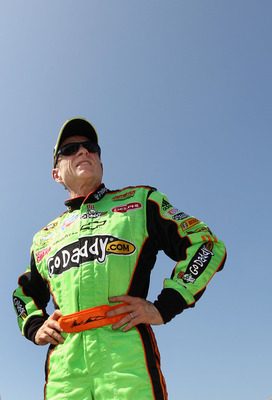 Mark Martin has not shown the dominance that he did during last year's season, but do not count him out just yet.
He currently sits 13th in the points standings thanks to a boost from the Indy race. Another week like that will see him right where he needs to be.
While he only had five top 5s and six top 10s thus far, it was the three DNFs that dropped him in the standings. If he can overcome those poor finishes, Martin will be in the top 12 once the chase starts.
Once the points are reset, look out to the rest of the pack, Martin will be on a mission.
Odds: 2-1 to win.
Jamie McMurray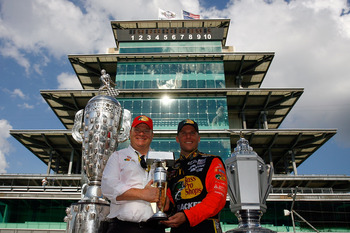 Talk about the dark horse who could take it all!
OK, so he has only won two races this season, but those two just happened to be the most prestigious races of the year; the Daytona 500 and the Brickyard 400.
In additional to his two wins, he has six top 5s and seven top 10s. His ranking has suffered due in part from two DNFs.
Forget those DNFs though, McMurray will be another one to watch. He is slowly and methodically inching his way towards the top 12 and once he is in, there could be no stopping him!
Not a sure thing bet, but this would be sports' biggest feel-good story of the year, should he walk away with the Sprint Cup!
Odds: 1-3 to win
Keep Reading