Buffalo Bills 2010 Training Camp: Top 10 Veterans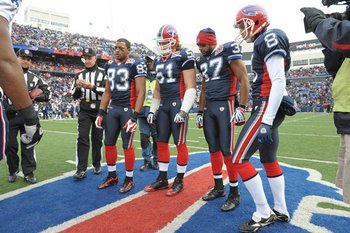 With training camp due to start this week, we thought it was a good time to look at the Bills returning veterans as they attempt to break in the large number of Bills rookies and welcome them to their first NFL training camp.
We will take it a step further and name the top 10 Bills veteran players returning to training camp.
What constitutes being a veteran you ask?
For the sake of argument, we are going to maintain that a player has to have at least three years in the league to qualify. Anything short means that there is still a steep learning curve.
Surviving a fourth year is easier said then done, especially since the average NFL career is only four years long. Every year a player lasts past the four year mark means that their bodies will take a greater physical pounding and the abuse will physically affect their retirement years down the road.
Pictured here are the Bills co-captains at a coin toss prior to one of the Bills 2009 contest. Three of the players in this shot have made the top 10 list. It will be interesting to see if all four are co-captains again this year as well.
For the record, the Bills have 30 players on the current roster that would qualify with the definition of what we used as a veteran, including Aaron Schobel, who has not made any formal announcement yet.
On with the slide show.
Honorable Mention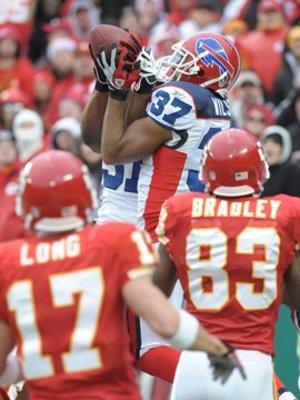 The 2009 season saw many Bills veteran players stepping up in a more prominent role with the team because they had either earned the nod, or were forced to action due to more than 20 season ending injuries that had depleted the team.
This trio of Bills all come from the defensive secondary, which saw injuries derail players like Terrence McGee, Leodis McKelvin and Donte Whitner. They all had to assume a greater level of responsibility, which they did.
The Bills defense will be better off this year because of the experiences they gained in 2009.
So a tip of the cap is in order for Drayton Florence, George Wilson, and Bryan Scott for a job well done.
10) Andra Davis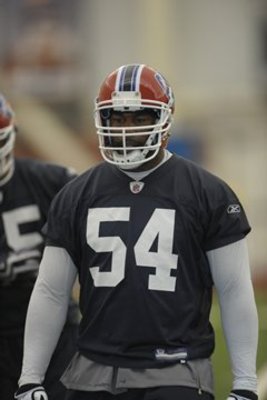 Since being drafted in 2002 by the Cleveland Browns, Davis has recorded over 730 tackles so far in his NFL career. He has also come up with 12 sacks and eight interceptions.
Coming in to training camp, many believe that Davis' knowledge and past experience at playing in the 3-4 defensive scheme will allow him to win the other starting inside linebacker role adjacent to Paul Posluszny. He will be getting plenty of competition from Kawika Mitchell for the honor.
Davis was already making the defensive calls in the huddle during OTA's, so you would expect that to continue in to the season. He should prove to be a valuable veteran, passing along his experience (both as a linebacker and as an experienced 3-4 defender) to the likes of Arthur Moats and Danny Batten.
Davis has won the AFC Defensive Player of the Week award while playing for the Browns. He played with the Denver Broncos last year and started 13 times. During the season, Davis came up with 90 tackles and 3.5 sacks.
9) Chris Kelsay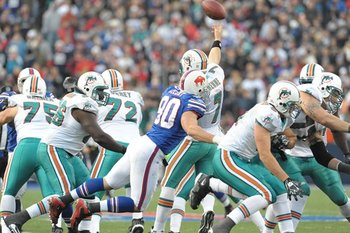 Chris Kelsay and Aaron Schobel have been reliable book ends for the Bills defensive line for the majority of the past decade. Now in 2010, Kelsay is being asked to make the transition from defensive end to outside linebacker while his friend and long time team mate Aaron Schobel, ponders if he wants to play or not.
Kelsay has been a past captain of the Bills defense. His leadership skills and experience will be valuable to the young Bills defenders that are trying to catch on with the team. If the younger players see an eight-year veteran like Kelsay changing positions, then they can make their transitions to different positions in the NFL as well without complaining about it.
Kelsay had a big year in 2006 when he finished with 88 tackles and five-and- a-half sacks. This led to a new contract that Kelsay signed, keeping him with the Bills for the forseeable future.
During his career, Kelsay has come up with 313 tackles, 22 sacks and three interceptions. He played in every game during his rookie season in 2002 and can relate to the current rookie crop about what that was like.
8) Marcus Stroud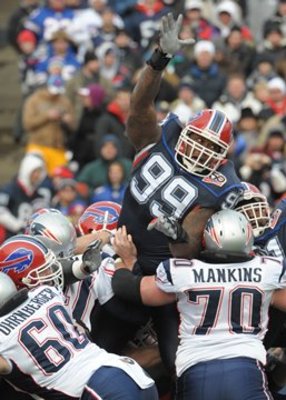 Originally drafted by Jacksonville in the 2001 draft, Marcus Stroud will be another key veteran at training camp as the Bills shift to the 3-4 defense.
Stroud will be playing one of the defensive end roles in the new defense and he will be looking to cave in the offensive line along with Dwan Edwards, Kyle Williams and Torell Troup.
Stroud's pedigree includes being named the First-Team All Pro in 2005, and Second-Team All-Pro in 2003. He was honored in three straight Pro Bowls from 2003 - 2005 and has been a steadying influence on the Bills defensive line ever since he arrived in 2008.
For his career, Marcus has registered 375 tackles, 26.5 sacks and has deflected 37 passes.
You can expect to see Torell Troup and Alex Carrington spending lots of time listening to everything that Marcus has to offer.
7) Kyle Williams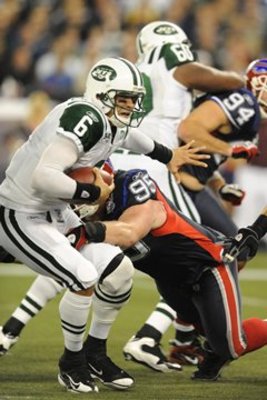 Kyle Williams is pictured here sacking Mark Sanchez. If you followed the Bills closely last season, you would have heard Kyle's name often, as he was responsible for many plays that set the opposition's offense backwards.
The 2009 campaign was arguably Williams' best year with the Bills. The analysts at AdvancedNFLStats broke down all of the plays in the NFL last year to measure who the playmakers were. Kyle Williams was the top-ranked defensive tackle playmaker in the league.
During the 2009 season, Williams set a personal career best with 66 tackles, 41 of the solo variety as well as a career high of four sacks.
Williams has a motor that just keeps on plugging. He doesn't give up on plays and likes to throw his body around. You will see him diving in the air on some photos, which is unique for a man of his physical stature.
Entering his fifth season with the Bills, Williams has now recorded 140 tackles to go along with eight sacks. He should form a strong one-two combination at the nose tackle position with Torell Troup this year.
It will be interesting to see how Kyle fares in his transition from defensive tackle to nose tackle. He has the drive for the job, now he needs to find a way to cave in the offensive line and create some lanes for the linebackers to create havoc.
6) Rian Lindell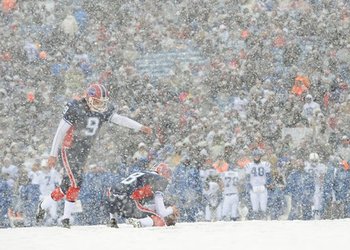 Whether he's kicking in the snow, howling winds, sleet, rain or sunshine, Rian Lindell has been able to endure the elements while learning to be an effective place kicker for the Bills.
Lindell emerged as one of the most consistent kickers in Bills history. He has a strong leg and he appears to have ice water running through his veins when the game is on the line.
Some will point to the field goal Lindell missed against Pittsburgh that would have allowed the Bills to potentially make the playoffs in 2004, and the Bills have never been able to get that close to the playoffs since.
But it is through those kind of experiences that players like Lindell and the other veteran Bills in this article will be able to gain some form of vindication when they finally crack the playoff drought. He hasn't made every crucial field goal, but more often than not, he has come through in the clutch.
In the 2006 season, Lindell converted 23 out of 25 field goal attempts; 92% and tied for the league lead. In 2007 Lindell went five for five in field goals against Washington, which was highlighted by Joe Gibbs trying to ice Lindell with consecutive time outs, which resulted in a 15 yard unsportsmanlike penalty.
Lindell holds the NFL record for the most consecutive extra points to start an NFL career with 261. On December 9, 2007, Lindell set the record for the most consecutive field goals made in Buffalo Bills history. He has played in all 64 games for the Bills since 2003 and holds a Bills record with 83.04 field goal percentage.
On November 29, 2009, Lindell successfully made a 56-yard field goal against AFC East rival Miami Dolphins. This was the longest field goal of his career.
As of the end of the 2009 season, Lindell is tied for most accurate extra point kicker in NFL history, a perfect 100%.
5) Terrence McGee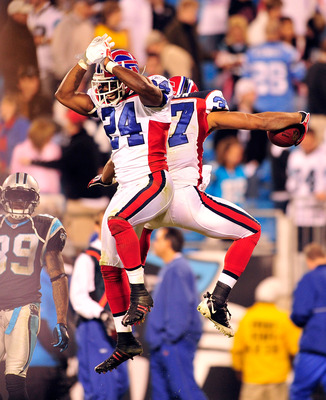 Terrence McGee is entering his eighth NFL season this year. He has recorded 465 tackles and 17 interceptions during his career. He has also brought back six returns for touchdowns in his career, which ranks second on the Bills. McGee should be able to give some advice on the return game to the likes of Spiller, Johnson and McKelvin.
On Christmas Eve 2005 against the Cincinnati Bengals, McGee scored touchdowns on an interception and a kick return in the same game. McGee was hurt last year when he ran into Randy Moss and went on season-ending I.R. He hopes to be healthy and ready to perform as one of the starting corners this season.
McGee has continued the tradition of outstanding Bills cornerbacks. Most of them have found a way to leave town after their initial contract expired, but the Bills and McGee have been able to keep their business relationship going, tying him with Bryan Scott and Drayton Florence with eight years in the league and counting.
4) Lee Evans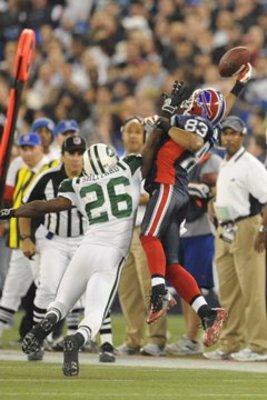 There were high hopes for Lee Evans in 2009 when the Bills signed Terrell Owens to a contract that promised to keep defenses from double teaming Lee.
Those plans quickly went askew when the offensive coordinator was fired, the veteran offensive lineman were waived, and a patchwork offensive unit was left to limp though the rest of the season.
It probably didn't help that Evans was trying to find chemistry with three different starting quarterbacks during the season either.
The result for Evans was less than a stellar campaign.
He set career lows for catches in a season, pass yardage, average yards per catch, and catches that resulted in a first down.
Football Outsiders crunched numbers and according to their analysis in assessing best hands and drop rate, Lee Evans is among the best in the league over the past two years.
Over the past two years Evans had a drop rate of 1.5 percent good for third in the league. In fact last season of the 95 times Evans was thrown the ball he had just one drop. That is a testament to his focus and consistent play.
To date, Evans has recorded 340 catches in his Bills career, has 39 touchdowns and has gained 5,356 yards in his catches. Evans has amassed some impressive totals so far, as he currently has eight touchdown receptions over 50 yards.
Then there was that one special day, 11/19/06, in a game against the Houston Texans. He set the Buffalo Bills record for receiving yards in one quarter (205) and one game (265).
He also became the first player in league history to record two 80 yard plus touchdowns in one quarter when he caught two 83 yard touchdown passes in the first quarter.
Evans had over 1,000 receiving yards in the 2008 season, so he is in the best position to mentor the youthful Bills receiving corps. You can rest assured that Hardy, Easley, Johnson, Nelson and Roosevelt will be picking his brain all summer long.
3) Paul Posluszny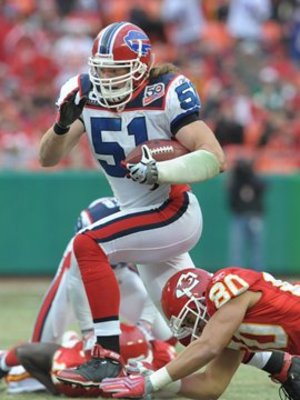 The injury bug has continued to thwart Paul Posluszny from being elevated to greater national acclaim, but Bills fans know that he is the backbone of the defense. The rest of the Bills feel the same way about him, effectively naming him team captain for the 2009 season.
In his first three NFL seasons, Poz has suffered two broken arms. The first of which cost him the majority of his rookie season, while the second, lasted a year and forced him to sit out weeks two through six.
As it was, he came back to create six turnovers in 11 games, which tied him for first among middle linebackers for turnovers.
In between the broken arms, Paul came up with 129 tackles in the 2008 season and demonstrated why he was worthy of a second round draft pick. He was named defensive MVP for the season.
AdvancedNFLStats determined that Poz ranked very high in his playmaking ability in the 2009 season and was the second highest among linebackers behind Lamarr Woodley.
There are some veteran linebackers on the team in Andra Davis, Kawika Mitchell, Keith Ellison and Reggie Torbor. But the kids like Danny Batten, Nic Harris, Arthur Moats and Antonio Coleman would be wise to learn as much as they can from the Bills team captain.
If Posluszny can stay away from the injuries, the new 3-4 defense should give him plenty of chances to shine.
2) Brian Moorman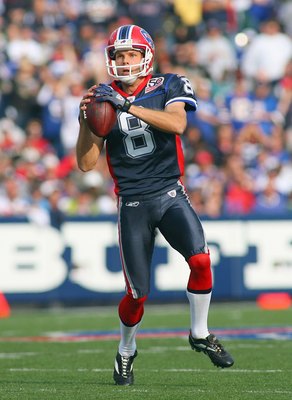 From the picture you know what this means—the Bills decided to gamble on fourth down and Brian Moorman is now rolling out to either run for the first down or throw the ball to a wide open receiver.
Other NFL teams expect this but I still don't think the Bills use Moorman's unique skills enough.
Many people consider Moorman to be the Bills most valuable player on offense. For years I would have thought that was true. That is, until Fred Jackson emerged last year.
Moorman has consistently saved the Bills from a field position standpoint, and his punts have pinned the opposition deep in their own territory, or gave the defense some room to breath when they took the field.
Moorman just keeps getting better.
In the bleak 2009 season, Moorman set personal best records with an average of 46.6 yards per punt. He also had a new career high in total yards punting with 4,192 yards.
Brian was named to the All-Pro Team in 2005 and 2006. He served as an alternate in 2002, 2004 and 2007. He was named to the Bills 50th Anniversary Team as well as to the NFL's 2000s All-Decade Team.
Moorman is a threat to run or pass, and is also the holder for Rian Lindell. He will make tackles when he needs to and is tremendous role model in the Buffalo community, where he is highly visible.
His trademark high punts have allowed the gunners to make plays on the ball and prevent returners from getting momentum to make big returns.
1) Fred Jackson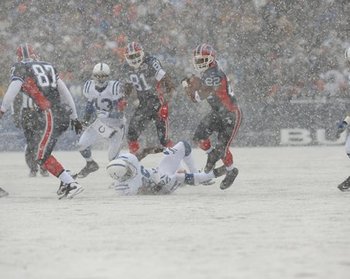 Whenever C.J. Spiller signs his contract and makes his way in to training camp, I sincerely hope that the one running back he seeks out for advice throughout the season would be Fred Jackson. Given the option of Jackson, or Marshawn Lynch, this to me, is a no-brainer.
Fred Jackson had an amazing season in 2009. He earned his stripes the hard way to become an NFL veteran. Fred played college ball at Coe College, a Division III school.
After graduation, he went on to play for the Sioux City Bandits in the National Indoor Football League (2004) and the United Indoor Football League (2005). In 2006, Fred played for the Rhein Fire in NFL Europe.
Jackson took his time once he joined the Buffalo Bills and slowly worked his way up the ladder. It wasn't until the 2009 season that he became the number one running back option. And and now you have to wonder what he would have done if the Bills gave him the ball steadily before last year.
Jackson accomplished the following during the 2009 season:
He Became the first player in NFL history to compile 1000 rushing and 1000 kickoff return yards
His 2,516 combined yards are the fourth highest total in NFL history.
Based on independent studies by ProFootballFocus, he was ranked in the top 10 in both missed tackles forced receiving and missed tackles forced rushing.

ProFootballFocus ratings ranked him fourth in their elusive ratings.
He grabbed a career high 46 catches and even threw a 27 yard touchdown pass. He also served as the Bills wildcat quarterback.

With a minimum of 75 carries needed to qualify from 2009, Jackson ranked 5th in the league in lowest percentage of carries for no gain and was the only back in the top five list with at least 200 carries.
So if you analyze all that, Jackson combines a wealth of skills; he's durable, consistent, tough, elusive, versatile and a team player. He is modest and is thankful that he has received the opportunity that he earned. C.J., and Joique, I hope you are paying attention.
Bonus Slide -- Aaron Schobel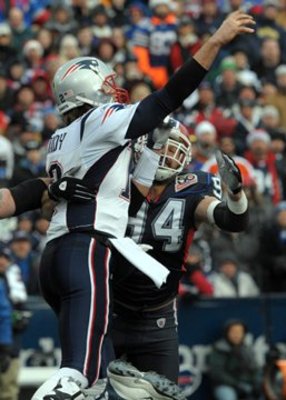 Training camp is literally due to start in days, and Aaron Schobel still has not made a formal announcement on his intentions to play or retire. He has hinted strongly that he will likely hang them up, but he has not called for a press conference yet to announce his plans to retire.
Once the exhibition games start, and Aaron is sitting back with his family watching games on the TV, does he sleep peacefully that night, or does he wake up with an itch to get back on the field and knock some heads around?
Well, if Aaron does retire, at least he will be going out on top, so to speak.
For starters, Schobel led the entire AFC East in sacks last year with 10. In addition, AdvancedNFLStats graded out Schobel as the top playmaking NFL defensive end for the 2009 season.
How badly would the Bills miss Schobel?
Consider that from 2001 - present he is second in the entire NFL for total sacks, trailing only Jason Taylor. In fact, he is also second on the Bills all-time sack list, trailing only NFL career sacks leader Bruce Smith.
He intercepted a Tom Brady pass in the season opener last year on Monday Night Football and returned it for a touchdown. That was also his first career return for a touchdown.
Those kind of accomplishments suggests that Aaron has some fire left in the belly. Think of all the young Bills defensive players that could benefit from his wisdom, drive, and experience. If he does retire, maybe he can still attend some portion of camp as an adviser to the team.
Whatever happens we wish Aaron and his family well, but personally I hope he doesn't throw in the towel just yet.
Keep Reading

Buffalo Bills: Like this team?