Chargers Concerns Heading Into the 2010 Season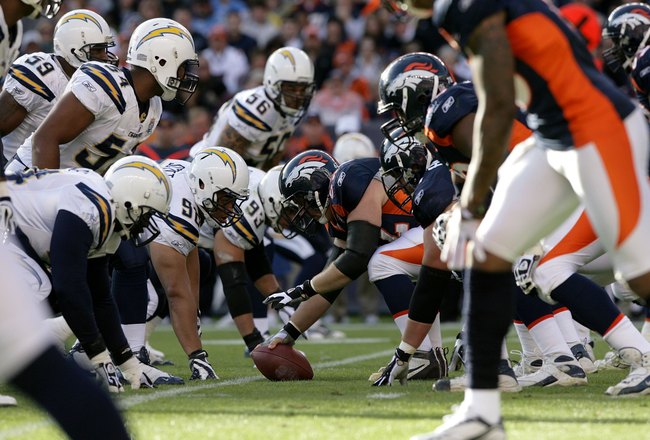 Believe me, this wasn't a easy article to do.
The Chargers in my eyes don't have many weaknesses. They addressed some parts of their game that needed to get fixed, but there were also some needs that didn't get too much attention.
The concerns that I've listed are the parts of the Chargers' game that have some uncertainty.
This isn't about how well Ryan Mathews plays this upcoming season, I think he'll do phenomenal.
This is about what some of us Charger fans don't often talk about.
I hope you enjoy the article as much as it was tough to write about it.
The Blind Side: Tra Thomas and Brandyn Dombrowski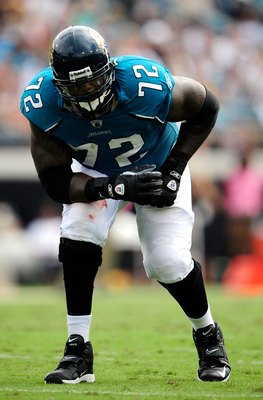 You all must be laughing as most of you probably saw many comments that I've made in support of this move to acquire Tra Thomas from the free agency by the Chargers with Marcus McNeil out of the picture due to contract negotiations.
Here is the thing, I can back up my argument with statements on the guy. One thing is undeniable, we don't know if Thomas still have his dominant pass blocking skills.
In 2009, many analyst and fans alike point to the fact he didn't start in 2009 but they all fail to see the whole picture.
The Jacksonville Jaguars didn't bring Tra Thomas to start; they brought him there as a veteran presence and to help develop rookie Eugene Munroe.
The best way to measure Thomas's effectiveness as a blind-side tackle is look at his previous years, before the 2009 season, when he was a full season starter.
You'd be surprised to see that he was the embodiment of what a blind-side tackle should be. Thomas has been protecting Donovan McNabb's blind-side for almost McNabb's entire career with the Eagles. Thomas is a player you'd hope Marcus McNeil can become.
If you want to look further into what Thomas can bring, look at his 2008 season when he only gave up two sacks. He gave up to sacks to a schedule of teams that featured top pass rushers. That 2008 schedule featured Jared Allen, DeMarcus Ware, James Harrison, Osi Umenyiora, Justin Tuck, and John Abraham to name a few of the elite pass rushers he went up against.
I don't want to knock on McNeil but the man gave up six sacks last season. He gave up two sacks against Richard Seymour, two sacks against James Harrison, and two sacks against Elvis Dumervil.
With Thomas taking reps as a starter, the Chargers are keen on not over abusing the 35-year-old veteran as they may need him to help the Chargers push deeper into the playoffs.
The other blind-side tackle that is seeing extensive time in the starting lineup in practice is second year veteran Brandyn Dombrowski.
Dombrowski did a outstanding job last season, starting nine games at right guard, blind-side tackle, and right tackle. As a nine-game starter last season, Dombrowski only gave up two sacks.
That's not bad if you ask me.
Dombrowski is showing lots of promise as he's coming off of a strong finish last season when he took over for injured Jeromey Clary.
Without a doubt, Dombrowski has tremendous upside. He had the chance to learn from a former Eagle in Jon Runyan last season and took advantage of that opportunity. Now Dombrowski has a chance to learn from the other former Eagle that made up the other half of Philly's twin towers in Tra Thomas.
I like Thomas as a starter but that's where the concern lies. Will Thomas be able to be the guy that he's consistently been or will the layoff from being a full time starter in 2009 hinder his ability to protect Philip Rivers?
I like the fact the Chargers picked up Thomas and that Dombrowski is a great insurance blanket in case of any injury to Thomas.
None of us will know for sure if Thomas will be outstanding but I like the track record he has. Only when the season start will we be seeing what Thomas is truly capable of and if he still has enough for just one more season.
No Legitimate No. 2 Wide-Out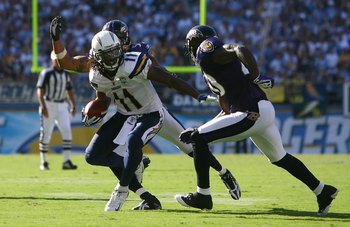 In my title for this slide, I used the word legitimate. Why is that word so important?
The word is important as it speaks the truth about the shift in the WR position due to the holdout of Vincent Jackson.
With Malcolm Floyd, who is a legitimate WR, playing at the number one slotted WR, the second WR position is up for grabs.
Let's look at the three WR that are vying for that starting role on the Chargers offense.
Legedu Naanee in my mind is one of the most talented dynamic WR's on the Chargers roster.
Why? He does something that neither Jackson or Floyd don't do often enough, that's going over the middle. Analyst love to talk about the Chargers' deep throws and acrobatic catches but none of them even bother to mention the importance of converting on third downs in short situations which the Chargers didn't do all to well.
Floyd, like Jackson, had tough times hitting short routes due to their long strides. Players like Naanee who are a bit shorter and compact with that added weight, often can make those over the middle catches with separation.
Analyst question Naanee's ability to stretch the field like Floyd and Jackson but fail to mention anything about the short game that neither of those players exhibited.
That's why I like Naanee because of his dynamic and what the can bring to the offense which is different than the usual stretch the field. I believe if Jackson and Floyd had those short route abilities perfected, the Chargers wouldn't even have bothered trying to run the ball on third and short with a struggling LT.
Buster Davis is another WR that is fighting to give the coaches a better look as a typical Vertical Offense WR.
He fits the Vertical Offense bill for sure, but Davis has been injured one too many times for the Chargers to even bother testing the theory of whether he can play as a starting WR if he had not been injured.
Davis, by no means, is anything like Naanee in terms of what Naanee can give to the offense. He sure doesn't look anything close to the towering height of Jackson or Floyd. What does make Davis a great fit for Turner's Vertical Offense is his ability to stretch the field.
Davis by no means is strong in the run game or strong in the short game but what he does do is make the safety account for his vertical game.
The only player I can compare what Davis brings to the game is what Chris Chambers did for the Chargers. Chambers, like Davis, isn't tall but the man can flat out go vertical on anyone. That's what Davis can bring to the offense.
Josh Reed is the Chargers new free agent pickup. I believe he has more experience as a starting WR than both Davis and Naanee, but what Davis and Naanee have over Reed is experience with the Chargers offense. Reed doesn't have height but one thing is evident, he showed he can make plays.
I don't believe Reed has a legitimate shot as a No. 2 WR unless injuries occur to Naanee or Davis. The reason why Reed came to the Chargers in the first place had a lot to do with Naanee moving to No. 2 WR, Floyd to number one WR, and ultimately, Jackson holding out.
Reed was brought in to do what Naanee did for the Chargers as a number three WR and that's go over the middle. AJ Smith liked Reed's experience and felt he has the poise to be that third-and-short WR that the Chargers can count on when the pressure is on during a drive.
Reed may not have a shot at starting, but he may take reps there if both Naanee and Davis don't pan out.
In all honesty, Naanee as of right now is the starter. He brings a dynamic to the offense that none of the other WR's bring.
Until the season starts and Naanee, Davis, or Reed can prove their worth as a No. 2 WR, the Chargers will go through camp with concerns about having a legitimate No. 2.
Run Defense May Still Be An Issue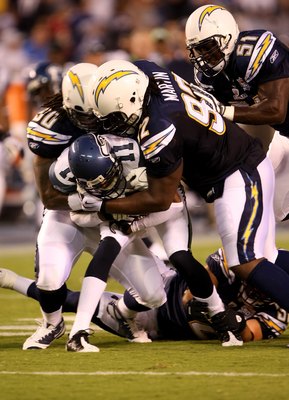 I have been a strong advocate before the draft of getting a run stuffing nose tackle in the first round. I honestly thought the Chargers traded to the 12th spot to pickup Dan Williams. I was sorely wrong.
Either way, the Chargers got Ryan Mathews, which is great but still doesn't fix the Chargers defensive problem which is the run.
Considering what the Chargers went through last season with losing both starting NT Jamal Williams and back-up NT Ryon Bingham for the entire season, the Chargers defense did better than I expected in the run department.
The Chargers opted for a rotation of NT's rather than having one player trying to be another Williams.
With last season coming and going, so far, the Chargers have released only one player from the NT position and that was Ian Scott.
I was surprised by the move as Scott may have not taken the double team as well as Williams, he did fairly well in the game against the Jets during the first half.
The only move the Chargers made in addressing the run defenses in the off-season is the drafting of Cam Thomas. Thomas is without a doubt a huge steal for the Chargers considering they got him in the fifth round where he was originally slotted as a second round prospect.
Still, Thomas doesn't give anyone comfort if the Chargers are going to stop any dominant rushing offenses this season.
The most important position in any 3-4 defensive scheme to stop the run is the NT position. Let's look at the prospects of who will be starting.
We've already mentioned Cam Thomas as a off-season addition. Many analyst and fans alike say he's starting but I beg to differ.
Thomas has great attributes as he fits the prototypical height and weight of a 3-4 NT. Questions of whether he can take double teams is something he's proven in the college game. That's whether the concern comes in about Thomas, he only proven he can dominate college offensive linemen. Taking on double teams in the NFL is another story.
Much has been said about Antonio Garay. Like Thomas, Garay fits the prototypical NT size. He doesn't have the stats but he can take a double team and have others make plays around him. Garay won't be starting but he'll give great depth to the Chargers defense.
The one player that I've been hearing a lot about is Ogemdi Nwagbuo. He doesn't have the NT look but he can flat out play like a NT. If given more time to develop, maybe he has a shot at becoming a very stable part of the Chargers defense.
If there is one thing that Nwagbuo has proven he can do is push the pocket in the pass game. The only problem I still see is in the run game. At 23-years-old, Nwagbuo is still young and, like Thomas, he'll only get better.
The Chargers, without a doubt, have promising players and stopping the run will be top priority for the Chargers next season as they'll face the likes of the Jaguars, Titans, Rams, 49ers, Bengals, and Raiders. They'll also face teams that will try to pound the ball like the Cardinals and Chiefs.
As of right now, we can talk about the entire defensive unit stopping the run, but, in reality, it starts with the NT and the defensive line. With Nwagbuo, Thomas, and Garay in a rotation at NT, the Chargers will continue to improve in the run defense. The question is, how much?
Coach Turner already stated he'll be having seven defensive linemen in the 53-man active roster. Seven defensive linemen on a active roster that runs a 3-4 defense is quite a bit of guys.
That shows how serious of a concern this run defense weakness really is.
In Conclusion...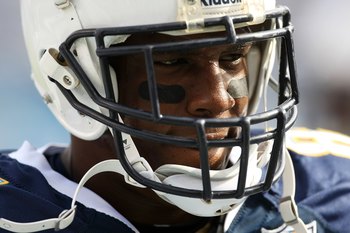 While the Chargers do have some issues without a doubt, those issues have already been fixed or addressed. What makes these issues a concern is whether the solutions found this off-season will work into the Chargers favor.
I believe whole-heartedly that Tra Thomas will prove he's still dominant. I believe that Legedu Naanee will get that starting role and show his dynamics as a No. 2 WR and make it very hard for coaches to even consider starting Vincent Jackson. I believe the run defense will improve but not by much.
One thing is very evident, with Cam Thomas and Ogemdi Nwagbuo in that defensive lineup, the Chargers are heading in the right direction.
I put up a picture of Antonio Gates for one reason and one reason only. That's what every Chargers player should look like this season, focused. Every Chargers player, front office personnel, owner, GM, worker, all the way down to us fans should have this expression as it'll be that very look of determination that'll make these concerns a afterthought.
I hope you enjoy my article. For those Charger fans out there, I keep bleeding blue and gold for the most electrifying team in the NFL, the San Diego Chargers! GO BOLTZ!
Keep Reading

San Diego Chargers: Like this team?