Ranking the Top 10 Offensive Recruiting Classes of 2011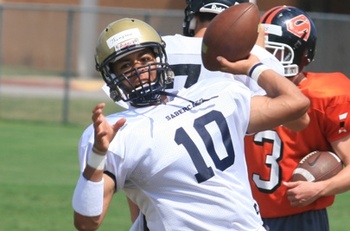 In an effort to give less well-rounded classes the accolades they deserve, I'd like to take the next two weeks to divide up the top recruiting classes in the country by offense and defense.
We begin this week on offense. History suggests that the greatest offensive recruiting class of all time was the one USC signed in 2003, featuring the likes of RB Reggie Bush, WR Steve Smith, T Sam Baker, QB John David Booty, C Ryan Kalil and RB Lendale White.
Considering Bush's net impact on the program, that may require a reranking, but you get the picture.
Can any of 2011's classes hold a candle to that one? We'll know more in four years, but here's a guess as to who is shaping up to try.
No. 10: Auburn
Auburn is still a bit light on commitments, but what they do have now is a strong start.
They shocked most everybody by pulling in four-star QB Kiehl Frazier at an A-Day event in May. I like him to take Auburn's offense to the next level.
The Tigers also grabbed a top-five center in local product Reese Dismukes, and Rivals also likes commit Thomas O'Reilly as the No. 18 guard in the class.
Outside of those three, there isn't much yet to brag about. Auburn has taken two recent wide receiver commitments, but neither cracks the three-star threshold. If they're to make a significant impact, it will be in spite of early buzz.
Auburn also just lost its grip on four-star superback Demetrius Hart, who dropped AU and now favors Michigan over Alabama by a wide margin.
Hart alluded to two other big-time RBs that Auburn was chasing, who I'm not sure. They had an outstanding offensive class last year. With Frazier in the fold, I wouldn't be surprised or displeased to see them turn their attention to the defensive side of the ball more this year.
No. 9: Texas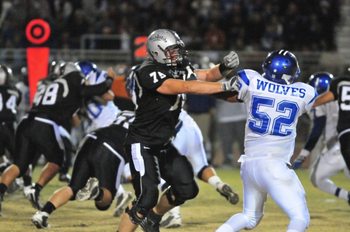 This is truly the one way you can parse out the top 10 recruiting classes and see Texas forfeit the top spot.
For now, the Longhorns are still waiting for two of their biggest offensive commitments to drop. In-state running back Malcolm Brown is now including Alabama in the same breath as Texas. Their strategy of putting all their eggs in Brown's basket now looks...tenuous.
On the other side of the coin, fringe five-star TE Austin Seferian-Jenkins, a Gig Harbor, WA native, had to petition for a Texas offer and will be traveling to Austin to compete and receive it. Most recruitniks feel he'll commit on the spot.
For now, the strength of the Longhorns' offensive recruiting class lies in four blue-chip offensive line commitments: five-star tackle Christian Westerman and four-star tackles Garrett Greenlea and Josh Cochran; and a four-star guard, Sedrick Flowers.
WR Jaxon Shipley, a four-star to Rivals, competed recently in the Gridiron Kings event in Orlando, FL and came in for praise from ESPN's Jamie Newberg.
This class is not flashy, but neither can we fault it too much for lacking skill position players. What it is is a nucleus for a future championship offensive line, plus a wide receiver with highly successful bloodlines. Outside of those five, the bulk of Texas's class is defensive.
No. 8: Stanford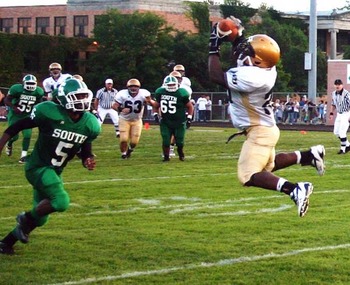 The competition is too tough to rank Stanford any higher than No. 8 overall, though I think the offensive nucleus they've put together until now will rank among the best in the Pac-10 when it reaches maturity.
I can no longer call QB Evan Crower under-the-radar. He competed in a recent Elite 11 camp and came in for a lukewarm rating, throwing a nice deep ball but questionable footwork.
The Cardinal have three solid running back commitments in the fold in Amir Carlisle (the thunder), Remound Wright (lightning) and Kelsey Young (heavy fog?).
Topping it off is OL commitment Brendon Austin, a four-star tackle and the top prospect in Colorado for 2011.
Lacking an elite wide receiver (Ty Montgomery is just on the fringe) costs Stanford completeness points, but with the absurd number of offers Jim Harbaugh has out, one is sure to bite soon enough.
No. 7: Nebraska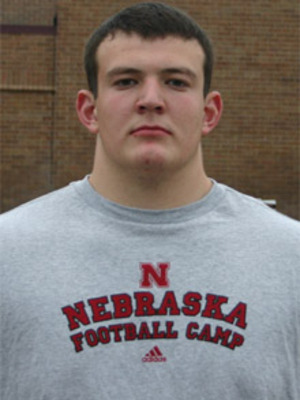 The Cornhuskers have the enviable problem of too many good quarterbacks, gaining two solid dual-threat QBs in Bubba Starling and Jamal Turner.
They also excel on the offensive line, grabbing four outstanding line commitments in four-star tackles Ryan Klachko, Zach Sterup and Tyler Moore and top-five center Ryne Reeves.
That's where it ends for Nebraska, unfortunately. They're still waiting on word from five-star RB Aaron Green, and hold no wide receiver commitments. Any movement on either of those fronts will lead to a generous bump.
No. 6: Texas Tech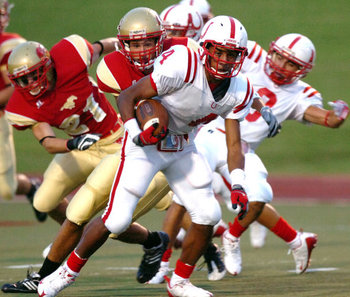 Texas Tech's top 15 class is all courtesy of offensive commitments, so taking them in this type of vacuum accentuates that fact.
The Red Raiders have a great concentration of talent at almost position. Four-star QB Michael Brewer just put on a solid showing at the Gridiron Kings Event in Orlando, though he did struggle on day two.
Three elite running backs have committed: Bradley Marquez, Kenny Williams and Ronnie Daniels, each with their own different set of gifts.
Tight end Jace Amaro is a four-star to Rivals. The 6'5", 237 lb TE runs a 4.5 40 and held competitive offers from Arkansas, Missouri and Texas A&M before committing.
And OL Tony Morales is Rivals' No. 8 guard and a talent to build future lines off of.
The only position lacking is at wide receiver. The Raiders have a commit—Brenham, TX recruit Derek Edwards, who has an impressive offer sheet—but they'll need more...if they still plan on throwing the ball, which let's not get into that right now.
No. 5: USC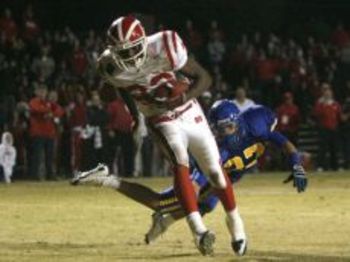 Sheer numbers hold USC back from a better ranking. The commitments they do have are, per usual, few but outstanding.
As with Nebraska, the Trojans face an awkward ascension scenario with two blue-chip QBs in the class. Someone is Mitch Mustaining themselves there, but the Trojans get bonus points for being able to do that even in the midst of heavy sanctions.
RB DeAnthony Thomas could end up playing corner, but in any case, he's roundly considered a top athlete in the class and could bring an explosive element to the Trojans' reloading offensive backfield.
OL Marcus Martin may not be as decorated a recruit as the Trojan fanbase is used to seeing, but he's a monster tackle who was the first to commit after the sanctions were handed down, so he's achieved a sentimental status if nothing else.
And WR Victor Blackwell is the total package at receiver, with size, speed and great hands. I've also heard that fringe five-star receiver DeAnthony Arnett is favoring the Trojans now as well. Offensive line might be of greater importance, but another blue-chip receiver for the Trojans can't hurt.
No. 4: LSU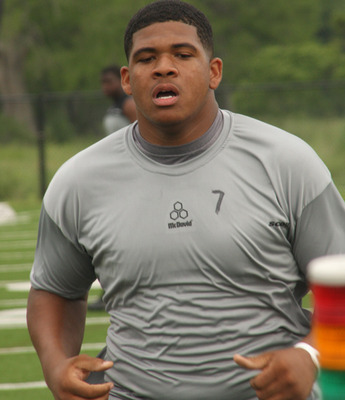 For now, LSU holds the top offensive tackle in the class in five-star stud La'El Collins. The 6'5", 285 lb tackle has great size to go with camp/combine-verified athleticism. He could play right or left side depending on how well he progresses as a pass protector.
Another offensive lineman, Trai Turner, is a 6'5", 340 lb combo guard and another freakish athlete.
At the skill positions, the Tigers have two elite running backs in Jeremy Hill and Kenny Hilliard, and one of my favorite receivers in the class, Jarvis Landry, a versatile receiver who will excel in the slot for the Tigs.
No QB is a glaring weakness LSU is hoping to address with Suwanee, GA athlete CJ Uzomah, a bit of a project at QB but one worth LSU's time. Another, Plant HS QB Phillip Ely, might also be thinking LSU...we'll know more after his forthcoming announcement with teammates Tony Posada and James Wilder.
No. 3: Ohio State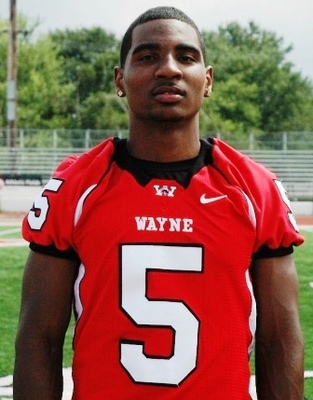 The Buckeyes have one of the most promising QBs in the fold in Braxton Miller, plus a set of offensive line commitments that look practically impenetrable.
Check the size on these guys: guard Tommy Brown (6'5", 342 lbs); guard Chris Carter (6'4", 325 lbs); guard Antonio Underwood (6'3", 295 lbs). Plus the No. 2 center prospect in the class, Brian Bobek (6'2", 278 lbs). That's a lot of beef.
The Buckeyes can stay home on running back recruiting, having taken six commitments in the last two classes alone, one from fringe five-star recruit Jamaal Berry in 2009.
At wide receiver, however, they could use a little help, particularly with No. 3 receiver Cris Carter facing academic issues and the possibility that No. 1 target DeVier Posey enters the draft a year early.
I know Michigan was after Massillon, OH receiver Devin Smith, and he also held competitive offers from Penn State, Notre Dame and Nebraska, so I'll assume his three-star ranking is low.
Ditto Evan Spencer, the Bucks' other commit, who held offers from the Irish and Huskers among others.
There's no true elite receiver in the class, and I can't quote a name on Ohio State's radar, but I'll assume that and cornerback are the top priorities remaining in the class.
No. 2: Florida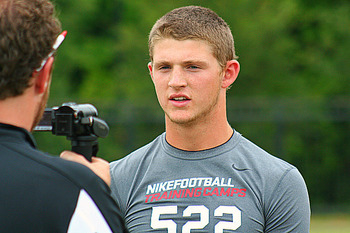 The Gators have their quarterback of the future in four-star slinger Jeff Driskel, a camp-tested QB who should be able to pick up right where John Brantley left off.
They also grabbed an elite tight end in A.C. Leonard, two elite wide receivers in Javares McRoy and Ja'Juan Story, and two great tackles in Tommy Jordan and recent commit Trip Thurman.
What's holding them back from the top spot? Numbers, and a glaring vacancy at running back, the position Florida probably needed to address most after taking only one RB, Mack Brown, in last year's class.
Brown is coming off of knee surgery his senior season, but he was the top RB on Urban Meyer's board for the 2010 class, so he should be something special.
That said, the Gators haven't relied on just one running back since Meyer came to town, so they'll need a reliable backup in 2011.
Rumors are suggesting that five-star athlete/RB James Wilder might be flaking out on his presumed commitment, preferring the pro-style offense at Florida State. If so, Florida's attention will turn to another fringe five-star, Savon Huggins, who probably fits the Gators' system better anyway.
Until the Gators land the next big thing at running back, this class will fall short of the completeness of...
No. 1: Oklahoma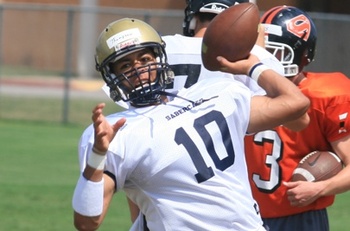 For 2010, it was Blake Bell, Kenny Stills and Brennan Clay. For 2011, it's Kendal Thompson, Trey Metoyer and Brandon Williams.
For two years running, the Sooners have signed one of the most balanced three-pronged offensive attacks in the country. Four-star QB Thompson, five-star WR Metoyer and four-star RB Williams are this year's version of the Oklahoma Nucleus.
Add two ideal-fit tight ends in Max Stevenson and Dan Tapko; another great WR in Arlington, TX recruit Kameel Jackson (sportin' the high fade); and a top 20 tackle in Dylan Dismuke, and you have a class without a weakness.
Of course, given the root cause of the Sooners' troubles in 2010 (lack of depth on the offensive line), you'd expect more verbals along the offensive line. Tellingly, OU came up short for the verbal of top Arkansas tackle Brey Cook.
But with five OL commitments in the last class, the need isn't as dire as it looks. One or two more should suffice. Whether they'll be at or above the level of the current commitments will determine whether OU has a decent shot of beating Texas for the top class outright.
Keep Reading