Jacksonville Jaguars 2010 Training Camp: Top 10 Players Who Could Be Cut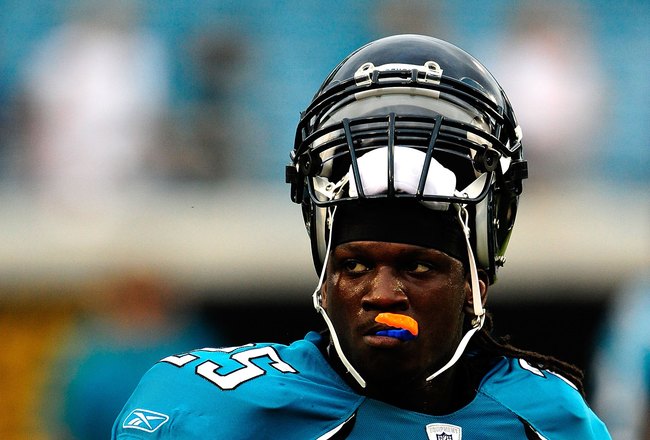 On July 30, as head coach Jack Del Rio begins the process of shaping his Jaguars into a cohesive team for September, most of the 81 players present will engage in a ruthless, dog-eat-dog struggle for one of Jacksonville's 53 precious roster spots.
A full-contact job interview—or, in layman's terms, "training camp."
Some quick math will show you that at least 28 of them won't last until September, meaning over one-third of those listed on the summer roster will be looking for other employment in the fall.
With sure holdovers from the Jaguars' 7-9 squad last year and high draft picks from this past April accounting for only about half of the depth chart, the competition in August should be widespread and fierce—a real battle royal.
Picked from among those whose futures in Jacksonville are very much in the balance, here are the 10 best players who'll be scratching and clawing for their professional livelihoods on the practice field.
10. QB Trevor Harris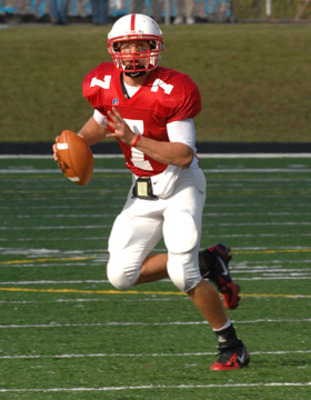 As an undrafted free agent from Division II Edinboro (Pa.), Harris entered the Jaguars' May mini-camp with little fanfare.
Despite catching the eye of team beat writer Vic Ketchman, among others, with his display of a "live arm" in those practices, Harris is still facing an uphill battle against Jacksonville's recent history to make the cut.
Not since the 2006 season, when the Jaguars went three-deep with Byron Leftwich, David Garrard, and Quinn Gray, has coach Del Rio carried a third quarterback on his 53-man roster to start a season.
With Garrard and Luke McCown both heavy favorites entering training camp, the most Harris can probably expect is a spot on the practice squad.
9. RS Scotty McGee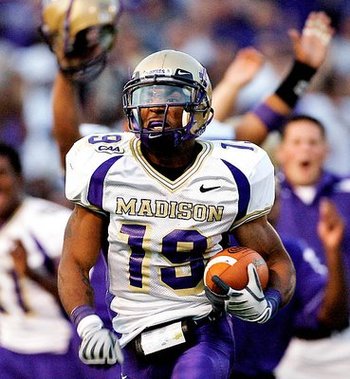 Having traded away his seventh-round pick in this year's draft for McCown last year, Jacksonville general manager Gene Smith's last selection was the 203rd overall pick, a sixth-rounder.
True to form, he used it to nab a potential undrafted free agent who might not otherwise have chosen the Jaguars: Scotty McGee, a standout FCS return man.
Last week, Jacksonville signed McGee to a four-year contract worth around $1.9 million. Still, he shouldn't be considered a lock for a roster spot.
Nominally a cornerback, McGee struggled on defense against lower-level college competition. His value to the Jaguars is solely as a return specialist, and he'll need to prove himself head-and-shoulders above returners with positional value to be worth keeping.
8. DE Jeremy Mincey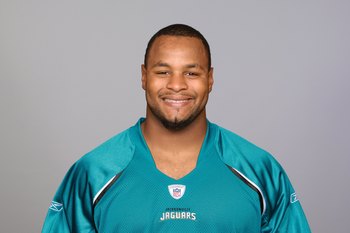 A career reservist in stints with the New England Patriots, San Francisco 49ers and Jacksonville since entering the NFL in 2006, Mincey seemed to have a great shot at keeping a regular season roster spot when the Jaguars signed him this past January.
Back then, the team's depth chart at defensive end consisted of undrafted upstart Julius Williams, 2008 draft picks Derrick Harvey, and Quentin Groves—and little else.
Unfortunately for Mincey, Jacksonville's due diligence in acquiring pass rushers since has stiffened his competition considerably. Against rookies Larry Hart and Austen Lane and big-ticket free agent Aaron Kampman, he'll need a monster two-week effort to stand out.
7. WR Tiquan Underwood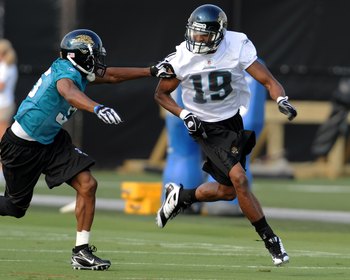 Every year, it seems as though all 32 teams' receiving corps are on fire until the pads come on.
Underwood, whose performance in the Jaguars' abbreviated offseason activities earlier this summer was widely praised, fell victim to that drop-off as a rookie last year. In training camp and preseason games, he caught a case of the drops—the annual plague of mini-camp stars across the NFL.
Crowded as Jacksonville's depth chart is at wide receiver, where Mike Sims-Walker, Mike Thomas, Troy Williamson, and Jarett Dillard have all shown more promise in the fall spotlight, it'll take a repeat of his standout showing from OTAs to pull ahead.
6. DT Kommonyan Quaye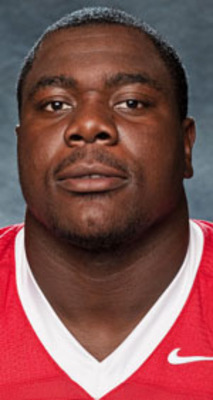 The Jaguars drafted defensive tackles Tyson Alualu and D'Anthony Smith with their first two picks in the 2010 draft, but their current 81-man roster is still surprisingly thin at the position.
Alualu, Smith, and 2009 All-Rookie Team selection Terrance Knighton are sure bets to make the team. Journeyman Atiyyah Ellison, who appeared in 15 games for Jacksonville last season, seems a likely inclusion as well.
Still, the Jaguars will want at least a fifth defensive tackle for their return to a base 4-3 defense—preferably one who can spell Knighton at nose tackle.
At a stout 6'1" and 307 pounds, Quaye looks the part. Unless the team picks a hefty end for backup duty inside, he has the inside track on a roster spot.
5. CB Don Carey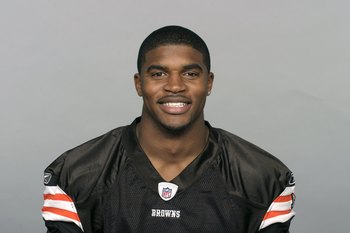 Invaluable as roster spots are over the course of a 16-game regular season, Jacksonville sacrificed one in 2009 merely to call "dibs" on Don Carey, a rookie cornerback out of FCS Norfolk State who'd been waived as injured by the Cleveland Browns.
Sitting out last season allowed Carey's shoulder injury to heal, and now the Jaguars will get to see first-hand how he might fit into their roster.
At cornerback, there's plenty of space.
Past Derek Cox—Jacksonville's other 2009 All-Rookie Team member, along with Knighton—and former All-Pro Rashean Mathis, Carey will be up against fellow injured reservist Scott Starks and a cast of cast-offs jockeying for a role in the team's nickel and dime packages.
4. WR Nate Hughes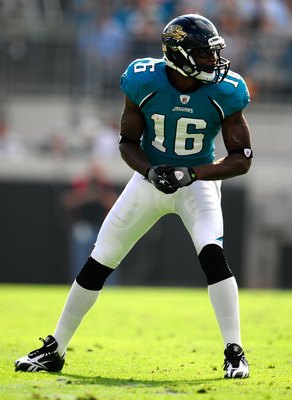 Pictured: Hughes in action against the Miami Dolphins last December, one of his eight regular season appearances for the Jaguars in 2009.
Not pictured: Hughes in action against the Arizona Cardinals last September, flailing in the end zone as a perfectly-thrown pass from David Garrard hits him squarely in the facemask.
Having won his place on the roster in training camp as an undrafted rookie free agent, Hughes was temporarily unemployed after killing Jacksonville's comeback in that 31-17 loss to the Cardinals.
Reactivated from the Jaguars' practice squad shortly thereafter, his experience might be a slight advantage over Tiquan Underwood in the battle to be the team's fifth receiver in 2010.
3. OT Jordan Black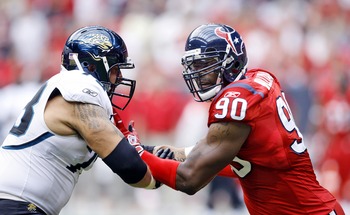 Aside from second-year starters Eugene Monroe and Eben Britton, Black is Jacksonville's only holdover at offensive tackle from last season—and the team has invited a fair bit of competition for him.
In addition to mid-season acquisition Paul McQuistan, whose versatility as a guard makes him an attractive "utility" option for depth, the Jaguars signed undrafted rookies Daniel Baldridge and Kevin Haslam to vie for backup duty behind their franchise bookends.
Black, a six-year NFL veteran, has experience in Jacksonville's pet six-lineman formation that might give him a leg up on the newbies. Considering the Jaguars' trend toward youth, though, a strong camp by either Baldridge or Haslam will likely put his job in jeopardy.
2. LB Teddy Lehman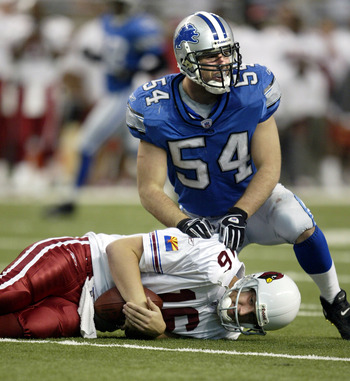 Proving that Gene Smith's scouts are everywhere, Jacksonville signed former Detroit Lions second-rounder Teddy Lehman to a contract in May—snatching him off the roster of the UFL's Las Vegas Locomotives.
Having last cracked an NFL roster in 2008, Lehman racked up a league-leading 43.5 tackles in six games for the "Locos" en route to their 2009 championship.
A collegiate All-American at Oklahoma, Lehman's first stint in the NFL was derailed by injuries after he started all 16 games for the Lions as a rookie in 2004.
Past presumptive starters Daryl Smith, Kirk Morrison, and Justin Durant, the Jaguars have only Russell Allen as solid depth at linebacker. Lehman will likely compete with fellow offseason signee Freddy Keiaho for a spot.
1. S Reggie Nelson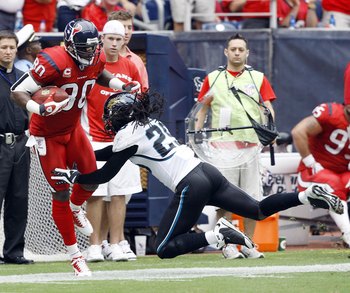 As the last nine slides attest, Jacksonville's roster bubble is pretty big. Many of the team's position groups lack either a clear-cut starter or acceptable depth.
The buck for those holes stops here, at the doorstep of ultra-talented players such as Nelson who were supposed to take charge and haven't. It's a long list: Jerry Porter, Marcedes Lewis, Quentin Groves, and Drayton Florence are just a few who were meant to be "the man" for the Jaguars but aren't.
That three of them aren't with the team is as much a regrettable reality as it is a good start, and Nelson could very well be the next to go.
After causing a minor dust-up in May by putting his reluctance to change positions out in the media, Nelson has toed the line and promised to "do whatever the coaching staff says."
To be a part of Jacksonville's solution instead of the problem, though, he'll need to go above fitting in. He'll have to stand out, as will the other nine listed here—and all 81 players present, for that matter.
The point of practice, after all, is to make perfect.
Keep Reading

Jacksonville Jaguars: Like this team?