Big 12 Media Days: 10 Questions Facing The Missouri Tigers in 2010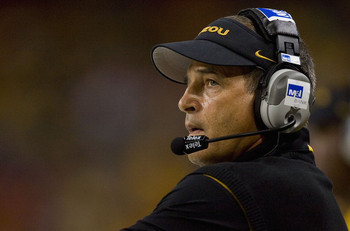 The beginning of preseason camp at Missouri (Aug. 5) is still a little more than a week away, but the unofficial start to the Tigers' 2010 season will begin in mere hours. Head coach Gary Pinkel will assume the podium Tuesday morning (9:00 a.m. CT) at the Big 12's Media Days, where he'll be joined by quarterback Blaine Gabbert, running back Derrick Washington, and cornerback Kevin Rutland to field questions from conference media.
And the probing figures to be extensive.
Will Gabbert emerge to become not only a star in the Big 12 but a darkhorse Heisman candidate? How effectively will an inexperienced corps of receivers plug the holes left behind by Danario Alexander?
For that matter, who assumes the roles left vacant by all-conference linebacker and undisputed vocal team leader Sean Weatherspoon?

Does this team have a living, breathing pass defense? And, if so, is that enough to propel Missouri past Nebraska, the preseason favorite in the North, and into the program's third Big 12 title game in four years?
A program still on the rise, Missouri endured growing pains last season as one of the youngest teams in the country. With valuable experience now saturating numerous areas of the two-deep roster, the mission for the next six-plus months will be assuring a certain sustainability of success, proving that the setbacks of 2009 were but building blocks in the natural progression of Pinkel's program.
Prospects look bright for Missouri in 2010, but for the Tigers to leap from eight-win Texas Bowl participant to BCS invitee, the following questions need to be addressed with favorable answers.
All images provided by Getty Images
10. Who controls the middle of the defense?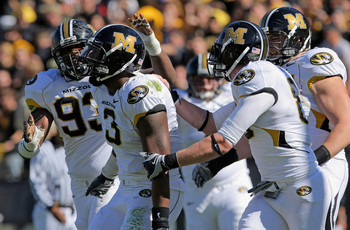 The Missouri secondary has been abused and prodded, and for good reason. But, unless you're a moron, you must also reserve criticism for the players not getting the job done up front — the ones putting undue pressure on the defensive backfield by failing to put the heat on opposing quarterbacks.
Last season, the MU defense registered 30 sacks, which ranked seventh in the Big 12, and the Tigers failed miserably at bringing pressure from the inside out, totaling an abysmal 2.5 sacks from their defensive tackles.
That number has to change, but who will be responsible?
Dominique Hamilton is the only returnee with any real experience, collecting 46 tackles in 13 games as a sophomore last season, alongside the departed Jaron Baston. His partner in the heart of the defense is nothing more than a black silhouette at this point, but the popular choice is fellow junior Terrell Resonno, who started the first game of 2009 before being supplanted by Hamilton.
A group of hopefuls includes sophomores Jimmy Burge and George White, juniors Christ Earnhardt and Brandon Donaldson, a converted offensive lineman, and oft-injured redshirt freshman Marvin Foster, so Pinkel and his staff have options.
But the task will be finding a pair of players (or more) capable of consistently creating disruption in the middle of the defense, therefore making life easier for the rest of the unit.
9. What player(s) will fill the void at guard?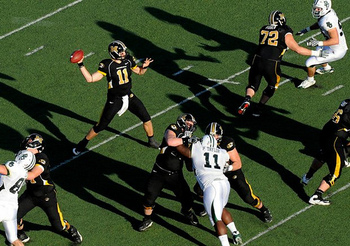 By most accounts, the Missouri offensive line should be the preeminent team strength, if not one of the strongest units in the entire Big 12. Losing only right guard Kurtis Gregory, the Tigers return four starters to the fold, including center Tim Barnes, who earned preseason All-Big 12 honors.
Manning the tackle spots will be juniors Elvis Fisher (6'5", 300) and Dan Hoch (6'7", 315), both of whom have the potential for first-team postseason accolades and provide solid protection on the edges.
On the interior is where things get a little sketchy, though there is talent to hold back any leaks.
Junior Austin Wuebbels (6'4", 305) is expected to return at left guard, where he played to mixed reviews in his first season as a starter in 2009. He may be MU's most physical lineman, and he is known for playing with a discernible mean streak, but Wuebbels at times last season struggled mightily with the mental aspect of the game, committing numerous costly holding and personal foul penalties.
Joining Wuebbels along the interior will likely be junior Jayson Palmgren, who in his first season as a starter will be entrusted to replace Gregory, a three-starter. A native of Kansas City, the 6"2", 305-pound Palmgren enters the lineup not without experience, having spent a number of games last season being swapped in and out with Wuebbels.
Providing depth at tackle and guard, respectively, will be Jack Meiners and Justin Britt, two youngsters who lack playing time but are held in extremely high regard by the coaching staff.
Photo credit: Parker Eshelman/Columbia Daily Tribune
8. Can Pinkel end his drought against OU?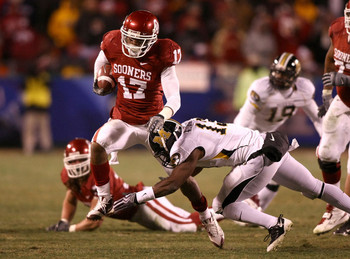 For all the great things Pinkel has done for MU, the one he hasn't managed to pull off during the course of his near-decade-long tenure at Columbia — and it's one he admittedly abhors — is slaying the giants of the Big 12.

Since he assumed power in 2001, Pinkel is 0-11 versus Texas and Oklahoma. In those games, the Tigers have been outscored 443-210, which equates to more than 21 points per game.
The once-cavernous gap between MU and the conference elite has surely narrowed, but Pinkel tirelessly acknowledges that ascending to that next level begins and ends with toppling OU and Texas — and doing so consistently.
Perhaps luckily for the Tigers, Texas is absent from the 2010 schedule, which means the Sooners fill the void. If the Tigers are to ever catch Goliath napping, this would be the season, before the Big 12 splinters off into a division-less 10-team conglomerate and MU is staring both the Longhorns and Sooners in the face each and every season.
7. Anybody interested in teaming up with Aldon Smith?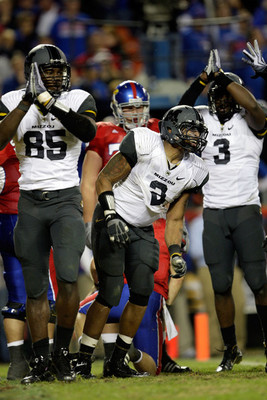 To say Smith opened some eyes as a redshirt freshman last season would be an understatement. Not only did his 11.5 sacks break Justin Smith's single-season school record, but they accounted for nearly a fourth of MU's total for the entire 2009 season.
He was a shoo-in for a Freshman All-American selection. And some fans are wondering if an encore performance in 2010 will lead the freakishly athletic 6"5, 255-pound defensive end to at least ponder entry into next year's NFL draft.
But, unfortunately for Tiger fans, Smith (No. 85 pictured) was alone in his heroics. More than a fourth (8) of MU's sacks occurred in one game (Colorado), and the Tigers registered no more than three in each of its other 12 games last season.
In fact, besides Smith, no player on the roster had more than 4.5 sacks, and the remainder of MU's defensive ends combined for only 3.5.
No longer an unknown, Smith will receive plenty of attention from opposing offenses, including frequent double-teams. In that case, whichever player bookends with Smith will need to take advantage, whether it's junior, and presumptive starter, Jacquies Smith or any one of a group of talented, albeit glaringly inexperienced, backups that includes sophomores Brad Madison and Marcus Marlbrough and redshirt freshmen Brayden Burnett and Michael Sam.
Even with an offense that can score from anywhere on the field, Missouri treads a thin line between mediocrity and greatness. The overriding factor is undoubtedly an impactful defense, which is an element that has often eluded MU in the past and separated it from college football's top tier.
For that scenario to change, Missouri will have to rely on more than just the exploits of one outstanding performer.
6. Will the running game improve?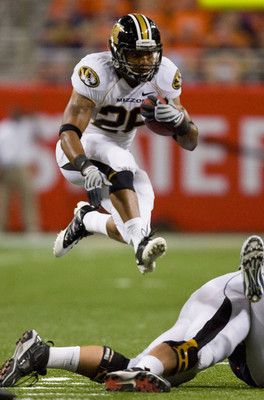 As if eighth in the Big 12 and 85th in the nation wasn't good enough…
OK, so maybe it wasn't. Prior to last season, as MU was busy worrying about breaking in a new quarterback and replacing a pair of All-American receivers, the coaching staff promised a commitment to the run.
Mission accomplished. According the numbers, the Tigers ran the ball (444) only 23 fewer times than they threw it (467), which equates to pretty good balance.
The only problem was, when they did put it on the ground, the ball-carrier averaged a meager 3.7 yards, putting an ever-increasing load of pressure on Blaine Gabbert and the passing game. As the Tigers continued to struggle in the with the run, the exasperation of fans grew, and soon longstanding cries for scheme changes began to rain down again.
As Pinkel and offensive coordinator David Yost would tell you, Missouri is a spread team through and through, so don't expect any earth-shattering alterations that would shift that mindset to the contrary. And that includes the maniacal ideas of short-witted MU loyalists, who insist the staff would be wise to spend a scholarship on a fullback and line him up 10 yards behind center.
Putting Gabbert under center once in a while or utilizing the simple dive play would work, but improved play by the offensive line and MU's stable of backs will go a long way in enhancing the running game.
On too many occasions last season the offensive line suffered from poor communication and technique, leading to unnecessary penalties and lackluster blocking. Meanwhile, backs Derrick Washington, De'Vion Moore, and Kendial Lawrence weren't consistently hitting the hole with authority.
A season later, though the Tigers won't be the strongest running team in the Big 12, those issues should be somewhat cleared up. With four returning starters up front, cohesiveness should presumably be better, and Washington, the No. 1 back, looked impressive during spring workouts after shedding 10 pounds. Behind him, if given room, Moore is a legitimate home run threat, and Lawrence is one full year into understanding the complexities of the offense.
The true test for the MU running game this season will be execution in close games, when winding down the clock is more desirable than airing it out. Then again, since MU's spread thrives on the philosophy of the pass opening up room for the run, maybe that won't be the case.
5. How will Missouri ever replace "Spoon?"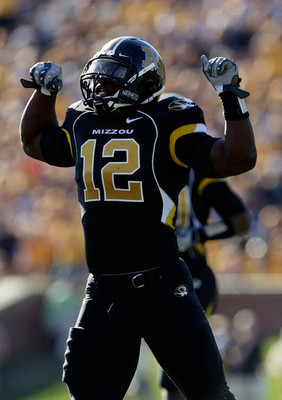 To the casual observer, Missouri will struggle to compensate for the loss of former All-Big 12 performer and current Atlanta Falcon linebacker Sean Weatherspoon.
But to those who are in the know, replacing the second-leading tackler in school history shouldn't be all that daunting.
Actually, it could prove to be quite easy — that is, unless, you count having to replace Weatherspoon's gift of gab.
As deep at the position as any MU team has been, the 2010 Tigers in reality could roll out at least six linebackers and not miss much of a beat — beginning with Andrew Gachkar, Luke Lambert, and Zaviar Gooden, who will are presumed to start at the weakside, middle, and strongside positions, respectively.
Perhaps interchangeable with Lambert, a senior multi-year starter, is junior Will Ebner, a human wrecking ball who last season posted 3.5 sacks and 78 total tackles in 12 games, including seven against Texas just days after undergoing surgery on his knee.
But the talent continues behind both Gachkar (80 tackles, 3 sacks in '09) and Gooden, who runs a 4.4 forty, benches in excess of 400 pounds, and is considered the best overall athlete on the team.
Donovan Bonner, a sophomore who many feel could be Weatherspoon's heir apparent, saw action in 12 games a season ago and could factor heavily in the rotation in 2010. And then there's the player that many MU fans have been clamoring to witness play: Josh Tatum, a former USC signee who transferred to Missouri prior to last season.
One of the most sought-after recruits in the class of 2006, the 6'1", 235-pound Oakland, Cali., native took the junior college route after an injury-riddled couple years at USC. Back surgery wiped out his first season at Missouri, but Tatum, who is known for his ability to hit, is expected to seek a medical redshirt after this season, which would afford him one more year of eligibility.
4. How many receivers does it take to equal one Danario Alexander?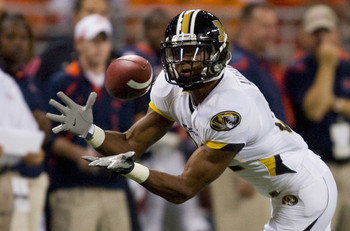 Posting one of the most prolific seasons in college football history, MU receiver Danario Alexander was unstoppable in 2009. But for all the mind-numbing numbers he put up, his true value was measured in percentages, not in yards.
Of the 5,362 yards Missouri gained from scrimmage last season, Alexander accounted for nearly 34 percent, registering a nation-leading 1,781 through the air and another 10 on the ground. To expound on that, of MU's 42 touchdowns, 14 (33%) belonged to Alexander.
Toss in what fellow senior Jared Perry did (703 total yards), and two players combined for nearly half of the team's offensive output from 2009.
So, with The Alexander and Perry Show now moved out of town, where exactly do the receiving yards come from this season? And, perhaps more importantly, who assumes the role of the go-to target for quarterback Blaine Gabbert?
The answer to either question is not so cut-and-dried, but the good news is that every one of those receivers that played the role of spectator last season returns for 2010.
In other words, the Tigers will not so much rely on any one or two players to pick up the slack. Instead, the strength of the receiving corps will be in numbers, with the hopes that the sum of the many parts is equal to or greater than the numbers posted by Alexander and Perry.
If there's one player who can duplicate the versatility and explosiveness of Alexander, it's junior Jerrell Jackson, who finished third on the team with 458 yards and 37 receptions last season. And if you had to pick one candidate to become the leader of the pack, it'd be him. But he'll by no means be alone.
Junior Wes Kemp, the other elder statesman of the receiving corps, returns to man what the MU spread defines as the Z receiver position, where he logged 23 receptions for 418 yards in 2009.
From there, a hodge-podge of names begins to coalesce, possibly led by former heralded St. Louis recruit Rolandis Woodland, who is expected to be inserted at X position, and T.J. Moe, a former Missouri Gatorade Player of the Year who seems almost the perfect fit to slide in behind Jackson in the slot.
At tight end, which is no different than a wideout in MU's system, Andrew Jones will put his hand in the ground but he's reliable as a pass-catcher. And all eyes should be on fellow junior Michael Egnew, who dazzled during spring ball and will likely pose problems all season long with his combination of size (6'6", 235) and agility.
And when the Tigers go to four-wide, expect to see L'Damian Washington, a lankier version of Alexander who could use his redshirt freshman to break out in a major way.
From there, however, the depth chart gets a bit murky, as a number of backup roles will be filled by victors of position battles pitted during preseason camp. Among those to watch for include incoming freshmen Jimmie Hunt, Bud Sasser, and Marcus Lucas, whose advanced physical development may be too much for coaches to ignore.
3. Pass defense, anyone?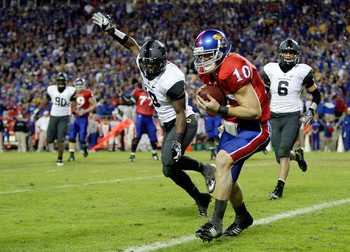 The Big 12's plethora of deadly offenses can make a defensive backfield look silly, but has there been one pass defense in the Big 12 that has looked more out of sorts in recent past than that of Missouri? I hate to single out the Tigers in a league that features maybe only two worthwhile defenses, but the numbers are striking.
Forget that MU finished 11th in the Big 12 in passing yards (251.5/game) allowed in 2009, marking the second year in succession its finished in the bottom two in the league. What's more troubling is that Tiger defenders picked off only eight passes and allowed opposing quarterbacks to complete an astounding 64 percent of their passes.
So, what's being done? Well, experience helps, and the Tigers will have it overflowing in the secondary, where senior corners Carl Gettis and Kevin Rutland will start opposite senior safety Jasper Simmons and a player likely to be named in preseason camp.
Second-year defensive coordinator Dave Steckel is a season wiser, and only time will tell whether his trip with Pinkel and other staff members to Arizona in the offseason to pick the brains of the Cardinals' defensive minds was fruitful.
If nothing else, the MU secondary will attempt to force the issue in 2010, given the green light by Steckel in spring ball to play considerably more man-to-man coverage than a season ago.
But all will be for naught if the MU defense continues to whiff at penetrating the backfield and creating pressure on opposing quarterbacks, as was alluded to in previous slides.
2. What about that midseason gauntlet?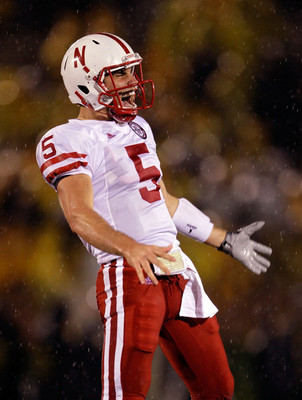 Equal parts night and day, the Missouri schedule for 2010 is a picture-perfect study in compensating for a brutal October with a pathetic September.
After its annual Arch Rivalry with Illinois — albeit an Illini program in complete flux — MU welcomes to Columbia three absolute creampuffs in consecutive weeks: McNeese State, San Diego State, and Miami (OH).
Kicking off October will be a very winnable game against Colorado at home, so it's expected (and perhaps necessary) that the Tigers take their first steps into hell a squeaky clean 5-0. What happens in the days that follow will act as a barometer for the season and likely determine whether the Tigers are major players or second-class chumps.
Beginning on Oct. 16, Missouri will play Texas A&M, Oklahoma, Nebraska, and Texas Tech in consecutive weeks, three of which are away from the confines of Faurot Field. The exception is an Oct. 23 Homecoming date with the Sooners, whom the Tigers have not beat since 1998.
Meanwhile, the one circled over and over in red marker is the Oct. 30 clash in Lincoln. It will be the final meeting between the two schools as co-members of the Big 12, and the implications may very well involve North supremacy.
How sweet would it be for Nebraska to beat Missouri one last time, all the while denying the Tigers a chance at a Big 12 title, before it goes prancing away into the greener pastures of the Big Ten with its middle finger raised?
And how nice would it be for MU to see Big Red off in style, laying the wood to the Huskers in their own backyard and then leaving the scraps to be coddled by Tom Osborne, chancellor David Perlman, and NU's honorary fundraiser, Big Ten commissioner Jim Delany.
Logic, combined with MU's maddening history for disappearing in big games, says that the Tigers will win one, maybe two, in that stretch. The dreamier scenario is comprised of an impressive four-game sweep, whereby the Tigers enter the final third of the schedule undefeated and with the crucial tiebreaker over Nebraska in hand.
1. Can Blaine Gabbert ascend to the next level?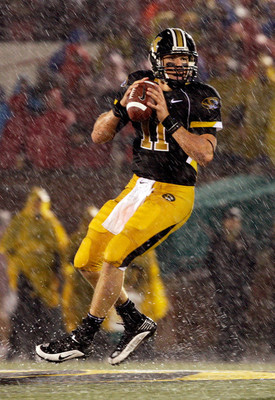 In his first season as the Missouri quarterback, Gabbert threw for 3,593 yards, 24 touchdowns, and only nine interceptions, ranking seventh, 16th, and 41st in the nation, respectively.
On top of that, his 140.5 rating exceeded such notables as Matt Barkley, Ricky Stanzi, Jerrod Johnson, Jacory Harris, and Taylor Potts. Despite the favorable statistical proof, which indicates he performed as well, if not better, than his predecessor, Chase Daniel, as a first-year starter, Gabbert may forever be remembered for what he didn't do in 2009: beat a high-quality opponent.
Nearly flawless in leading MU to a 4-0 record in non-conference play, Gabbert looked his age against stiffer competition. In games against Nebraska, Texas, and Oklahoma State, Gabbert floundered, completing only 45 percent of his passes while throwing for two scores versus five picks.
A gimpy right ankle was partially to blame, though Gabbert himself will never use the injury as an excuse. Instead, the surly teen opted to cite anything but his health as the source for his woes and worked hard to overcome his struggles.
In the process, Gabbert began earning the trust, respect, and admiration of teammates, thus pleasing head coach Gary Pinkel, who has said on more than one occasion that he believes his quarterback has the tools to evolve into the nation's best.
He may be right. At 6'5" and 240 pounds, Gabbert certainly has the size, which is complemented by coveted arm strength. He's a smart player, can run, and is able to deliver the ball on target from anywhere on the field. If Gabbert stays healthy, there's no reason why he can't validate his coach's claim.
Critics say Gabbert tended to get happy feet in the pocket last season, which resulted in him throwing off his back foot. Others insinuate he wasn't good at cycling through his progressions and instead locked onto certain receivers, specifically Danario Alexander. Still others debate that he is a poor fit for the spread and will never possess the Daniel-like accuracy needed to orchestrate the offense — as if the 2009 numbers were some sort of aberration.
These arguments may have some validity, and it's true Gabbert has plenty of room to grow. But he'll be backed by a plethora of offensive talent, a system that's conducive to big numbers, and a stage just big enough to showcase all of his talents to the nation.
Now all he has to do is win, which ultimately may take him farther than any statistics can.
Keep Reading

Missouri Tigers Football: Like this team?