Predictions for 2010 NFL Season: Predicting This Year's Award Winners
Probably the hardest thing to predict are the end of the year awards. So many factors go in to winning, such as your team's success, your success, your attitude, and many other small intangibles. So I'll give you a list of the top 5 candidates for each award and tell you which one I think will win.
Begin Slideshow

»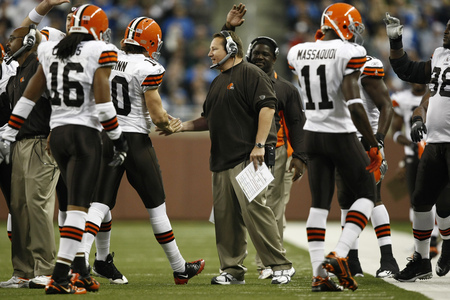 1. Eric Mangini: The Mangenious seems to have everything in place to make the Browns the team of the future. A franchice QB in McCoy, two solid RBs with Hardesty and Harrison, a WR with Massaquoi, and the future of CB's in Joe Haden. I wouldn't be too surprised if Mangini took this young talented group of players and put together an 8-8 season.
2. Jim Schwartz: 2 wins in 2 years is a little bit of a letdown, to say the least. However in Detroit, they look like they finally have enough talent to put a good product on the field. Will talent translate into wins? Lets see how Schwartz plays it.
3. Rex Ryan: J-E-T-S JETS JETS JETS! They look like the Yankees of football. This offseason they spent all the money they had to in order to give Rex Ryan what he needs to succeed. This might be the easiest coach of the year award ever won. The only question that remains is, can all this star power learn to play together?
4. Mike Shanahan: The Redskins went out and got a proven QB in Donavan McNabb to lead the team to the promised land this year. They also brought Shanahan on board to coach this team. If he can lead them to the playoffs for the first time since 2007 when they lost in the wild card, he might just take this award.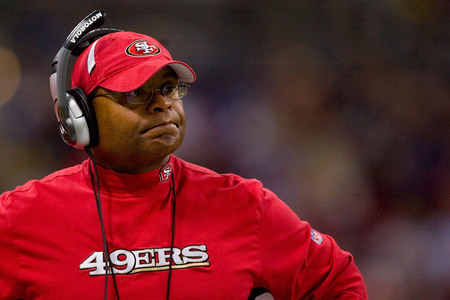 Coach of the year award is probably the hardest award to predict, because it depends mostly on how well your team does. However, the 49ers look poised to win the NFC West. Their hardest competition, the Cardinals, lost 4 big time starters, including Kurt Warner. The Seahawks and Rams don't look ready to contend for the division this year either.
This leaves the 49ers who bulked up their offensive line with two first round picks, and many believe the game is won in the trenches. They also have a bevy of weapons to allow former 1st round pick Alex Smith to succeed.
Add a physical defense led by Patrick Willis, puts the 49ers in position to take the West. Mike Singletary is a tough, hard nosed coach who knows what it takes to win. He could possibly take the 49ers back to the Super Bowl sooner than you think.
1. Donte Stallworth: Has he finally put his legal trouble behind? He's set up on a team that will contend for the super bowl. He has a strong armed QB ready to throw him the long ball. If he can stay on the field, he has a good chance to be the comeback player of the year.
2. Brian Urlacher: A devastating injury caused him to only play in one game last season. As one of the best linebackers of his time, he could come back and help put the Bears defense back on top.
3. Bob Sanders: Why does it seem like he's on this list every year? In his 6 NFL seasons he has only played in 47 games. With all the talent in the world, he could possibly compete for this award. Assuming he keeps his job.
4. Jake Delhomme: One year after throwing 5 interceptions in one playoff game, Delhomme continued the trend throwing another 18 interceptions. Does he still have anything left in the tank? We'll find out this year because the starting job for the Brown's is his to lose. If he can lead them to an 8-8 record, he could be a shoo-in for this award.
In a season riddled with injuries, Troy Polamalu missed 9 games, and his Steelers missed the playoffs. Many could argue he should of won the Defensive Player of the Year award last year, proving how valuable he is to his team by NOT playing. This year he comes back completely healthy and ready to lead the vaunted Steelers defense. When he's on the field, he's arguably the best safety in the NFL. He has a lot to prove this year, and everything to play for. If you're a fan of big plays, watch him this year because he is one of the most fun players to watch and will come away with the Comeback Player of the Year Award
1. Elvis Dumervil: Cut out of the James Harrison mold, Dumervil is a strong, angry linebacker. Last years NFL Sacks leader has a great chance to repeat. He is strong enough bull rush any RB and TE, quick enough to get around most LT's, and has a non stop motor that usually gets him to the QB. With 17 sacks last year, he will be looking to make it 20 this year.
2. Troy Polamalu: My CPOY will be looking to also win the top defensive player award. He is the most deceptive player in the NFL right now. He can line up in the box yet drop back and cover, and vice-versa. Where he is lined up pre-snap is no indication to where he will be at post-snap, causing him to put up the numbers to win this award.
3. Darrelle Revis: He's just one Jet on this list. Barring a hold out, he will again be the best Corner in the NFL. He may not get 10 interceptions like his corner-mate Antonio Cromartie once has, but that's only because the QB does not throw his way. Revis Island is a dead zone for all receivers, which may just win him this award.
4. David Harris: The other Jet on this list may not have the flash of all the other players, but he has the skill. He controls the middle of the defense for the Jets and will rack up Ray Lewis like tackle numbers.
There is quite possibly not another linebacker on Patrick Willis' level. He is Ray Lewis in his prime. After leading the NFL in tackles last year with 152, he is poised to lead the 49ers defense all the way in to the playoffs. He is big, fast, strong, and smart. He takes all the right routes to the ball and once he's there he makes the play.
This may be the easiest prediction I'll make all year. (Not including Brett Favre coming out of retirement.)
You will stone me for this, simply for the fact I don't include the top college player in the draft, Tim Tebow. Anyways, these are the players that I think will compete. Here I go…….*ducks*
1. Sam Bradford: I will however include last years Heisman Trophy winner and the number 1 overall pick. Even though he may not start the season as the starting QB for the Rams, I have no doubt he will take over for A.J. Feely at some point in the season. The only thing holding him back from winning this award is an NFL caliber team.
2. C.J. Spiller: Electric. That's the only word to describe Spiller. He can do it all, run, catch, and return kicks. The only thing he cant and wont do is take the Bills to the playoffs. (Not even T.O. could do it last year.) However, a time-share with Fred Jackson and no QB will keep him from winning this award.
3. Dez Bryant: We may have the next T.O. He's been in the news ever since sitting out his senior year of college. He has forgotten his spikes at the combine, ridiculed the media, and refused to carry Roy Williams pads. However he was the first 1st round pick to sign, go to training camp, and was the first player on the field at camp. He has been performing like a Hall of Famer on the practice field. The only question now is, will his ego get in the way?
4. Montario Hardesty: Hardesty is a bruising running back cut out of the Michael Turner mold. He will share carries with Jerome Harrison at first, but one false move from Harrison and Montario will take over the most carries. Look for him to impress in his rookie year, but fall short of this award.
This is another easy selection. Ryan Matthews is being handed the starting job in San Diego with his only handcuff being an undersized Darren Sproles. The Chargers will be missing Vincent Jackson for at least the first 3 games due to suspension, possibly longer due to a holdout. With a lack of a true #1 WR the Chargers will be forced to become a running team, and with one of the best OL's in football, Ryan Matthews is set up to succeed. He should win offensive rookie of the year by a landslide.
1. Ndamukong Suh: Ndamukong is an absolute beast in the middle. Which is convenient because his name makes me think of Donkey Kong. (I hope that nickname catches on) He is quite possibly the best defensive lineman to come out of the draft in years. He automatically upgrades the Lions weak defensive line. With all that being said, I don't think he'll win this award. So Suh me.
2. Gerald McCoy: The best five technique lineman in the draft is going to a team with no help. He will make plays, wreak havoc, and compete for the DROY award.
3. Joe Haden: Haden is the best Cornerback in the draft going to a revamped defense in Cleveland. They expect Haden to become the centerfold in the defense for many years to come. Many have knocked him because of his speed, but when it comes to putting yourself in the right place at the right time, Haden is one of the best.
4. Eric Berry: The next best safety in the NFL is Eric Berry. He is a natural playmaker that will adapt to the NFL pretty quickly. The only question is, is there anyone on that defense to help him?
There were some health questions surrounding Rolando McClain coming in to the draft. However, a player of his caliber should come in to the NFL with a bang. The legendary hard nosed defense of the Silver and Black is on its way back, and McClain is just the start of it. With Richard Seymour on the line and Nnamdi Asomugha in the defensive backfield, the Raiders have playmakers at every level of the defense. McClain is a strong player that will easily compete every year for the league lead in tackles.
1. Drew Brees: This super bowl MVP is one of the smartest QB's in the NFL. He had over 4,000 yards and 34 TD's last year. But has anyone else noticed that he just doesn't have any arm strength? Even still, he will put up numbers because he does what he needs to.
2. Peyton Manning: Year after year Peyton Manning is in the MVP talks. He has everything you need to be the best QB in the NFL. With Austin Collie and Pierre Garcon coming into their own, Manning should have plenty of targets to throw to. Look for him to yet again be one of the top passers in the NFL.
3. Tom Brady: Another mainstay on this list, Tom Brady is as consistent as they come. Don't expect contract issues to hold him back. If he doesn't have a new contract, he will play to prove why he deserves one. The Brady-Moss connection is alive and well.
4. Chris Johnson: The only running back in the NFL with 2,000 yards last year guaranteed to get 2,500 this year. While that's unlikely, he just got a pay raise so expect him to put up big numbers as the workhorse in Tennessee.
Last years fantasy MVP will finally be recognized as the real MVP. He learned behind Brett Favre for 3 years, which makes you wonder if he will retire more times than Favre. Last year he put up monster numbers, throwing for 4,434 yards, 30 touchdowns, and only 7 interceptions. With one more year under his belt, Rodgers may just lead his team to be victorious!
Also, can he get some sort of award for that mustache?