NFL Predictions for 2010 Season: Sack Masters Hungry for a Dozen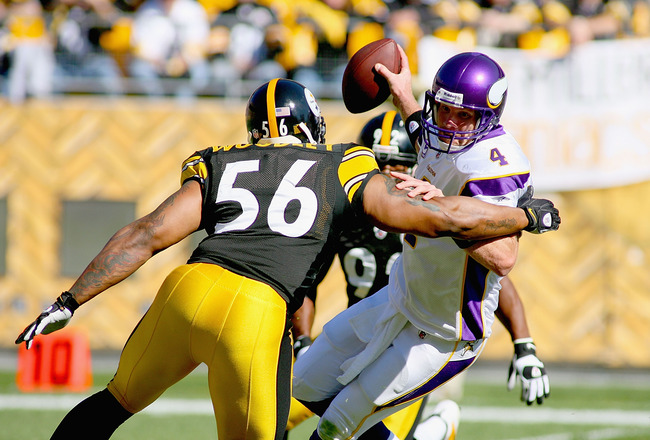 The art of the sack.
It's like dangling a porterhouse in front of a salivating dog over and over again.
When the dog breaks free, it devours the steak as if it had never gotten a taste.
And then it wants more.
In the NFL, it takes a rare specimen to get to the quarterback over and over again.
In the past five years, anywhere from six to 12 players have devoured a dozen of these quarterbacks in a season. Last season, only six accomplished the feat.
As training camp is set to begin, starving players both new and old look to set their eyes on the dozen mark. Some hit the mark for years and others will never see it again.
If you're a quarterback, don't look. Here are nine nightmares for 2010.
Jared Allen, Minnesota Vikings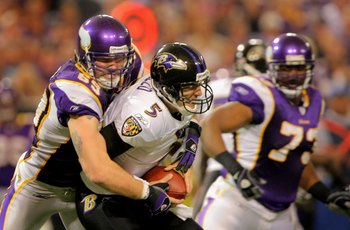 The easiest choice on the list is Jared Allen of the Minnesota Vikings.
Allen is the only player in the last three years who hit the 12 sack mark each season.
He also has 72 sacks over the past six seasons, more than any other player during that span.
Equipped with strength and a bevy of moves off the line, no offensive line has created a manual on how to stop him.
Add in two all-pro defensive tackles to ease pressure on the outside rushers, and Allen is good to go.
Expect the former mullet man to reach 15 sacks and show a bit more speed with that extra weight off his shoulders.
DeMarcus Ware, Dallas Cowboys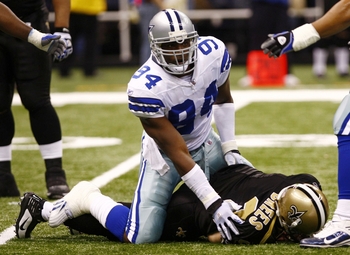 DeMarcus Ware took a significant drop from 20 sacks in 2008 to 11 sacks in 2009.
Most players would love that type of luxury.
In 2010, Ware will be back above the 12 sack mark with ease.
The Dallas defense as a whole should ease pressure off of Ware from double teams. His speed off the corner is still difficult to match and Ware remains in his prime.
Look for Dallas to become more clever in disguising Ware's rushing to allow him smooth sailing most the year.
LaMarr Woodley, Pittsburgh Steelers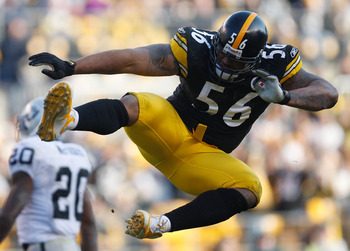 LaMarr Woodley is angry.
And while in the end it may not be good news for the Pittsburgh Steelers, they still have one more season where it will be.
Entering his fourth NFL season, Woodley continues to show improvement each year.
Surrounded by other great pass rushers like James Harrison, the Steelers team will be rewarded again with Woodley's production.
Woodley is a great combination of speed and strength for the outside pass rushing spot he possesses.
While the Steelers offense may have some questions, the defensive scheme remains as strong as ever.
Mario Williams, Houston Texans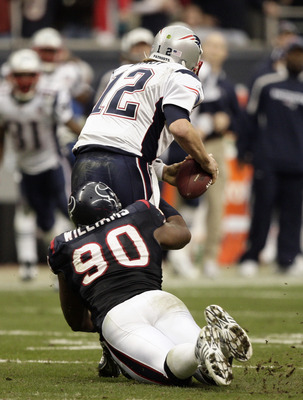 After back to back 12-plus sack seasons in 2007 and 2008, Williams dropped off slightly in 2009.
In his fifth NFL season, he'll be fiercer than ever.
Unlike the others on this list, he is a rare specimen at 6'6", 295 pounds.
The others have variations of speed and power, but nothing like he brings to the table.
He is strong enough to shed blockers directly off the line and quick enough to come off the edge.
He also has solid moves and utilizes his 300-pound frame in the best possible way.
Williams has great linebackers to help open up holes on the defense and cut down on double teams.
Amobi Okoye should also improve in his second season, eating up more space in the middle for Williams to burst through.
Trent Cole, Philadelphia Eagles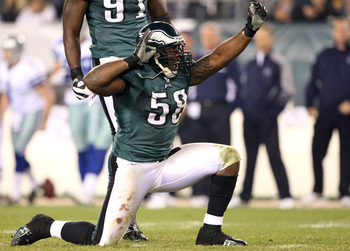 Trent Cole will find himself aiming for his third career 12-sack season.
With the addition of Brandon Graham to the Philadelphia Eagles defense, Cole should find himself easily on pace for a dozen.
Cole works hard every game to get to the quarterback. He reads offenses well and finds the holes to get to the pocket.
He is a strong tackler on the d-line and has a knack for the ball.
At age 27, he remains healthy and in his prime. He is a player that Philadelphia can use to their advantage.
The Eagles offense will have question marks, but on the defensive side, Cole will help Andy Reid's defense keep constant pressure on quarterbacks.
Julius Peppers, Chicago Bears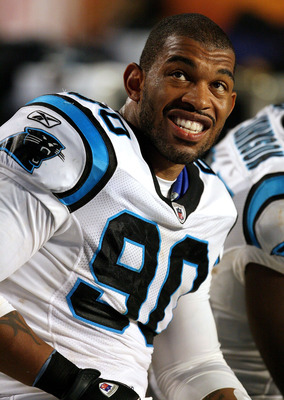 Julius Peppers enters 2010 with a change of scenery.
Since 2002, Peppers wore the Carolina Panthers jersey. Now, he dons the Chicago Bears logo.
Some believe after cashing in Peppers will fade into obscurity.
That may be the case by the end of the contract, but this season, Peppers will prove his worth.
At age 30, Peppers still has some good years left in him and this will be one of them.
The Chicago scheme and defensive unit should fit him well.
The Bears defense has a lot of skeptics and health will be the primary concern for the unit as a whole, but Peppers knows what needs to be done.
Working with Tommie Harris on the d-line should lead to both players feeding off each other.
Add in a moderately weak schedule and he will have good reason to smile.
Brian Orakpo, Washington Redskins
After a rookie season with 11 sacks, Brian Orakpo is ready to build off those numbers.
The Washington Redskins had completely different schemes last season, but a shift to 3-4 will only improve Orakpo's numbers.
He is the ideal pass rusher for this style defense and with a more stable coaching staff, the sky is the limit.
Four of his sacks came against the Oakland Raiders, but he displayed solid consistency throughout the season.
Orakpo has a lot of veterans surrounding him and if Albert Haynesworth shows up in shape, he should have plenty of room to roam.
Orakpo faces some weaker teams and has the benefit of a changed scheme to make game planning difficult for opposing offenses early on.
Clay Matthews, Green Bay Packers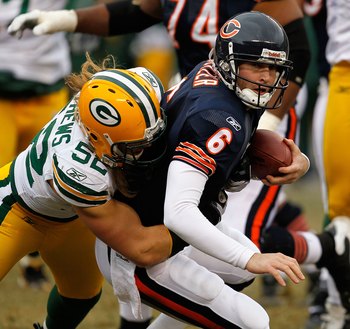 Clay Matthews is another young master of the sack.
As his Green Packers team continued to improve last season, so did he.
Matthews finished extremely strong with seven sacks in the last eight games. The Packers went 7-1 in that final stretch.
Matthews improved in all aspects of the game as he earned himself more playing time. His tackling got better and the coaching staff became more confident in how to use him.
The Packers will be more comfortable in the 3-4 scheme and should recreate the defense that appeared in the second half of 2009.
Matthews will leap over the 12 sack total as he gets a full allotment of playing time during the year.
Tamba Hali, Kansas City Chiefs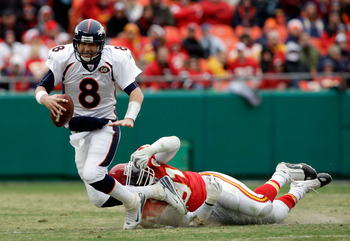 Tamba Hali would need to take the biggest jump of all on this list to hit the 12 sack mark.
Hali has never had more than the 8.5 sacks he produced last season.
Now a veteran in the 3-4 scheme, Hali will improve even more so upon those numbers.
Hali fits the pass-rush specialist role well and proved it last season. The coaching staff was able to learn the ways he attacks best and will put him in better positions to succeed.
Hali has solid strength as a former defensive end and utilizes his knowledge and vision to take advantage on the field.
A moderate schedule in a weak division should find Hali with the opportunity to break through lines and hit the 12 sack mark in a surprisingly good season.
Missing the Cut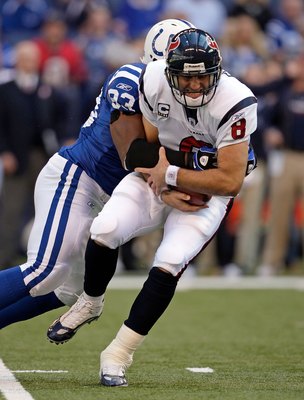 Dwight Freeney
Freeney will have another great year for the Indianapolis Colts, but he won't be hitting the 12 sack mark.
He has yet to do it in consecutive seasons as he enters this season at age 30.
Freeney has become even more of a pass rushing specialist as the Colts try to keep him healthy throughout the year.
His production is extremely consistent, but his durability goes through waves.
Expect a 10 sack year for the star defensive end as he continues to lead the Colts defense.
Elvis Dumervil
Dumervil cashed in this offseason off his 17-sack performance.
In two of his four seasons, Dumervil exceeded the 12 sack mark. He has shown a distinct ability in getting to the quarterback.
In 2010, he will find himself with a significant drop in production. The 17 sacks will turn into 10 as teams throw better schemes and double teams his way.
Dumervil's is quick and stealth-like off the edge, but the defense surrounding him is not that good.
The once great secondary is aging and like the second half of last season, will allow less time to attack the quarterback.
The offense has some question marks and the less points they score, the less passing the defense has to do.
Don't expect the same 6-0 quick start Denver had last season to accompany Dumervil's 10 early season sacks. He will bring consistency, but with smaller numbers.
Will Smith
After dropping off in 2008, Will Smith did like the rest of his New Orleans Saints team and had an unforgettable year in 2009.
Smith won't drop back down to three sacks, but should stay in the eight to 10 range for 2010.
The Saints defense was extremely opportunistic last season. They created turnovers, pressured quarterbacks non-stop, and had such a great offense that defenses had to keep throwing.
Expect a bit of a drop off in every category.
The defense will remain aggressive looking to kill the QB, but schemes will change and teams will be better adjusted this time around.
Keep Reading