2010 College Football Predictions: 10 Teams Still a Year Away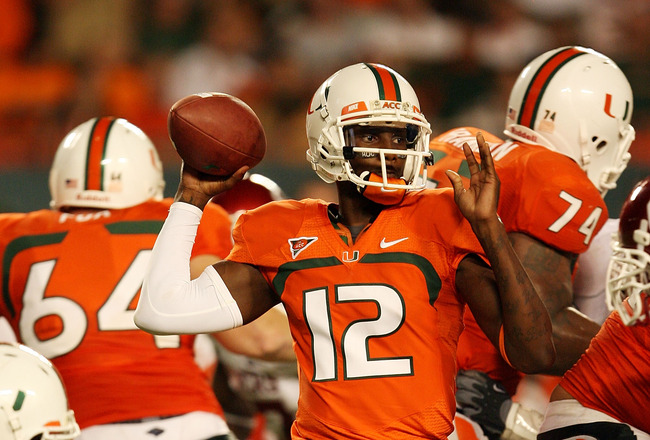 With the college football season literally just weeks away from kicking off, it is time to start looking at the who's who for the 2010 season.
There is always a handful of teams each year that can be considered contenders and quite a few more pretenders.
This list, though, is compromised of 10 teams who may very well surprise in 2010, but realistically on paper perhaps are still a year or more away.
Of course, anything is possible. Like the Oscars, to have your name mentioned in this category isn't a bad thing; it's an honor—well, maybe.
Virginia Tech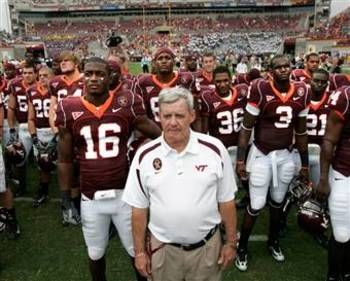 The Hokies are always in the discussion for being tops in the ACC but are also one of the marquee programs in the country.
That being said, even with the dynamic duo—perhaps threesome—of running backs and the often vaunted defense, the Hokies are probably not going to be hoisting the crystal football in 2010.
Notre Dame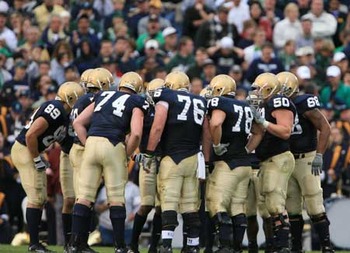 It seems as if the Golden Domers are always mentioned as a contender, even when they really haven't been for the better part of a decade or more.
However, they are the college football equivalent of a legacy pledge, and whether or not they are as good as the greats of the past, they are always mentioned.
Still, in 2010 you won't be hearing the echoes of old Fighting Irish teams of the past in this group.
New coach plus new quarterback plus offseason troubles equal another year of waiting in South Bend.
Florida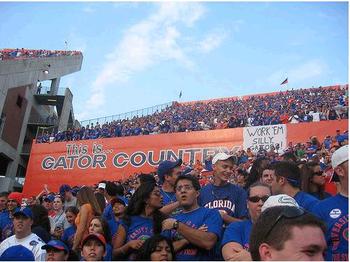 It is hard to imagine that expectations are ever tempered in the Swamp.
Florida has easily been one of the best, if not the best team in arguably the best conference for the last four years.
But now they are facing year one post-Tim Tebow, and without the face of the Gators they seem to be vulnerable.
Of course, when you are a sly fox like Urban Meyer who can recruit one of the hottest football talent pools in the country, you always have a chance. I just don't think 2010 will be the year we see the Gators hoist another trophy.
USF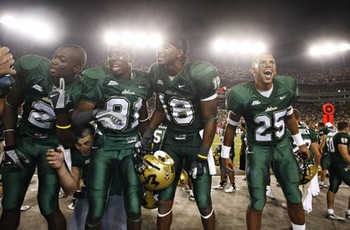 The Bulls are a relative newcomer to the expectations of college football's top teams.
They have made some noise recently and seem on the verge of a major breakout year, but it won't be in 2010.
USF fired the coach that brought them to respectability and then being a serious contender in the Big East and on the national scene.
New coach Skip Holtz has the pedigree and respect, but a first-year run at a national title is just not going to happen.
LSU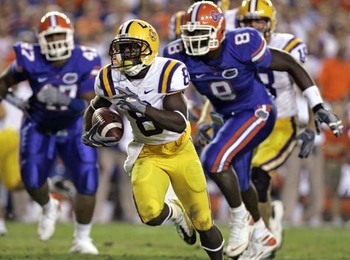 The Tigers would be right up there every year if it wasn't for the fact they play in the toughest conference.
Having enjoyed a lot of success this decade always keeps them among the contenders. However, recent disappointments have caused them to fall back.
While a bounce-back in 2010 may be due, a run at a national title may be a bit much to ask.
Florida State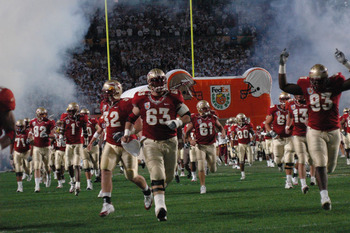 There is a lot of hope surrounding the Seminoles' 2010 season. A new coach has re-energized the program and the expectations.
Many are talking about Florida State being legitimate contenders for the ACC crown, and that very well may be true. However, a run at something bigger is a bit too much to ask considering how far they had fallen.
The talent is there to win games, but is it at the level where it used to be? Not quite, but give it some time.
Boise State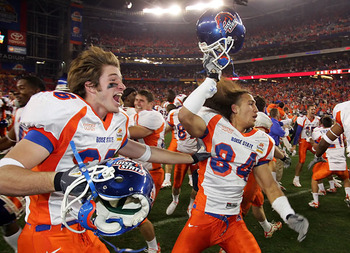 The Broncos are the Johnny Come Lately of college football, but they have been very good.
Some would even say that they have been good enough for a shot at a national title.
This year may prove to be much the same, but as long as the BCS stands in the way of a playoff, the Broncos will be left out of the picture again in 2010.
Oklahoma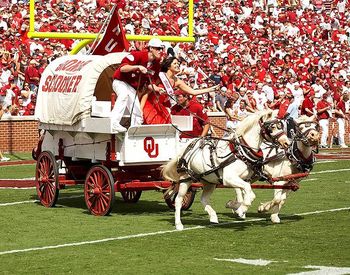 While the folks in Norman are hooking their hopes up to the Sooners' wagon, a transitional year may be the best they can hope for.
After all, they did lose their quarterback and the NFL's No. 1 draft pick. Of course, they had most of last year to get used to life without Sam Bradford.
Make no mistake—the Sooners will be good in the final year of the existing Big 12's existence, but just not national champion good.
Nebraska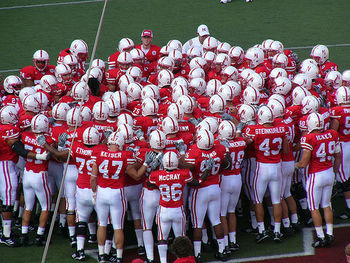 The Huskers were a second away from ruining Texas' shot at a national championship this year.
They are hoping to return the favor in their last season in the Big 12. They may be one of those teams that make a run but end up losing a game or two they shouldn't.
Then of course, they could be like a lot of these teams who surprise me and have a shot to win it all. I just don't see it happening in 2010.
Miami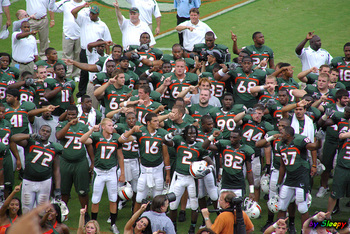 A lot of people are wild about Miami, and not just LeBron James, Dwyane Wade, and Chris Bosh.
The Hurricanes are hoping to restore the swagger that made them one of the fiercest programs in the late '80s and '90s.
I just don't see it though. Perhaps I'm wrong and they will live up to the hype, but their lack of consistency from beginning to end leaves me room for pause.
If they can string together a consistent season, then perhaps—I just don't see it in 2010.
Keep Reading