2010 NFL Season: 10 Bold Predictions for the Upcoming Season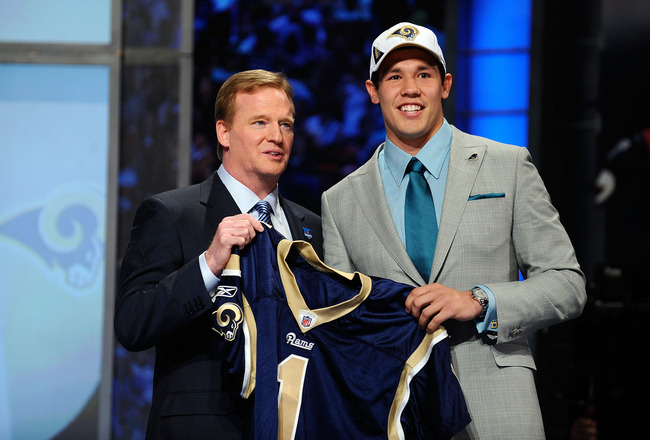 The upcoming 2010 NFL season looks like it will be an awesome year. A lot of teams that are usually "middle of the road" look like they could be Super Bowl contenders this year.
Many things have happened this past offseason.
Chad Ochocinco danced his life away on "Dancing with the Stars." Michael Vick was back in the news, and it wasn't in a good way. Big Ben can't seem to keep his hands to himself in bathrooms. Terrell Owens is desperately looking for a job. Many people think the New York Jets have basically bought a Super Bowl. And that's just to name a few.
This season has a lot of unpredictable, exciting things that could happen.
Sam Bradford will be the face of the St. Louis Rams for many years to come and will look to get the team back on the right foot. Jimmy Clausen got paid a lot less with the Carolina Panthers but might be breathing easier for the next few years with a team that has a lot of potential.
Brett Favre is doing his same old unsure-about-coming-back-next-season thing and it's not even exciting anymore. Thank God.
End point, this looks like it's going to be a fun season. To make it even more fun, I made some bold predictions.
Read them, you know you want to.
1. Yes, Brett Favre WILL Come Back Next Season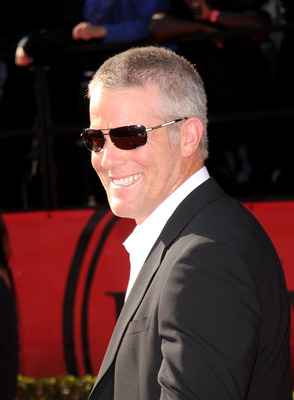 Let's get this out of the way first.
Yes, he'll come back after training camp. He's done a fantastic job at avoiding camp for the past few years. So much so, he's basically mastered the craft at missing the tough conditioning.
After he comes back, he'll complain he's not in shape a little bit but privately he's been training to be in the best shape he could be in since May.
2. The Oakland Raiders Will Be Playoff Contenders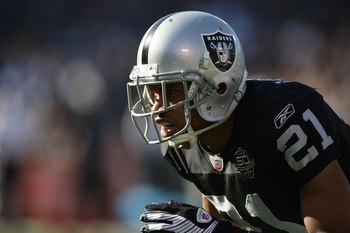 I know.
But they're starting to have a pretty solid lineup that could do damage if they don't play dumb. Jason Campbell will have a nice comeback season and Run DMC will have broken 1200 yards.
Their defense is so stupidly fast that they shouldn't have any trouble stopping quick outside runs all year.
Sebastian Janikowski has the power to basically kick a field goal from inside their own 20. Sarcasm. But not a lot of sarcasm.
3. Terrell Owens Will Have a Quiet, Stellar Season with the Bengals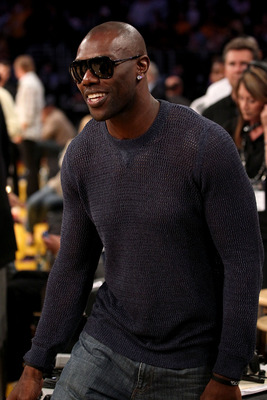 I think at this point, he's been pretty humbled. You can't have the highest ego in the land and keep being arrogant after this offseason.
Even though reports are that the Rams want to sign him, he'll hold out and take less money to sign with the Bengals, who are pretty nice contenders.
After realizing that his head isn't as big as he thinks it is, he'll go back to his early years being the "I'm extremely cocky even though I'm semi-quiet" hard-working guy.
4. The New York Jets Will Go Undefeated Throughout the Regular Season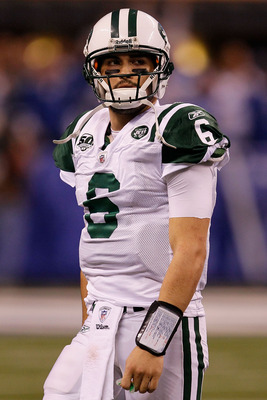 It's going to be hard to beat this New York Yankees-like team.
Remember the movie "Remember The Titans" when the ex-head coach would take all the replaced offensive players and make them stars on defense? In a weird, distant way, this off season for the Jets is kind of like that movie.
They've picked up Santonio Holmes, LaDainian Tomlinson, Antonio Cromartie, Jason Taylor, and probably a handful of other players that I can't think of.
This team is stacked and will roll over most teams just with their defense.
SIDE PREDICTION: In at least three games, the Jets' defense will actually outscore the opposing team's offense. Just a side prediction.
5. Cincinnati Will Win the AFC North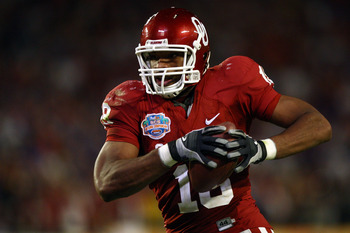 Cincinnati is basically last year's New Orleans, if you ask me.
After they sign Terrell Owens (see slide three), they will have a stacked WR core, an elite QB, and a surprisingly good RB in Cedric Benson.
Also, they must watch the Big 12 Network every Saturday because their draft was stacked with Big 12 players. Picking up Jermaine Gresham, Dezmon Briscoe, and Jordan Shipley, their offense will be kinda like the Oklahoma City Thunder: young and extremely athletic with a lot of potential.
Yes, I just compared them to an NBA team.
6. Dez Bryant Will Win Offensive ROY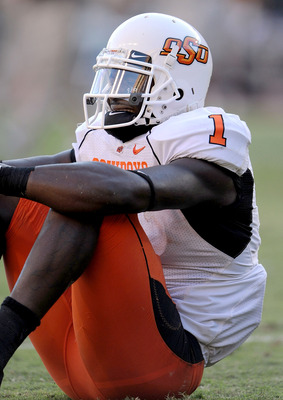 This guy is desperate to get back on a football field. He was the first out of the first-rounders to sign a contract just to be able to attend camp. Commitment.
Dez Bryant is awesome in just about every category you can think of, apart from personal decisions. He has excellent hands with very good route running.
Clearly the Cowboys' front office thinks highly of him, as proved by giving him the 88 jersey.
7. Eric Berry Will Win Defensive ROY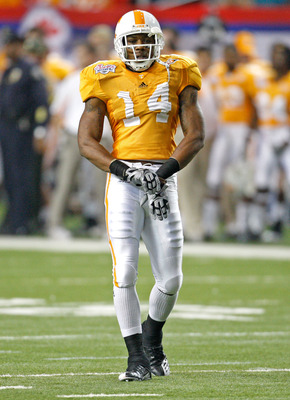 I would not fight Eric Berry. I would not race Eric Berry. I wouldn't want to hold a football with Eric Berry running towards me at full speed.
With that said, he will win the Defensive ROY because he is the next Ed Reed. He will hit guys harder than a lot of linebackers will at a lot faster speed. Plus, he has awesome awareness on where to go to in coverage.
I read somewhere that Tennessee actually had a few plays where Berry had no assignment. All he had to do was sit in the middle of the action and had to choose for himself on what to do based on what he saw.
That's crossing a very fine line between either not knowing how to coach him or the greatest defensive idea ever.
8. Adrian Peterson Will Have Fewer Than Five Fumbles Lost All Season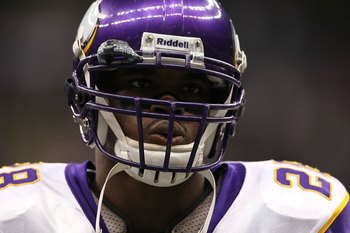 If I am not right on with this prediction, I will cry. Although, I'm never wrong, so of course I'll be right, right?
This offseason, Adrian Peterson probably woke up at 5 a.m. and ran through carrying drills until noon, ate lunch, then did another long set of carrying drills, I hope.
Peterson vowed to be a better ball handler going into the season saying he will devote his time to making sure his one true setback is put to rest.
I've had trust in Peterson says since the day he walked on campus at OU as a freshman. Why stop now?
9. The Dallas Cowboys Will Lose to the Vikings in the Playoffs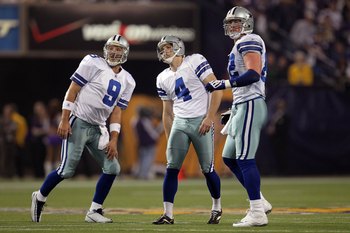 Dallas will finally do something that they haven't been able to do since Troy Aikman was there: do something in the playoffs.
They seem to be finally growing together as a team and have the potential to take care of business this year. With the addition of Dez Bryant, Romo will have a lot of options and will also take the heat off of Miles Austin.
(Side Note: Who saw ESPN's article about Miles Austin being the best WR in the league? You laughed, right?)
With Roy Williams, Dez Bryant, Miles Austin, and Felix Jones in the slot, the Cowboys look to have one of the best offenses in the league. They just have to prove it.
10. With Brett Favre, Minnesota Will Win the Super Bowl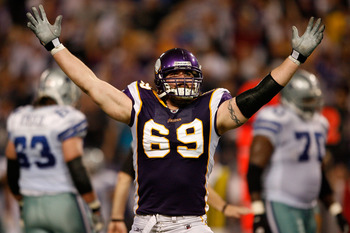 Biggest prediction yet - Vikings 31; Jets 21
The Purple People Eaters will finish where they left off last year and take the crown.
Adrian Peterson will run for exactly 128 yards on 21 carries and score once against the New York Jets' defense. Percy Harvin will have 62 yards receiving, and 69 yards rushing. Brett Favre will throw for 208 yards with three touchdowns.
Favre will cry after the game, announcing for the final time that he is retiring for good. Jared Allen will do his signature sack dance for a straight hour in the locker room while players pour champagne on him.
Then the next year, they will go back to being an above-average team in desperate need of a quarterback.
Keep Reading